Göteborg trams
There is for the moment around 250 trams or light rail vehicles in Göteborg. The oldest are from 1965, while the newest are just being delivered. We will start the presentation of types sorted in number sequences, and not age or so. Heritage vehicles is left out, except for the most recent scrapped type, that seems to be considered to new for that purpose. Thus is would end up in limbo if it wouldn't be mentioned here at least. For other old cars, I refer to the RINGLINIEN local tram associations internet site (link in info section).
M21, 200-279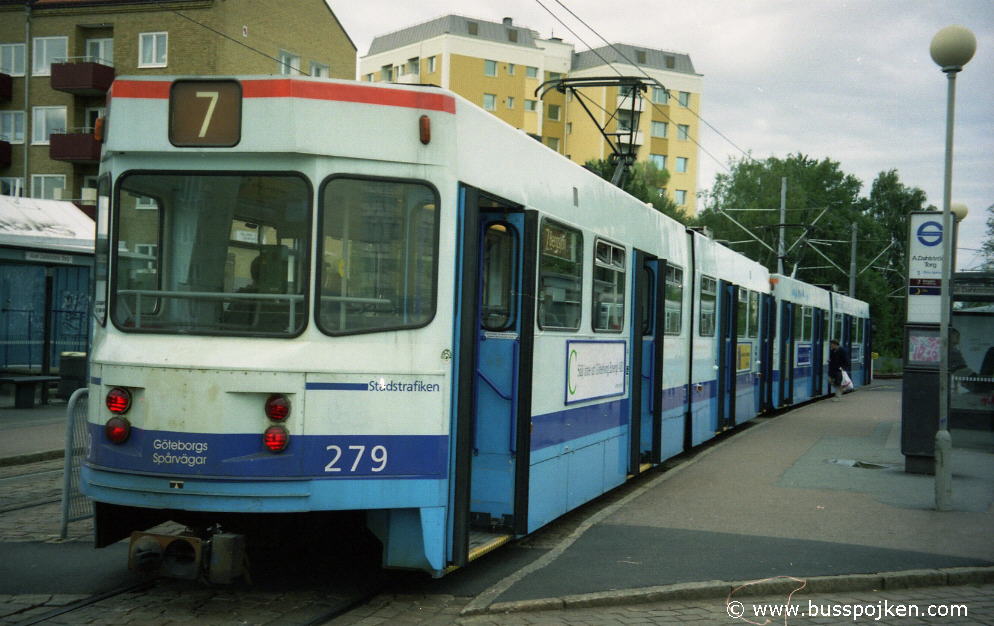 These 80 cars was used as single or coupled pairs for some 15 years. After the turn of the century, a third mid section was sandwished in between the two original. Since then all cars are renumbered as 300.
This type took a lot of years in the making. As a result they turned out to be reliable, rational and efficent vehicles. It started in 1979 with the decision to invite tenders for 80 articulated trams. The winner became Swedish ASEA (later ABB), and the order was placed in 1981. A mock-up was showcased in a downtown mall some time after. A pilot car came to Göteborg in 1984, and was mostly used by evenings at route 6.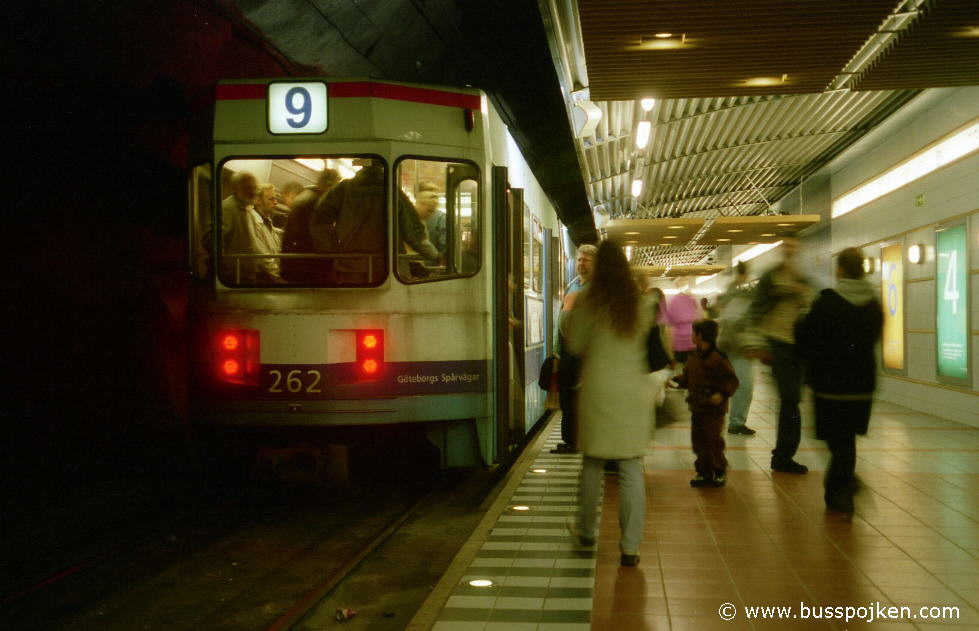 It was at this line these LRV:s first entered service. The original order of 30 was immediately boosted with 50 more.
It was not until 1986 that this test came to a conclusion and was evaluated. Soon after the 80 remaining vehicles came in 1987-1992. The pilot was kept in Göteborg, though for a long time incompatible with the rest of this fleet. The numbers suggest that a total of only 80 vehicles existed. This is both right and wrong, as I will describe. In 1990 a severe accident with 203 and 206 involved led to the scrapping of the front section of 206, and the back of 203. The remaining pieces was assembled as 203. 260 in turn got the number 206 to avoid the empty slot, while the supposedly final 280 was numbered 260.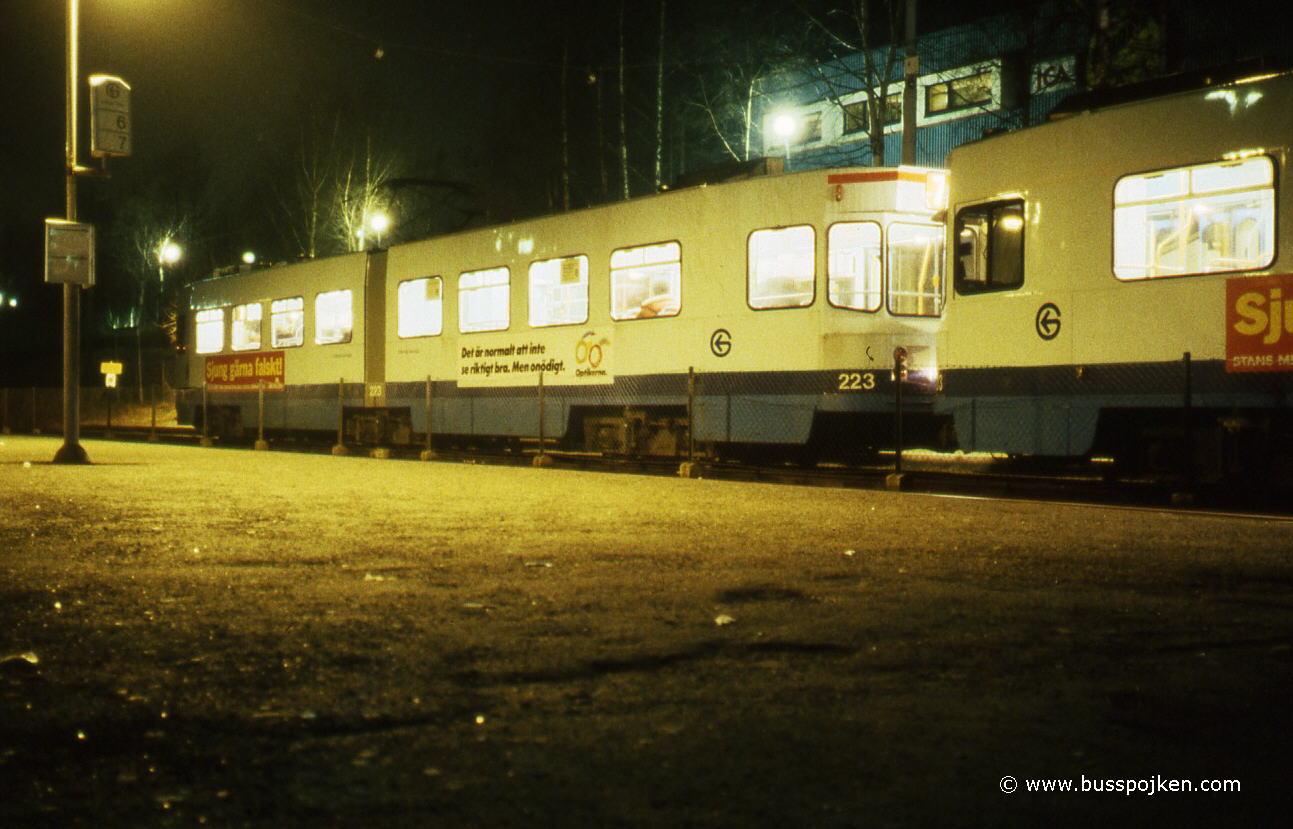 These were some 3 and 5 years respectively in this picture.
It was foremostly the routes 6, 7, 8 and 9 that M21 operated in their original layout as "200:s". Off and on also routes 1 and 5 saw these, as those lines belonged to the very same depot. Today no vehicles belong to a specific depot anymore. That will probably lead to some economics of scale, as the company is extremely rational.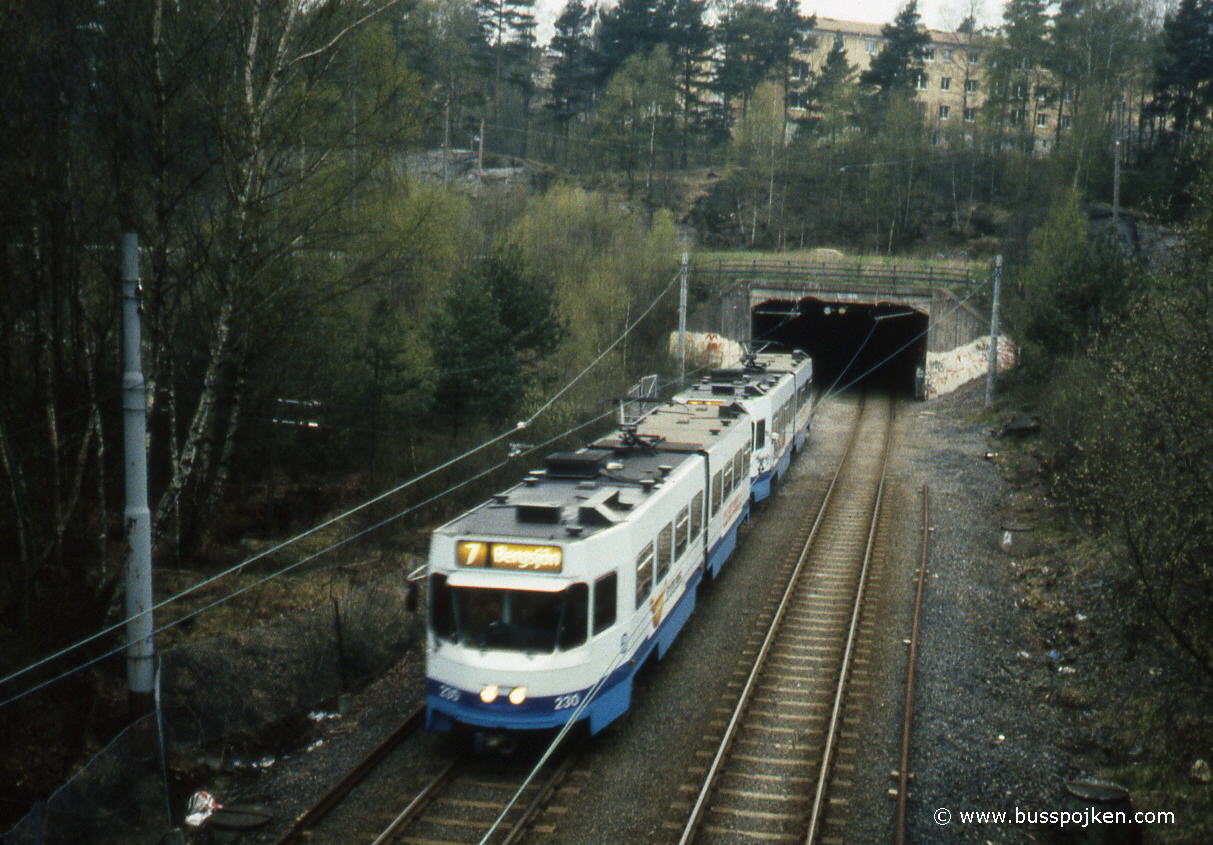 M21 felt best at home at higher speeds on right-of-ways with soft track curves, like here between Kortedala and Bergsjön.
Technically similar vehicles to M21 is used in the Istanbul Metro (cars 501-101-502 were tested in Göteborg 1988-89), and Izmir. It is also my guess that Baltimore may have cousins to these, at least to judge by the outside appearance, same maker and age.
M31, 300-305/ 307-380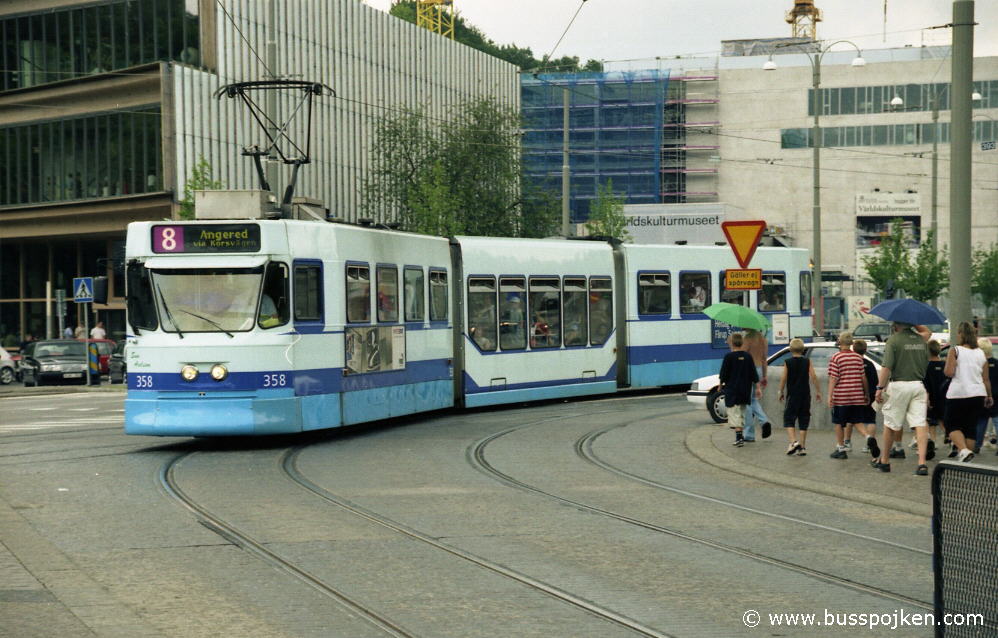 The appearance of M21 has gradually been altered, until they also finally got a third section, and was renumbered.
These M31 are (almost) the same as the M21 described above. The mid bogie was replaced by four separate wheels in the plastic (yes!) middle section, that was gradually added to these cars around 2000-02. The numbers obviously wasn't just altered to the identical 300, as we now have 380 but no 306! As I don't work at the company, I can only guess that the car that turned out to be 260 in it's former guise, now is called 380, and 206 became 360. The local tram association RINGLINIEN should have mentioned this in their trimonthly magazine.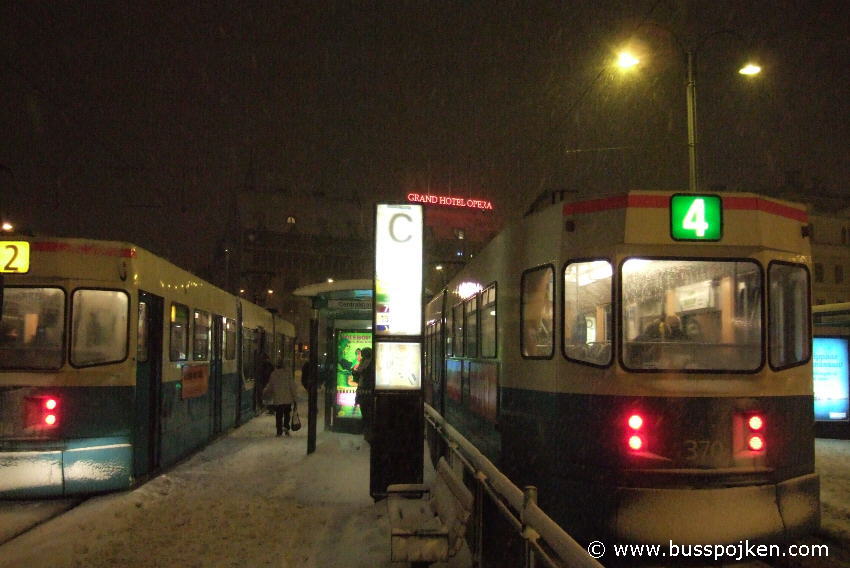 The couplings of these cars are hidden behind the curved panels.
Beside the boost of capacity after the rebuild, another likely reason arises. Namely a most tangible sence of shame among the management, for having ordered a fleet of highfloor vehicles so soon before the new fashion of lowfloor vehicles. The original goal with M21, was in fact to make the introduction of high platforms possible, as all doors was in line with the platforms. The older cars have tapered ends, meaning that mainly the front set of doors is veering off from the platform, which is bad enough without level boarding.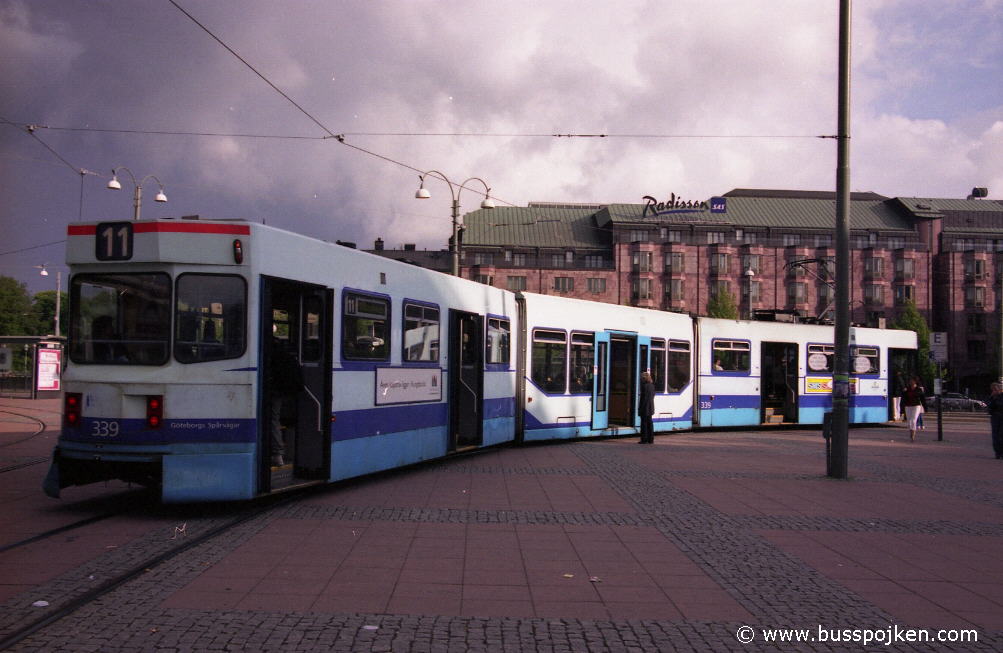 This picture reveals the door layout and different floor levels.
It is not a joyride to sit in the new mid section, as it is VERY noisy, and a little bumpy. The seats are also facing each other, which translates into the fact that youngsters (well anyone under 40 it appears) place their feets at the opposing seat. Many Swedes have a worse manner than they realise themselves! The lowfloor section is mainly a hangout for youngsters, as a change from other vehicles, where they prefer the aft part. It is also popular among elderly, people with children, and also the odd wheelchair. You name it!
M32, 401-440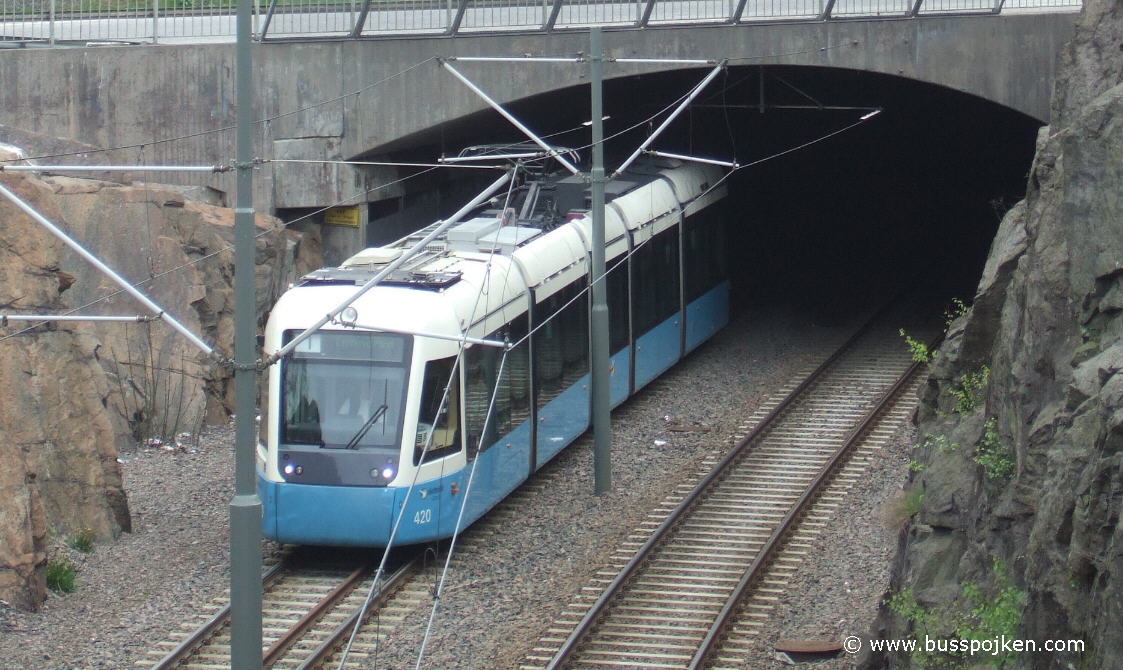 These are running smooth at straight tracks, but don't like curves.
The newest addition have not been without teething troubles abound! Much still remains, and the sad result is an embarrasingly low percentage of operational vehicles at any given time. The maker actually discouraged the layout of the end sections, that hang a little too far from the nearest set of wheels. Mostly the drivers have to pay for this with back pain, from all the yerking in curves. Ironically these vehicles run excellent at straight alignments in the newer districts of Göteborg. This is all the while as M32 was really meant for the lines with most street running. It can be mentioned that 89% of the system has right-of-ways!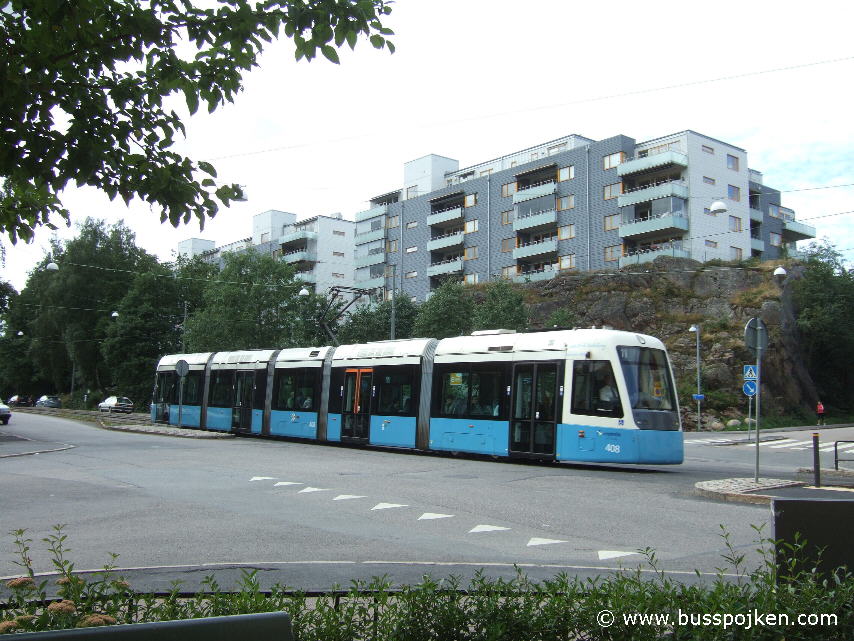 Italian outside design, but with a nordic interior. This alignment from 1939 still has at-grade crossings. Lines built just a few years after was eschewing this.
Delivery is not complete. The total option is at 120 LRV:s, but only a part of this has been exercised. Just an incremental increase has been the strategy so far. Even as there is some hesitation about their funcionality, more cars are badly needen. 25 more are on their way now.
M28, 701-770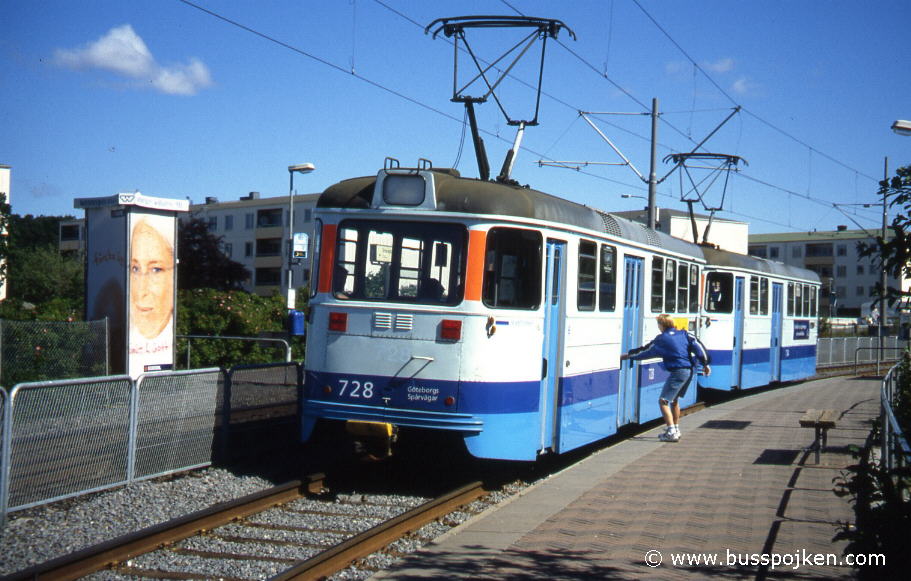 I still regret that this exposure was not made at the moment the guy jumped the fence between the tracks.
I love these like a dear family member! I savour every minute when riding the M28 class. They are a class on their own, so to speak! Built by ASJ in 1965-67, it was almost an add-on to M25 by Hägglunds from 1958-62, albeit those are scrapped since almost 20 years now. It was not at all meant that M28 should stay as long as they have. As things turned out, both delivery delays and problems with M32, as well as a steady increase in ridership numbers make it necessary to keep M28 until they turn 50 at least! I don't mind that at all.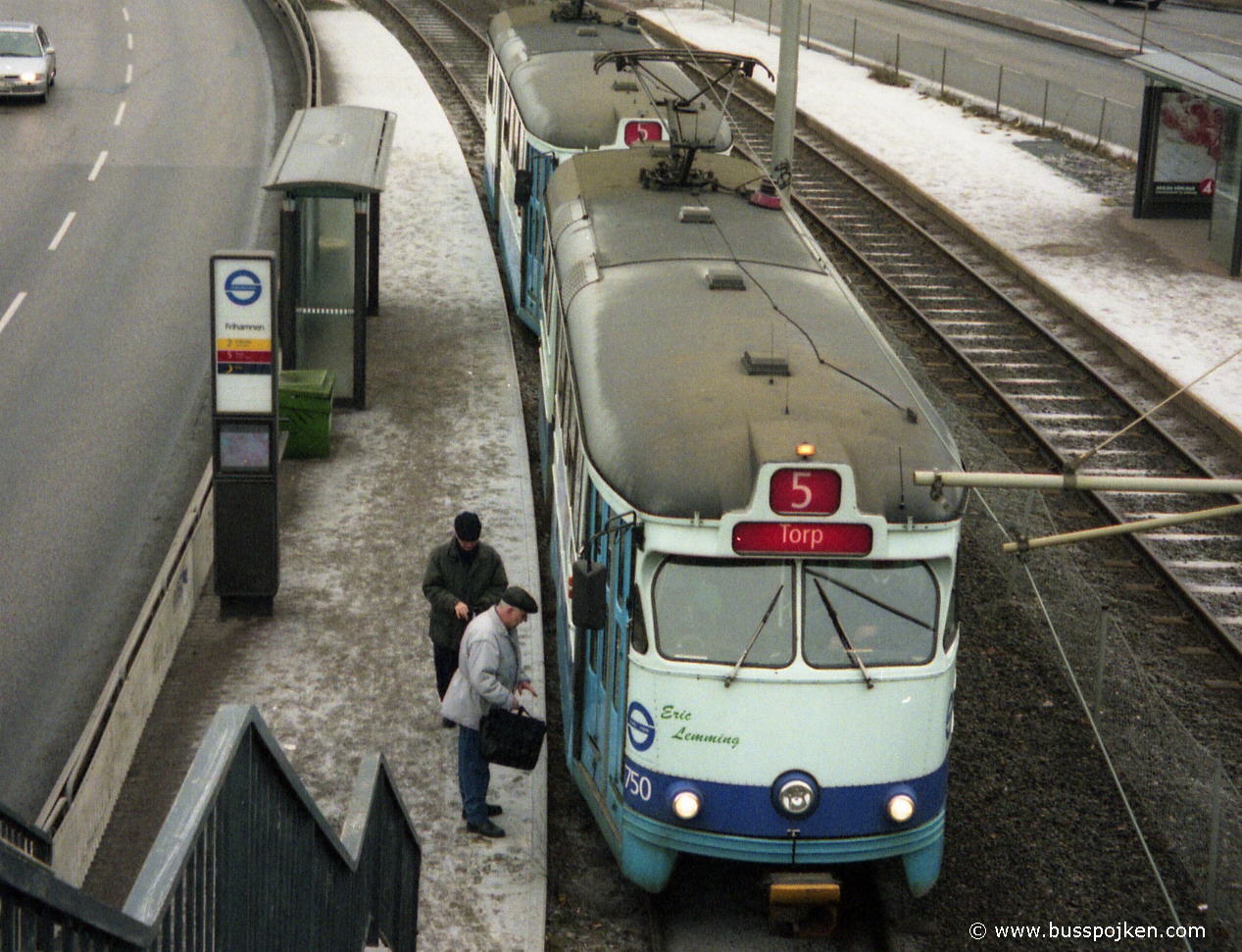 This rather secluded stop does not always offer any passengers to every tram (3 minutes headway).
The best way to experience M28 is a ride from the Central station to Bergsjön at route 7 or 11. The slight vibration and humming of the engines is reflected by the walls of a number of tunnels. The almost continous uphill battle at the latter half of the line, also force the cars to put up some extra effort. M28 appears to be in excellent shape, in spite of their age of approximately 45 years.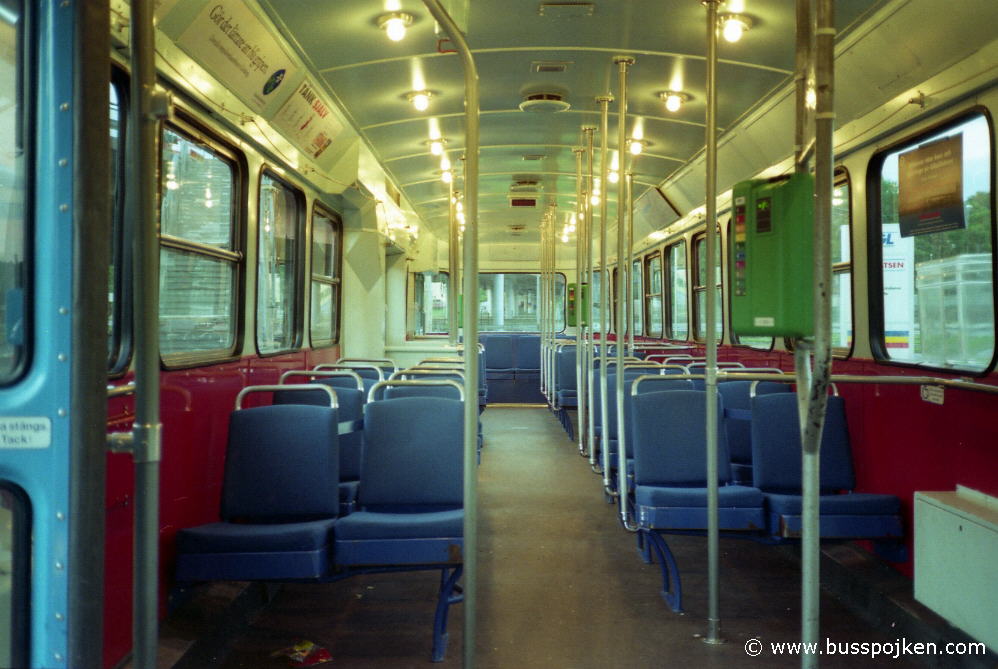 New upholstery, floor, walls, but original seat frames, and lighting with naked bulbs!
M29, 801-860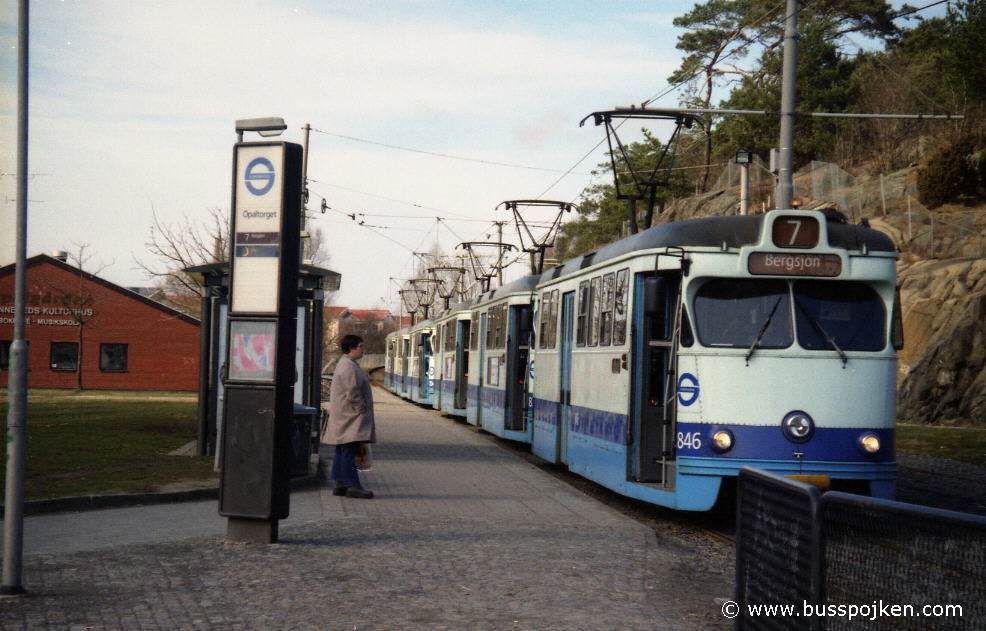 Two trains at layover in Tynnered. This is the second of no less than three different plattform positions at this stop during my time.
By the change of the rule of the road in 1967, some 130 cars was rebuilt of the M23 and S27 classes. Those were delivered in the late 1940s. The doors were moved to the other side of the motors (M23), while the trailers (S27) was coupled the other way. In spite of this, they weren't used much after circa 1970. One obvious reason is the delivery of M29 from ASEA in 1969-72. A still more important reason, though not as plain, is a significantly decreased transit ridership. A comparison of the headways will expose that correlation.
The nearest car has the third livery for these, albeit it is almost identical to the original. The lead car has the one that was used in between.
After 1974, the three rather similar M25, M28 and M29 was in sole reign until the late 1980:s. In fact all three had different makers, but for the lay man the fleet was homogenous enough. As M28 and M29 did not cooperate very well, those types had their home in different depots, while M25 was shared. Even in the twilight or the M25:s career, a few lingered on as middle cars in mixed trains with M28 and M29. As long as an M25 was sandwished it worked fine! These days the problems has been sorted out. A necessity as cars move around freely.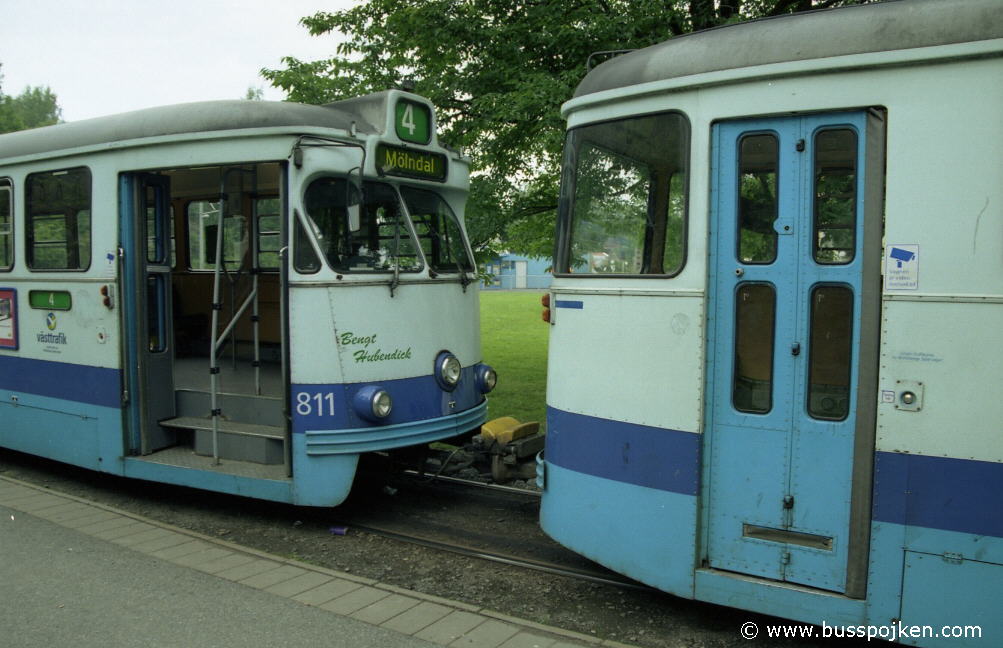 Front and back doors are air operated, while the mid doors are manual. A few cars also have new electric middle doors.
I guess these will go at the same time as M28, because the slight age gap does not mean that much four or five decades down the line. M29 got their first major overhaul at age 20-25, while M28 was refurbished around age 8-10 for the first time, and yet another time before M29!
Historical: M25, 501-625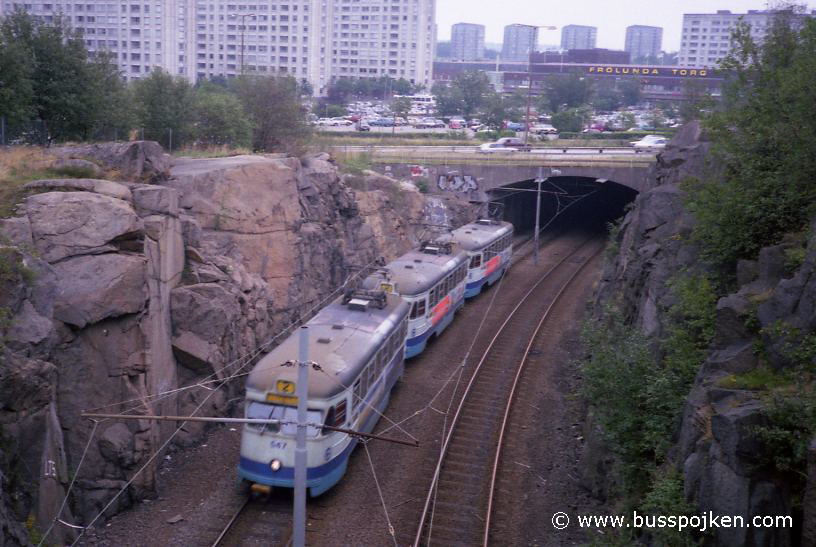 Okey, this is the same location as one of the pictures of M32. Maybe I need more fantasy...
M25 was delivered in 1958-62 by Hägglunds. These were very much similar to the presently remaining M28 and M29. Class M25 was replaced by M21. Some 34 cars continued service in Oslo for another ten years. Those were sold for 1 Euro each! Disneyland showed some interest in rebuilding a number of cars, but it did not come to a tangible result. A few are saved as heritage vehicles in waiting, and one or two also for later cannibalisation of their parts. San Fransisco had the intention to obtain one car, but it stumbled on new complicated import restrictions after 9/11.
Menu for Göteborg articles
---
© Busspojken 2010-2011