Göteborg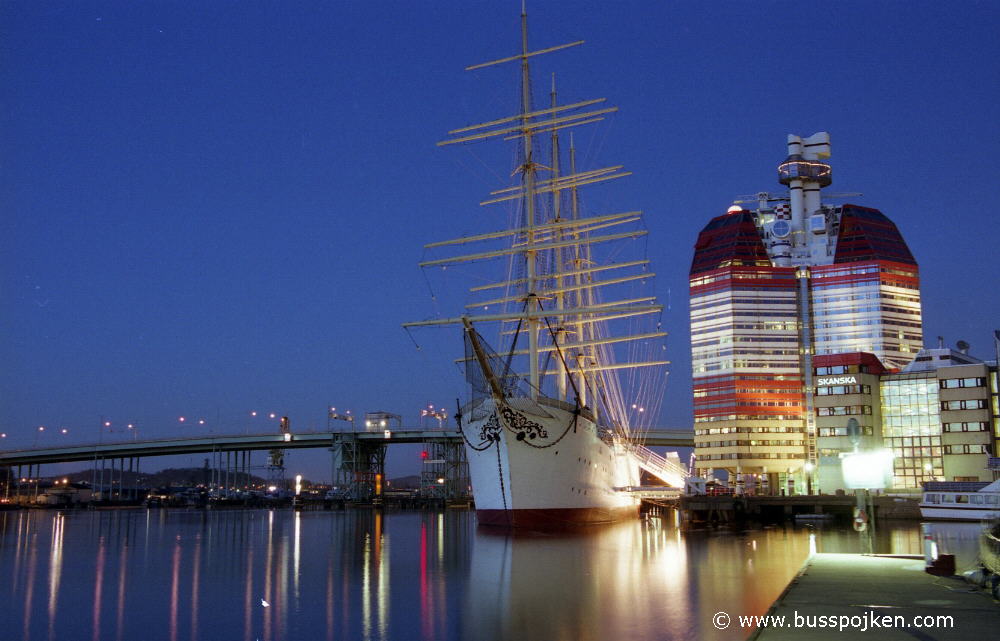 Göta älv bridge, Viking (used for shipping wheat from Australia),
and the water level/ erection (a Swedish ecivocal word).
Landmarks in this city often gets a funny nickname.
Göteborg is a city that should give anyone goosebumps, including me, even after almost 100 visits. Oh yes, I used to live there for 26 years too. Greater Göteborg is offering a virtual cornucopia of things to do and see. The relaxed atmosphere mixes beautifully with the strong beats of a world city.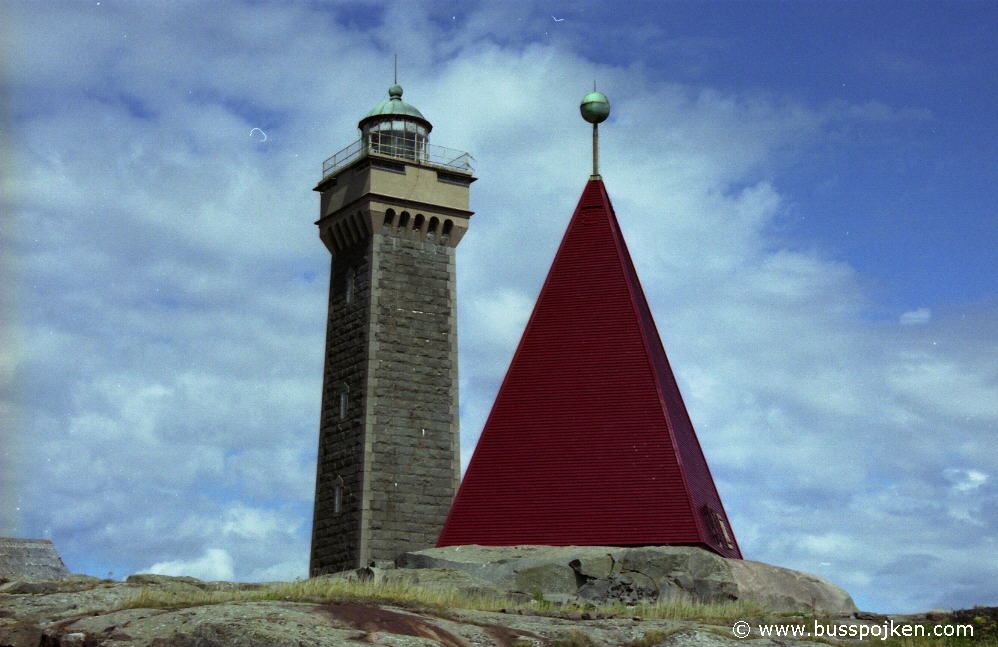 Vinga light house, the first glimpse of Göteborg, in the days when most people came by ship. Börjessons utflyktsbåtar will now take you to this specific island a few times a day.
Scandinavias biggest is the order of the day. Either it is the port, university, amusement park, arena, tram system, hospital, parking garage, hotel, shopping mall, cineplex or film festival we are talking about. There is no lack of scenic vistas and beautiful parks, as well as prosaic industrial landscapes and crazily busy freeways. Museums, world class restaurants, megasize music and sports events abound. You have to chose, or come back for more.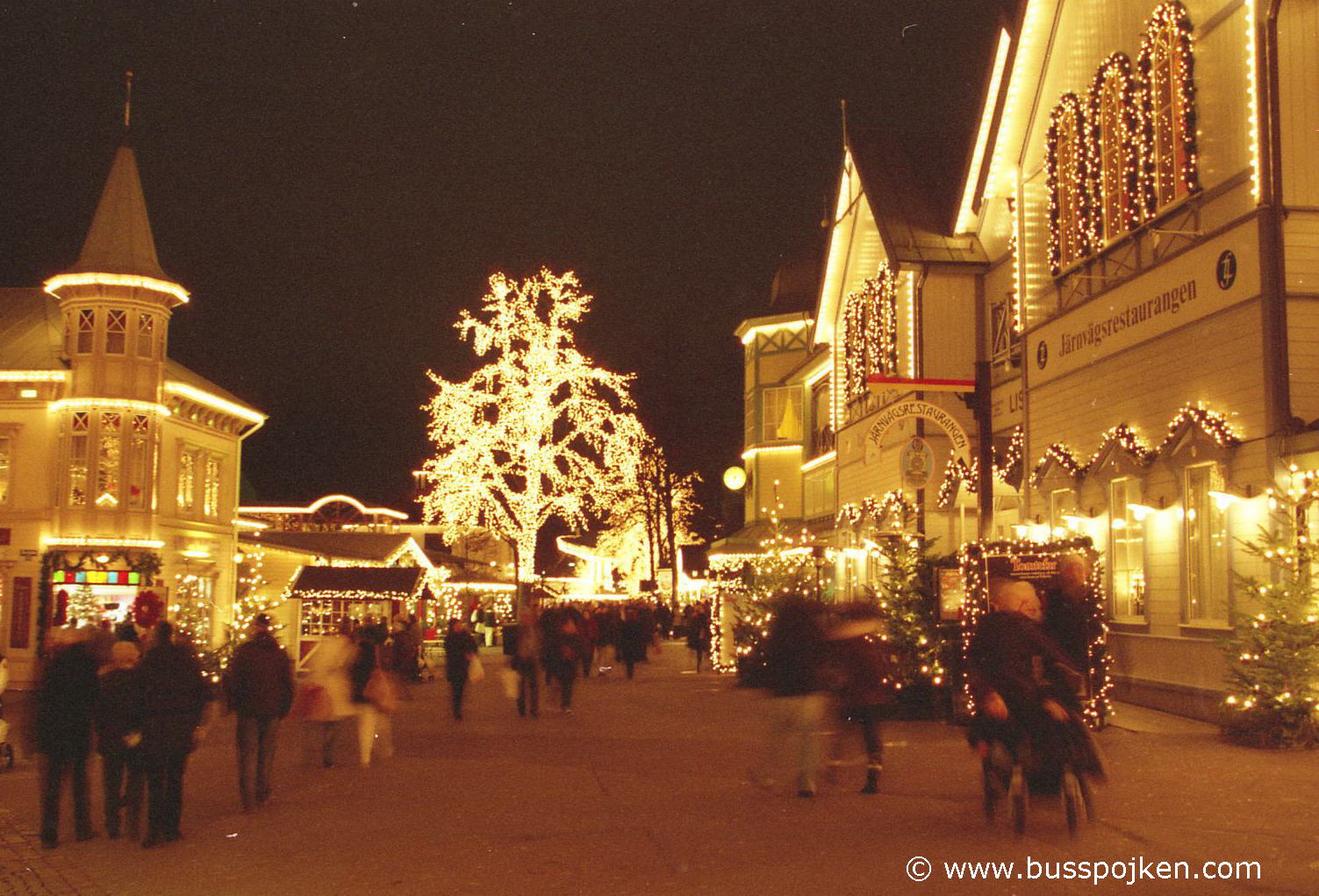 Liseberg - one of the ten best amusement parks in the world,
in a Forbes magazine list. This is the December lights.
A few known names
Göteborg is internationally by far most connected with world reputed industries like Volvo (cars, buses, trucks, rocket boosters - you name it), SKF (bearrings), ESAB (welding equipment), and Hasselblad (cameras). Other widespread companies are Stena Line (ferries, oil and more), Plastic Padding (brand name only in parts of Europe), Lindex and Kapp-Ahl (clothes), SIBA (appliance stores in Scandinavia only). Gothia cup is the worlds biggest football tournament, held every summer in late July. You may even know someone who have participated.
Ullevi arena. The eastern section is mostly unused, likely in order to avoid getting the sun in the eyes.
Göteborg also gave some music bands to the world, mostly in heavy metal. You could have something in your collection from Stonefunkers, In flames, Hammerfall, Hardcore superstar, Ace of Base, Papa Dee, or The Spotnicks, to name but a few. Gert Wingårdh is only entering his prime years as an architect (born 1951). He has mostly designed buildings in Sweden yet - like the Astra Zenica plant in Mölndal, but will likely make himself a name in the coming years.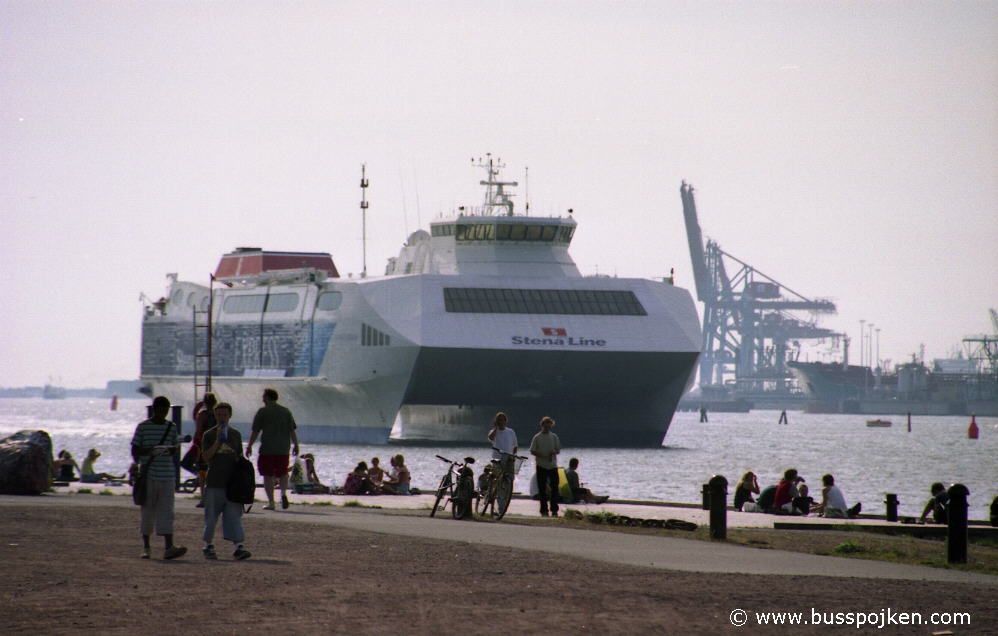 Stena Lines own design of a high speed catamaran-style car ferry. This popular promenade is closest to Klippan, tram 3 or 9.
From industrial location to resort
Göteborg has in the most recent decades embarked on a necessary transformation from an industrial city with an important port, to becoming a tourist destination, and also a city where culture, education and research is increasingly coming up as the main sources for revenue and jobs.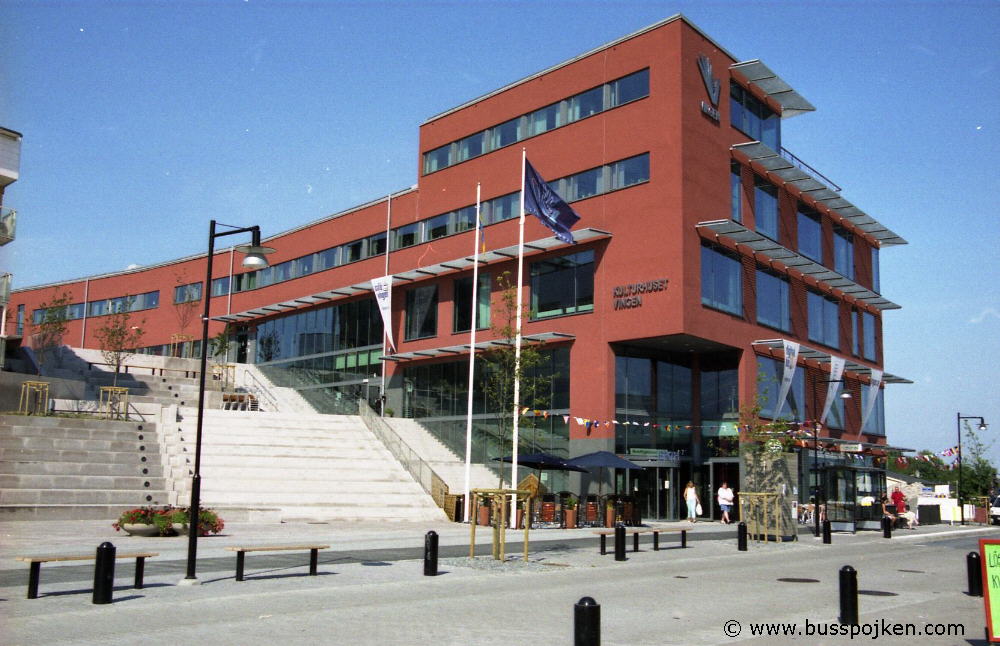 Culture venue "the wing" at a former airport site in Torslanda. This is a part of the continous process of Göteborg reinventing itself.
The industry is partly still there, but to a large extent automated. The port handles more goods than ever, but it takes only a fraction as much staff for doing this today, as 50 years back. A similar hard situation with some tough choises to be made for the future survival, has also been faced by cities like Manchester and Detroit. I believe Göteborg will come out on top in the end, in a better shape than most of its counterparts. It can be mentioned that Detroit is among the official sister cities, and also Shanghai, together with a few more.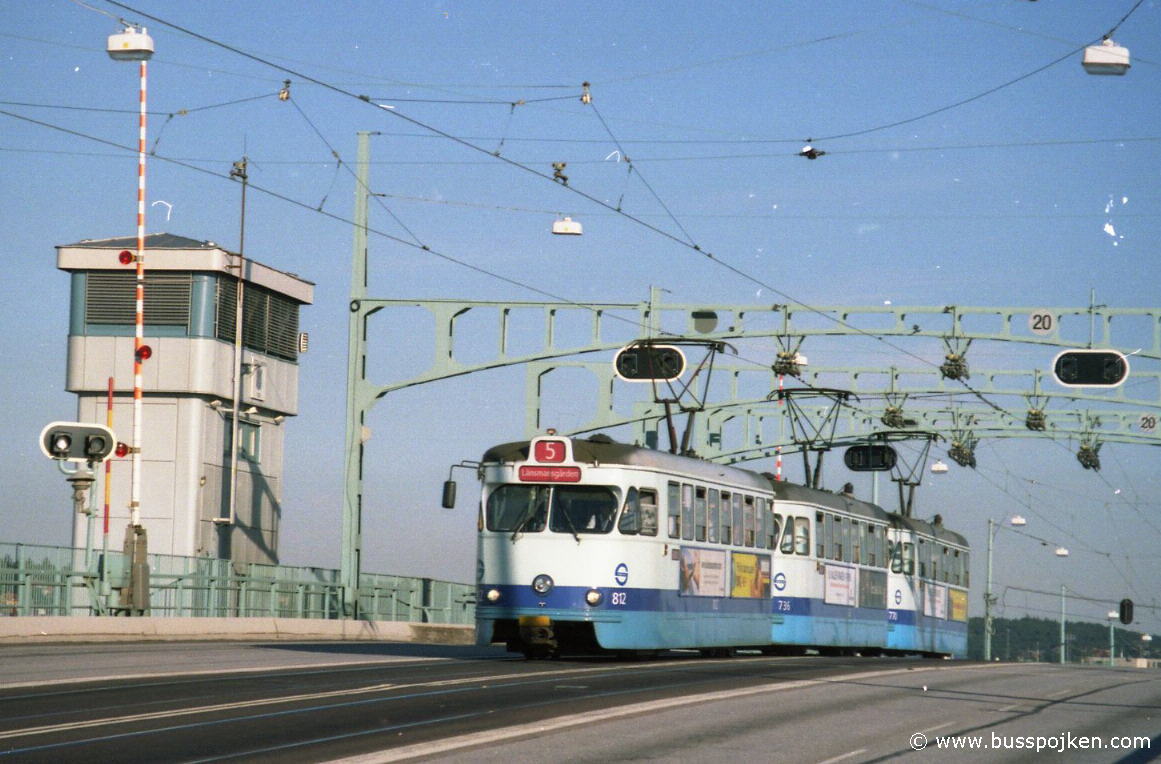 Trains with three cars are not used anymore. The headway has on the other hand generally tripled since the eighties. This was 2000. Blue is the all encompassing colour of Göteborg...
Locals are known for their wit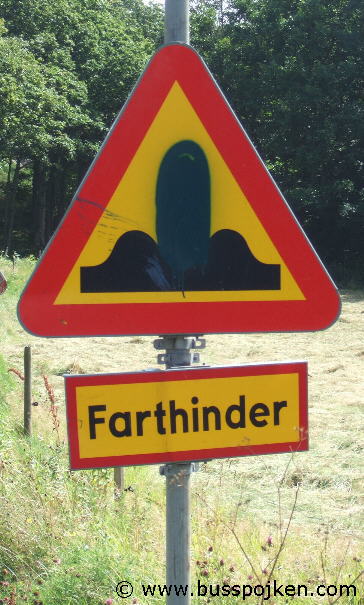 It is in the nature of the locals to be humouristic and easygoing, but also very organised and competent, with an almost commanding touch. It is a rather popular passtime to tamper with signs, in order to make them display a less decent message. The bus shelters "Post no bills", was all through the 80:s relentlessly altered to "Fisring för juden" or "Fart-ring for the Jew" (fartring is local slang for butt). "Illegal to enter the track area", often became "Danger for Elvis", though what's really fun about that is less obvious. The likeness in each case only applies to Swedish.
Maybe I should have left out this speed-bump sign..?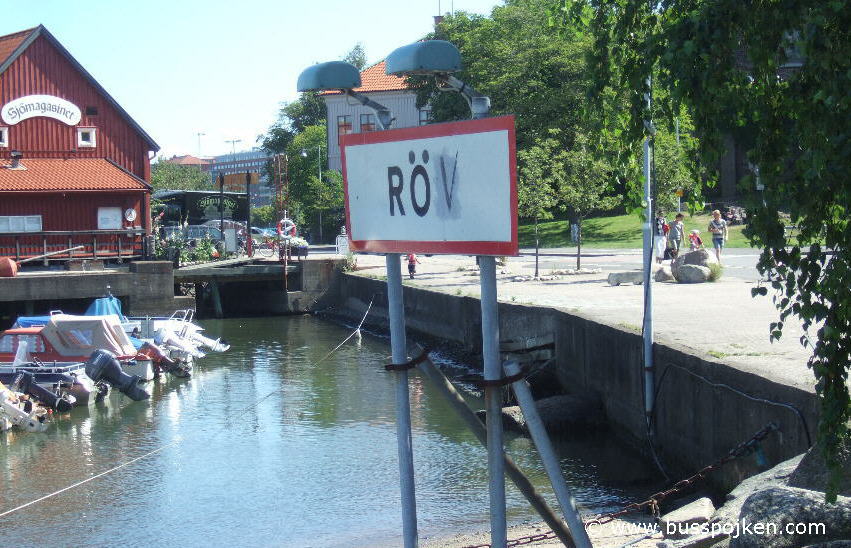 A warning sign for a subsurface "pipe", is changed to warn for "ass". A guide Michelin star restaurant is seen to the left. One of the worlds ten best restaurants, according to a reviewer in New York times, that thought the fare was worth the air fare from across the ocean.
Not a capital - but a capital city
With the nearest suburbs, the metropolitan area holds rather presicely a million people. Though don't say this to the locals, as they by some dubious tradition stops counting by the city limits. Those are easily recognazible in the colour of the street signs, that instantly change from blue to white from one block to the next. No matter how you count, Göteborg is Scandinavias biggest independent city. Three other capitals challenge this size, but the free market hasn't created all that. Historically capitals grow mostly by edict.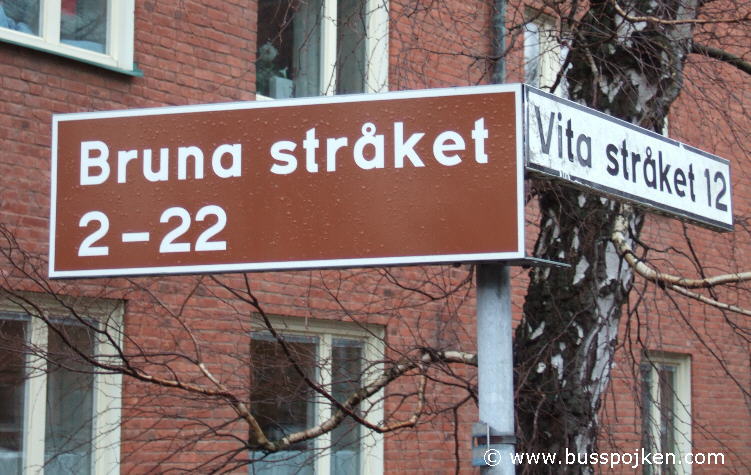 Well, not all street signs comes in blue. The roads are named after colours within the Sahlgrenska hospital area, and the signs are painted accordingly...
Göteborg was also the planned Nordic capital in the era of a suggested consolidated five members nation. In this context it sounds a little bit hollow when Stockholm recently branded itself "Capital of Scandinavia". But that city should not be mentioned anymore in this article. Göteborg is "the frontside of Sweden", according to their own tourist slogan. At least geographically it certainly is.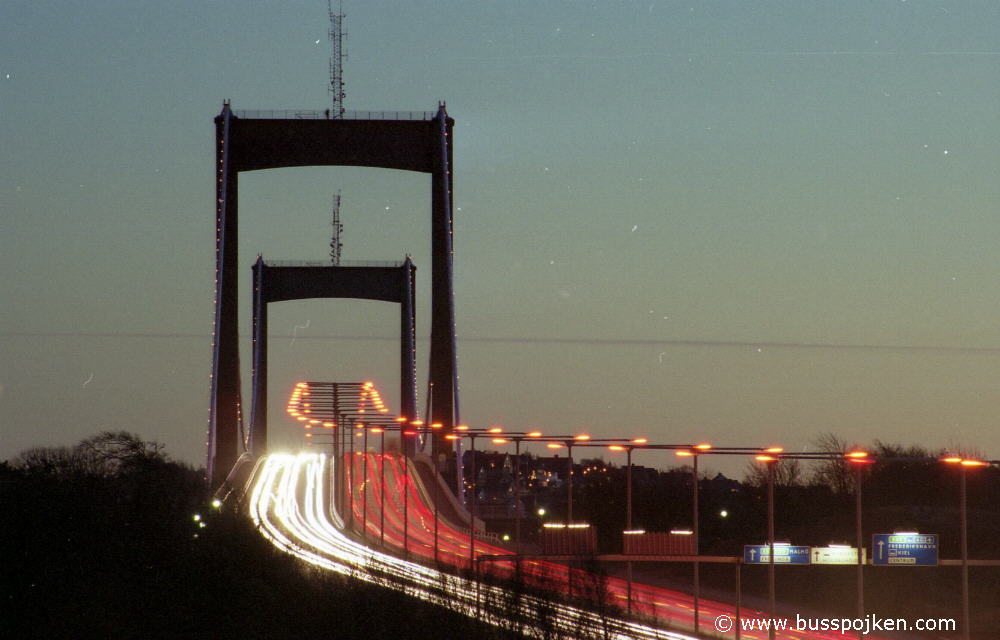 This 900m (440 m span) suspension bridge, forms the westermost connection across the river. Seen from Iversbergsmotet, bus 99.
Though there has been people living here for about 9000 years, the city with the present name and charter is rather young, incorporated in 1621. Needless to say, the location by a major river makes sence, but this was originally also Swedens only outlet to the west. The site had to be defended from the neighbours Norway to the north along the coast, and Denmark to the south. Göteborg became heavily fortified, and the area was never since defeated by attacking armies.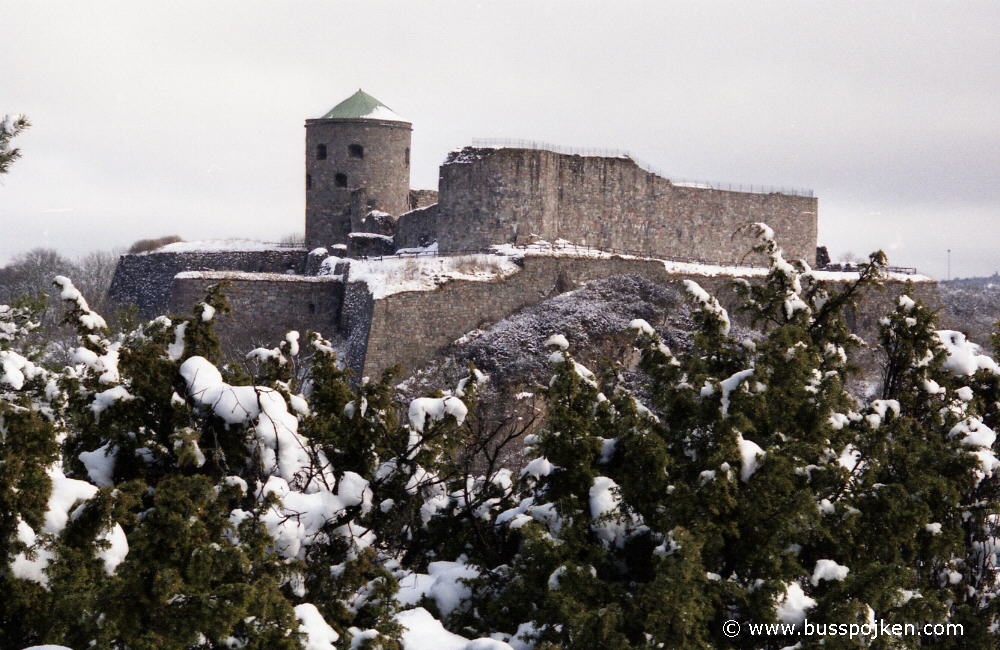 Bohus fästning is situated just north of the city limits by the northeast corner of Hisingen. This fort was built by the Norwegians in 1308, and partly demolished in the late 19:th century.
Not only trams - but roads
Beside a marvellous tram system, Göteborg also has a stupendous local freeway system. Something i like to call "The poor man's subway". That is, as soon as the public funds has been used to build this system, the expenditure mostly ends. Whereas public transit systems are usually considered to need a continous supply of tax payers funds to stay afloat, a highway system don't need much attention. That is why roads at first glance fits a less wealthy city or country, like for example the U.S. (we are talking about the available public money here).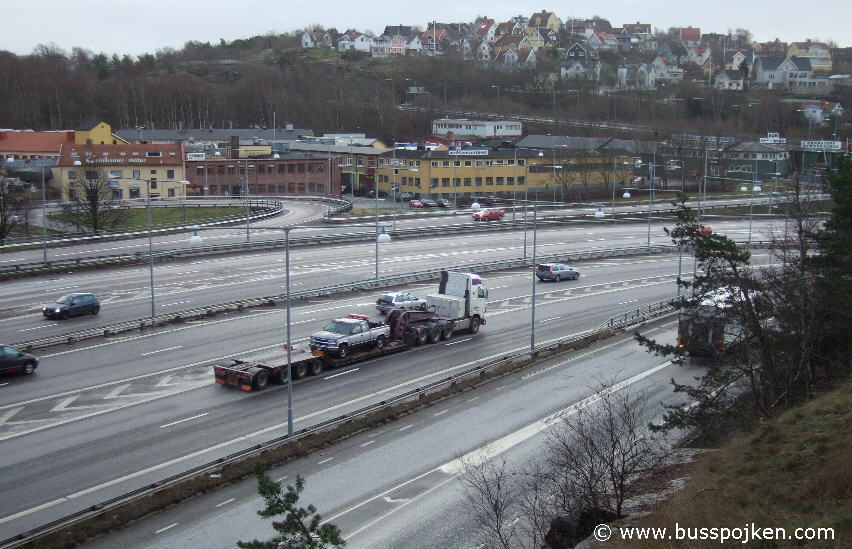 For a short while 12 lanes merge - the widest road in Sweden. Kungsten, tram 9 and 11. Walk beyond the turning loop, and doubleback up the meandering narrow street to get to the hills.
One the other hand the average Joe will be just to happy about spending huge amounts of money on buying a car, fill it up, repair it, drive it by himself, pay for parking et.c. This local freeway system has at some occasion been called the most comprehensive in the world. That may be a slight stretch, but true enough, I have never seen anything like it. So half as a joke, it could be fitting to present all the different freeways in the guise of this subway style map...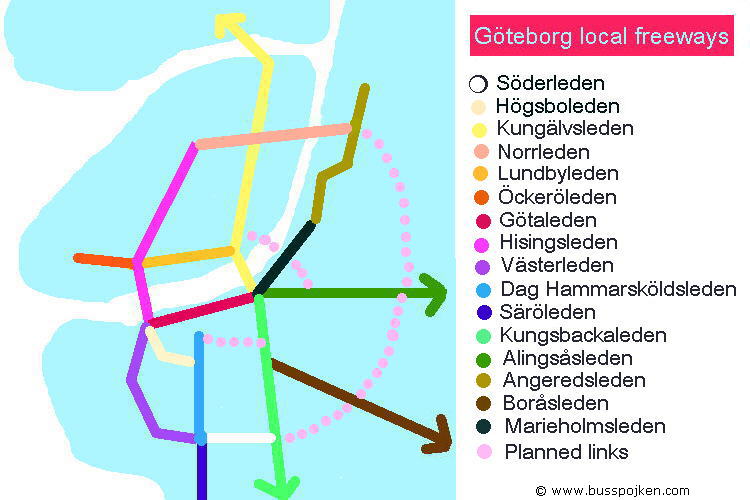 Do it yourself...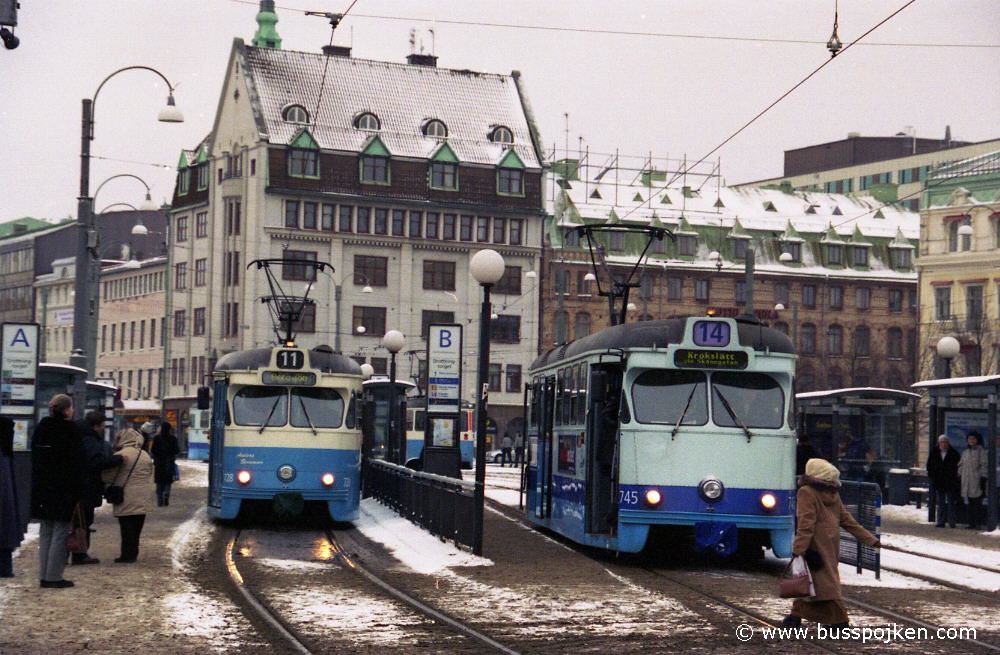 Most trams make a call in front of the central station (90 degrees to the right). This tram square is also called Drottningtorget. In January there may even be a little snow - if you are lucky.
There is nothing wrong by starting with the low hanging fruit, metaphorically speaking. That is the frequently operated trams or light rail. If the time is really short it is perfectly alright with a complete lap with tram 11 (about two hours and a half), or bus 60 (slightly under two hours). Those will reveal much of the soul of the city, and especially 11 offers a significant variation of rail layout.
...Or try my introductory tour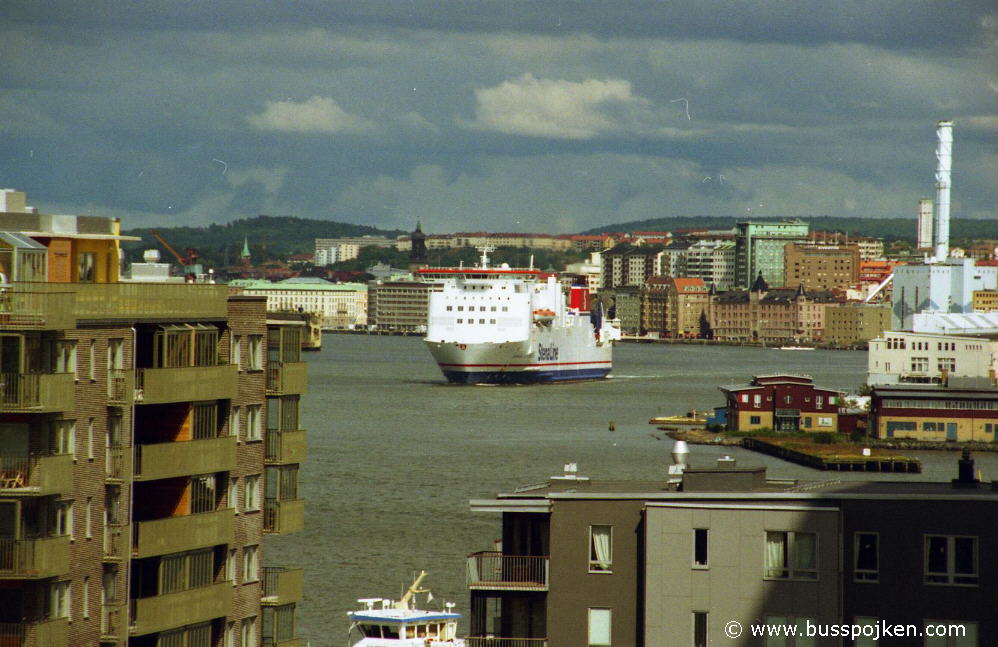 Some of the scenery you can encounter along my suggested tour. This is a hill just between the suspension bridge in the west and Eriksberg new development at the site of a former shipyard.
I will suggest a selfguided sight seeing tour around town. The time needed will depend on how many extras you include, but give it at least 7 hours. If you only stay one day, that will be it. When staying longer, it can be considered to be a good introduction and inspiration for your further exploration of the goodies.
If you are more interested in the usual sights and attractions, there is naturally well suited organised tours for this. My motley collection of scenic, or otherwise special places is more like a personal take of an insiders favourite spots.
Menu for Göteborg articles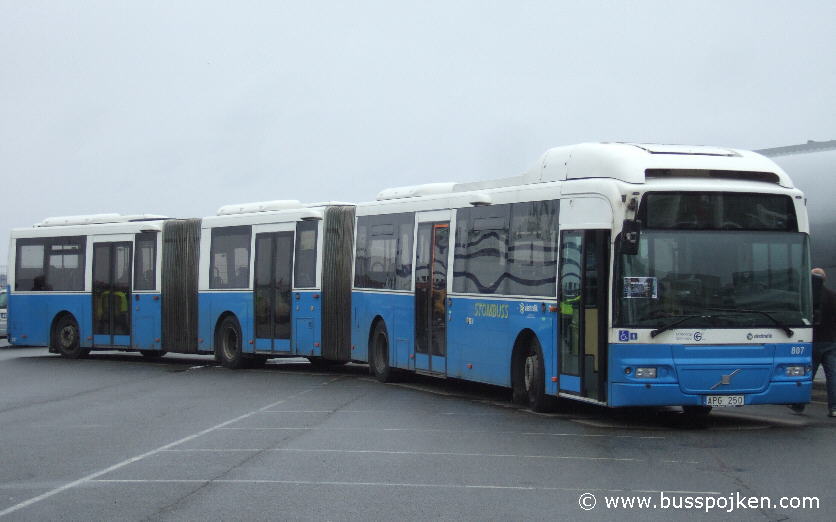 There is only some 120 double articulated buses around Europe.
11 of them are is used in Göteborg, only on route 16.
---
© Busspojken 2010-2011