Strängnäs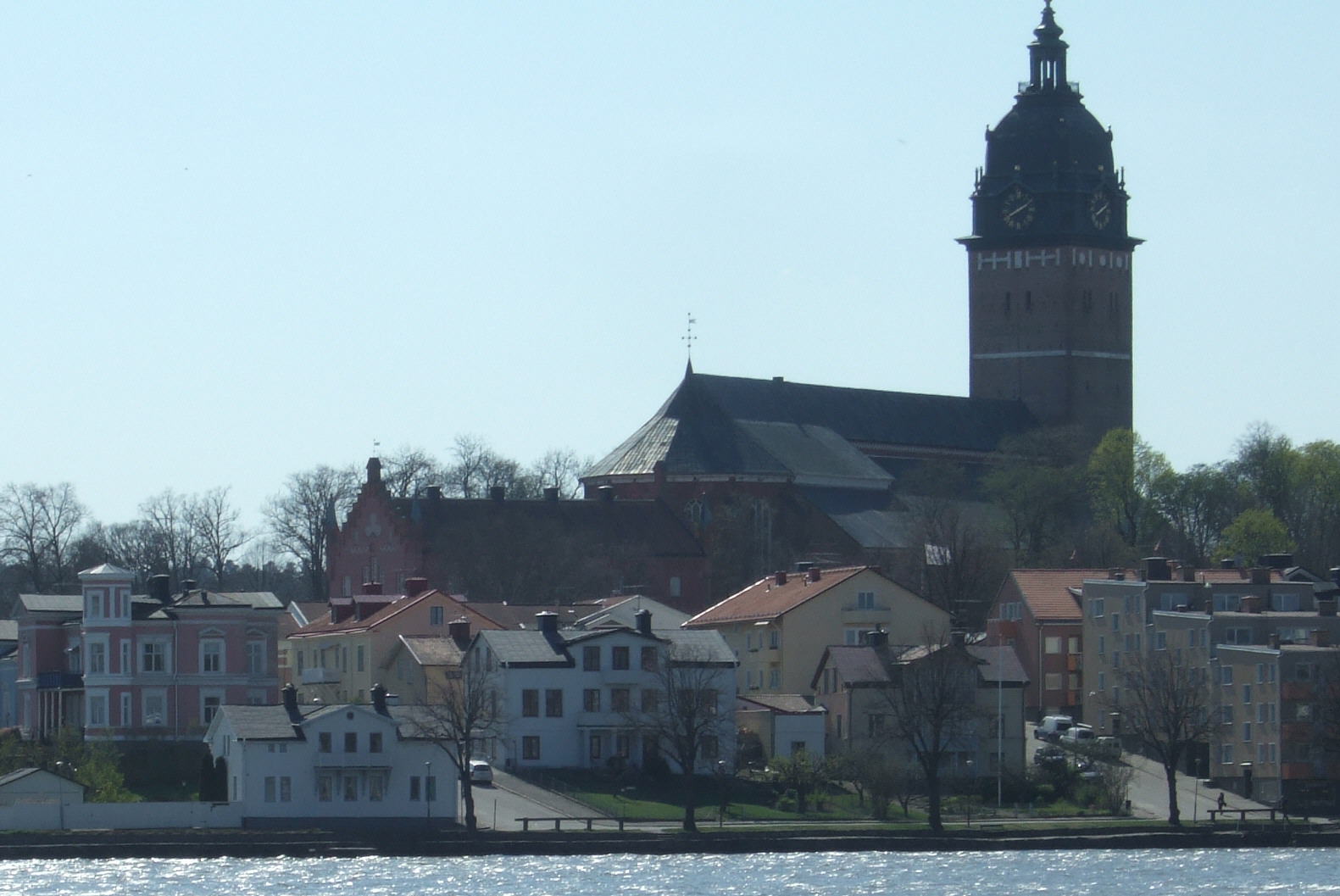 The towering cathedral (96 m/ 300 feet) seen from Sundby.
This is definetely not a big city, just about 32.000 people. To be specific, this is the population in all of the community. The landmass is equivalent of New York, while the actual city is much lesser in size. On top of it, Strängnäs lies in the shadow of a number of significantly bigger cities. Within an hour or less by train or bus, you will find Eskilstuna (94.000), Västerås (134.000), and not the least; Stockholm (metropolitan area some 1,5 million). However the distance is a little bit to far to any of these, to be devoured in their respective field of gravity. Strängnäs is a part of Södermanland state, also known under the abbreviation D. When the car license plates displayed states, this was more common. It still lingers on in some places, though Södermanland may not be the most stern stronghold.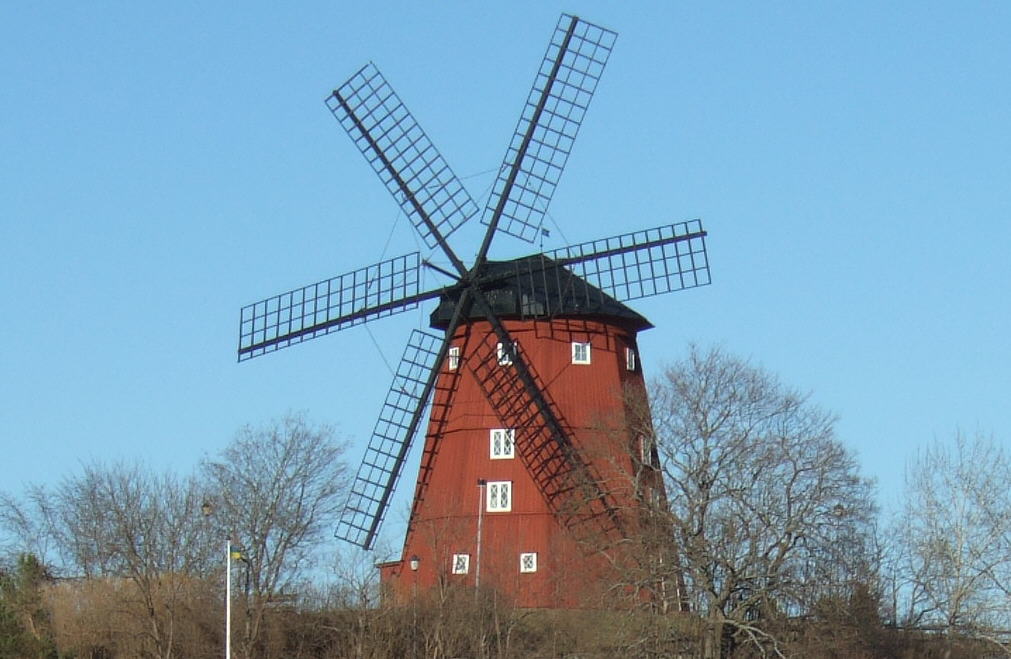 The wind mill by Västervikshamnen (Western cove haven).
Strängnäs is made up of four entities
Beside Strängnäs, three other bigger villages are part of the congregation: Mariefred, Åker, and Stallarholmen. If you don't prefer to just make a shorter stopover in Strängnäs, as part of a trip circumnavigating Lake Mälaren, which is a good idea indeed, a day can be spent getting to know also the peripheral parts of Strängnäs. Gripsholm castle in Mariefred alone, is worth any detour.
Gripsholm castle a frosty morning in march 2004.
Östra Södermanlands järnväg
Mariefred also has a narrow gauge heritage railway with some interesting steam trains going to Läggesta, suitable for connection to buses and modern trains (see map). Yet another heritage line sometimes sees a standard gauge DMU in service. The other end of that line ends in Taxinge, a.k.a the cookie castle, holding a treasure-trove of pastries. No need to starve, if stopping over to the next run. A bus connection to Södertälje is also available from Taxinge.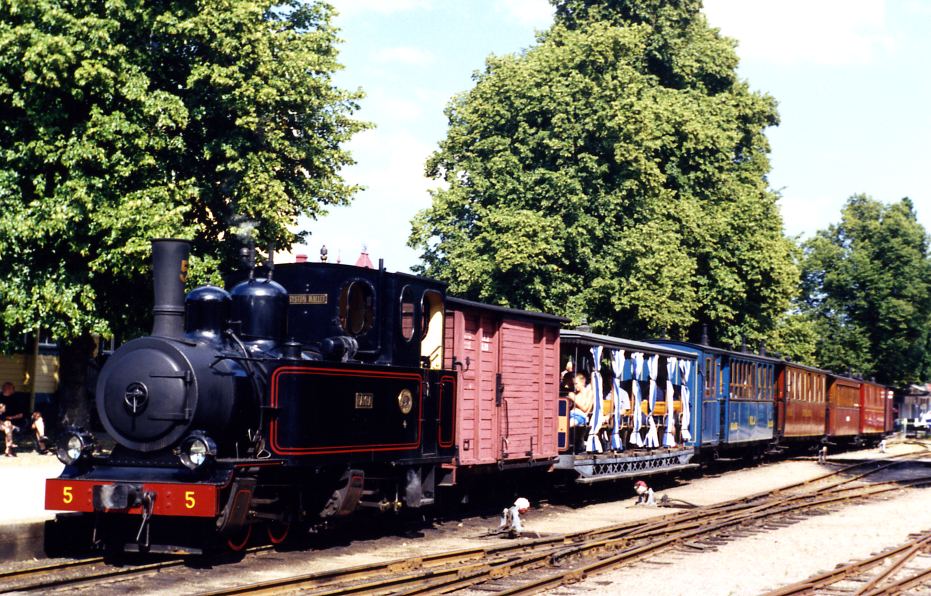 Steamtrain in Mariefred.
If this is not enough to entice the enthusiast to Mariefred, the steam ship may do the trick. The village namesake pictured below, has been sailing on the same route to Stockholm for some 100 years by now. Thus it can also be included as a mode of transportation in this equation, and not just for plain fun.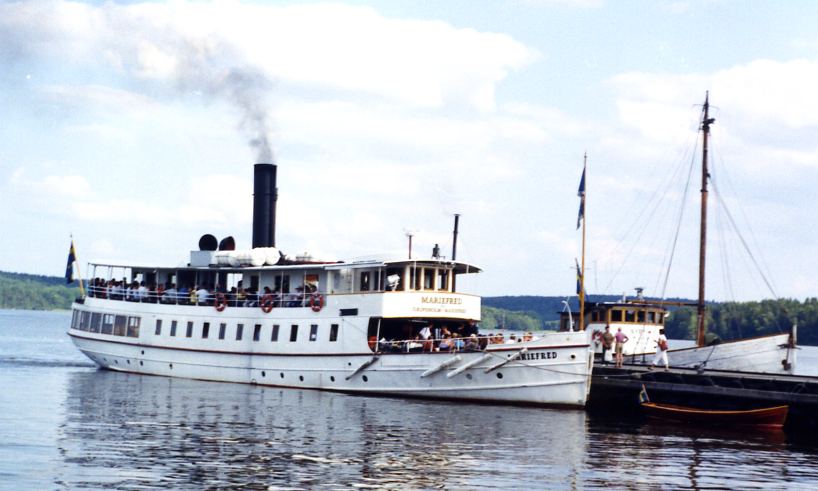 Mariefred steamship of 1903.
Bus services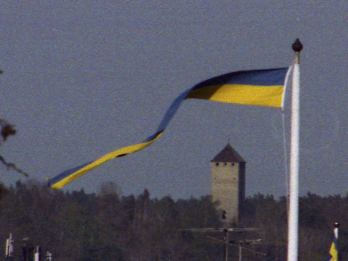 Back to Strängnäs. Services constitutes of only three lines, recently logically renumbered 1, 2, and 3. Formerly 141, 143 and (I think) 147 or 148. The latter's being mostly aimed at elderly, and operating daytime. I guess this sticks, even as they got new route numbers.
3 only runs hourly between the morning and afternoon peak. The same applies to 2, with the exception of a boosted headway of approximately 20-30 minutes around 3-6 p.m. weekdays. Tingstuhöjden is the terminus of both 2 and 3. The patient bus buff can get a nice picture in this area. Service 2 also passes the old garrison.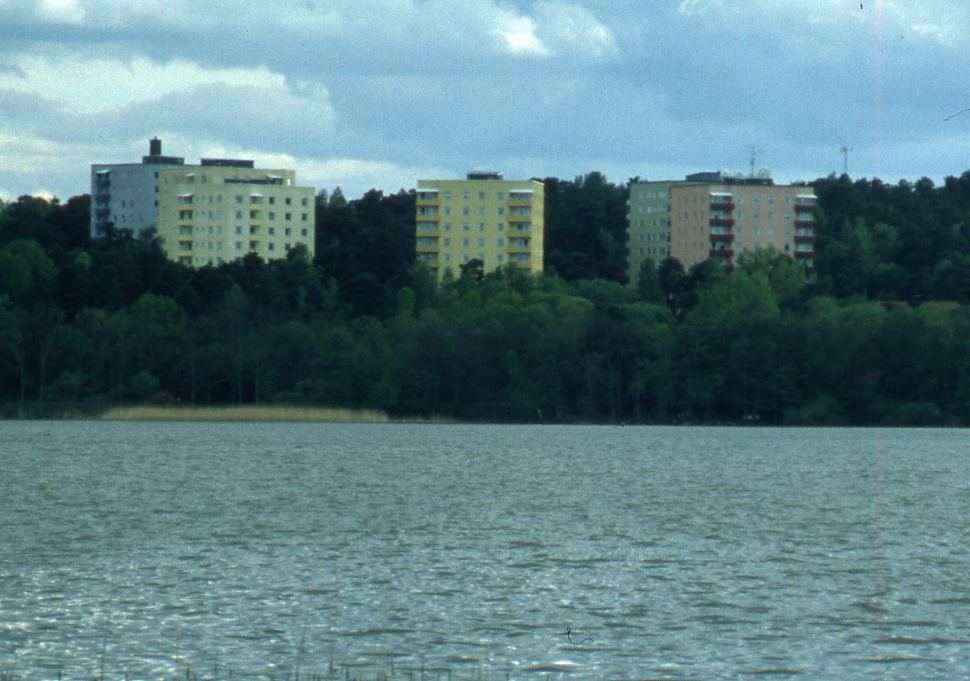 Tingstuhöjden (bus 2), seen from the shore by Abborrberget.
This leaves 1 as the most obvious choise to start with, as it is running all day in mostly some uneven halfhourly services. Alas before noon, and after 7 p.m. it is only every hour. Service cease at about 8 p.m. The times are to some extent synchronized to the trains, in spite of the fact that most passengers seems to board downtown, and not by the station.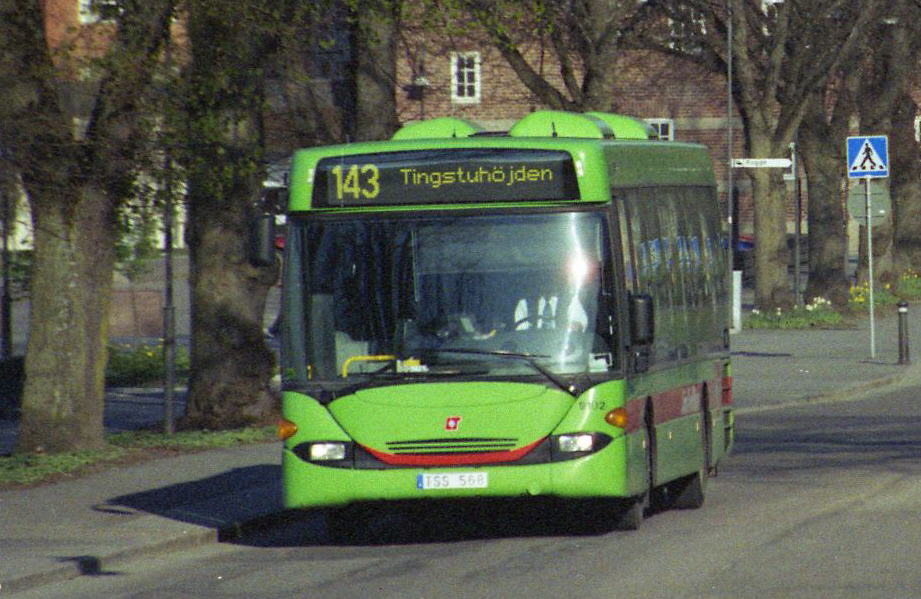 Scania omnicity operating line 143 at main street (Storgatan) 2008.
When riding number 1, the northern section is the most scenic, especially when the bus passes the bridge to Tosterö. Even if continuing to the last stop Aborrberget, also make a stopover by Sundby on the way back. A stroll along the waters edge, with the city as a backdrop is a treat.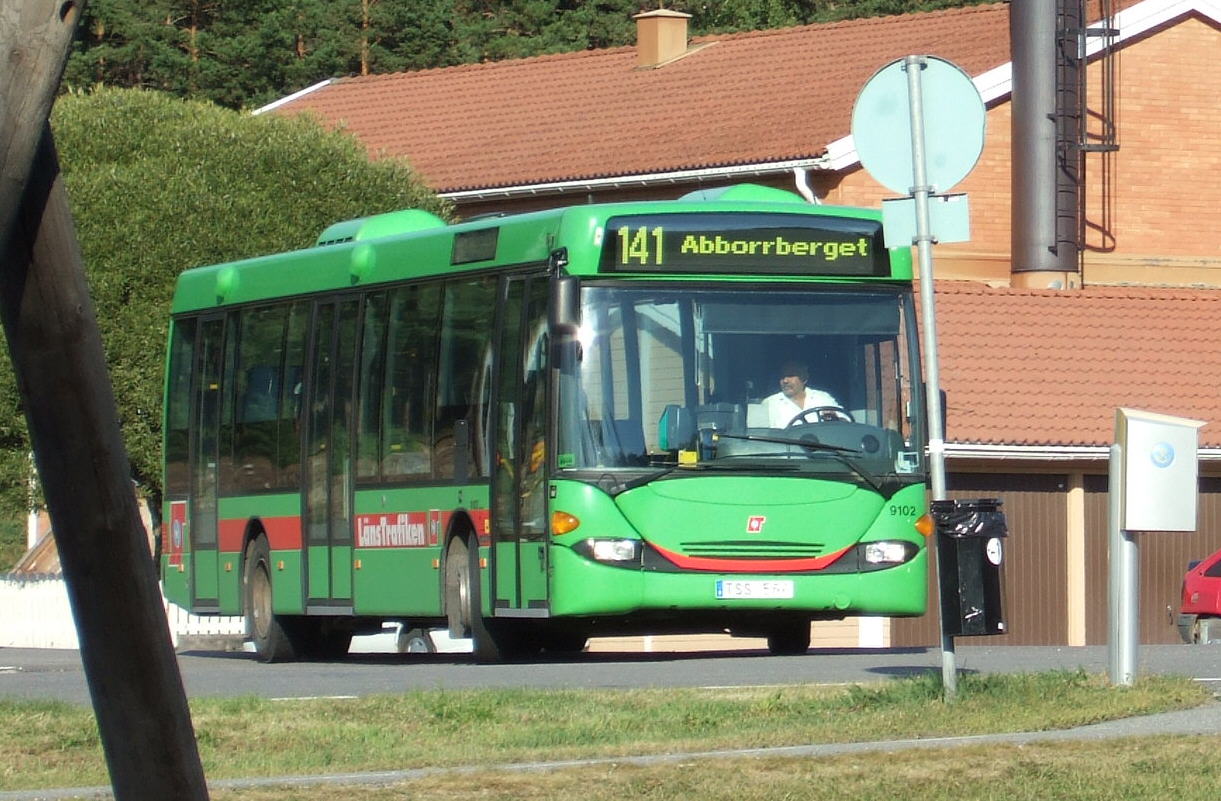 The same bus close to Abborrberget in 2006. 141 is now 1.
Tickets
For a one-time visitor, there is not much of a choise. Get yourself a few single tickets (Enkelresa), costing SEK 23 each. These are sold at the café in the station, Coop Extra downtown (Trädgårdsgatan), or Anders Bil & Däck (Mälarvägen), just across the bridge. The station also offers a card that can be charged with even hundreds from SEK 100 and upwards. The last option is only advisable if you will travel around a little bit more within Södermanland state, or in a company (e.g. a family can use the same card). All of the above tickets are only valid on buses. Tickets can also be purchased from busdrivers, but ONLY with a credit card (not AMEX or Diners).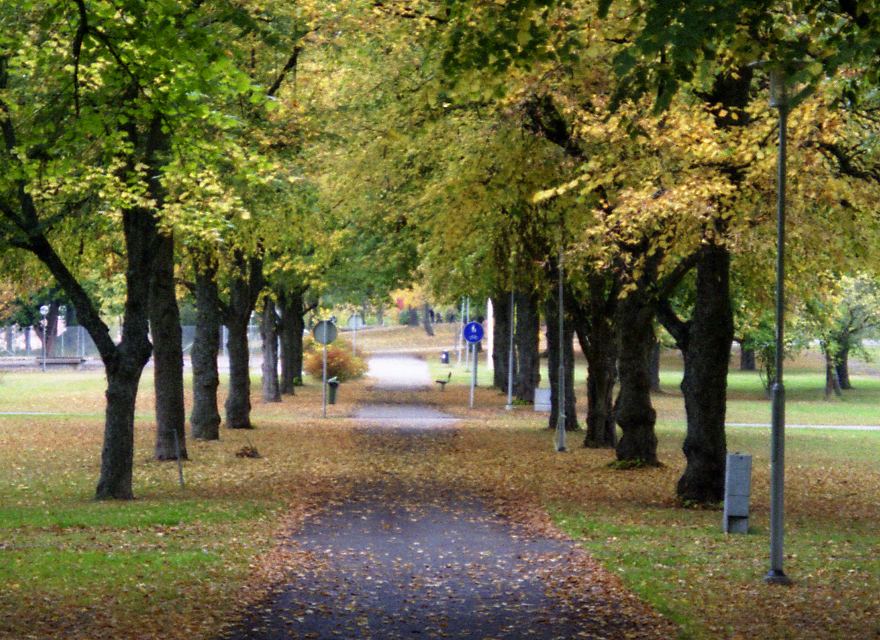 Autumnal colours at Sundby.
Famous for...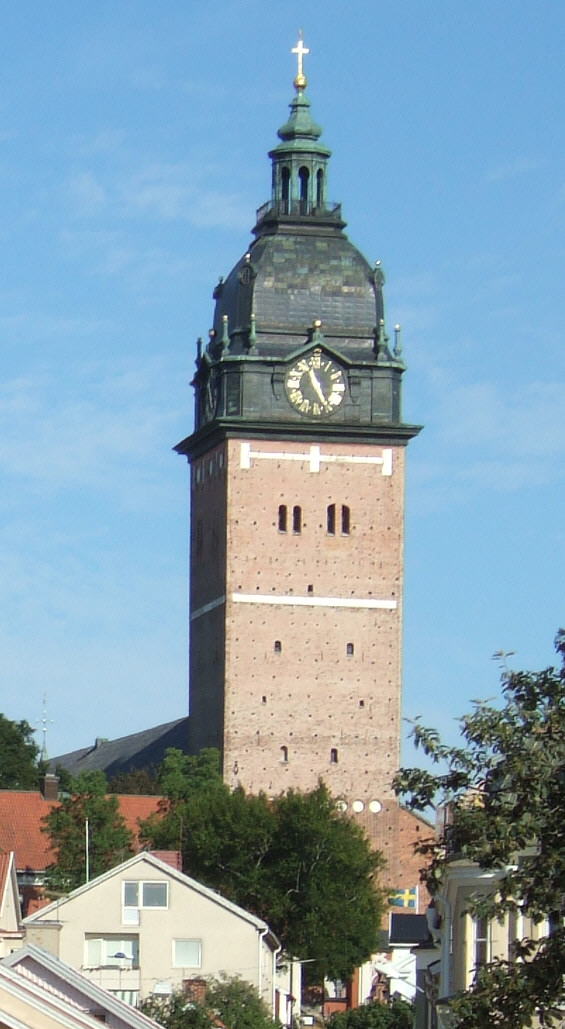 Strängnäs have been a garrison town, and it was only recently, that the army base closed. Hemglass is making ice cream, and sell this from babyblue icecream vans travelling residential districts nationwide by schedule. Regrettably the Strängnäs plant is now gone. The company is still active in all the nordic countries except Iceland (...). The Jehova witnesses have a stupendously huge assembly hall, that is hard to miss, overdone as it appears in such a small town. The cathedral is no small feature either, and building started in 1250. Something less agreeable was the NRP (naziparty), active 1956-2010. Beside the icecream, this was the only thing i had heard about Strängnäs, when growing up.
The railway
The railway closed in 1982. In 1998 is reopened, but in a different alignment. The old station area is hard to locate today, as it has been rebuilt with tenements. The new station is further south, and a bit ouside the downtown. West from the station is a long tunnel, and an all new railway to Eskiltuna, where it connects with the old line right before crossing the river. East from Strängnäs station is a short section identical to the one used in the old era. From the next point the original track leaves in a curve leading southeast (freight only), while the new line continues all the way to Nykvarn.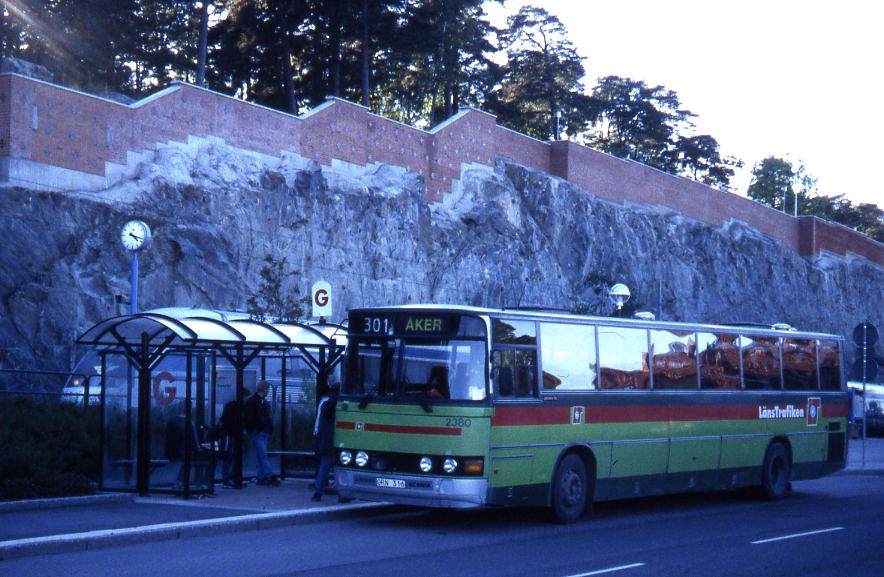 Strängnäs station in its new location, not long after the inauguration in 1998. The tunnel portal is a little bit outside the frame at right.
How to get here
The railway is one of the best ways to get to Strängnäs. The eastern end of the line connects with other trains in Arboga (coast to coast Göteborg-Stockholm), and the eastern part ends in Stockholm. A little bit before, in Södertälje, a transfer can be made from the south (Malmö et.c), and the west coast (Göteborg). Bus can be taken from Enköping in the north, a few times a day. Enköping in turn have a direct connection from Arlanda/Stockholm airport. Mariefred, that is mentioned earlier in the article, have a steamship line from Stockholm, though only summertime. If travelling by car, E20 is skirting Strängnäs in the fast lane. Don't miss the exits!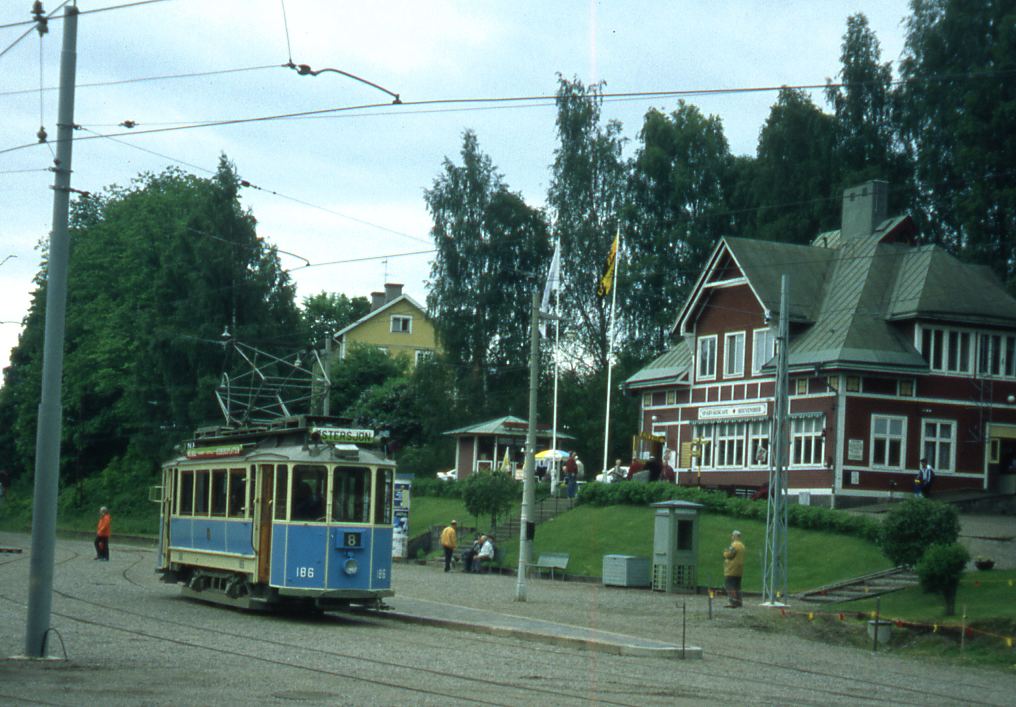 Former Göteborg 186 by Malmköping station.
Malmköping heritage tramway
It would be mad to miss this, if there is time enough to make another excursion away from Strängnäs. The Swedish tramway society is keeping a comprehensive fleet of trams from most of the 13 tramways Sweden have ever had. These are operated on a short former railway on the outskirts of Malmköping. The bus service going there is rather infrequent, but can become part of a continued trip to the trunk line railway at Flen (most trains skip). Or vise versa.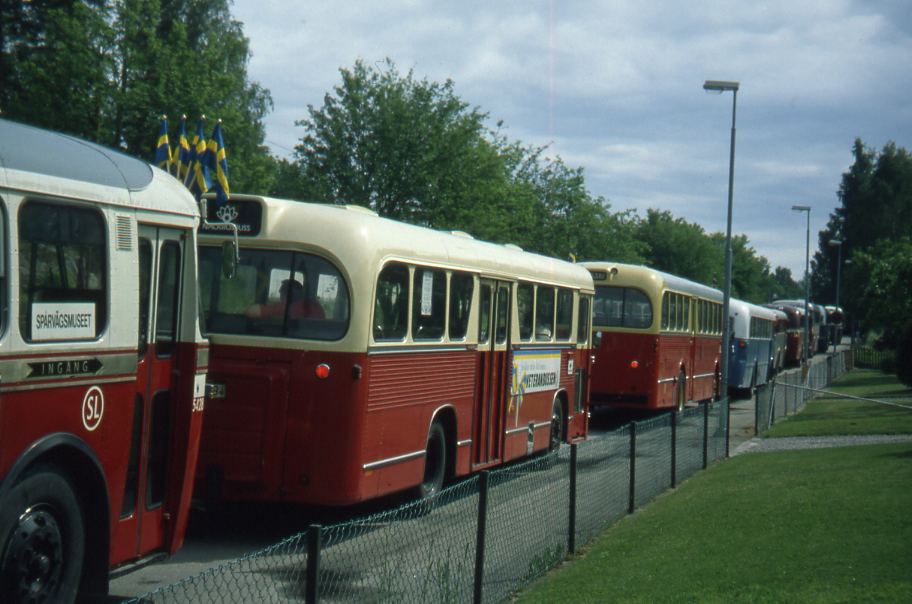 Extensive bus rally in Malmköping 1999.
Not the least - a map
This refers to all nearby place names mentioned before. Buses and railways are shown, with the short red stripes being heritage lines. Note that Läggesta is not a village, merely a transfer point. A lot of buses, and also a few railways are omitted, as they venture to far away from the scope of this article. The map is reasonably to scale, and covers about 100 x 70 km.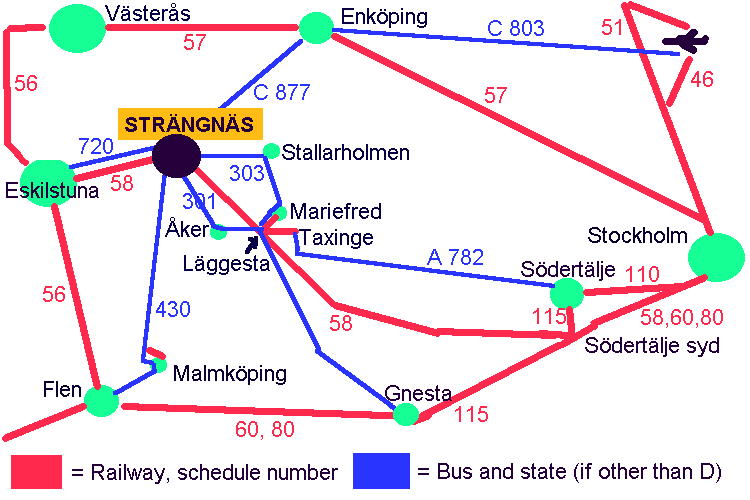 Some more Strängnäs pics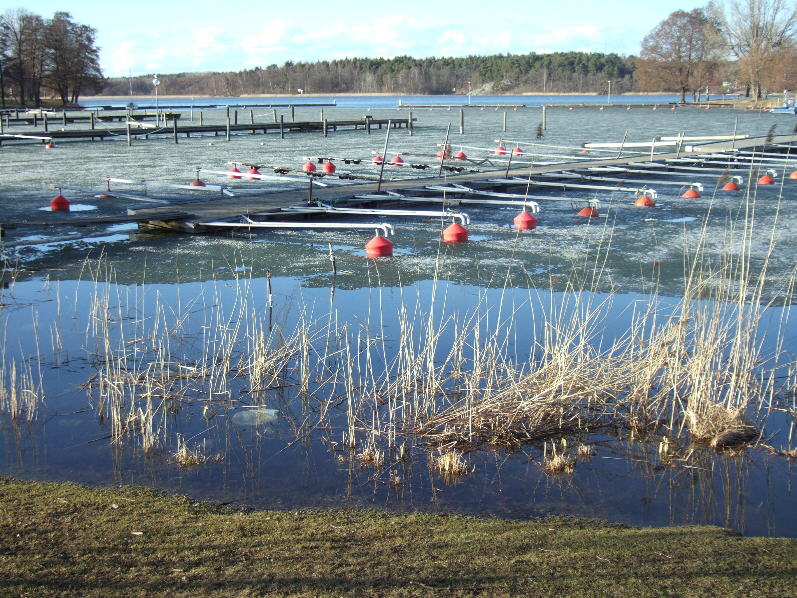 The last ice gives way to spring in april.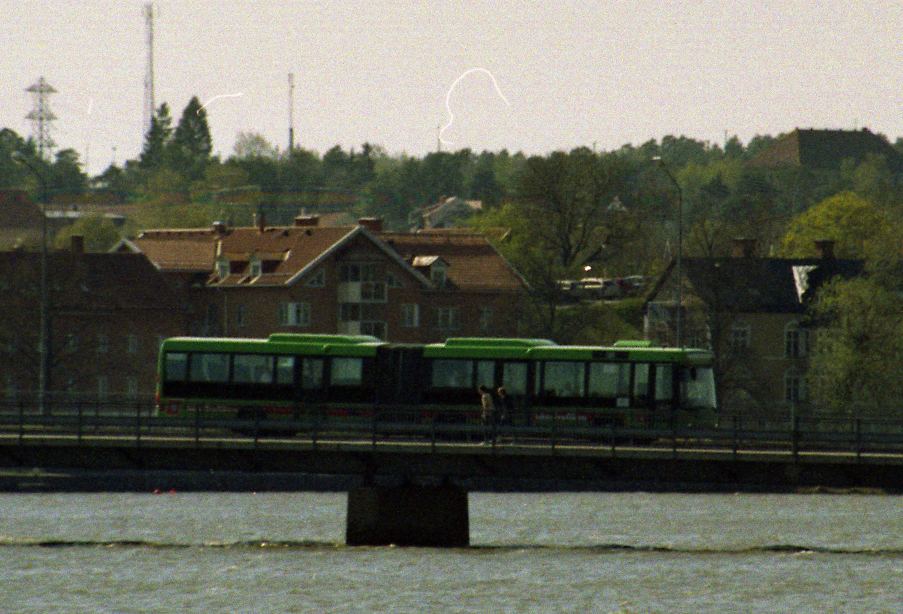 Bus negotiating the Tosterö bridge.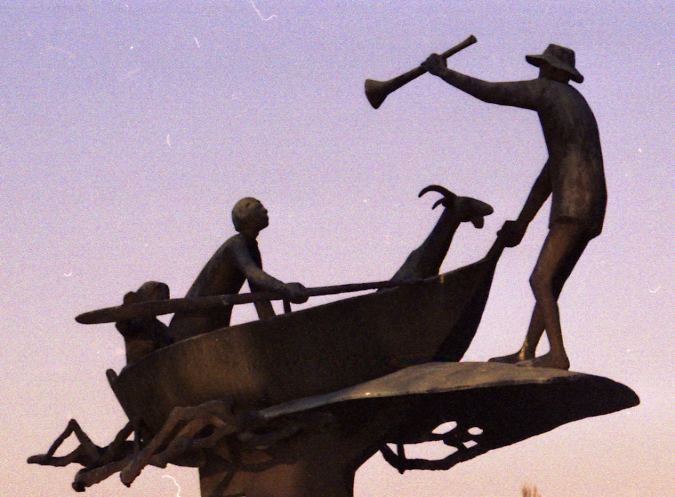 Artwork by the waterline.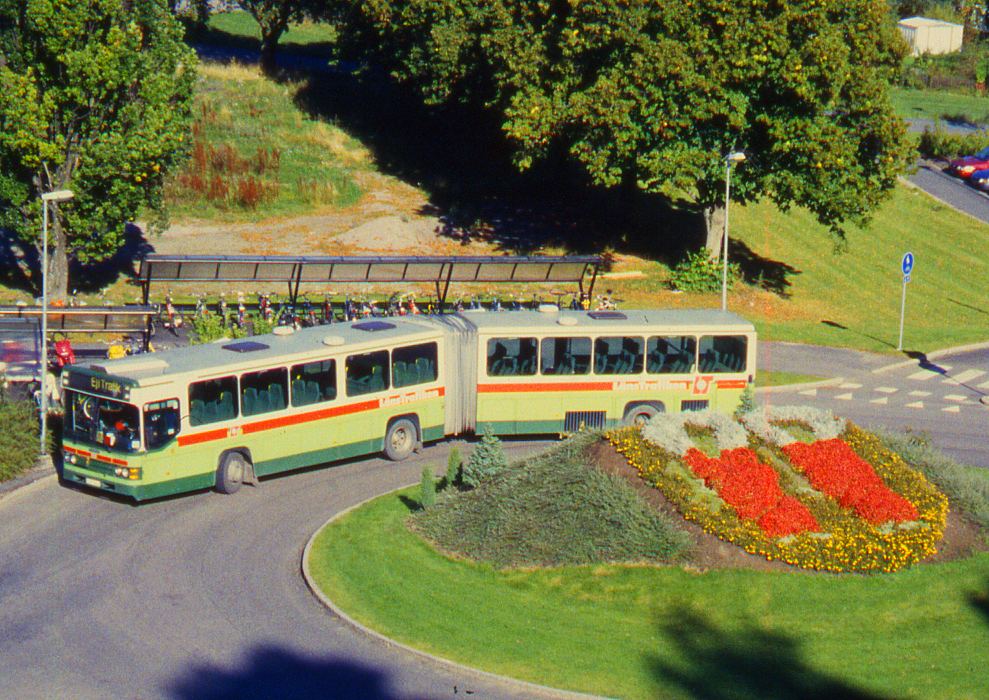 Scania articulated, seen from the bluffs above the station. Note the flower arrangement in the shape of the city coat of arms.
Links
Södermanland state transit (english)
Östra Södermanlands järnväg (eastern Södermanland heritage railway)
Malmköping heritage tramway. Swedish only, except parts of site.
Gripsholm castle. Check mainpage, if this complicated link wo'nt work.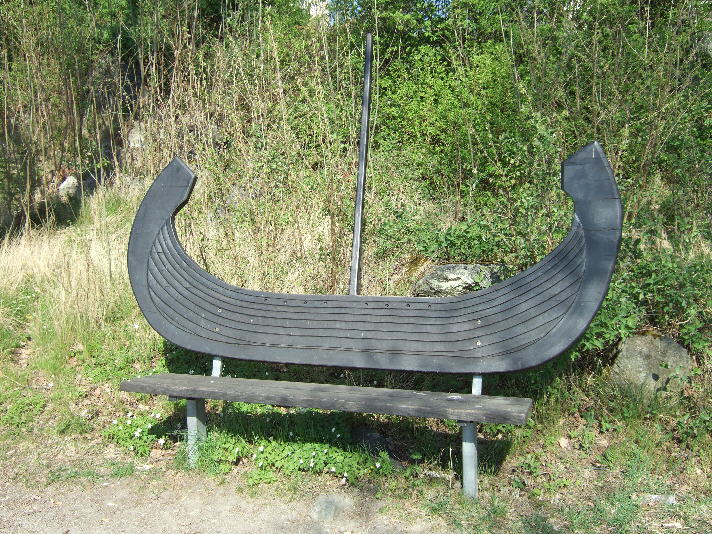 A viking ship shaped bench by she shore at Tosterö (Sundby).
---
© Busspojken 2010