Örnsköldsvik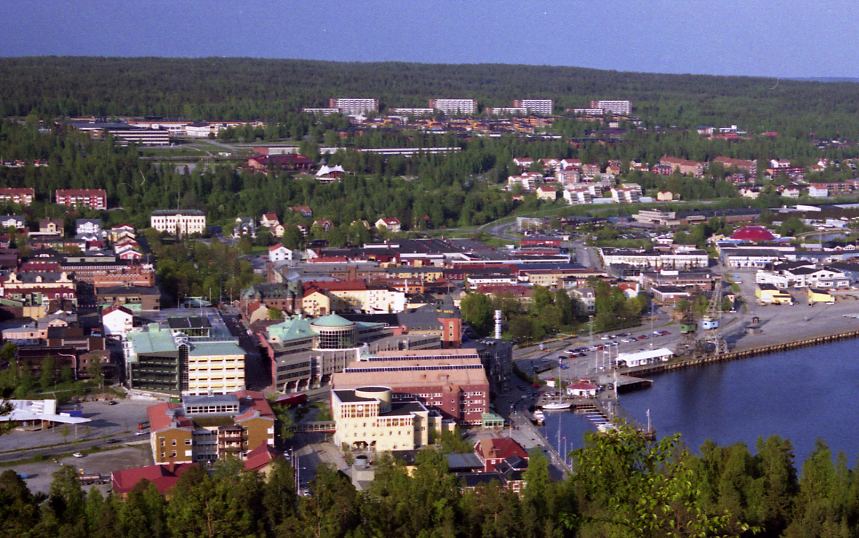 Downtown scenery from Varvsberget.
Water bodies mixed with the meandering interplay between valleys and hills, makes it hard to negotiate the cityscape of Örnsköldsvik. So, even at the moderate size of 55.000 citizens, some rather long bus services are provided. What we could wish for is better headways. Just a few minutes in between is a good estimate, if all the citizens should start to use transit! I would then love to visit Örnsköldsvik more often than the merely two visits I have actually made.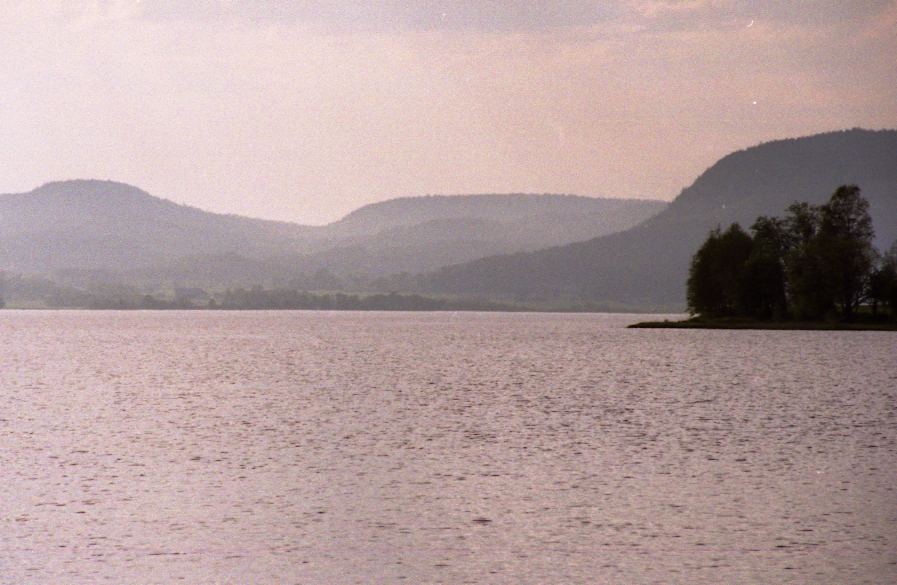 River Mo by Själevad.
The locals often abbreviate the name as "ehh? week", if you can try to say that. Örnsköldsvik is an old place indeed, but was incorporated as a city just 100 odd years back, in 1894. It is internationally (that is north America) most reputed for the export success of hockey players, and also the actor Dolph Lundgren from nearby Nyland, albeit this lies in a different community. For Swedes it is yet again hockey, in the guise of MoDo team, named after the paper mill (now Holmen). That name is in turn obviously derived from the river Mo, flowing through Domsjö where it is situated (bus 1 and 5).

Domsjö paper mill from Varvsberget. Domsjö water tower is the yellow dot in the middle at right.
Swedish transit enthusiasts, and maybe some abroad, certainly know the company Hägglunds (founded 1899), part of ASEA (ABB) from 1972, and later partitioned again. The product range have been mostly in the transportation business, such as buses, trams, tanks and subway cars. A retired subway car of type C5 from Stockholm was formerly exhibited in the downtown, but is now moved. A picture of this is included in the livery section for A state. Also a specimen of Hägglunds articulated buses from the 70:s, is shown in the livery survey for OPR states, where the trams can be seen too.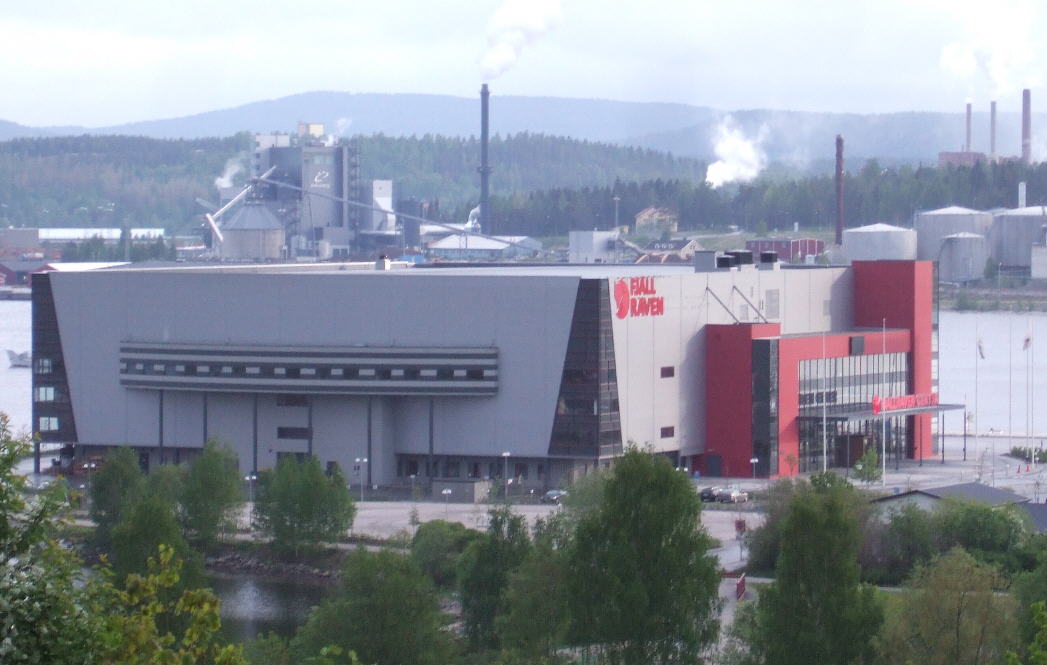 Fjällräven center hockey arena.
Fjällräven is a maker of sturdy outdoor equipment and garments, celebrating 60 years now. Fjällräven center is the name of a Hockey arena built in 2006. This is located by the former docks at the tip of a peninsula, making up an industrial area in the continuation of the downtown. 1 km straight south of Örnparken. I wonder how they empty the arena without transit. One bus an hour at nighttime will not suffice, needless to say. 9000 cars (the arenas maximum capacity) is a lot of vehicles.
Bus services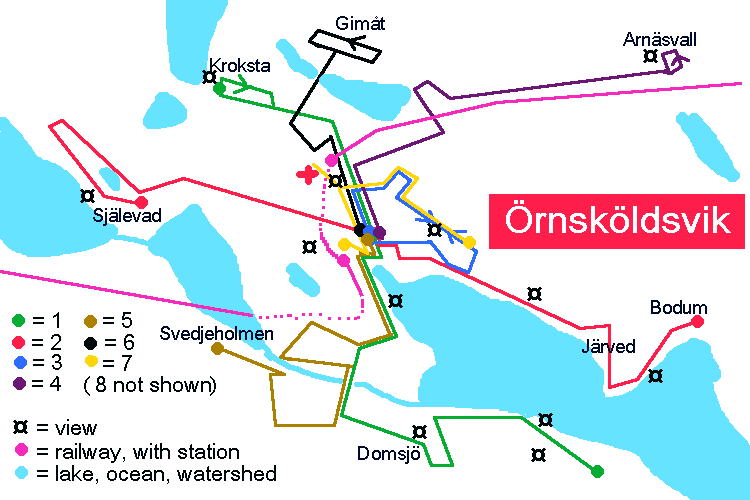 The scope of this map is approximately 12 by 8 km.
Route 1 and 2 has an inconclusive 30/60 minutes headway before about noon. This probably saves one vehicle at each line. Most of the day has three buses in service to cater for each of the two routes, as soon as the 30 minutes intervall starts. Line 3 needs only one bus, and alternate with clockwise or counterclockwise departures. 4, 5 and 6 are operated hourly, albeit with times often a little bit different from one hour to the next. 7 is also hourly, but for a brief span only. 8 is only operated once or twice daily, and the lines 20-24 runs approximately every 60 minutes about business hours. For more exact information, I refer to complete schedules, offered at the state transit companys internet site.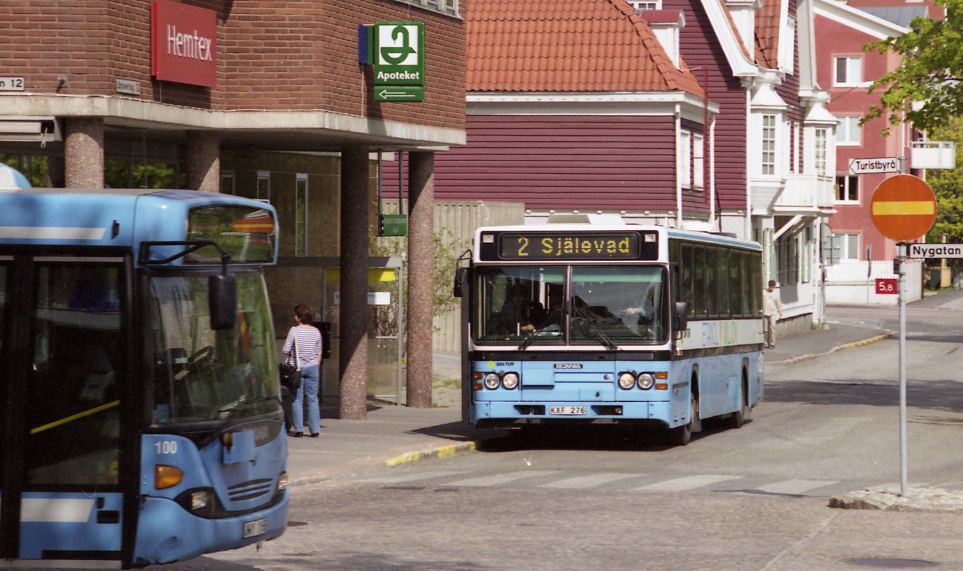 Örnsköldsviksbuss 100 and 90 in 2003.
Note that the downtown terminal for local citybuses lies by Örnparken, that is at a little distance away from both the railway station(s), and the bus station aswell. The bus stops by Örnparken are placed in the north-south alignment, and also east-west. Some regional buses also calls by this place, but north along the same street. I can imagine that some changes to the present design may happen, when the new railway stations and bus station soon opens. In some other cities all or part of the local services have moved to the new station, as it has opened. Regional connections may benefit, while closeness to the city core could suffer (Sandviken is a good example of this).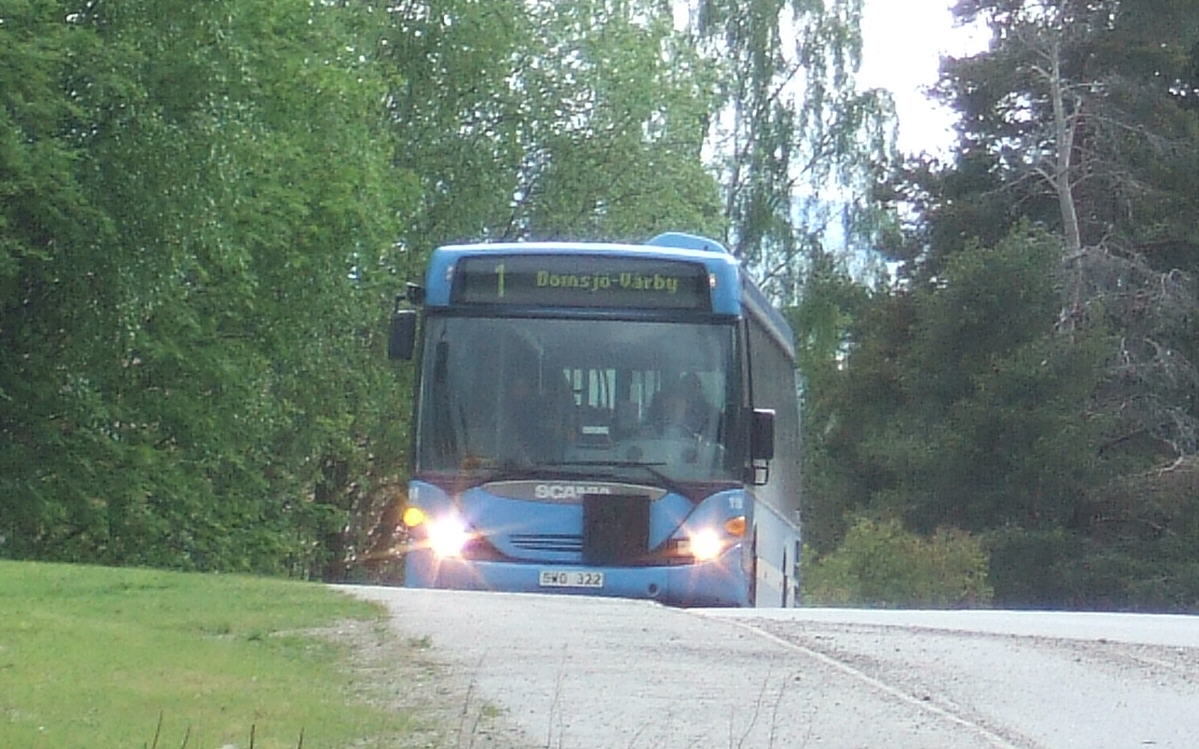 Veolia 118 at route 1, close to Domsjö water tower. Note the black square in front. This is a road sign, that lits up when buses stops for exchanging passengers. A local rule then limits speed to 30 km/h, similar to when US school buses stops.
As you may have noticed, the routemap have a legend for views. This is however almost nedless, as just about every spot in Örnsköldsvik offers a good view. A few places even gives the patient photographer the opportunity to get a picture of a bus with a distant landscape or urban clutter as a backdrop. Just give it some time to find the right spot well before the bus is expected to arrive.
Vehicles and liveries
Scania Omnicity 114, service 1, by Örnparken in 2003.
Presently there is some balance between the two big domestic makers, Volvo and Scania. The latter are newer, and vice versa. Scania is represented by the formerly ubiquitous Maxci design, in this instance fueled by Ethanol. Also some diesel fueled Omnilink are used. Volvo in their turn, are second hand B12BLE from Råsta depot in Stockholm. The livery is also divided in three different varieties. We can call them the old city colours, the new dito, and the undertaker Veolias own, i guess. It is not often it occurs that a transit authority do NOT demand a special livery. Pictures showing each of the liveries follows below.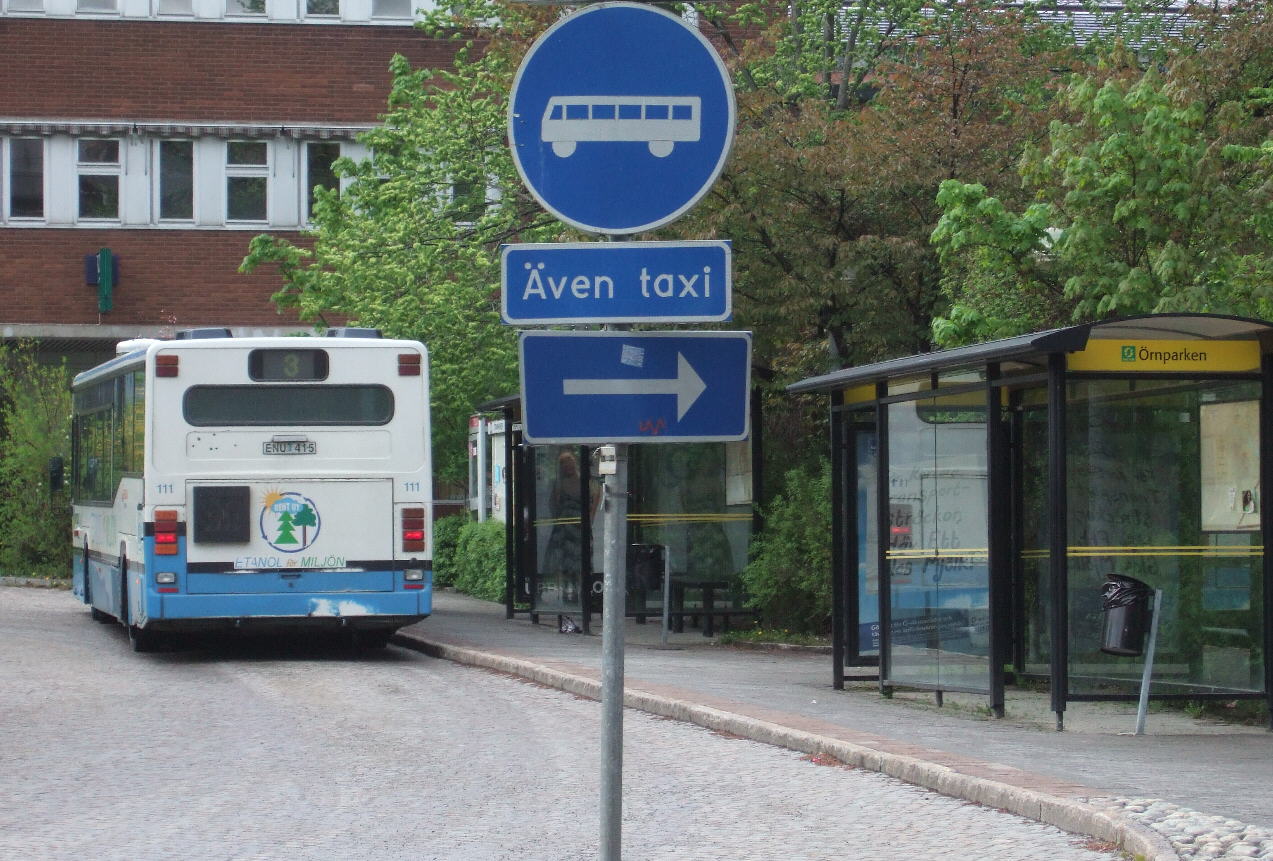 Scania Maxci 111, line 3 in 2010.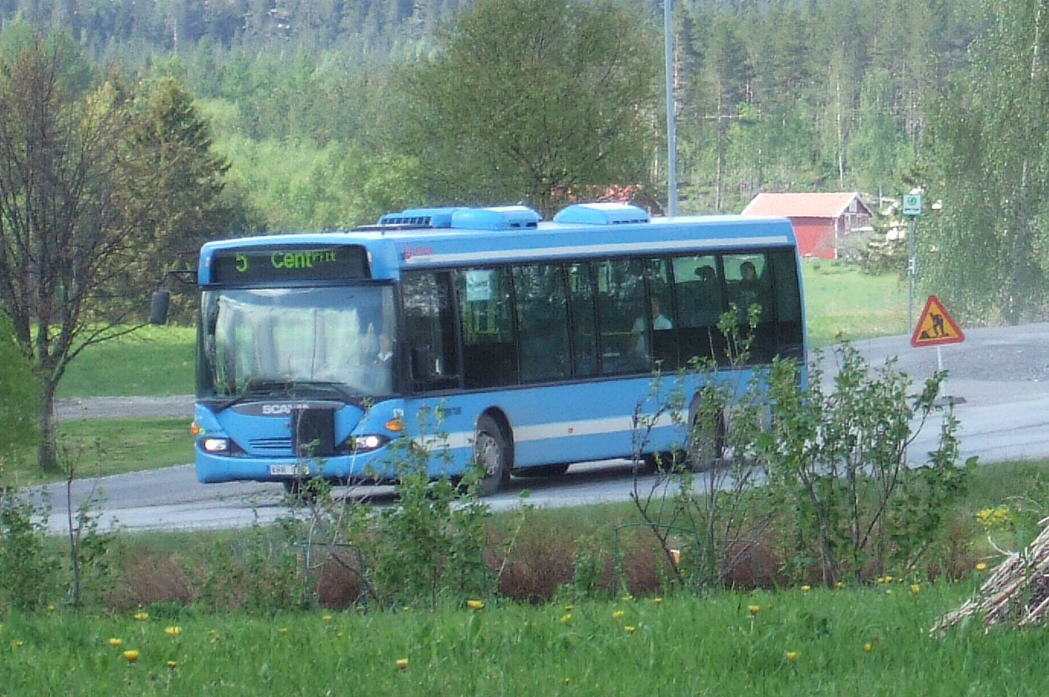 Omnicity 124 negotiating the curvaceous far section of route 5.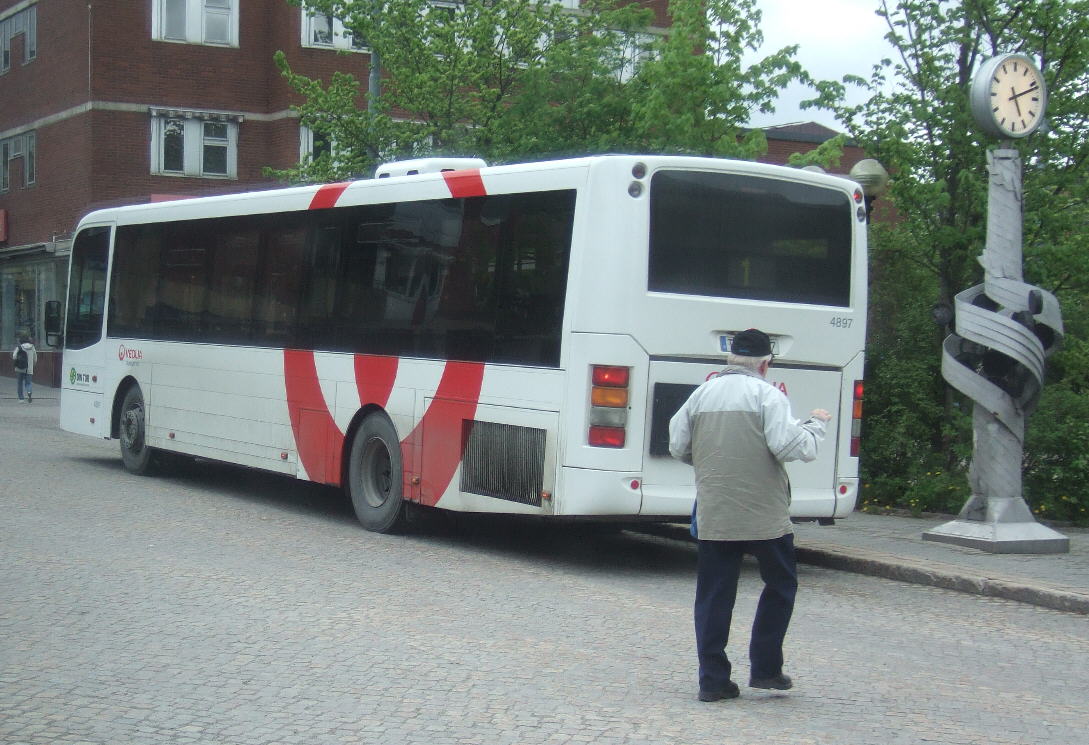 Veolia 4897, a Volvo B12BLE originally purchased for Linjebuss in Stockholm.
Ticket to ride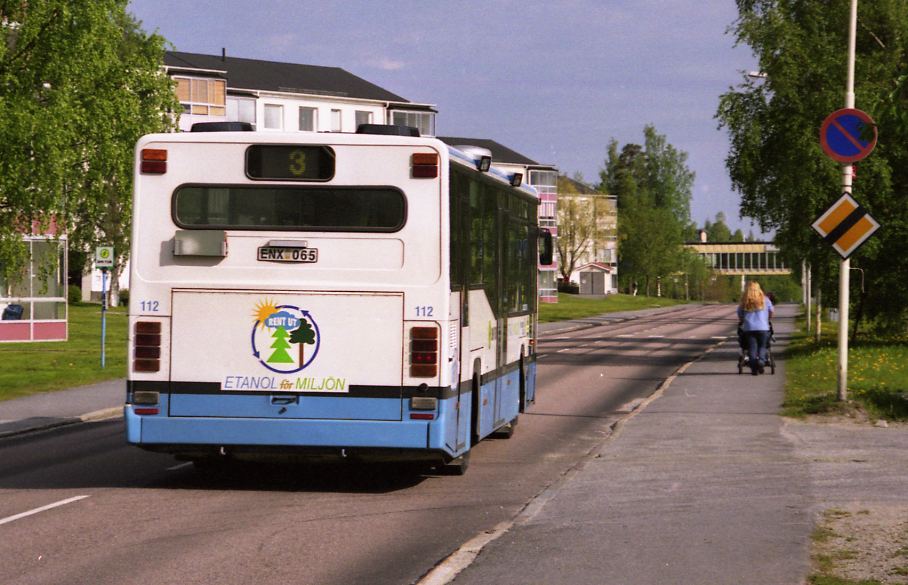 Scania Maxci 112, Vintergatan along beltline 3.
Örnsköldsvik is part of Västernorrlands common tariff system. The simplest thing for the casual visitor would otherwise be to buy a single ticket, including transfer when needed. These are obtained by the driver, for the cost of SEK 25 each. Rather expensive, but not extremely so. As usual, they are of the kind printed on ephemeral thermo paper, and not suitable as a collectors item. Those days are gone, my friends.
How to get to Örnsköldsvik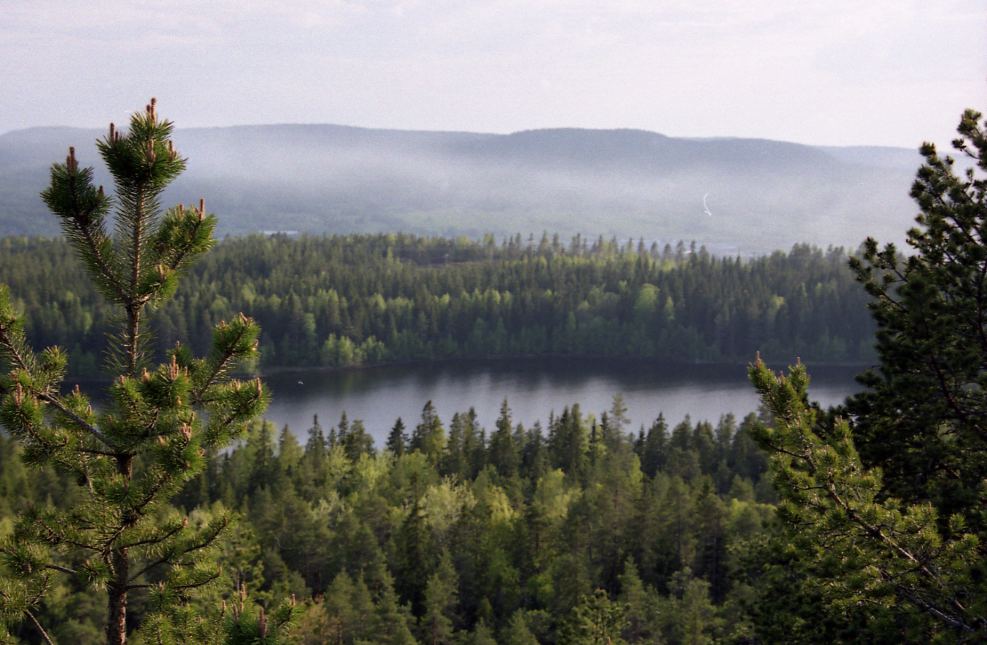 South vista from Varvsberget. The access road to this hill is coming from the eastside, by route 1 and 5.
When coming by air, a transfer is needed at Stockholm - Arlanda airport. Örnsköldsvik airport is situated northeast, closer to Husum. SAS do not retain any regular service to the airport anymore. It is easier to get to Umeå, where long distance buses, and soon also trains, would be running to Örnsköldsvik.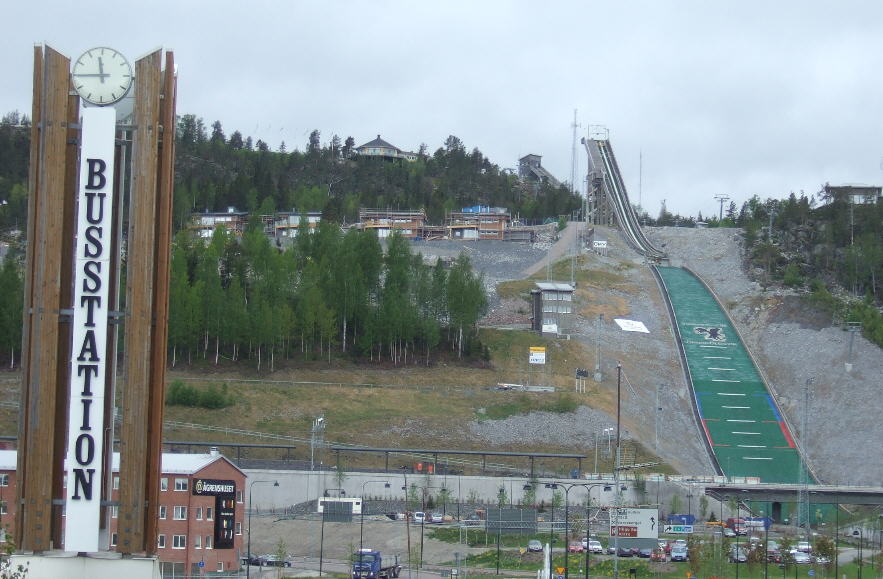 Rooftop of the old bus station (closes likely in August 2010), and ski jump at Varvsberget. The gray structure in the lower part of the picture, is the embankment for the new (south) station.
The next option is by rail, but only night trains with wagon-lits are offered, and not yet any direct services. A bus transfer from Mellansel, further inland, is necessary. A new highspeed railway (Bottniabanan) is under construction along the coast. This will gradually be taken into service from this August (2010), and is slated to facilitate much for the locals and visitors alike. Daytime trains are already running between Stockholm and Sundsvall, where a bus service can bring you further north.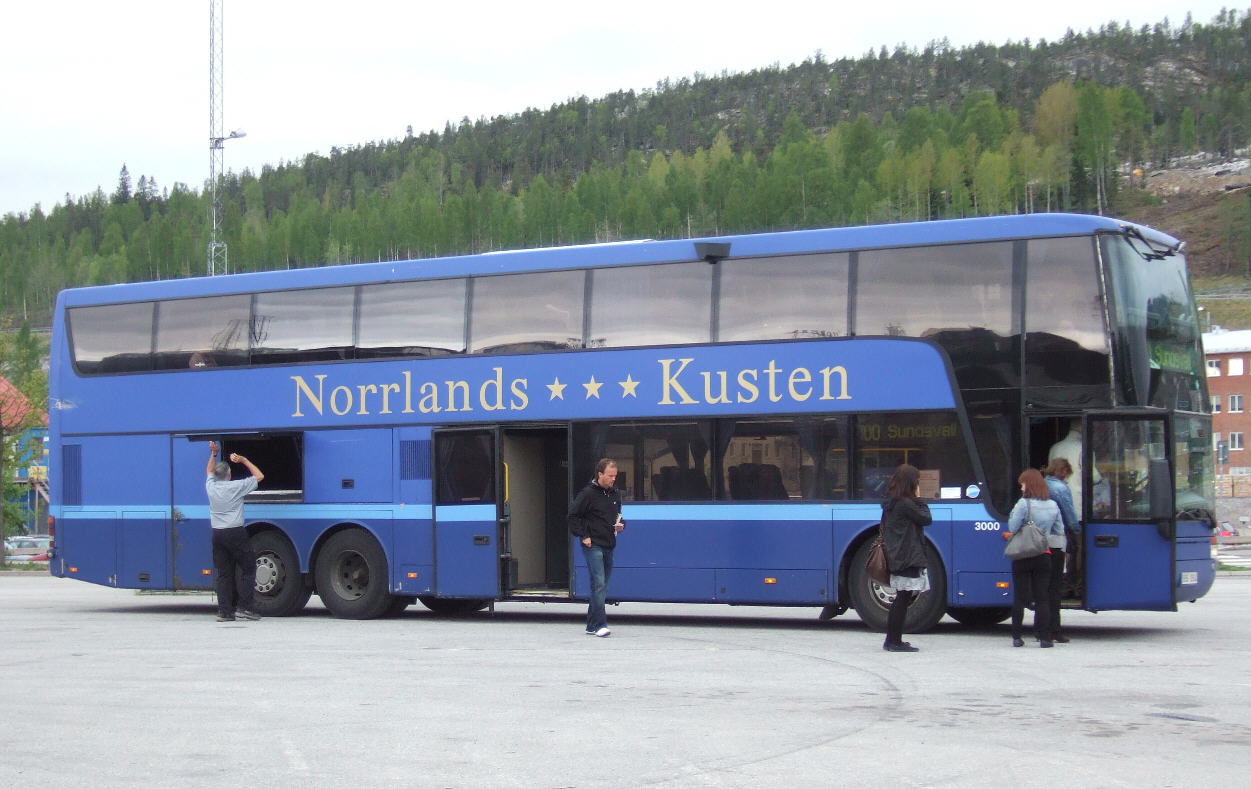 Double deckers operate the ultra long Kustbussen line between Sundsvall-Örnsköldsvik -Umeå-Skellefteå-Luleå-Haparanda.
Finally, a freeway is present for motorists. E4 goes right in to the heart of Örnsköldsvik, but better still is to commit a park-and-ride in Själevad. Route 2 can then take you downtown, or further. The daytripper may also stay in either Umeå (preferable) or Sundsvall, and get here by Kustbussen in about 1,5 and 2,5 hours respectively.
Excursions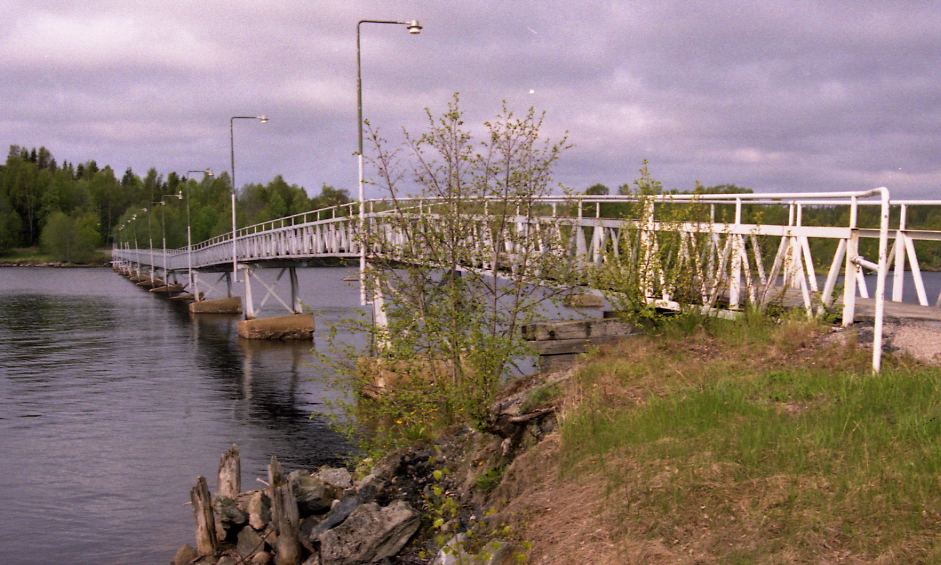 Husum, 25 km north of Örnsköldsvik.
Especially the litoral region has some sights that you should not miss, when time is at hand. The area is known as the high coast, both for the mountainous terrain, and land elevation. The latter must be explained for people from the south: since the last ice age pushed the bedrock into the crust of the earth, with the power of up to several miles worth of heavy ice above, the ground is still bouncing back up. This is happening to the tune of about one centimeter, or half an inch a year, in this area - the fastest in the world.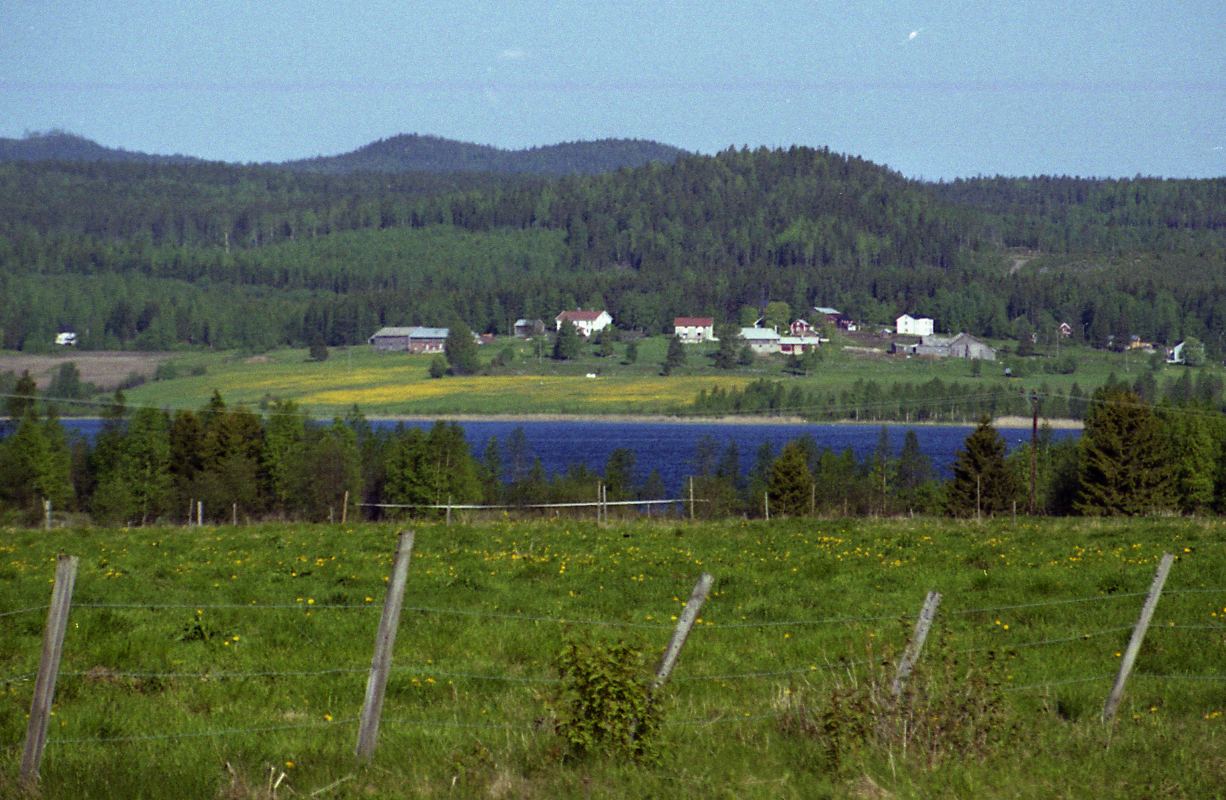 Scenery between Köpmanholmen and Bjästa.
All of this area in general, as I get it, is a UN world heritage site; the high coast. That is hard to locate, but Skuleberget national park is easier, as it is some 25 km south from Örnsköldsvik. The view could be worth the climb.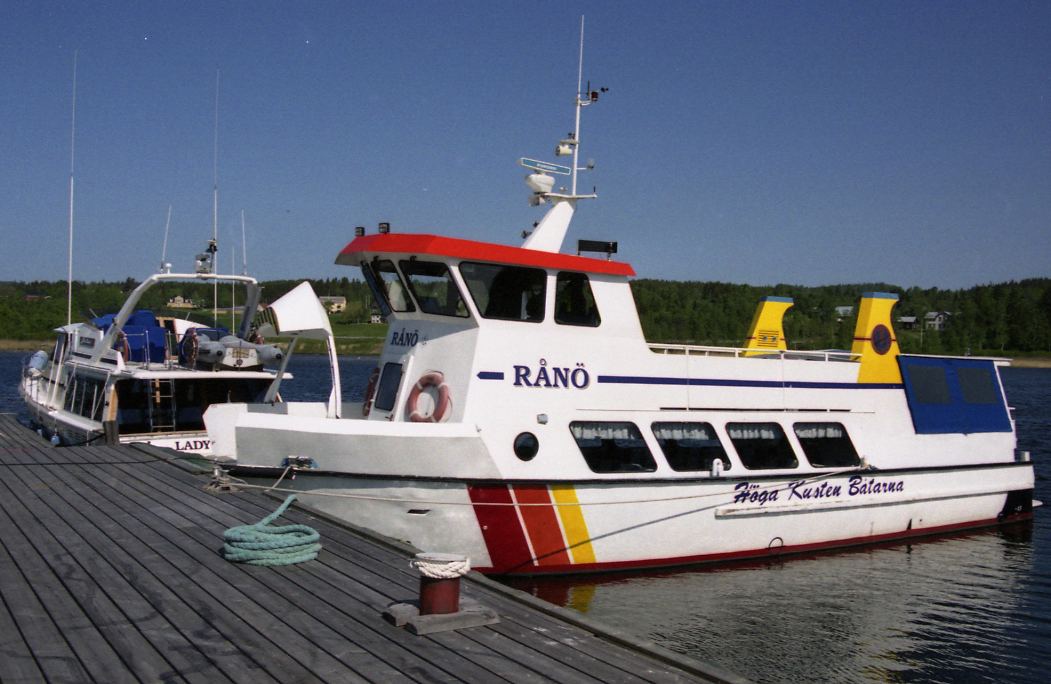 Rånö, built for Waxholmsbolaget in 1965. Moved to the private Höga kusten line in 1984, and was later rebuilt. This is capable of 30 knots.
The island Ulvö (wolf island) is located off the coast. It is catered for by both city owned ferries from Köpmanholmen (and maybe even hoovercraft - I have seen one), and a private line from Docksta. unfortunately I haven't been to the place, as the ferries were cancelled due to Whitsun. Island dwellers are religous = sinful to ride a ferry on a holiday, while new years day (no church holiday) had a service. The private ferry, looked like it could be crowded at this occasion, so I let it pass too.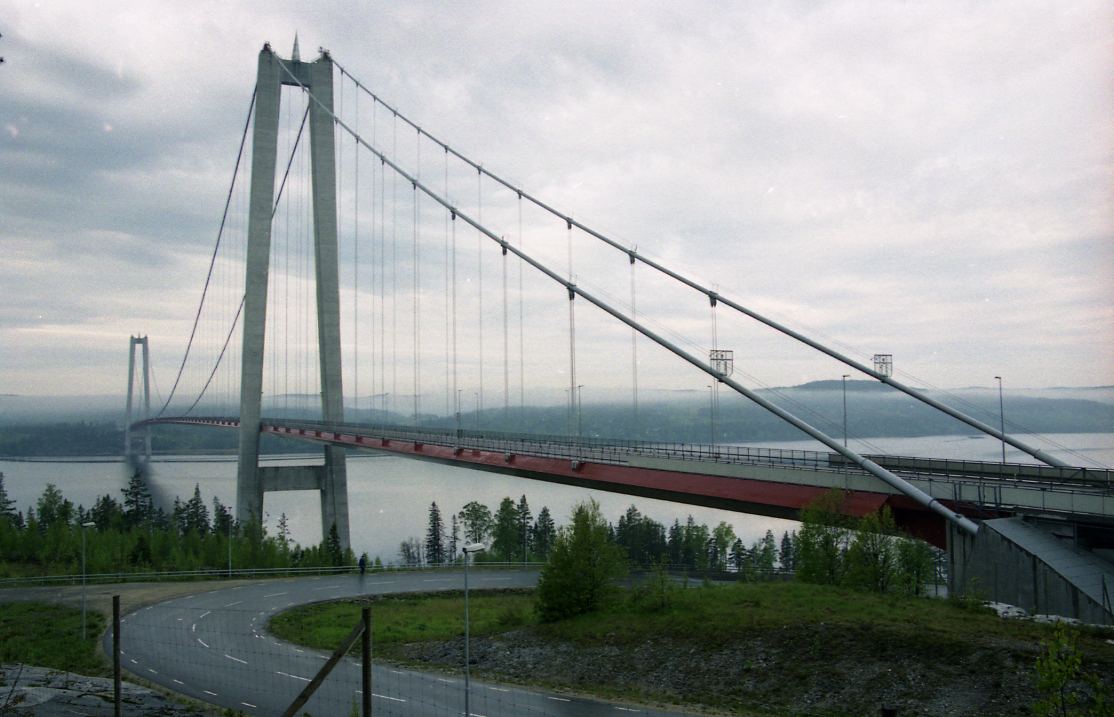 Höga kustenbron from the visitor center by the north anchor.
Höga kustenbron (high coast bridge), also called Vedabron, has Europes third longest span. It replaced Sandöbron as carrier of E4 in 1997. The older bridge (1943) had for many years the worlds longest concrete span. During construction, a tragic accident led to the loss of 18 from the staff, but as this was the day before WWII started, that news petered out fast. The north side of Höga kustenbron has a visitors center, and probably the best view of the bridge.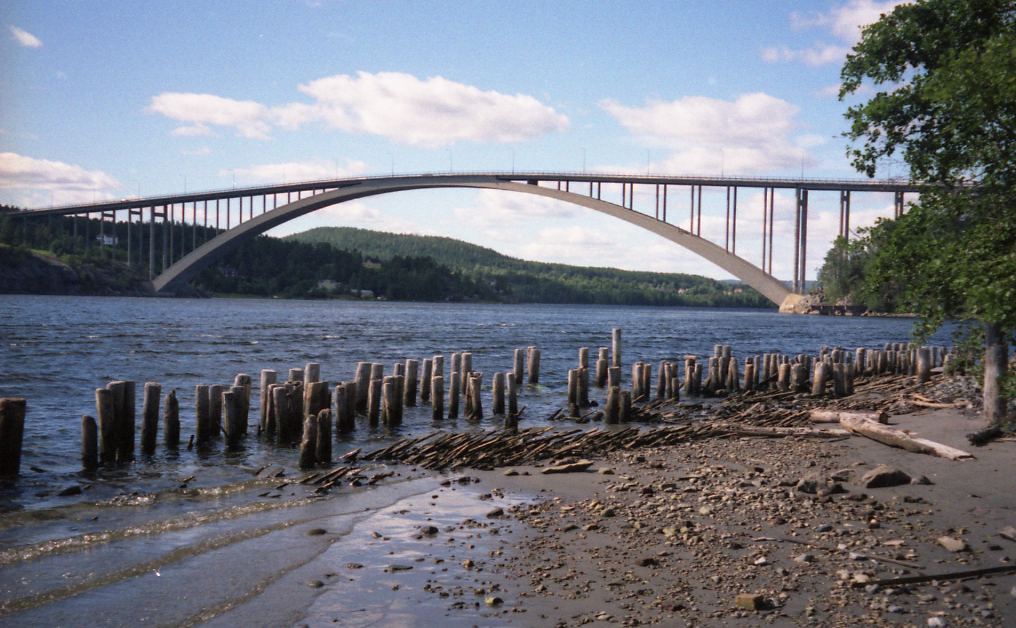 Sandöbron in 1997.
Ådalen is known for a strike affecting paper mills in the area. A demonstration against strike breakers in 1931, was met by soldiers armed with machine guns. These finally opened fire at the crowd, killing people. This event is still a sore for Swedish unions, and often mentioned when politicians suggest restrictions in the right to strike or demonstrate. A film was made in 1969 (Ådalen 31), commemorating the background. This film was even nominated for an Oscar.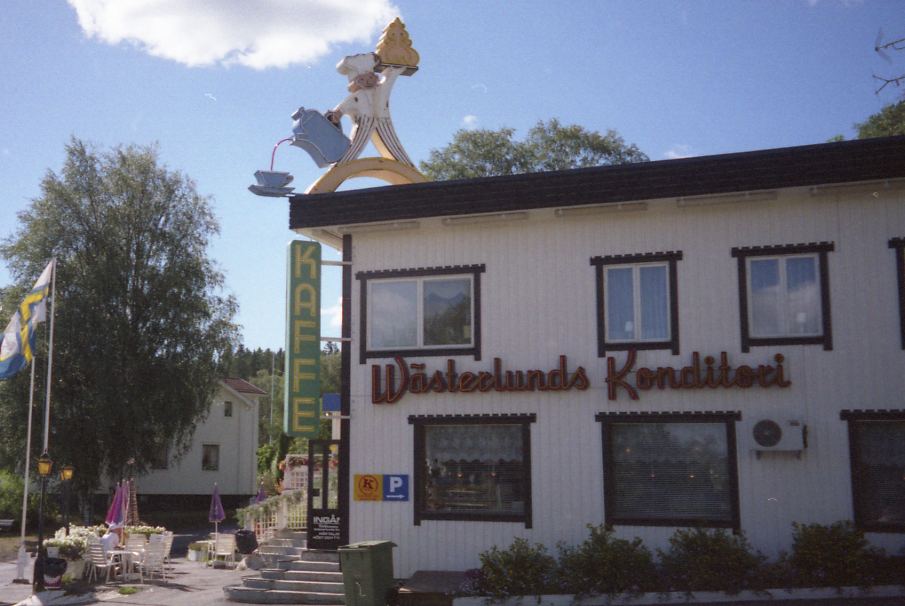 Wästerlunds iconic pastry shop and café by Sandöbron, south side.
Some more images of Örnsköldsvik
Kroksta, terminus of route 1.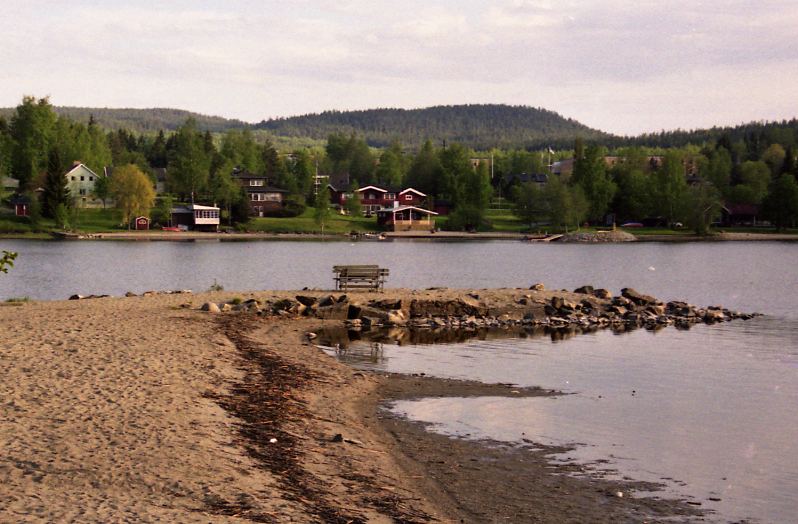 Själevad open air bath. Bus route 2.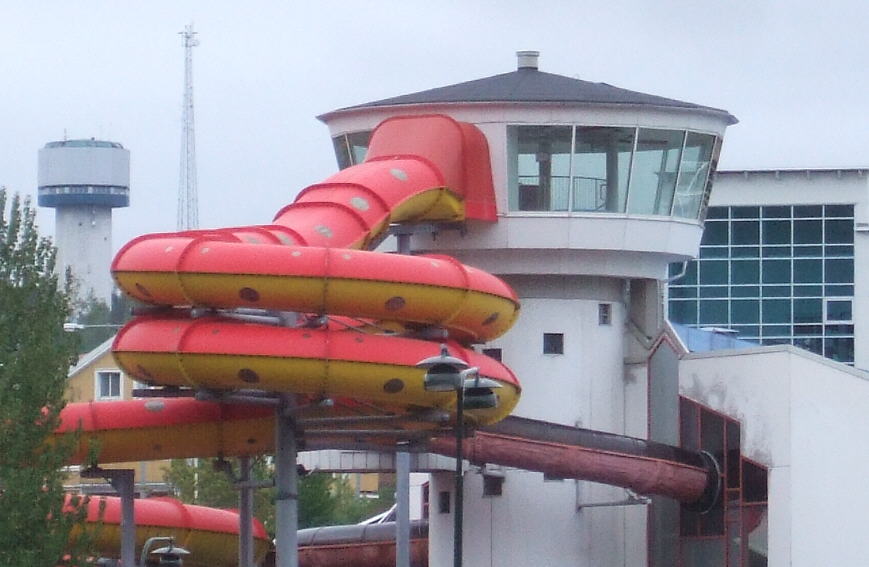 Paradise bath by the bus station in Örnsköldsvik.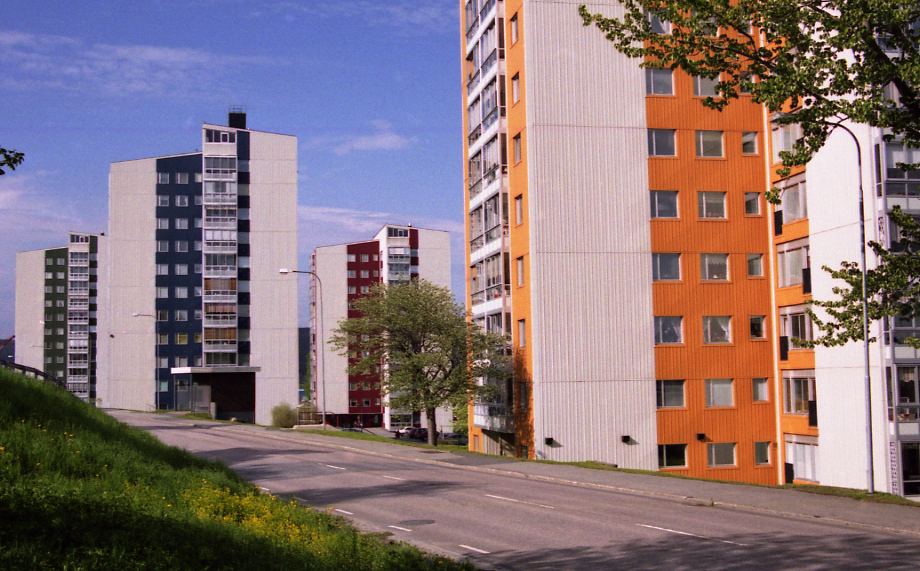 Ångermanlandsgatan high rises, near both the hospital and the coming northern station.
Links
This collection offers some examples, from which you can obtain further information, when planning your trip. All links will open in the same browser window as Busspojken, and thus replace this.
Private search register with information about buses
STF hostels, Swedish tourist association
Scanian water tower society, some English available.

By the quays in Domsjö looking downtown. This is not far from the terminus of route 1.
---
© Busspojken 2010