Örebro
Örebro is to be found at the axis between Oslo and Stockholm, by the roads E18 and E20. The city is a university town (14 000 students) and logistics center, in reasonable proximity to most of southern Sweden. The population is 135 000, thus making Örebro the biggest town, and also state capital of Örebro län (letter T for short). This entity is pretty much similar to the province ("landskap") Närke. The latter notion is totally obsolete and lack significance in everyday life, except for wildlife buffs.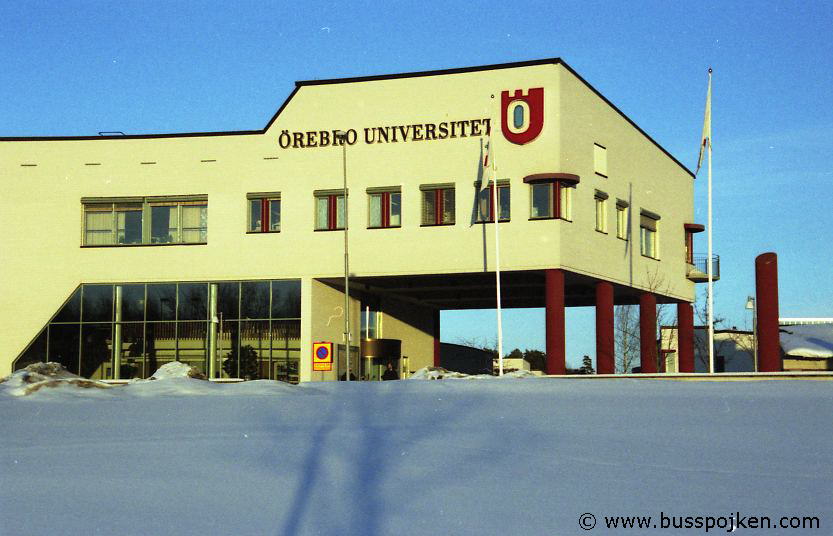 Örebro university.
Unfortunately the city is metaphorically turning its back to lake Hjälmaren, in spite of its close proximity. There is a case for betting on change in this situation, as it becomes increasingly popular to live nearby bodies of water. Ladugårdsängen is rather centrally located, and was the epicenter of the national housing exhibition in 1992. It could still be worth a visit for those interested in the matter.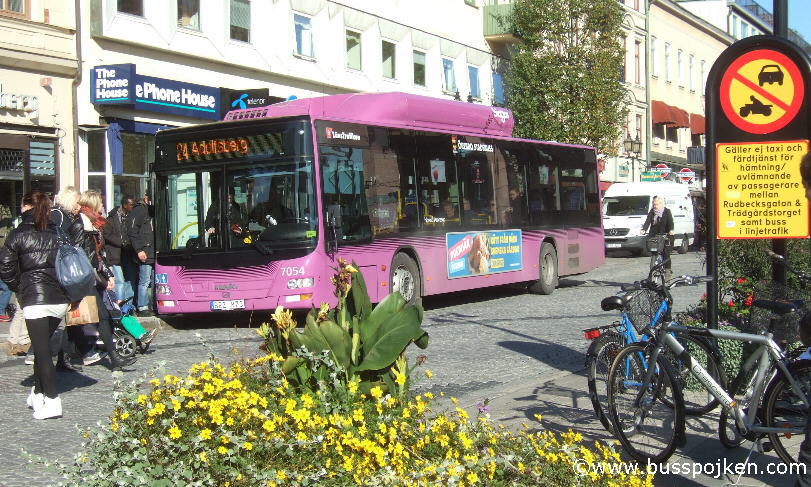 This street had a tremendous service density before, but now only hosts a few routes.
All in all it should be enough to get som grips of Örebro in just one day. The formerly infrequent service pattern post 18.00 in the evening made it advisable to call it a day by then. Recently however, that obnoxious 40 minutes headway has increased to sometimes 10 minutes until 20.00. Many locations now has quarterly departures all the way to midnight. Ain't that something!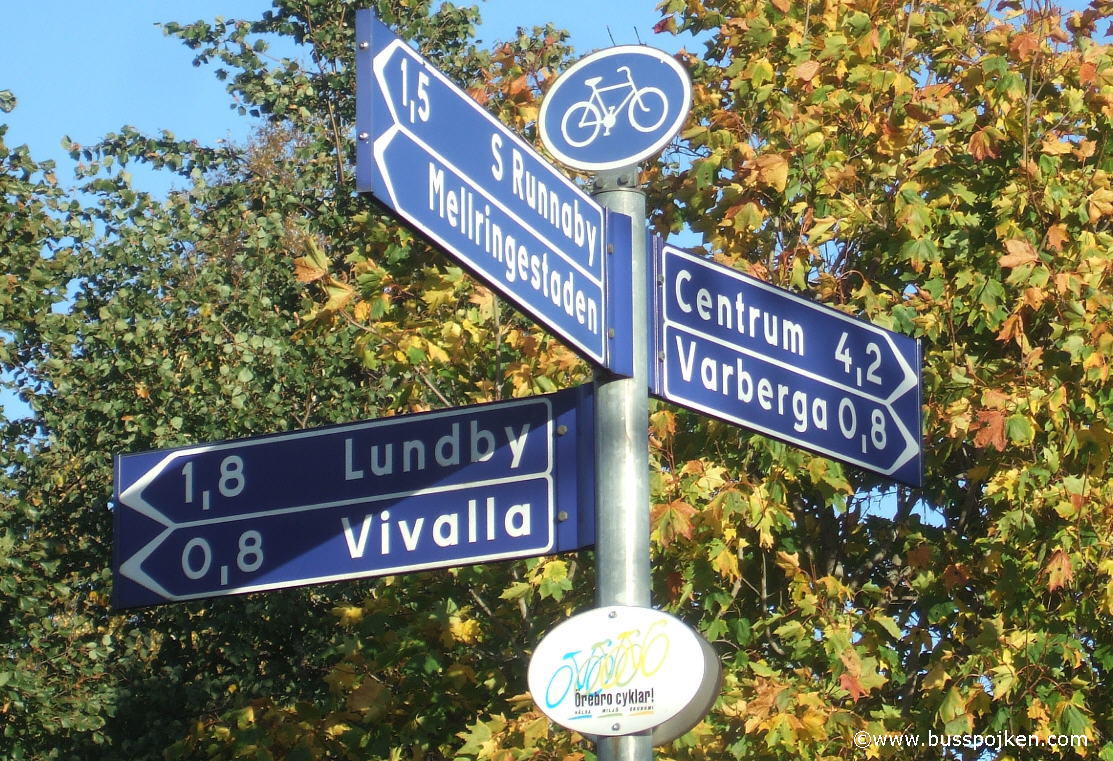 Bike lanes are everywhere in Örebro.
As this is mostly a flat city, and also with many students, biking takes a significant toll on the transit business in summertime. That is why the winter schedule is in effect only from early October until the beginning of April. The normal situation in Sweden is that the schedules change some two weeks into June, and again in the middle of August.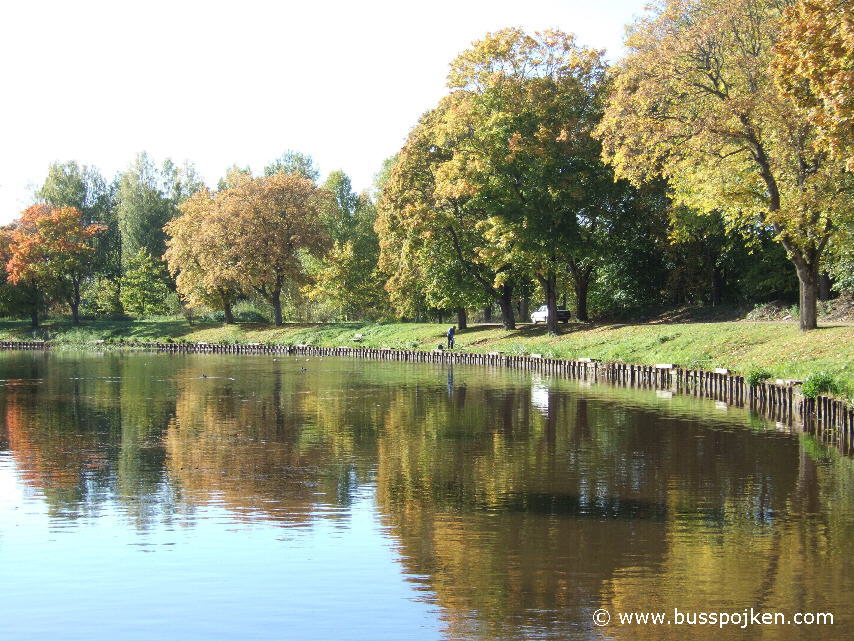 Svartån (black river), a very common name in Sweden.
It should be noted that the network of routes have been altered in recent years, and also the complete roster, and operator...This kind of sea changes appears to happen in most Swedish locations with only a few years in between.
One of two LT
The state transit company (Länstrafiken), actually litterary abbreviated as LT, shares some features, and is operated in close cooperation with Södermanland LT. Their livery is green as opposed to light blue, but is fashioned in the same pattern.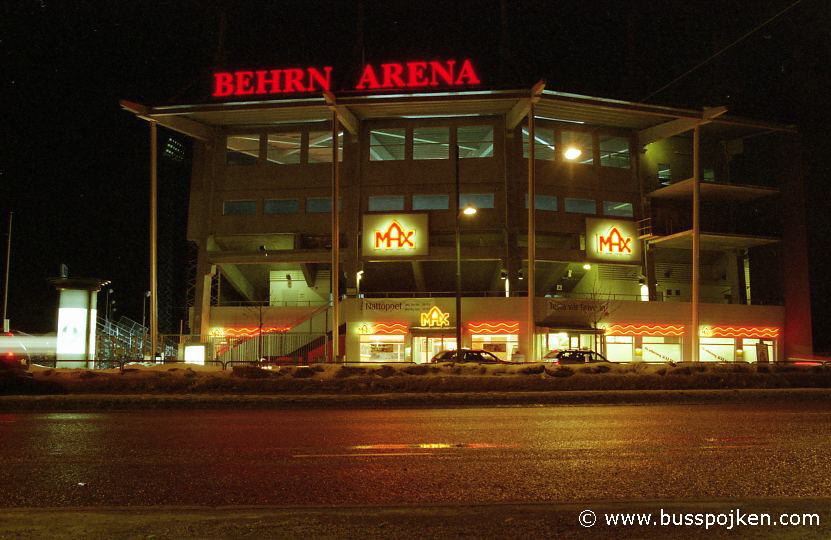 A corner of the arena formerly known as Eiravallen, now sponsored by the construction company Behrn.
Ticket system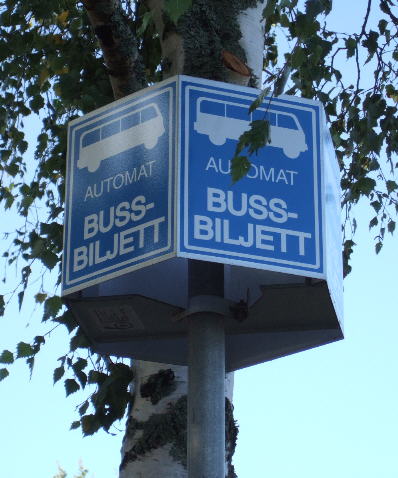 For safety reasons only credit cards are accepted for onboard payments. A single ticket then comes at a premium of SEK 25. Vending machines (similar to many Swedish parking meters) are present in various locations. Some drivers will let passengers come along to the nearest specimen, for the purchasing of a ticket. It can also be a good idea to get a rechargable plastic card. This can e.g. be obtained from the state transit ticket office at the central station, and comes without a fixed cost. It can be filled up with money at many different stores and kiosks around the city.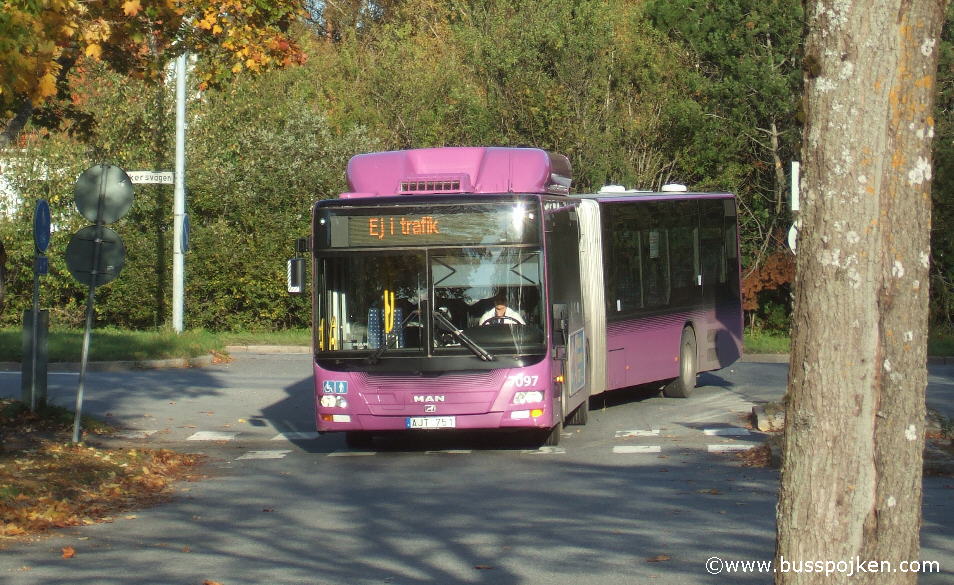 Mellringe terminus is shared by route 3 and 4.
For easy travelling just drop the card - magnetic stripe away from you - into a small black box by the start of every journey or transfer. It is all automatic within the city proper. Alas, the additional box by the center door of articulated buses is now gone. The charge is the lowest in the country at only SEK 12 for 3 hours ride at will!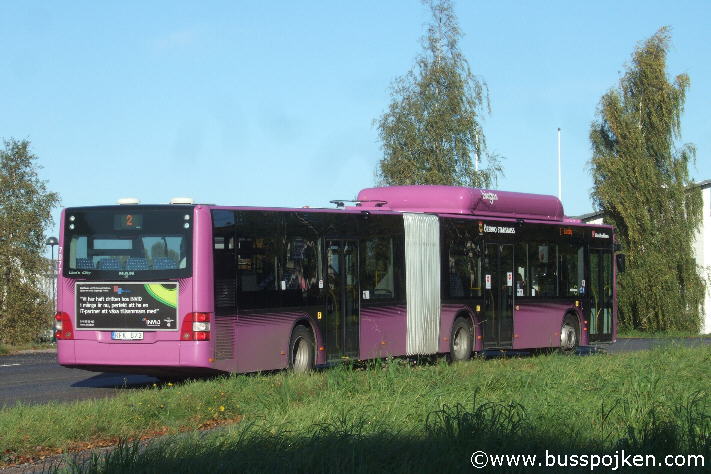 I think the purple buses are always a little tricky to photograph.
The biggest perk with this card was formerly that it was interchangeable with 10 different states having the same system! By newyear 2011 there is nothing left of that. If you have an old card left from another state, it is still possible to use in Örebro, but not to fill it up yet again. Then a new card issued in Örebro is required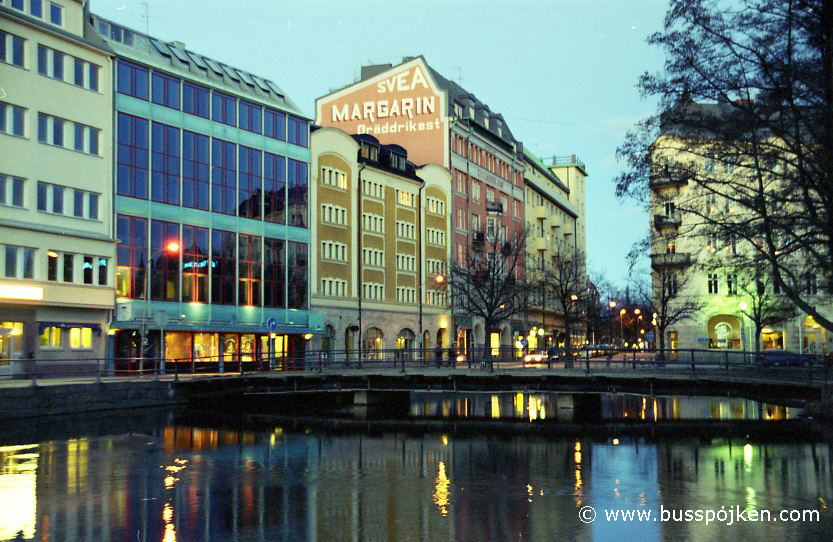 Svartån downtown, with an old style advertising on the gable.
Suburban travel
For longer distances within the state, tell the driver where you are going before dropping the card, because the charge will vary depending on distance. In train stations there is a special validation machine (a large steel box on a pole) for chosing of the destination yourself. In this case the buttons are organised just like the map for easy handling! A reciept is also coming out from this kind of box (as opposed to the buses), for the train conductor to inspect. This has to be done before boarding, because not all trains have this system (that's the reason for the receipt)!
Örebro castle, situated next to Järntorget transfer point.
Buses
The most recent tender, resulted in the takover by Nobina in October 2009. This also brought a new colour scheme to the city, so that the local buses now differ in appearance from the state transit vehicles. The suburban and country side routes all have buses in light blue, although in a somewhat darker hue than before. City buses are purple, bordering to a pinkish shade. All buses are of the German design MAN Lions City, with a similar style of both shorter and articulated buses.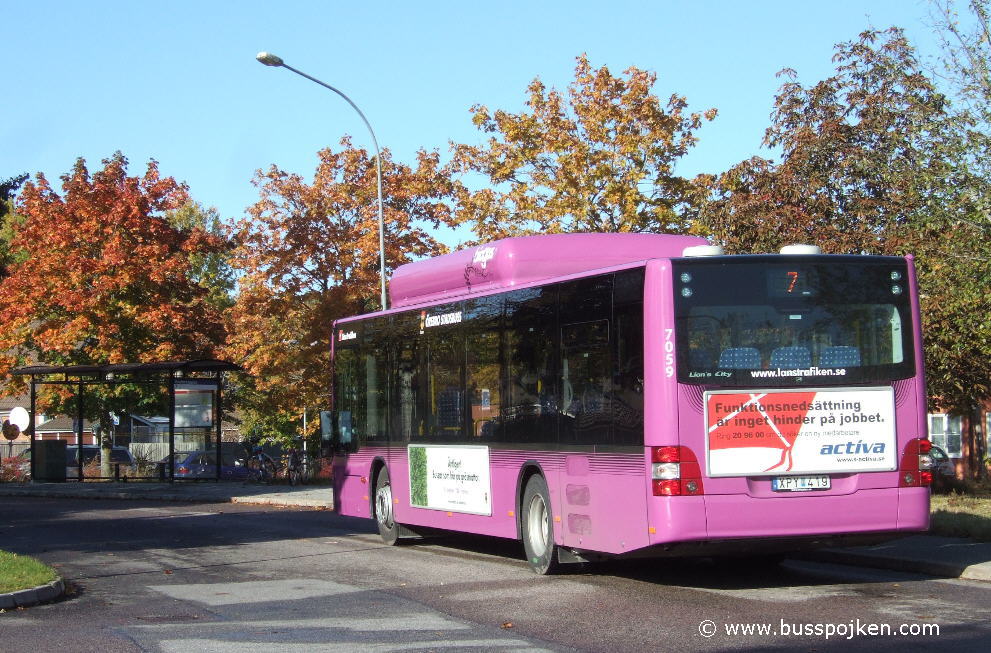 7059 by Björkhaga, where route 7 mostly terminates.
The latest changeover meant that all former buses dissapeared at once. The older were mostly by make Scania Omnicity, and a few Volvo too. A small number of the buses had a former history from Eskilstuna (numbered 2100 and 7100). Some of the Örebro buses have now been moved to Stockholm, where others have already spent their summers before. Busslink did have some contracts in both of these places. The Örebro suburban fleet is still much more split into a large quantity of different bodyworks, and small private operators.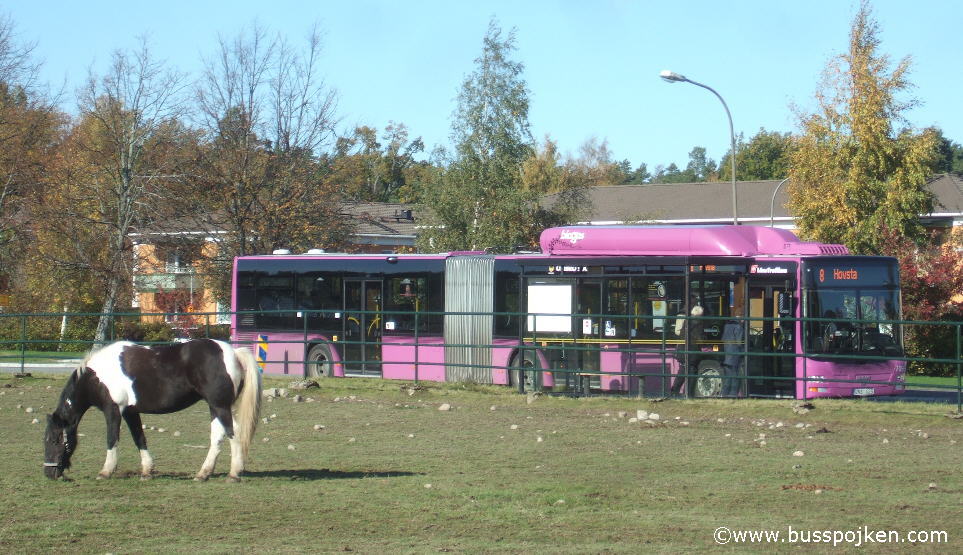 Next to Karlslund manor, horses graze alongside the bus route.
Some historical pictures
We are going back in time, to take a look at some historical scenes, from my growing collection of Örebro pictures. It is 15 visits by now, and also my brother has been there numerous times. I may include a few of his (all to few) pics later on.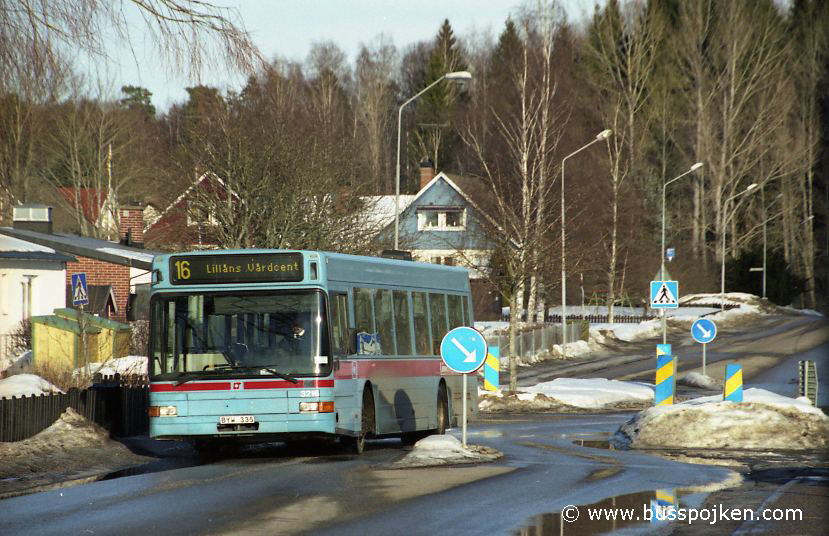 A greatly missed Volvo B10L at Östanbergsvägen in spring 2006.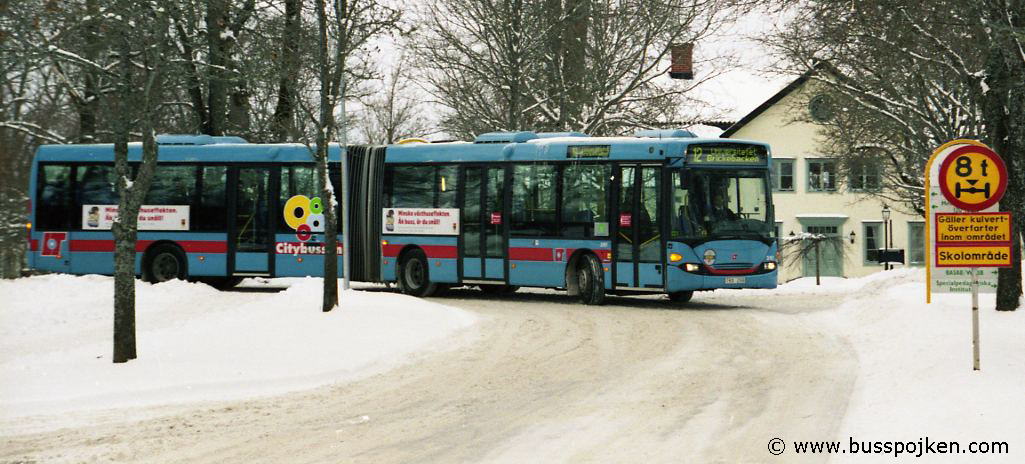 Buslink Scania omnicity, line 12 at Mellringe in februari 2004.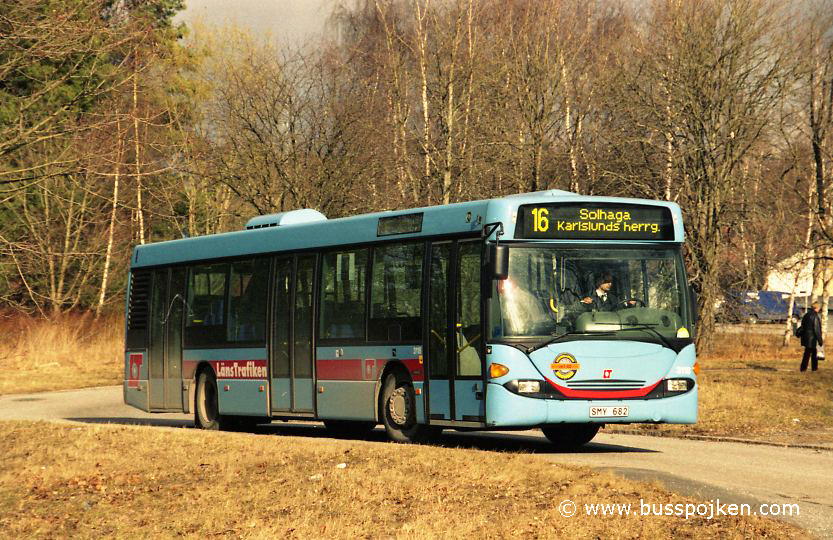 Line 16 at Ringstorp. The colour and type shows that it is now a historical picture.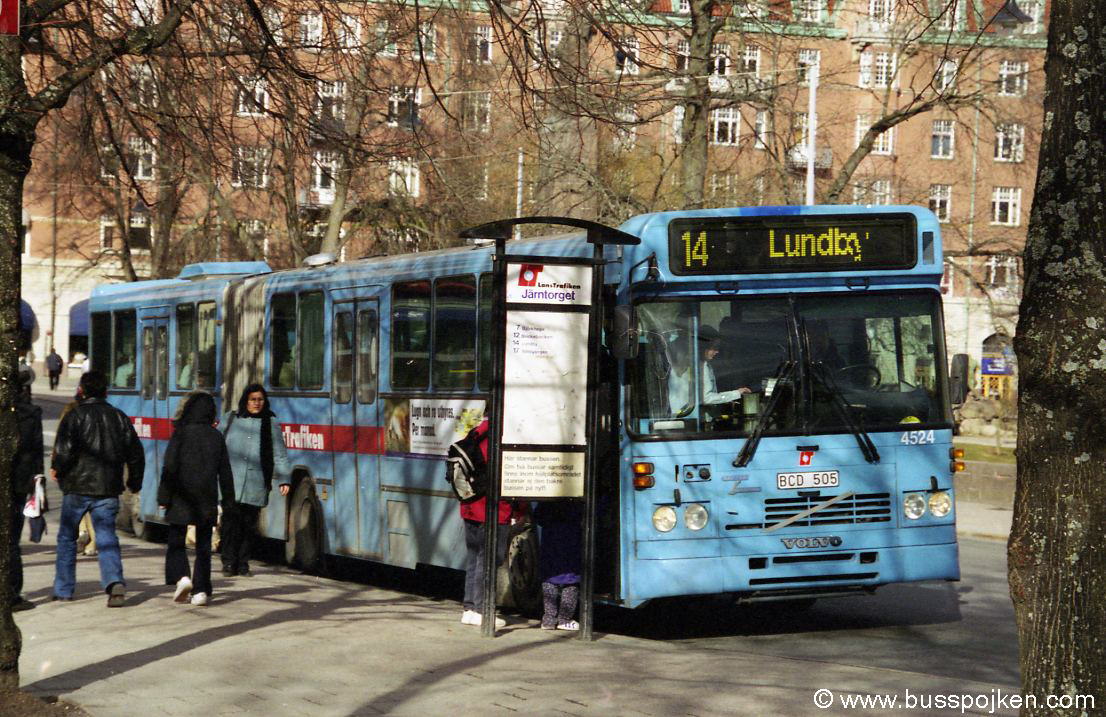 Järntorget with service 14, among the most important in the old network. April 2003.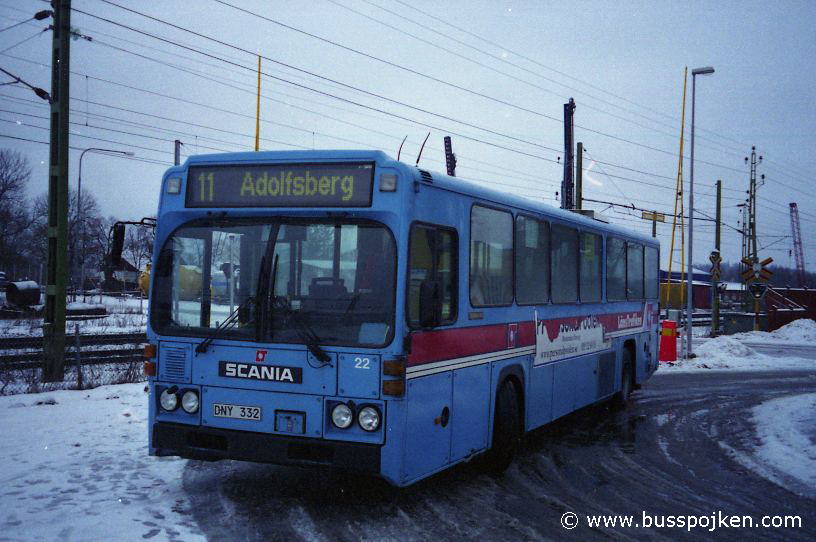 A really old picture taken by Hovsta (former) station. Scania 112 number 22 in late december 1999. Note that the roof has been expanded to accomodate a larger destination sign.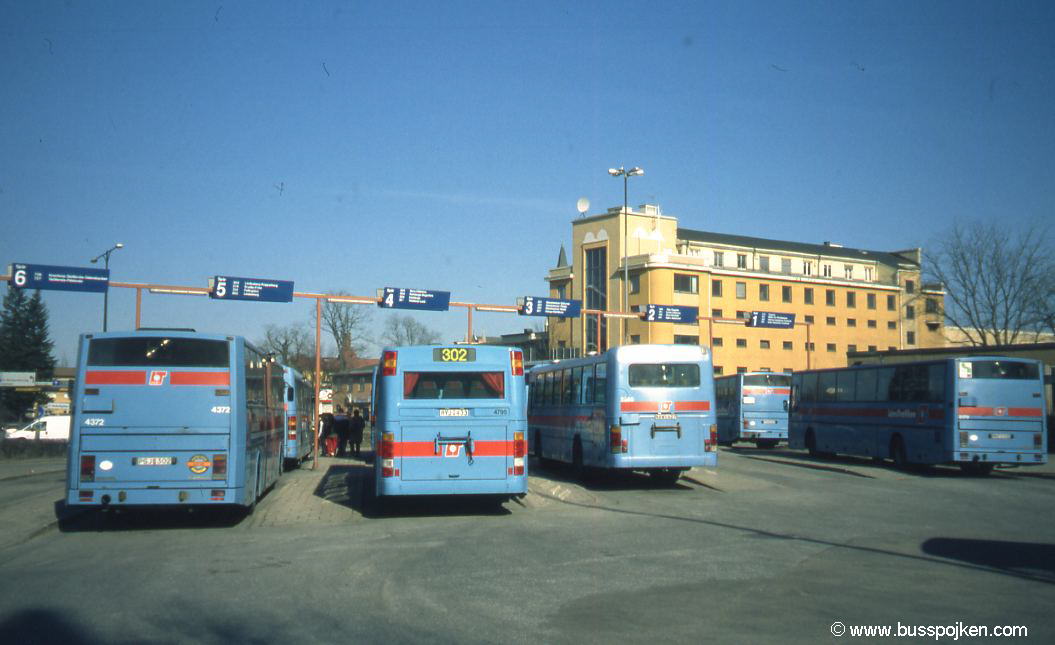 Older still, march 2001. A sunny day at the old bus station. This was a cramped facility across the street from the central station.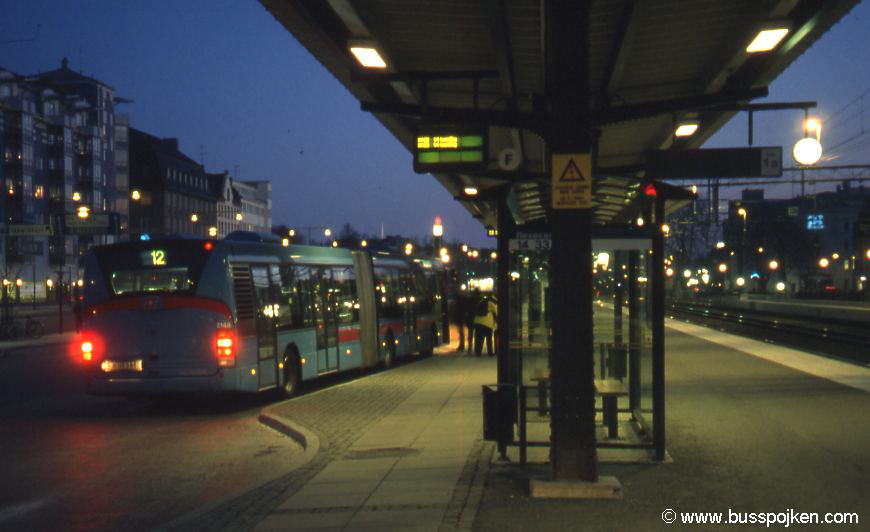 From that same day, but in the evening at Resecentrum (travelling hub). Increasingly more buses pass here, and it appears that the passenger count is following.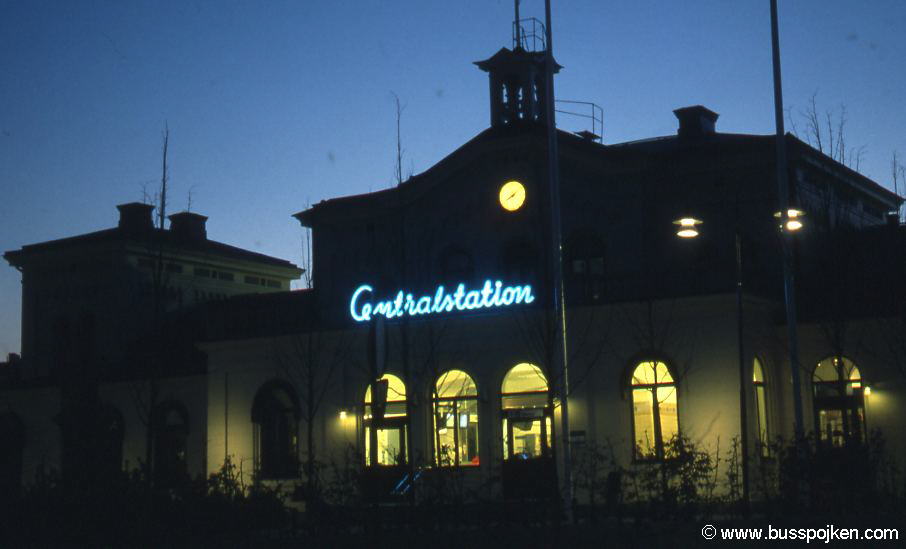 Örebro central station at night. Also called Resecentrum, some fancy new Swedish label of a rail and bus interchange.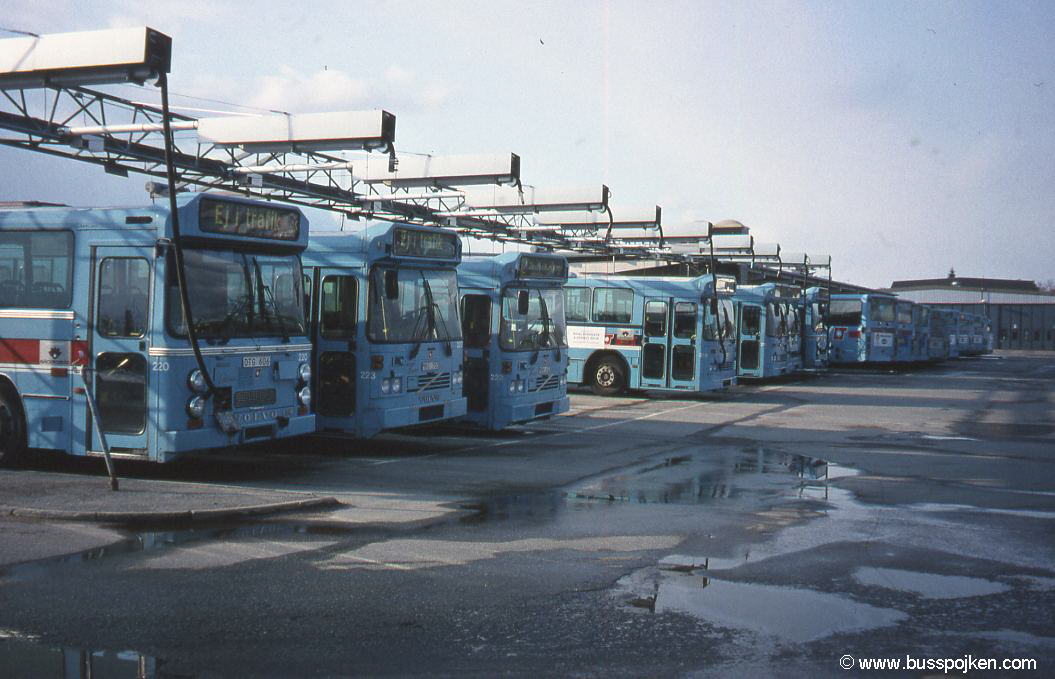 The real enthusiast will get a watering mouth by now; Örebro bus depot in 1997.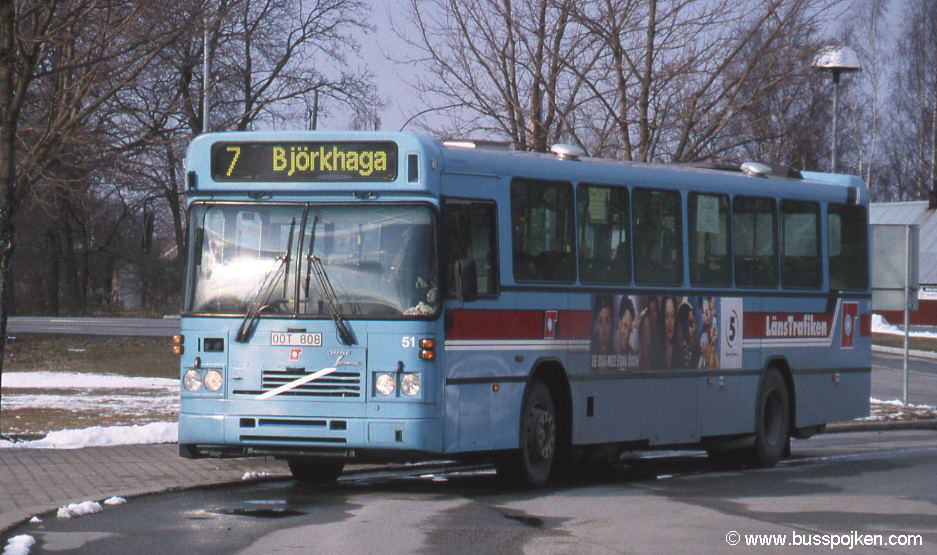 The terminal by the university. This eastern half of route 7 is now called 1 - slightly altered - while the west section is a rare exponent of a non-changed number.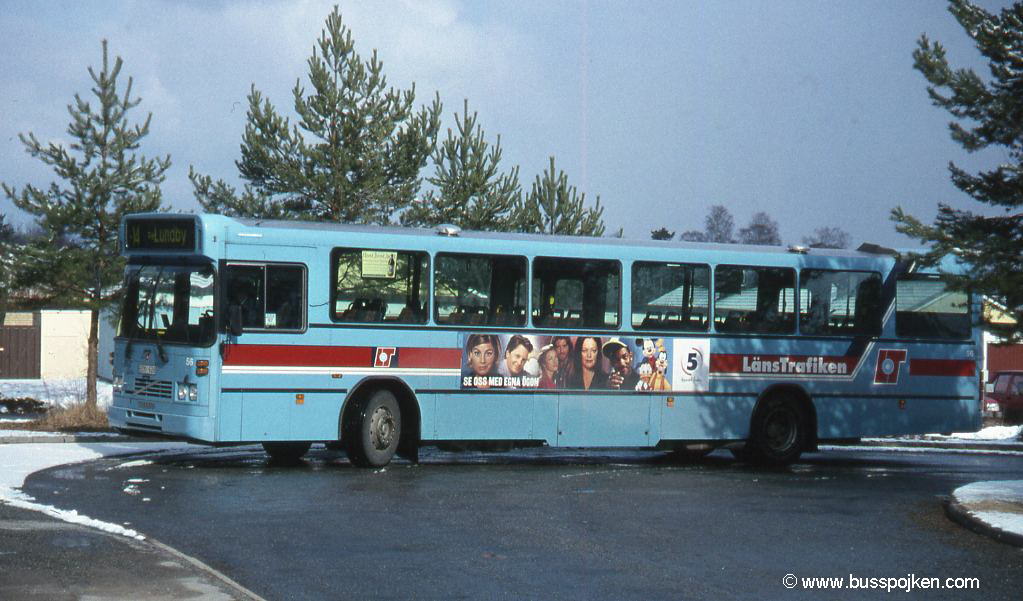 Another of those lovely coloured Volvos. A fantastic day too, in late March; fresch but melting snow, and bright sunshine.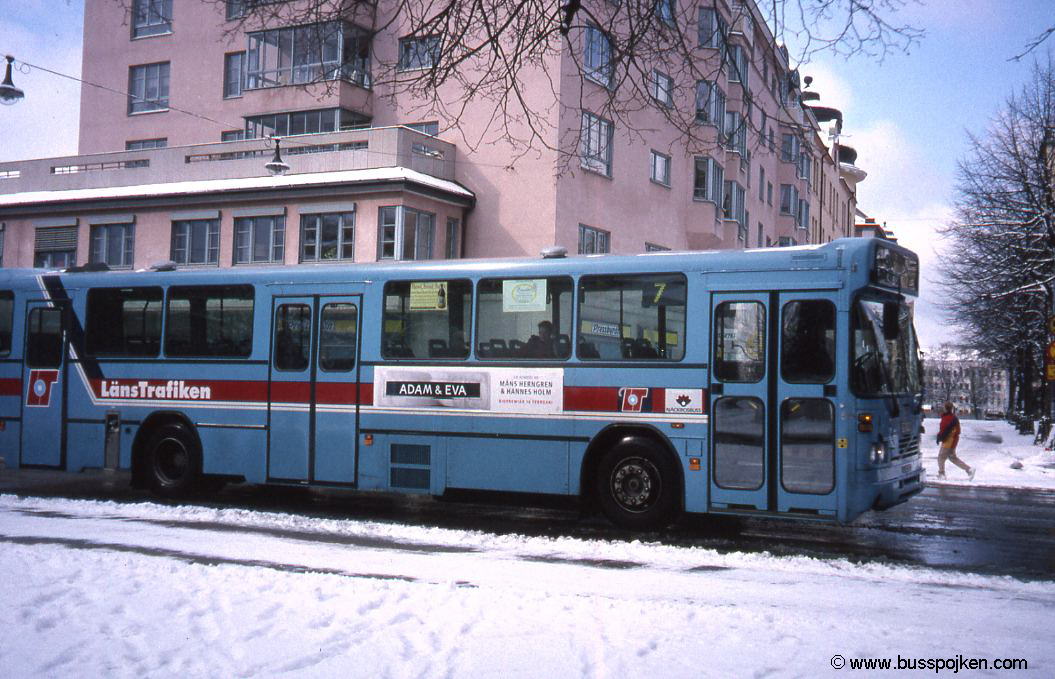 Another of those two axle Volvo B10M, ubiquitous at route 14 and 7 for some years.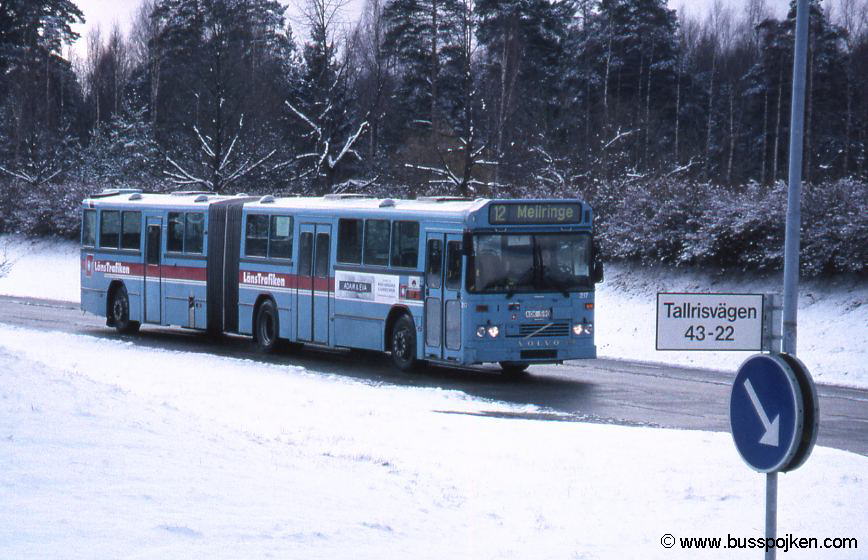 Only route 12 (now the southern end of 2/3) had articulated buses at the time. Today most services sees them.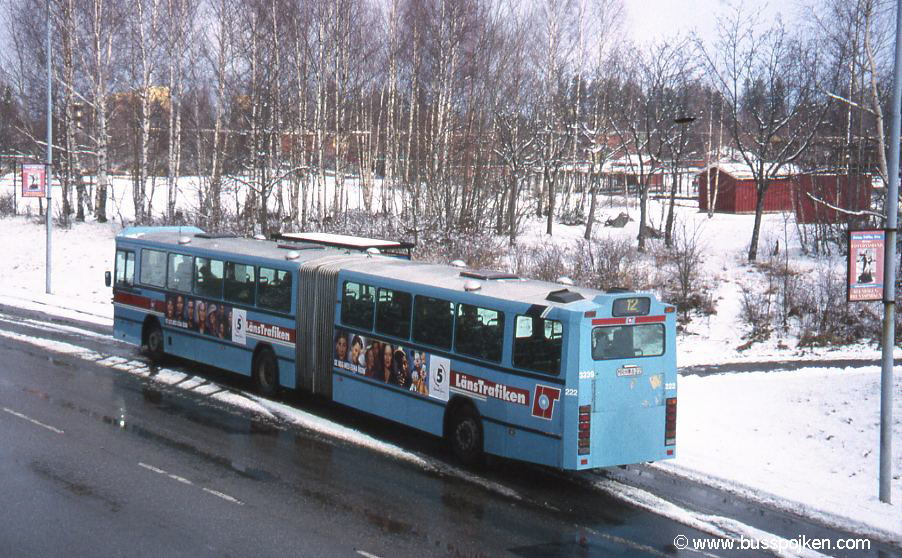 One more wiew from Brickebacken, now with the other sides of the same bus type showing.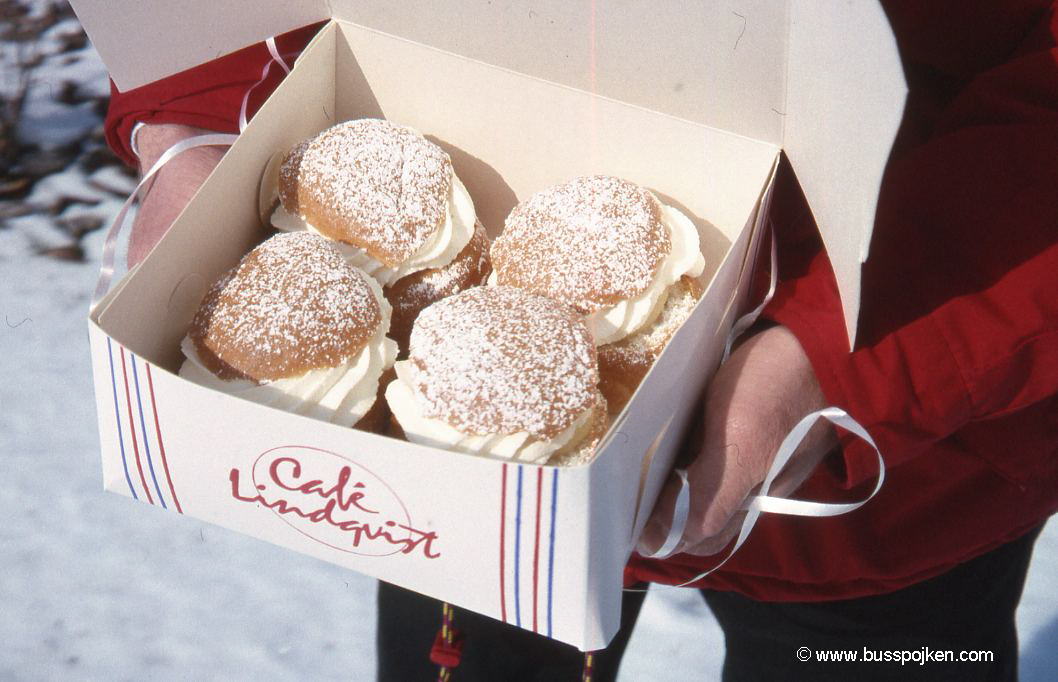 My brother is holding a box of four semlor. This is a delicious alternative for a lunch. Preferably outdoors when possible!
One is getting hungry by riding and photographing all day. These pastries are called semla, or semlor in plural. Most bakeries offer them between Epiphany and Easter, safest from 12-16 o'clock at weekdays, or before noon at saturdays. As late as the 1950:s it was illegal to sell them at other days than Tuesdays, even that a stretch from the original Mardi Gras only tradition.
What is there to see in Örebro?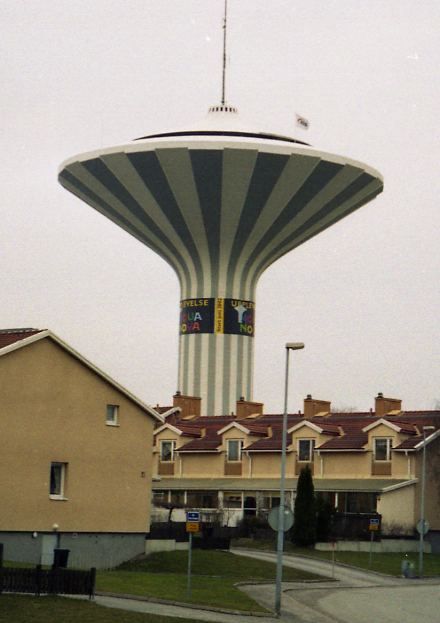 The watertower "mushroom" is an icon of the city. At weekends the top cafeteria is open. If your near and dear travel companions don't want to ride buses all day, Marieberg mall could be worth a visit, or "Krämaren" downtown. The old town close to the castle should not be missed. Naturens hus by the western end of route 7 (only every third departure goes all the way) has a cafeteria in "Naturens hus" (house of nature). The surroundings are also very suitable for at hike or picnic, as a break from all the bus riding.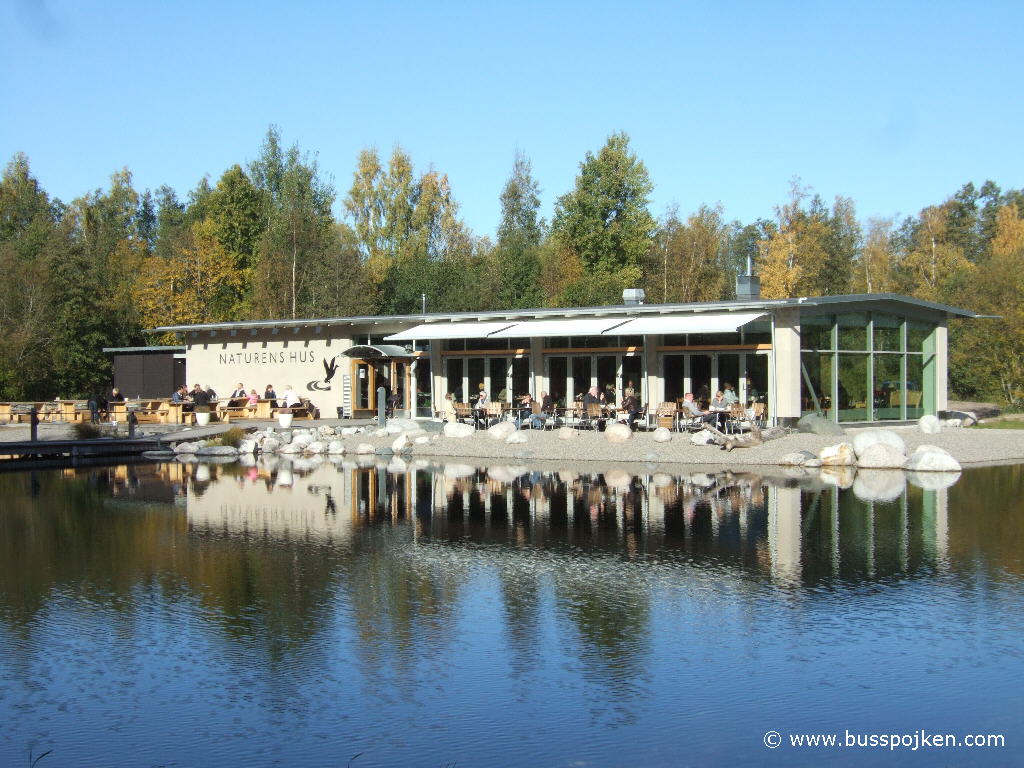 Naturens hus.
For those with plenty of time the city of Nora has a vintage railway. The architect Ralph Erskine of British origin, has made some agreeable buildings in Gyttorp. Kumla is historically known for its shoemaking, and also the high security jail. Train buffs may find Hallsberg to their liking, with a great marchalling yard, and railway hub. Kilsbergen (wedge mountains?) to the northeast offers some secluded "wilderness", and good cross country skiing in winter.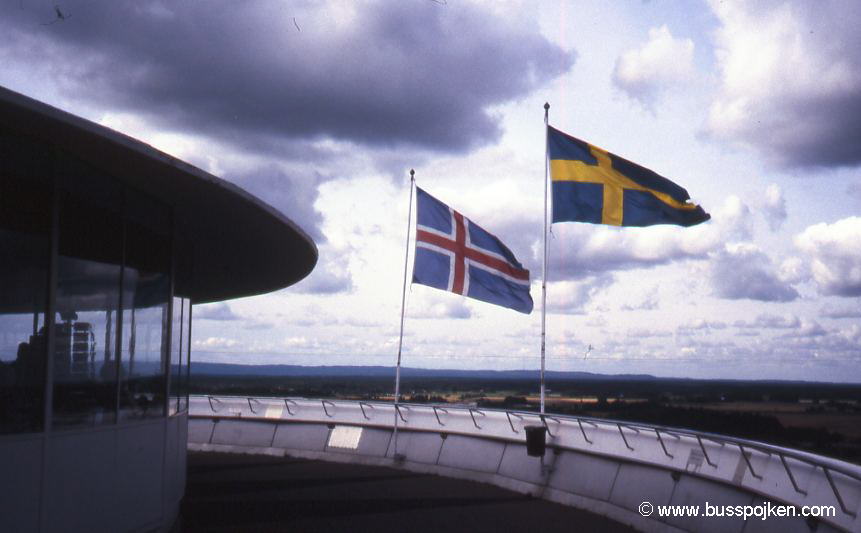 I think we need an image showing the observation platform on the top of Örebro mushroom too...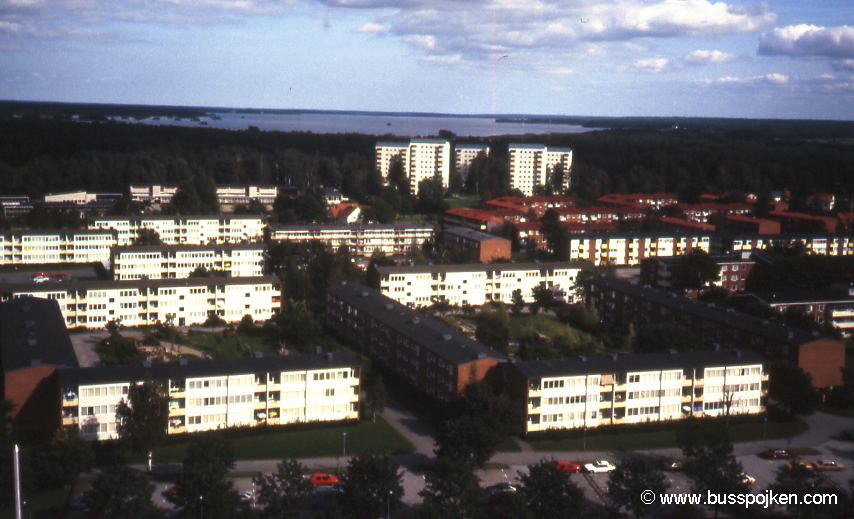 ...and the view seen from it, direction east or something, in 1991.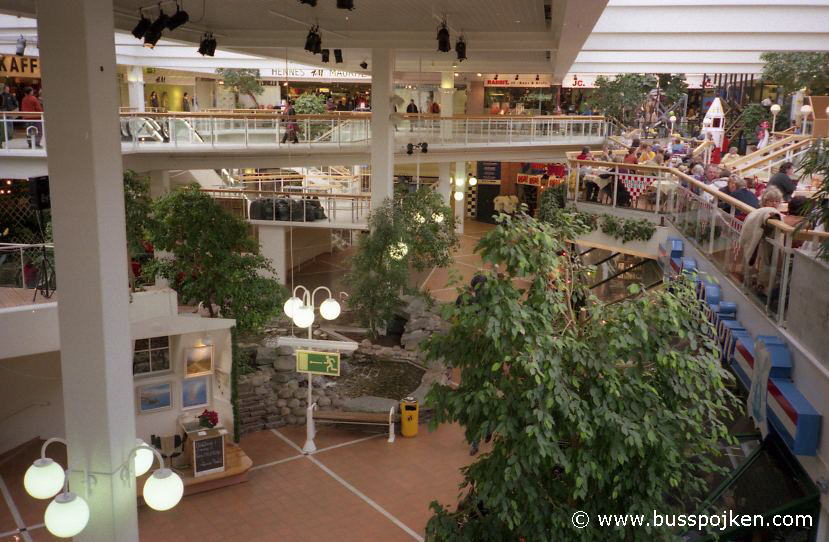 Marieberg mall is situated some way out from the central area, by route 22.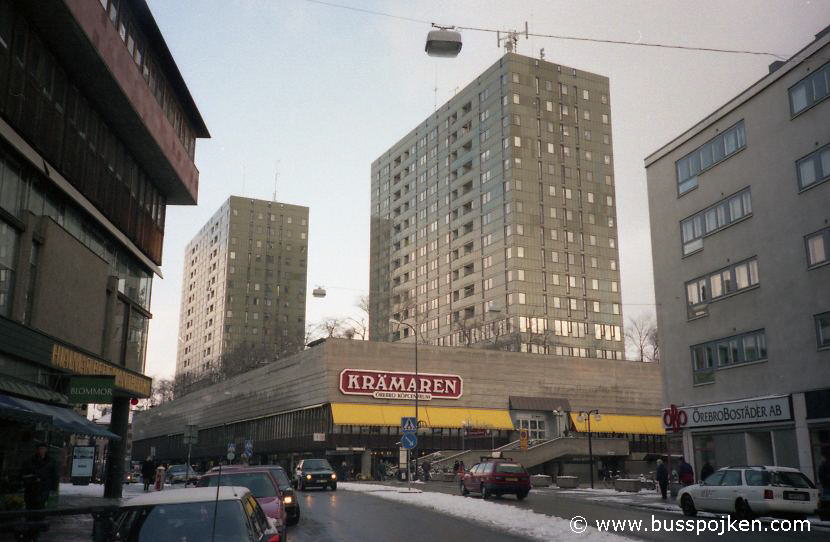 Krämaren mall by Olof Palme plaza, in the south part of downtown.
Getting there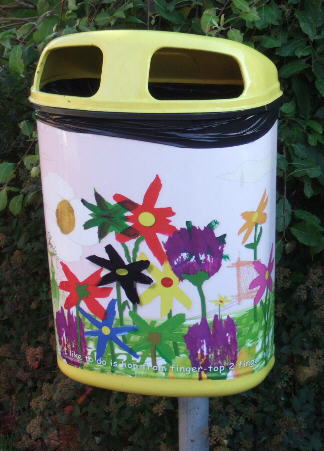 If you are already staying in e.g. Göteborg or Stockholm, it is fully feasible to make a day excursion by train. There is a bihourly service direct from either coast. In addition highspeed trains can be taken to the nearby hub of Hallsberg, and with a transfer you will soon be in Örebro. The closest international airports are Arlanda north from Stockholm, Skavsta in Nyköping, and Säve or Landvetter in Göteborg. When coming by car, You can just follow E18 east from Norway, or west from Stockholm. E20 from Göteborg at the west coast may however be more likely for foreigners
Links
This collection offers some examples, from which you can obtain further information, when planning your trip. All links will open in the same browser window as Busspojken, and thus replace this.
Örebro city tourism and events
Private search register with information about buses
STF hostels, Swedish tourist association
Scanian water tower society, some English available.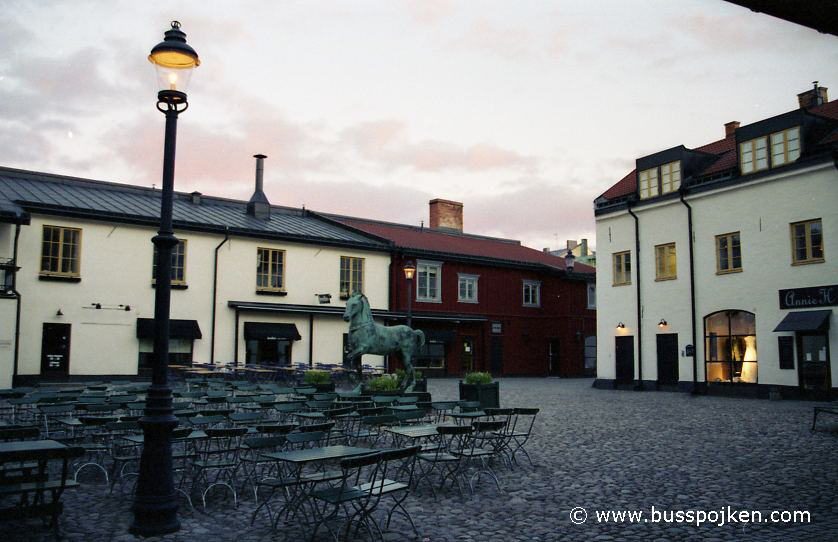 Stallbacken in the old town.
---