Kristinehamn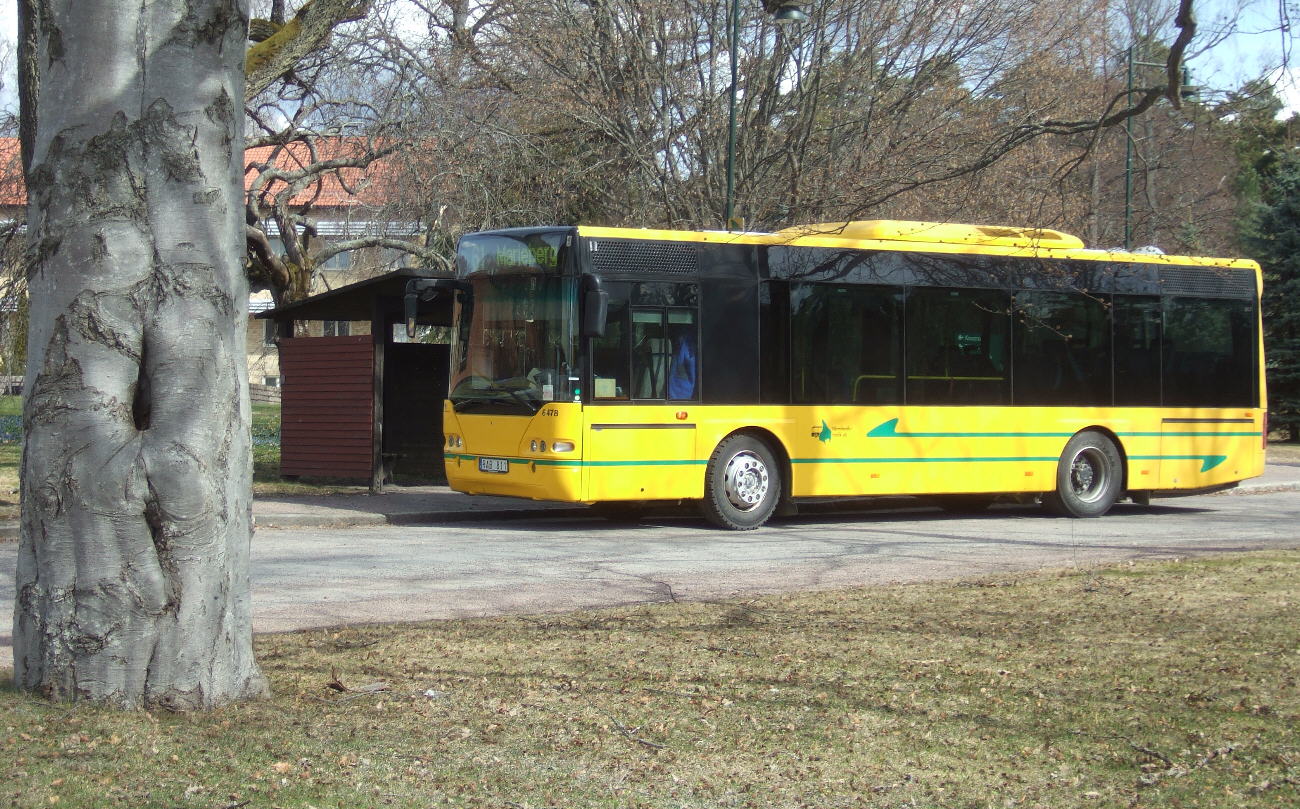 Marieberg terminus.
Kristinehamn is not the most obvious choice for the transit enthusiasts pilgrimage around Sweden. Yet this section will be devoted to Kristinehamn, just for your information. When passing in the vicinity, it could prove frustrating to spend a whole day to figure out what there is to do. Now I have done the ground-work for you. Alas, my two visits is not enough to give the whole picture. A dire need to add more is apparent.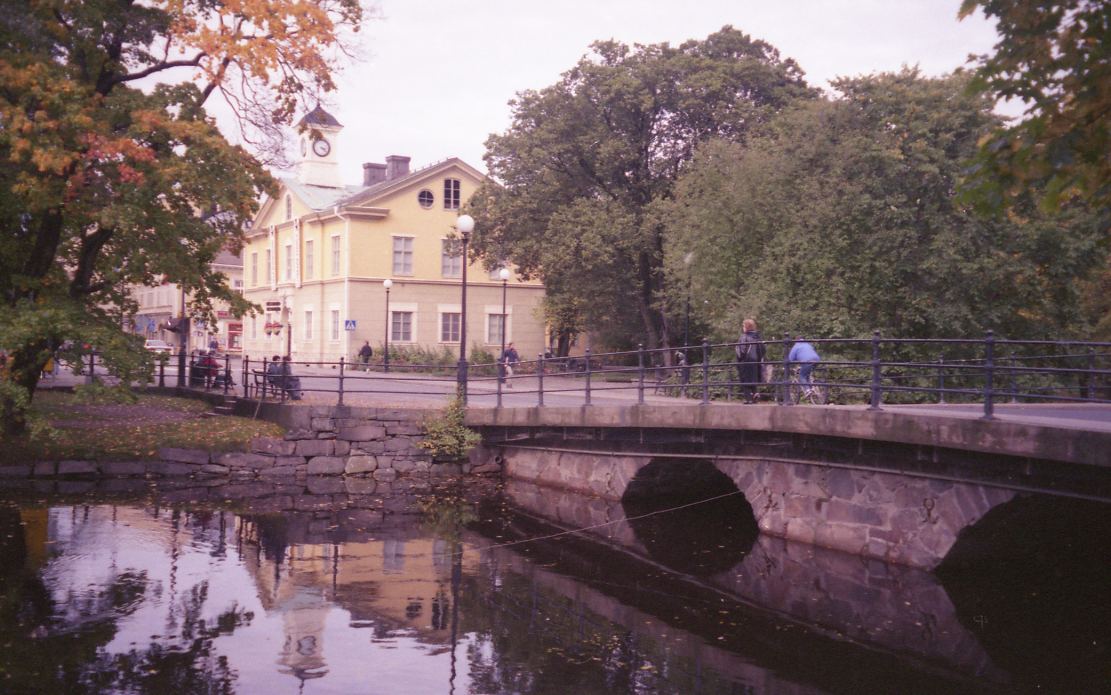 Varan (the canal-like river running through town) spanned by Rådhusbron.
Kristinehamn, or Broo, was incorporated as a town in 1582, but lost its charter as soon as 1584, when Karlstad became the capital of Värmland. Again in 1642, queen Kristina gave the privileges for Kristinehamn as a city back, and also a her name...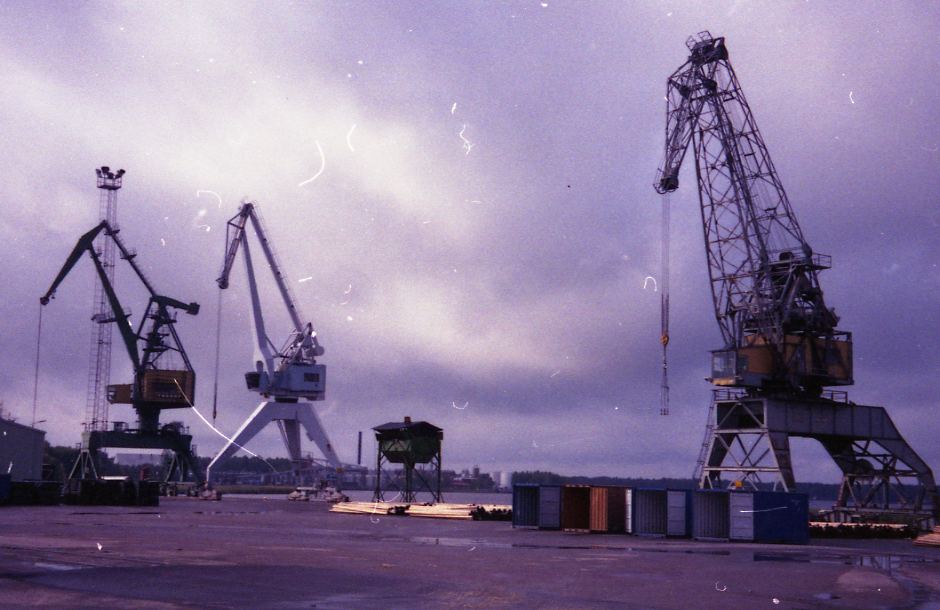 Cranes in the port.
Kristinehamn is situated in a corner of the oceanlike lake Vänern, the biggest in Europe. I don't think the harbour can be considered very lively, nowadays when there is trucks. Some bigger industries in and around Kristinehamn is still alive. Elsewhere this part of Värmland looks like it is in wane, with Kristinehamn barely hanging on. The population is 23.000 and declining, but the time for a valedictory is not set yet.
Shrinking transit
Kristinehamn is falling down a slippery slope, when it comes to local transit. In 1967 a 20-minute headway was tested, without expected results it appears. In the 1980:s, 13 buses operated 9 lines, mostly on a 30-minute headway. Even then the services ceased at 7 p.m. weekdays, and didn't run at all on sundays. Today only 4 lines see an allday service, and just every hour. The afternoon peak has a 30 minute schedule. In addition to these, there is one extra peakhour route, and a slew of buses requiring a preebooking by phone. Not very enticing.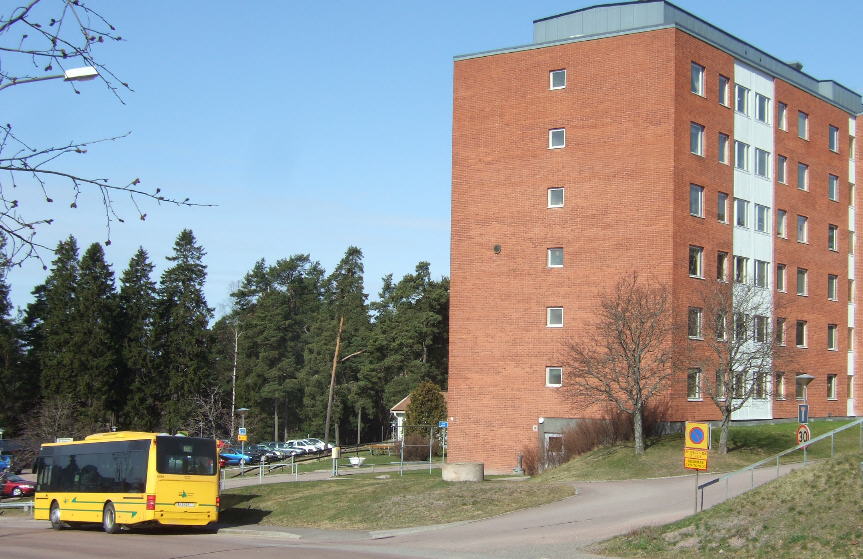 The bus has a small stature in Kristinehamn...
As any enthusiast in the know could say: it's not the limited population of Kristinehamn that lies behind this. Big city districts of a similar size would have a significantly better bus service, and passenger count. Needless to say, a big city is not catered for by just one line. So if anyone know why the kind of ilk living in Kristinehamn, and other small towns eschew transit, that knowledge is the holy Grail. People certainly don't walk around Kristinehamn, all right!
Bus services, and sights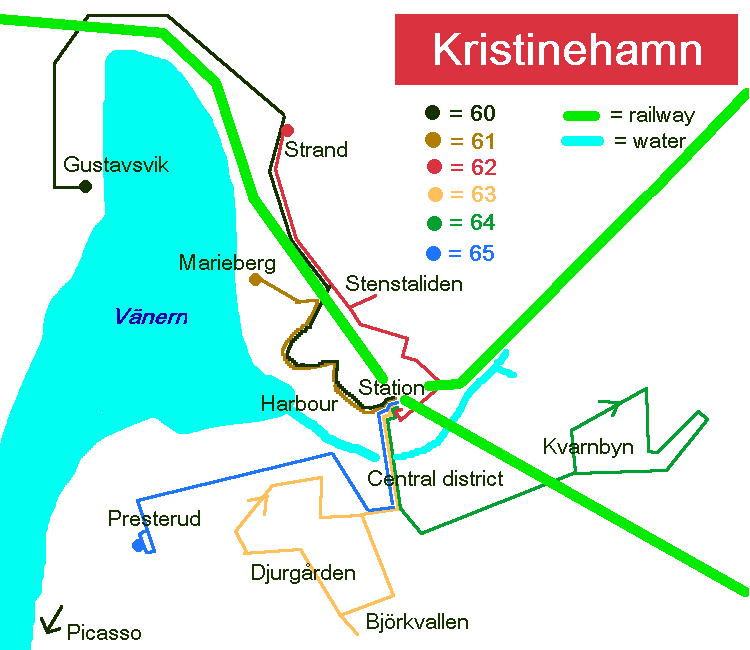 The map shows only the "official" services. There is an additional four "call-buses", that needs to be booked, and still doesn't run more than a few times a day. This mostly applies to 60 too, but a couple of departures are scheduled. 65 barely operates outside the peak hours in the afternoon, albeit it does so at a decent 30-minutes intervall then. The remaining four routes, that is 61-64, are running every hour during the day. Every halfhour between cirka 14-18.00 hours. There is no service at all after that, and not on sundays either. Saturdays see hourly services for a few hours, approximately 9-13 hours.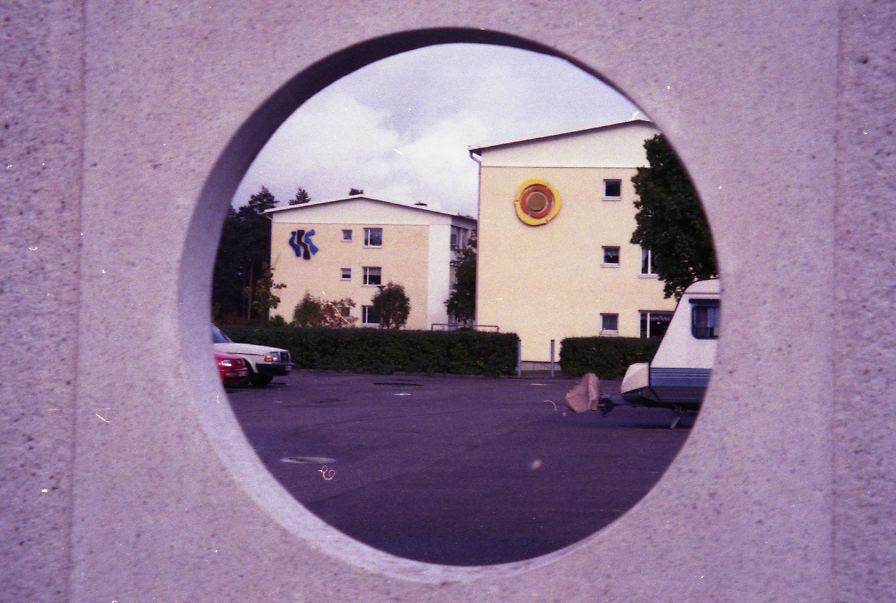 Djurgården. A circular hole in the concrete, reveals tenements adorned with art.
The most heavily built up area is caterad for by line 63. By the very last stop of 61, you will find an art museum, and a former mental asylum. This area now houses offices and private homes, and further development is taking place. In order to get to the famous 15 m high (50 foot) Picasso-sculpture at Strandudden, you need to either walk some 6 or 7 km, or go by car or taxi. Only in summertime is there a bus going this way (route 66), and it must be pre-booked one hour in advance.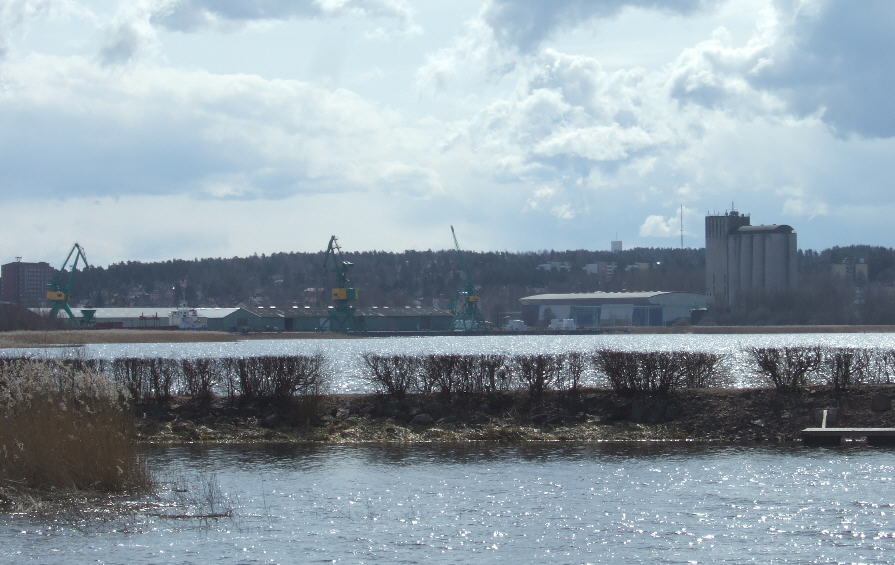 Marieberg, by Vänern. Djurgården plateau and the port is seen.
Known products made in Kristinehamn is; Casco glue, Rolls-Royse propellers, and Cabby caravans. No international celebrities have been produced by the city. A curiosity in Kristinehamn is the name plaques at the front of some one family houses, that usually aren't granted such a solemn flair.
About vehicles
Some decades back, Kristinehamn had a varied fleet of both Scania and Volvo. Lowentrance buses of the same makes, have been the fare offered more recently. Until now, fullsize buses have been the rule, but today Neoplan midibuses have entered the scene. A few normal buses of the type Volvo B7L, obtained second hand from Karlstad, is still bolstering the peak hour output. The current operator is Nobina, formerly called Swebus. The one before that was Busslink.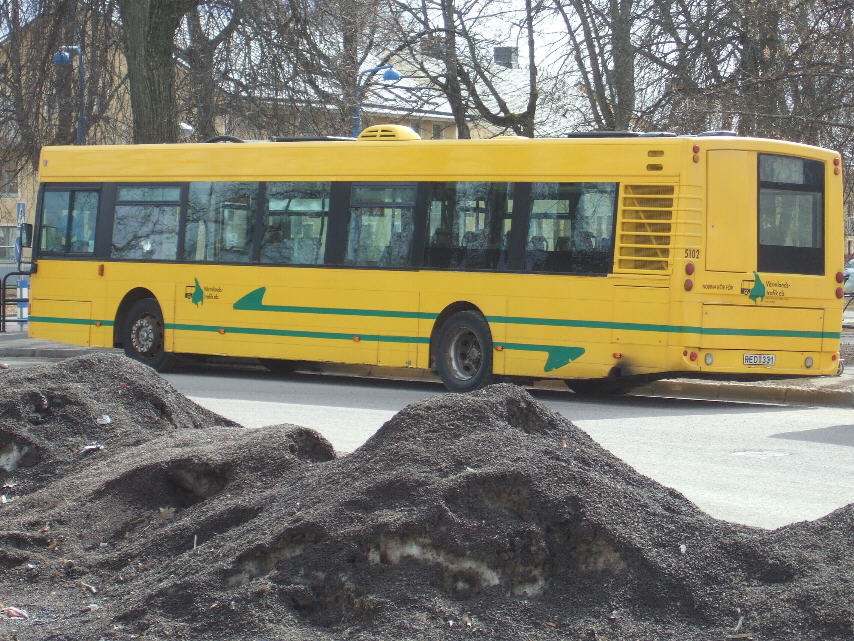 Volvo B7L 5102, second hand from Karlstad. In the foreground is a pile of blackened snow, interlaced with sand. April 2010.
In the 1980:s the livery was gray and orange-red, administered in broad lines. In the 90:s it became predominantly white, with longitudinal lines in red, gray, and dark blue. Those are the colours of Kristinehamn city. Not long ago, these were finally given up, and the state transit livery of yellow was embraced.
Tickets
Värmlandstrafik (the state transit) ticket system is also used in Kristinehamn. A Respass can take you by BUS anywhere in Värmland. The trains will not accept it though, not even local state trains. The only exception is the line starting in Kristinehamn, and going north, before soon leaving Värmland anyway.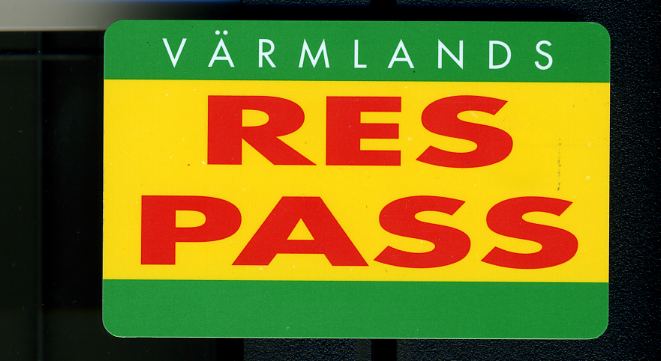 Värmland travelpass.
The ticket validators in Kristinehamn are on default set for passes with a fixed period. As opposed to the city buses in Karlstad, where either way goes automatically. In Kristinehamn you need to tell the driver if you are using the cash deposit. This must be VERY awkward for the drivers too. The reader of the smart card is also EXTREMELY slow. You might as well pay cash upon entering the bus. It will hardly be more elaborate.
How to get to Kristinehamn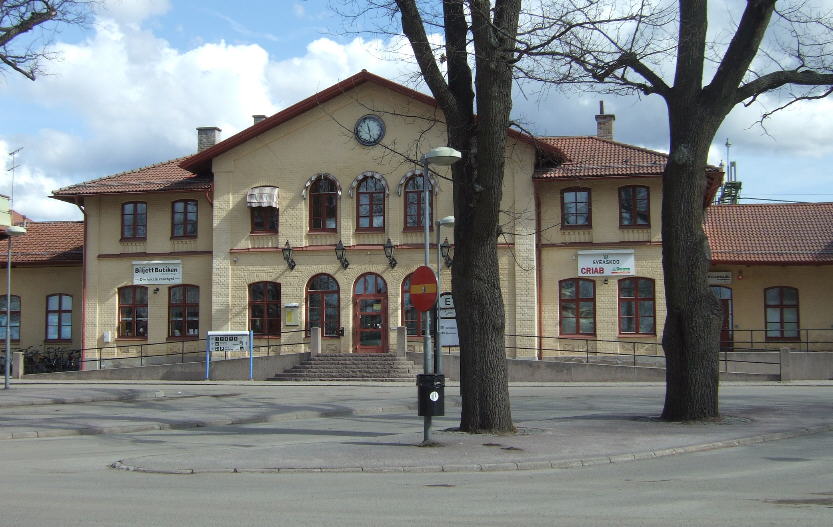 Kristinehamn station in 2010.
Fly to Oslo, Stockholm, or Göteborg. Trains take you directly to Kristinehamn from the first to cities. When coming from Göteborg, a change is often needed in Karlstad. Another option is a change in Hallsberg, that have better connections. When arriving from the south, e.g. Copenhagen, yet another change is necessary; first in Mjölby, and later Hallsberg. You could be better off by first going to Stockholm or Göteborg, as a preferable first leg of these journeys, even as the trip will be longer in distance.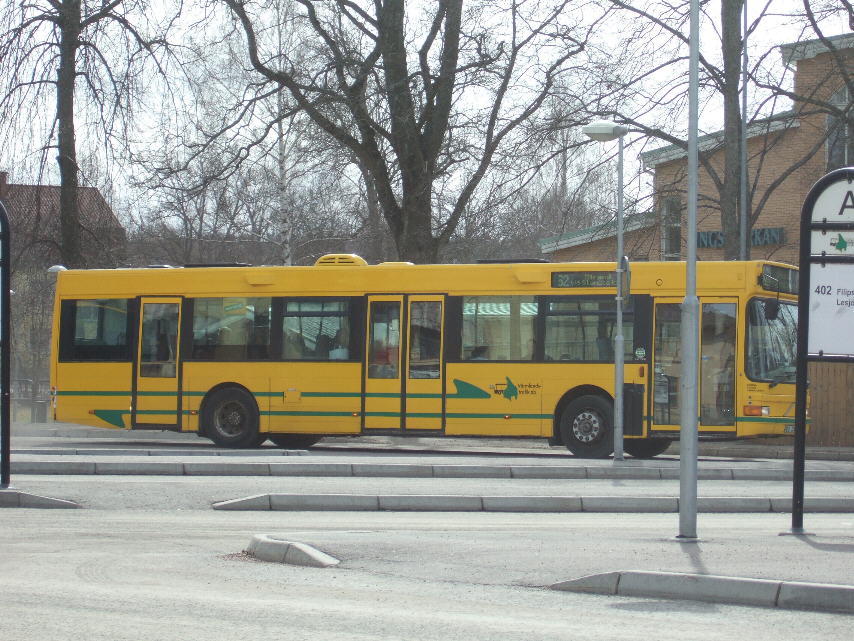 Volvo B7L by the station.
Arriving by car is easiest via E18, cutting right through Kristinehamn. E18 goes between Oslo and Stockholm. My overruling advise is however to stay in Karlstad, and make a daytrip to Kristinehamn. It takes one hour with bus number 500 along E18, and it has a 60 minute headway all day. You will arrive at the station courtyard, where all the city buses also call.
Excursions
In a way, Kristinehamn is in itself an excursion. Furthermore, you can visit Nykroppa, 40 km to the north. A DMU is running here once a day, and a few additional buses. Nykroppa may not exactly be a tourist hot-spot, but is known in transit circles for this: the X1 class commuter trains from Stockholm (totalling 104 units, built 1967-76), were scrapped here. Some other rail vehicles may occasionaly also meet their final destiny at this sad place, like the Olympic trains from Munich. Those were first slated for scrapping in Germany, before entering service in Stockholm. As E.U. rules don't permit cross border transfer of junk, the undertaker had to officially enlist Die Bahn as the service provider, rather than buying their vehicles. Now the trains are scrapped for real - in Sweden, across the border...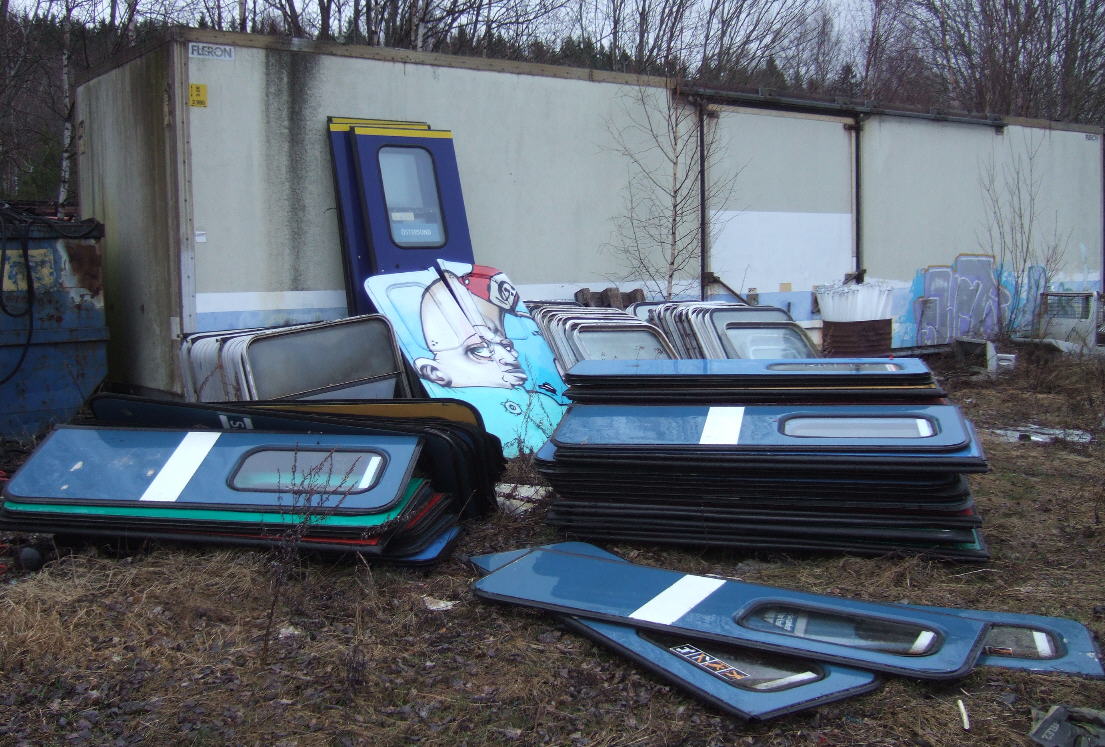 X1 class doors at a vast junkyard in Nykroppa.
Storfors is passed along the way, and Filipstad further away at the same axis (the bus only). From Filipstad, you can go back to Karlstad again, as buses also operates that way. Gullspång, 40 km south from Kristinehamn is another option, but buses don't run much outside the peak hours. Karlskoga has hourly connections with Kristinehamn, and their own sparsely runned city buses. That is in Örebro state.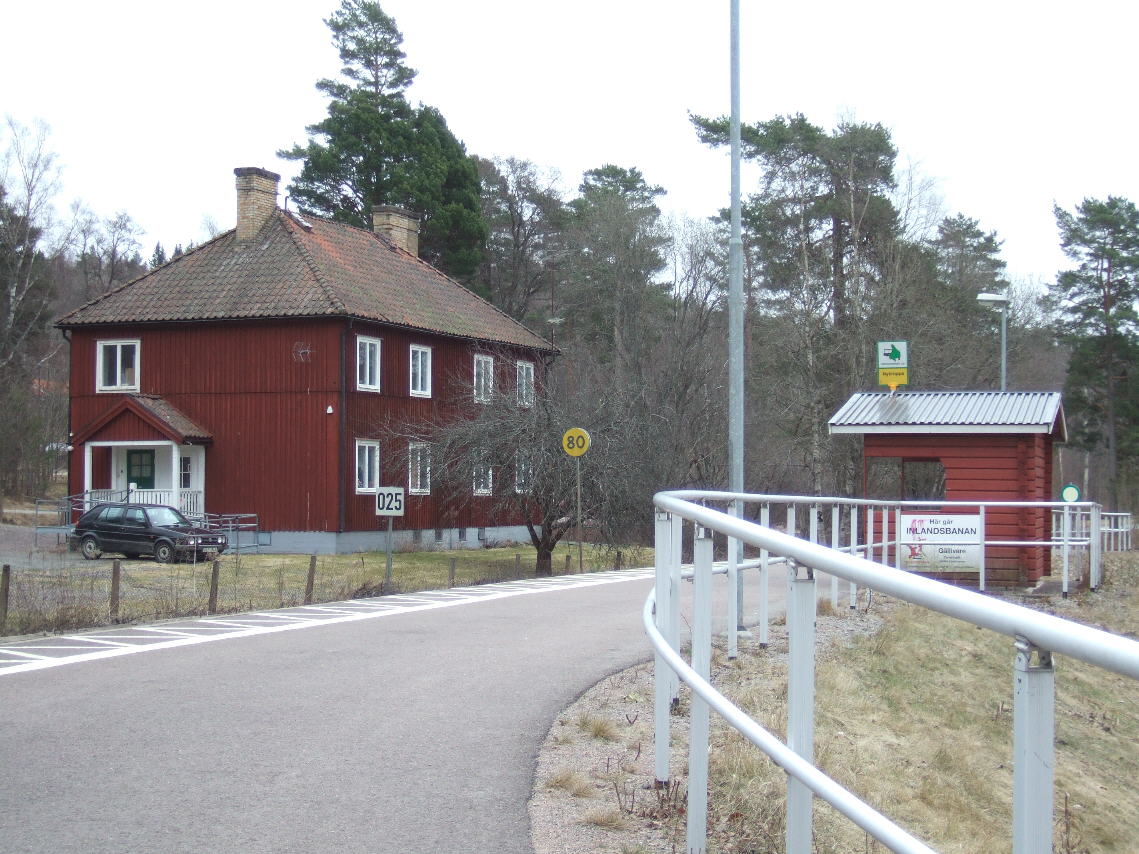 Nykroppa station.
A REALLY long excursion would prove to be a roundtrip along Inlandsbanan, starting in Kristinehamn. It ends in Gällivare, 1288 km away. It is predominatly used as a sightseeing railway for tourists in the summertime. It's heyday, if it ever had one, do not lie entirely behind it though, as some refurbishment in anticipation of increased freight traffic, is taking place at some sections.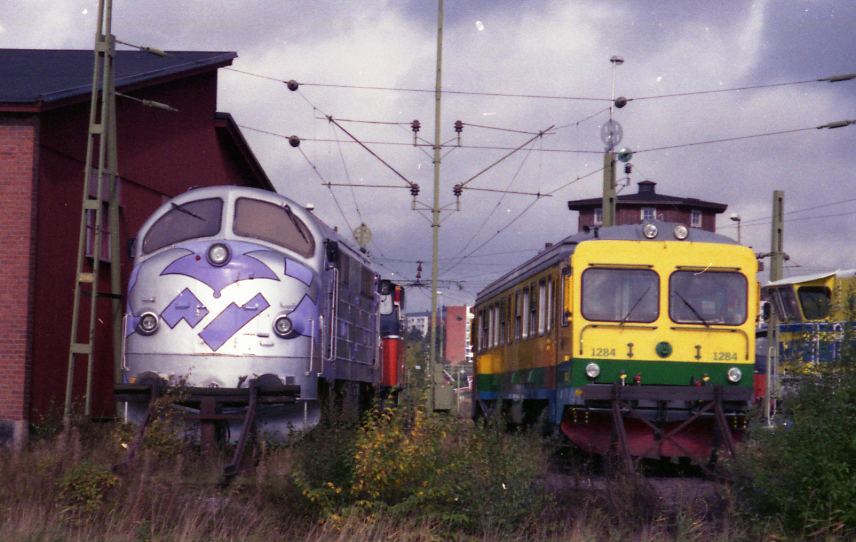 By the engine sheds close to Kristinehamn station in 1999.
Links
This collection offers some examples, from which you can obtain further information, when planning your trip. All links will open in the same browser window as Busspojken, and thus replace this.
Private search register with information about buses
STF hostels, Swedish tourist association
Inlandsbanan railway, English and German available.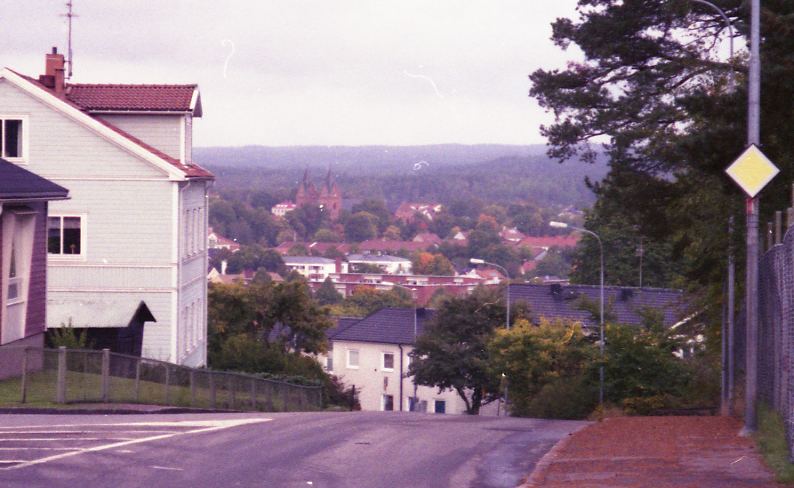 vista from Djurgården, looking towards downtown.
---
© Busspojken 2010