Karlstad -love at first sight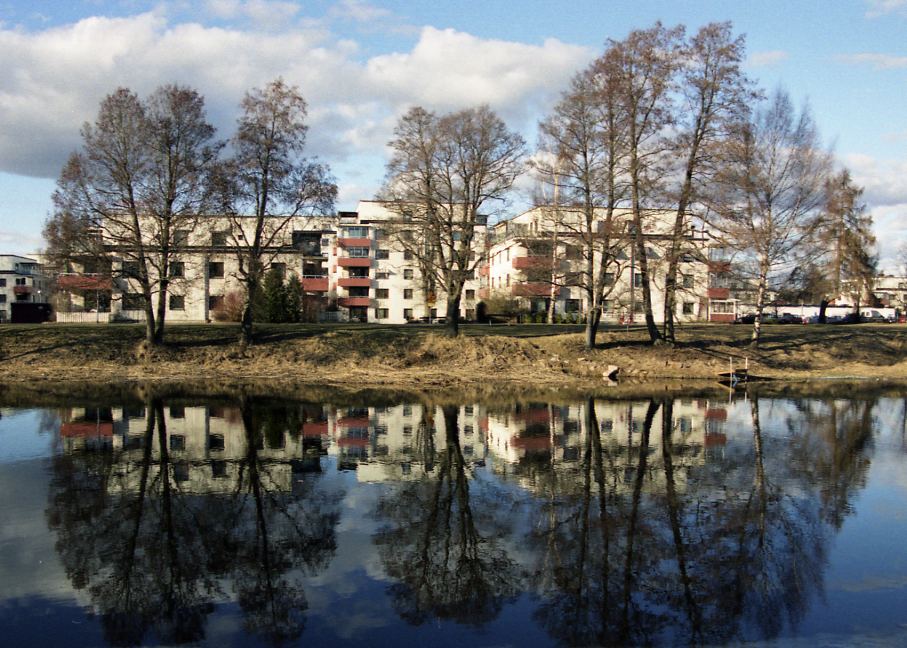 The Klarälven river delta, splits the city in many islands.
The subheading was really neccesary, and I'm not talking about the girl I had a crush on in my teens (it wasn't reciprocal anyway). The city itself is the kind of place I could only wish I had visited earlier. The beautiful location surrounded by a myriad of water bodies, is giving Karlstad a serene ambience. The refined new route network, with tasteful signage deserves ample homage. Recent years accretion in service frequency is edifying and commendable in equal part. There is even a special currency for the buses. Karlstad - love it!

Östra bron, at 168 m Swedens longest stone arch bridge. It was built between 1761-1811, and is now solely used as a transit way.
Karlstad got its current charter in 1584, but existed long before as the township Tingvalla on the central island. Karlstad is in the middle of the foremost congregation of towns and villages in the southern part of Värmland state (abbreviated S). The city proper has 83.000 residents, while the region has some 200.000. If you will find the latter sum inflated - just take a look at how the national capital increase its standing, by adding around 25 more communities to Stockholm. The same radius is used for Karlstad to level the playing field. The nearest big cities are actually Oslo, and Göteborg.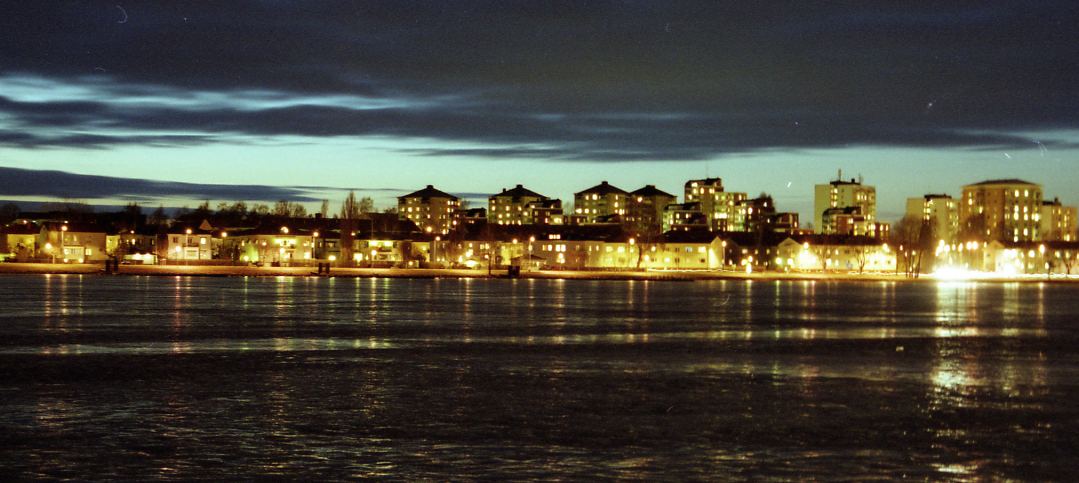 Mariebergsviken 8 p.m. an evening in March, seen from Orrholmen.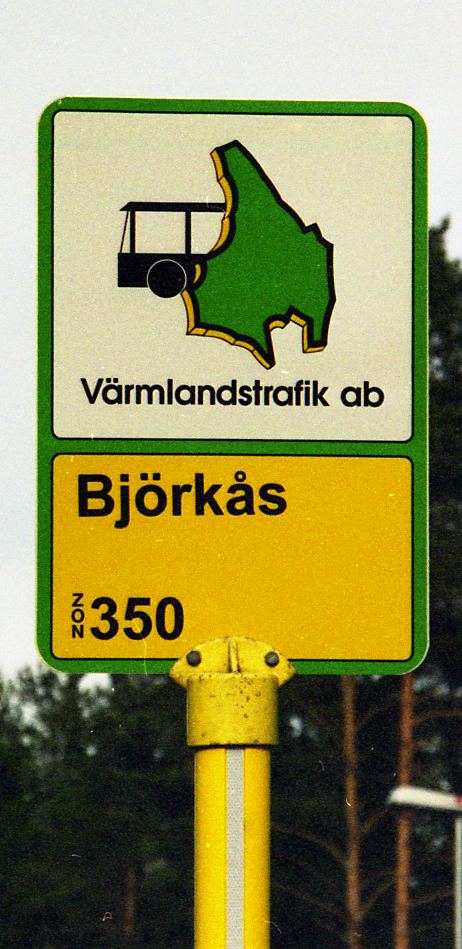 This also leads to the conclusion that Stockholm is barely present on the mental map. Värmland as a whole exudes a very strong identity, and a idiosyncratic dialect of Swedish is spoken. The patriotism is permeating, and will show in details as the Coop Konsum stores using their own signs, differing from the rest of the nation. The shape of Värmland is repeated on every bus pole, except those in Karlstad. Värmland is rather isolated as a Swedish province. Vänern, Europes biggest lake (outside Russia) is immediately to the south, Norway to the west, and mostly wilderness to the north, discouraging contact with Dalarna. Only the directions to the east and southwest respectively leads further within Sweden.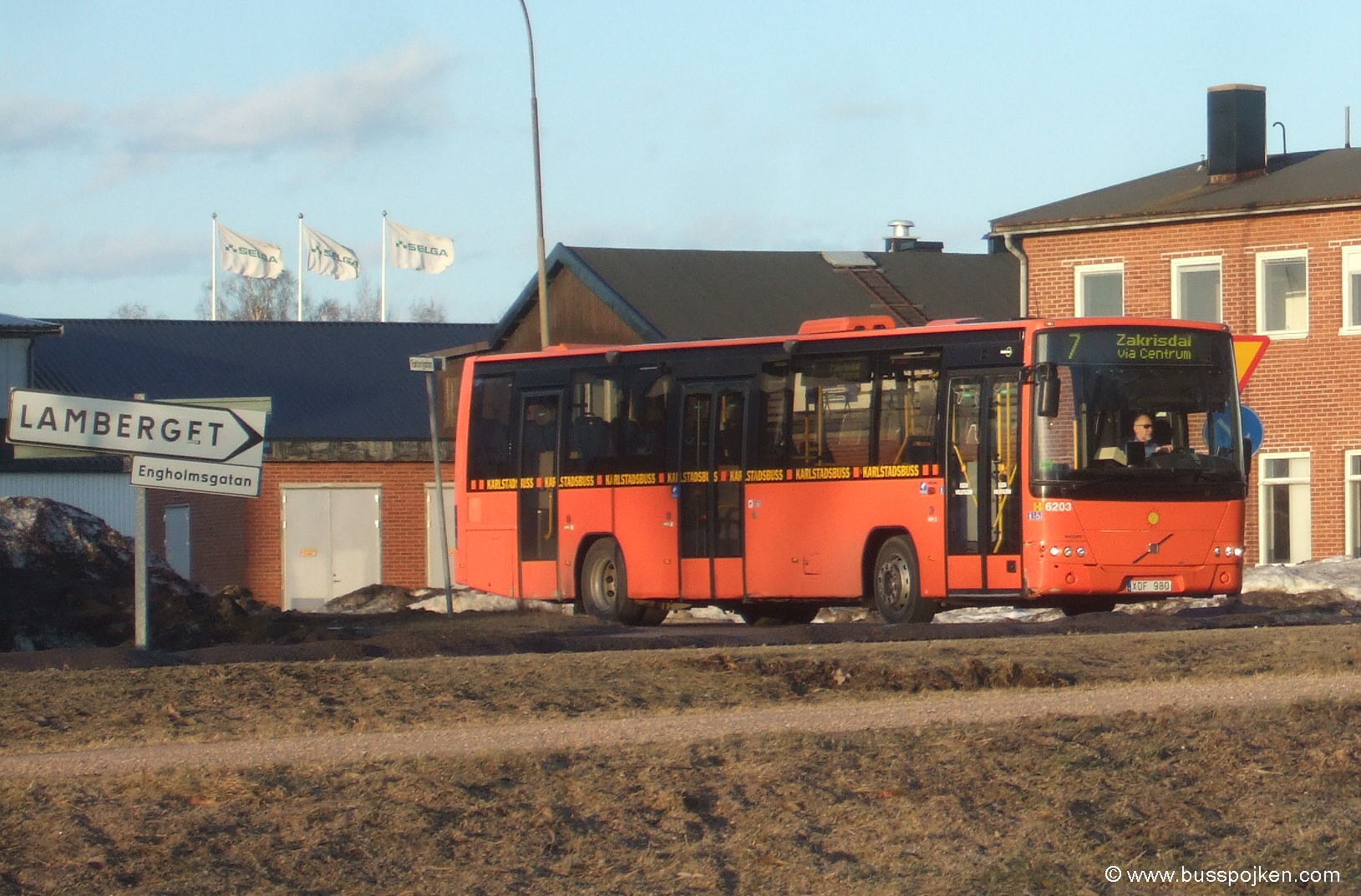 The colour correspond perfectly to the fading sunlight.
The sun - symbol of Karlstad
The sun is adopted as a symbol of Karlstad, and is not only displayed on bus shelters and vehicles, but is used in just about every other aspect of the public works. The background is maintained to have been SOLA (the sun), a very "sunny" humored vaitress. The name has been amplified to mean the actual sun too. According to statistics there is a lot of sun in Karlstad, actually among the best sunspots in the nation.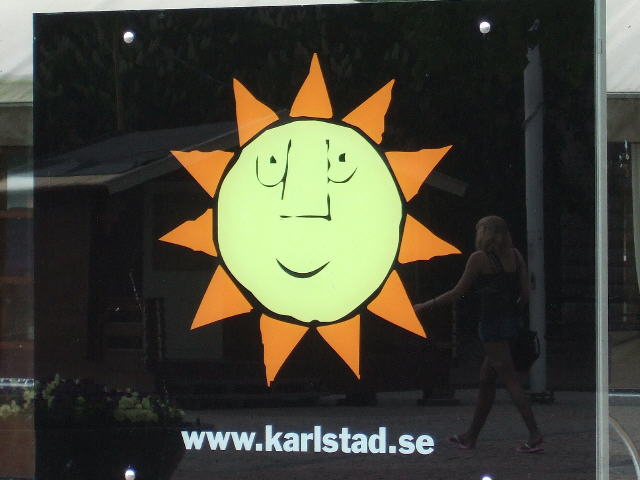 Backside of bus shelter in Karlstad.
Music
Värmland is also a stomping ground for so called dance band music, sometimes compared to American country. The reputed dance palace Sandgrund on the northwestern tip of the central Tingvalla island, is the place to go, if you want to try it out. The most famed Värmland band is by far Vikingarna, that sold 11 million records in their active years 1958-2004. In the 90:s they also pursued a career in Germany, Austria and Switzerland, by making some German language records. Da Buzz is another band, playing melodic pop with electronic influences, and lyrics in English. In the old days, Värmland was home to a slew of pioneers in Swedish rock music, like Sven-Ingvars.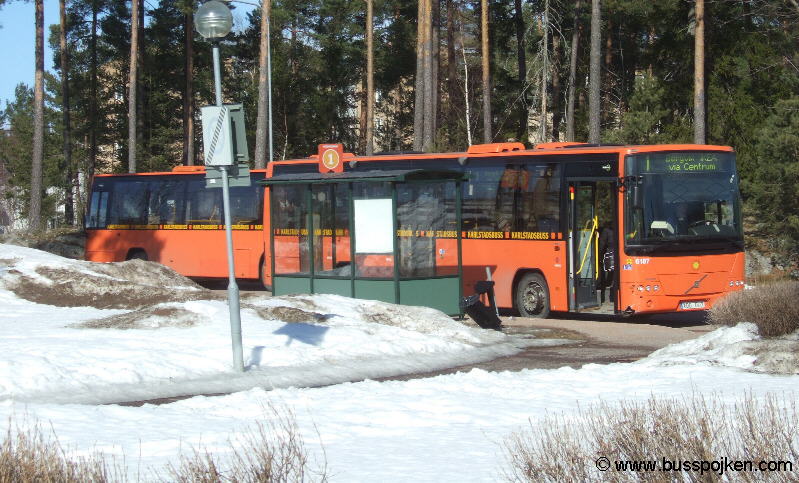 6195 going left, and 6187 heading right in this picture by Frödingshöjd.
Eat
I am no culinary expert, but will still leave one recommendation. Antep offers AMPLE amounts of tasty dishes, so be sure that you are really starving before entering. The location at Drottninggatan, midways between the bus station and and the railway station, is ideal too.
Hockey and coffe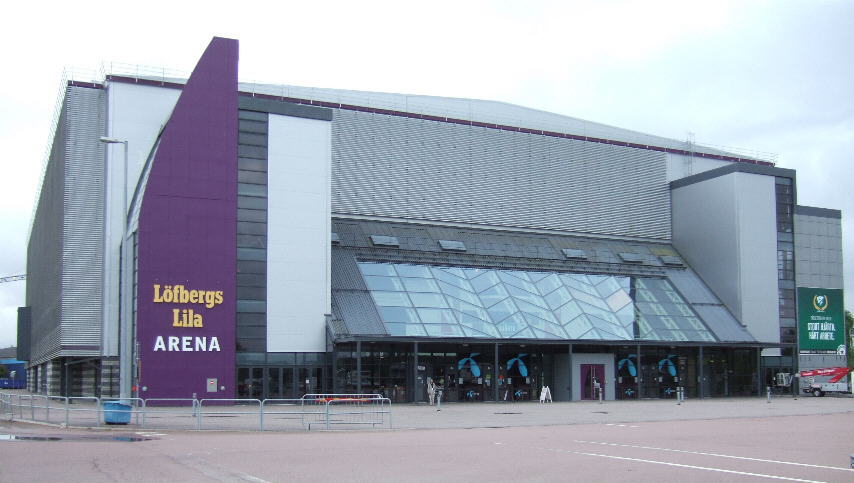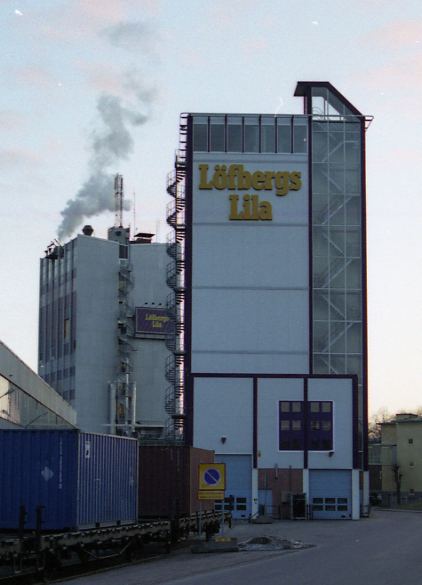 Karlstad arena is endowed by the name "Löfbergs lila", from the incumbent sponsor. It is mostly used for hockey, home to Färjestad, eight times winner of the national legaue. The arena is often on the itinerary of touring international super stars too. The location of an assembly hall of this size means a lot in that respect (other cities should take note). Löfbergs lila is a coffe maker, one of the four major in Sweden. The others are associated with Gävle (Gevalia), Helsingborg (Zoega) and Stockholm (Classic).
Uniform bus fleet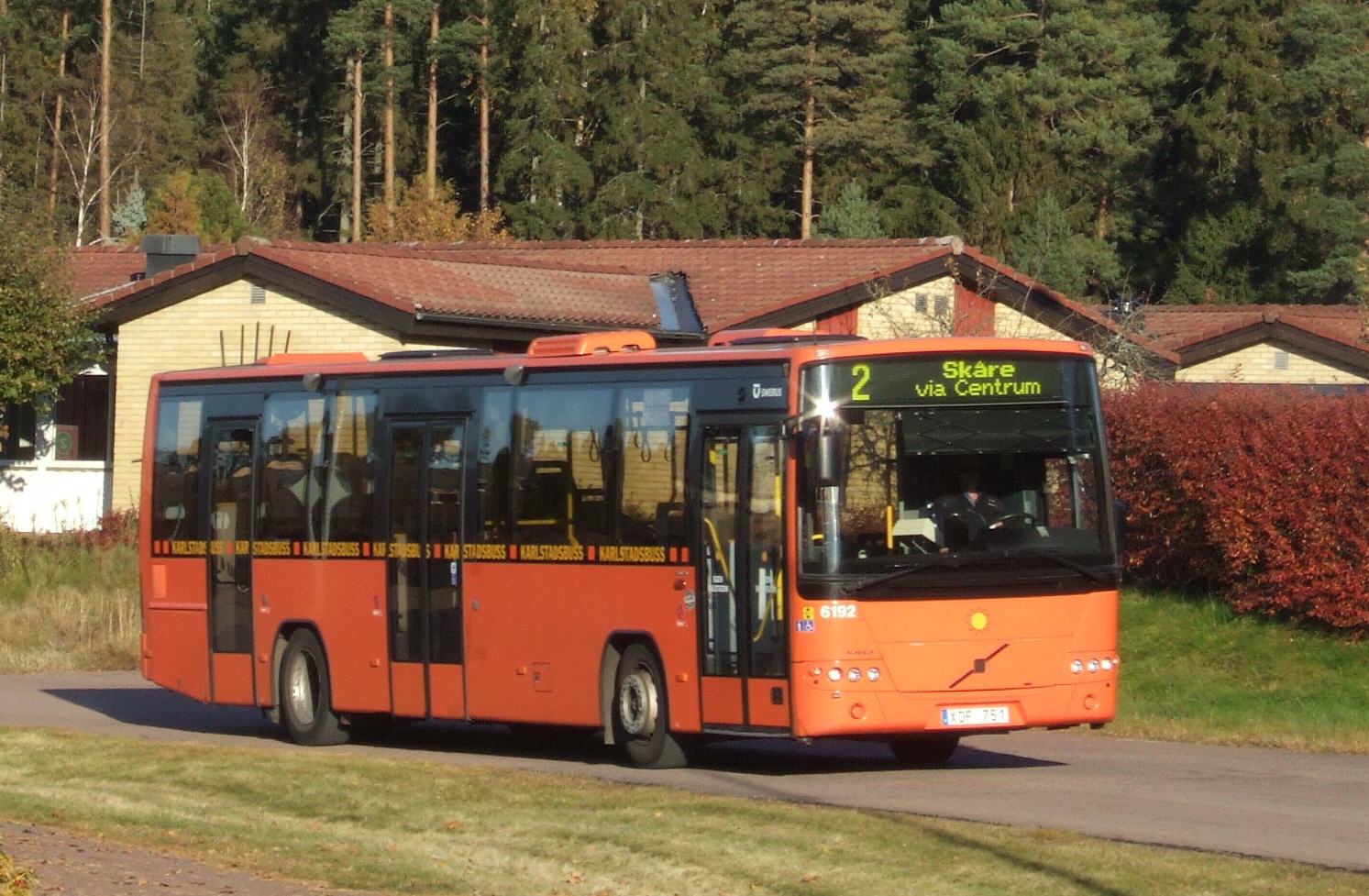 Mjölnartorpet on Karlstads eastern outskirts 2009.
The bus fleet is all made up of very similar Volvo B12 BLE rear enginge. The operator seems to have gone to great lenghts to keep this status quo, by getting second hand buses of the same type. Stockholm have contributed with a good number. The downside with the same buses is that it becomes a little dull and boring, as there are no surprises. On the other hand, the enthusiast know what he gets. It could sometimes irate me, when another type of bus is showing up, after I have already imagined a picture with a certain design in it. A few years back, both Scania and Volvo could be encountered. Around the turn of the century some six varieties existed, in a fleet of then some 50 buses.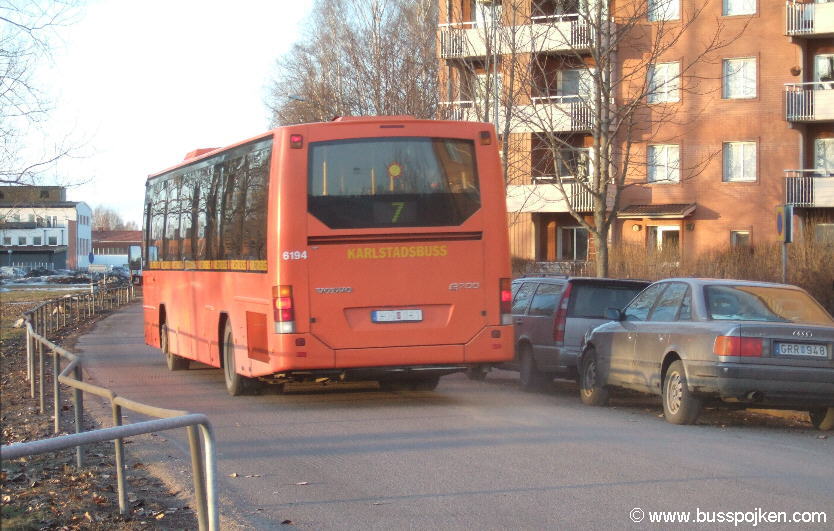 Nobina 6194, route 7 by Tulegatan.
The buses are now painted in an all encompassing orange, while most Swedish buses have some kind of stripes, or waistline separating different hues. I still lament the loss of the three colours used before. This means that (almost) all photos showing buses in this livery, are "historical". Just a few buses made it to get repainted, like the one in the picture below.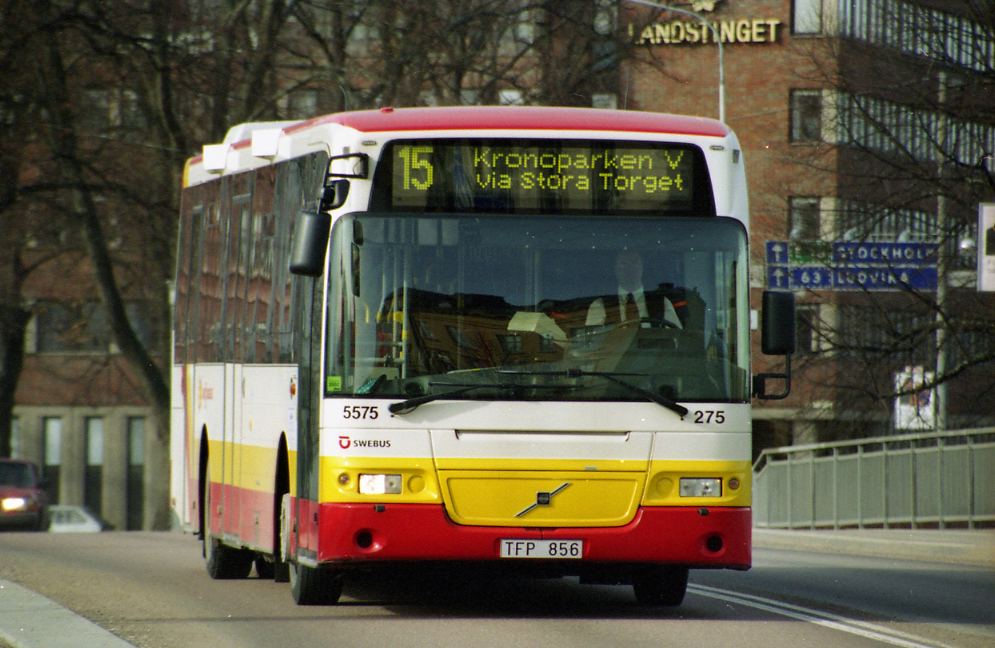 The highest (double) numbered bus became this.
The fleet number is on the left, as seen in the picture. The other number was a continuation of the series used by the city owned Karlstadsbuss. I guess that was a part of the deal, when Swebus made the acquisition. Swebus is now Nobina, sporting only the four digit number, albeit the same. Some other examples of three digit numbers on the left (Swebus), means that they got those buses used. Swebus have mostly given low numbers to vehicles acquired second hand, by takeovers of companies.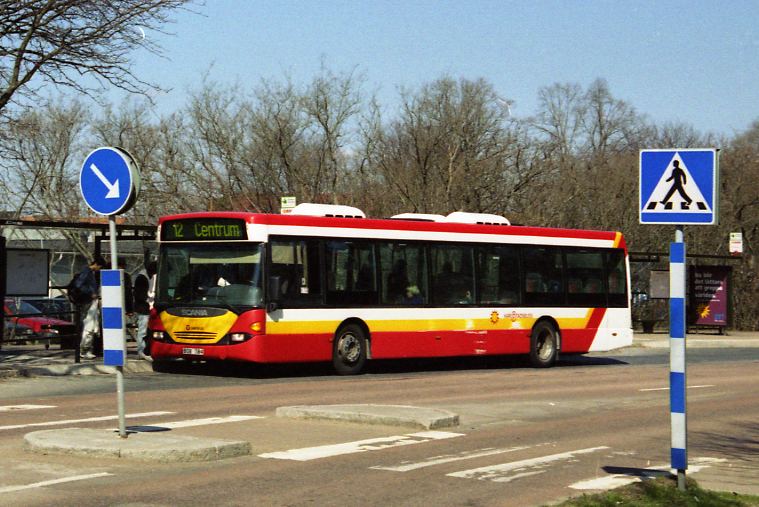 Scania Onmnicity in 2005. A lot of these have later been running in Stockholms Västerort district.
Route classification and headways

The official route map is very neat, with a semblance of a subway map. There is one next to the middle doors in every bus, and also at bus stops. I will still recommend that you print a copy from the company internet site. See Karlstadsbuss in the links section in the bottom of this article. Several different maps are available, depending on the type of services shown.
Baslinjer is the most likable for the casual visitor, as these are all day buses. Baslinjer are colour coded on bus poles and maps, and have numbers in the single digits.
The next level is Centrumlinjer, rather short, and catering for the central parts only.
Speciallinjer is as the name suggests, more specialized. These connects with industiral areas (51), schools (52, 53, 57, 58), or malls (56).
Live! is the name of an eminent system for a continuosly updated information on the exact location of vehicles. Beside on some bus poles, it is accessible with a cell phone. The company's internet site even displays this for EVERY stop. Moreover I will endow you with this table for a basic hint of frequencies, showing a line by line resumé.
| | |
| --- | --- |
| 1 | 10 minutes eastern part. 20 western part. 30 by evening. |
| 2 | 20 minutes daytime. 10 in peak. 30 by evening. |
| 3 | 10 minutes main sections. 20 in each fork. 30/ 60 evening. |
| 4 | 20 minutes. 30 by evening. |
| 5 | 20 minutes. 30 by evening. |
| 6 | 20 minutes. 30 minutes by evening. |
| 7 | 30 minutes. 60 by evening. |
| 8 | 20 minutes. 30 by evening. |
| 11 | 40 minutes during daytime (7-20). |
| 12 | 40 minutes during daytime (7-20). |
| 13 | 40 minutes during daytime (7-20). |
| 51 | Approximately 40 minutes (15-17 only), mostly in one direction. |
| 52 | Forget about it (once a day). |
| 53 | Uneven 30 minutes (15-18 only). |
| 56 | 30 minutes during business hours (10-20). |
| 57 | Forget about it (once a day). |
| 58 | 20 minutes a few hours in the afternoon (one direction). |
Before leaving this subject, a short mentioning of the old network: Routes 11, 13-15, 17, 20 and 54 operated daytime. Some peak hour buses in the 50:s haven't changed much though. What really put Karlstad in the dog-house then, was the evanescent off-peak network. This constituted of a special collection of hourly services in the 30 series. For a non-native it was a real chore to keep track on this too. The lousy headways also made it rather unpleasant to ride, as buses could be awfully crowded.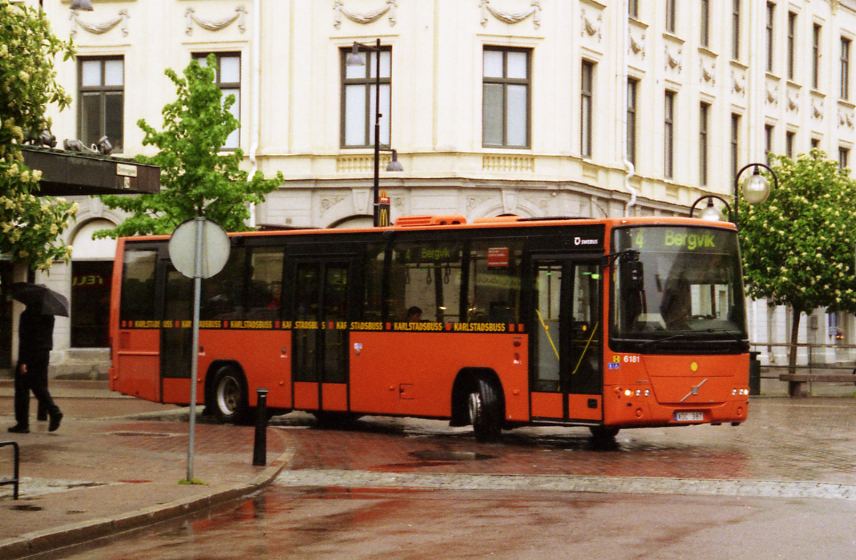 It doesn't rain very often in sunny Karlstad (they allege).
The new strategy is a significant improvement. It would not suprise me if it is more or less a one mans job, as is often the situation with innovative and uplifting ideas. Anyway, let us hope that it will not peter out as a case of too many buses chasing too few passengers. However the counting this far points in the complete opposite direction. Ridership has increased exponentially, even duoubled on saturdays, in just a few years.
Tickets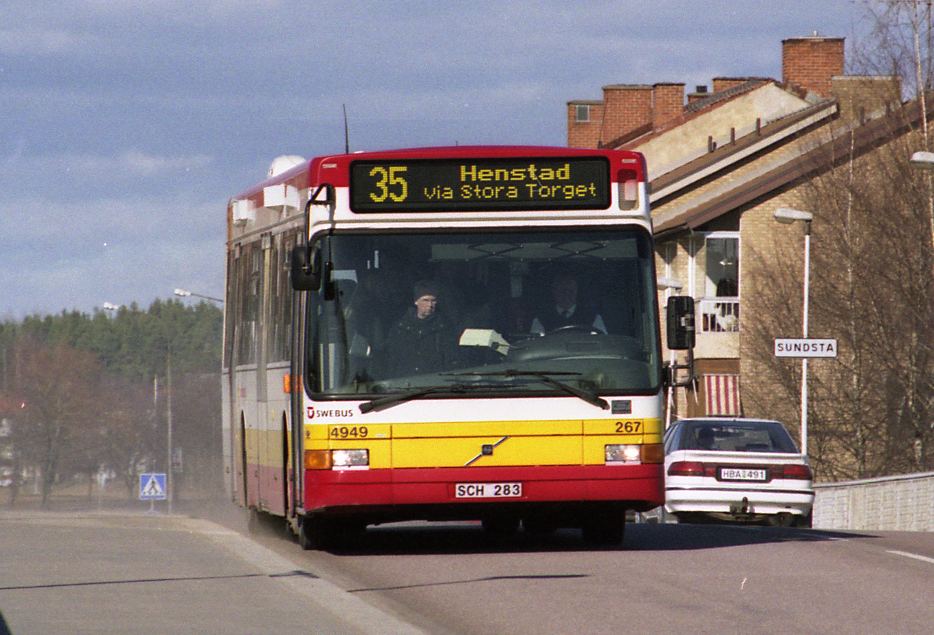 Volvo B7L, a staple among my favourites (but unfortunately dreaded by operators).
In the wake of an almost national drive to avoid cash payments onboard city buses, some befuddlement has ensued. The outcome is either payment via credit card, TVM:s, SMS, passes of different types, and sometimes also ticket vouchers. All four latter options became the choices for Karlstad.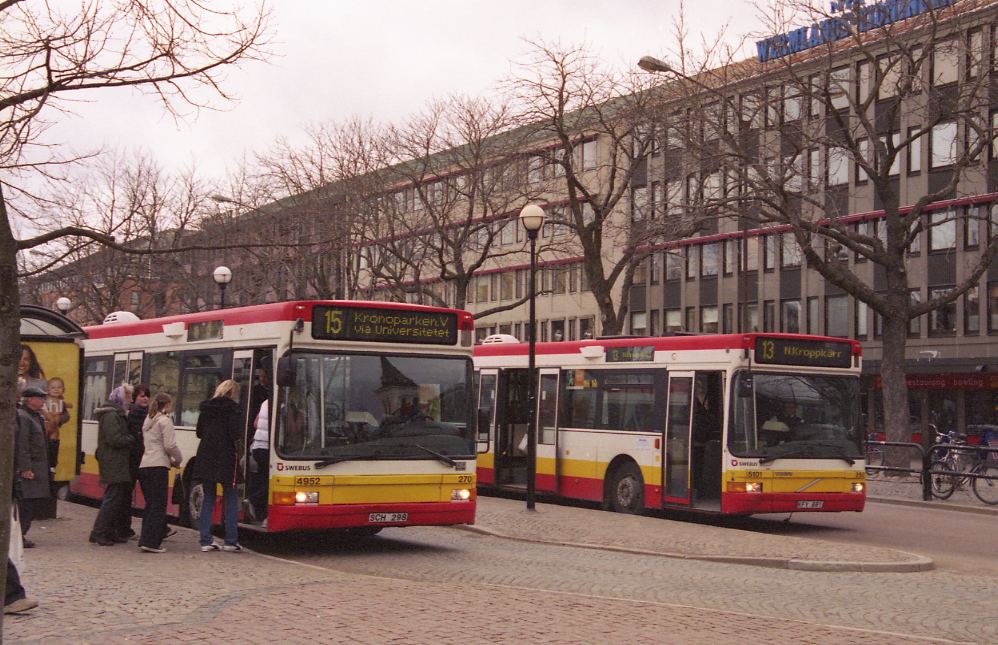 Some more examples, shown by the central transfer point in 2004.
The pass is a smart card holding a charged amount of ordinary currency, and gives a handsome rebate. You can also avoid speaking to the drivers, if you don't have any proficiency in Swedish. The voucher option is a rarity, especially as it is called a currency; Tur-kronor (lucky money, or ride money). On top of this, they come in varying denominations, and really resemble bank notes. Tur-kronor can be purchased at serveral outlets, and later swapped for a ticket.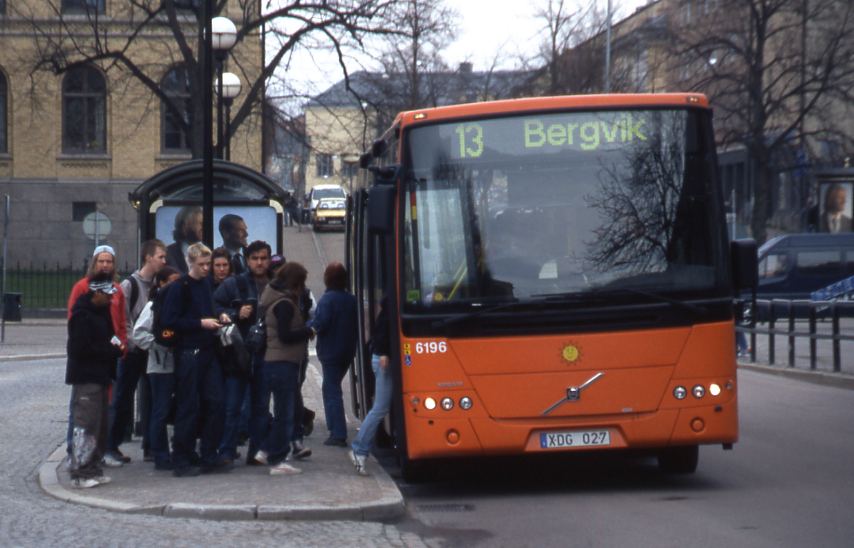 Stora torget, where all routes convene (but not simultaneously).
Finally, a ticket can still be bought by the bus driver, but will come at a premium (SEK 30). SMS-ticket, TVM:s and Turkronor will be SEK 22. Respass only set you back SEK 16 for each journey. A transfer is always permitted within one hour. For those staying a few days, a weekly ticket costs SEK 249 (345 including Hammarö). Less for all childrens tickets.
Places to go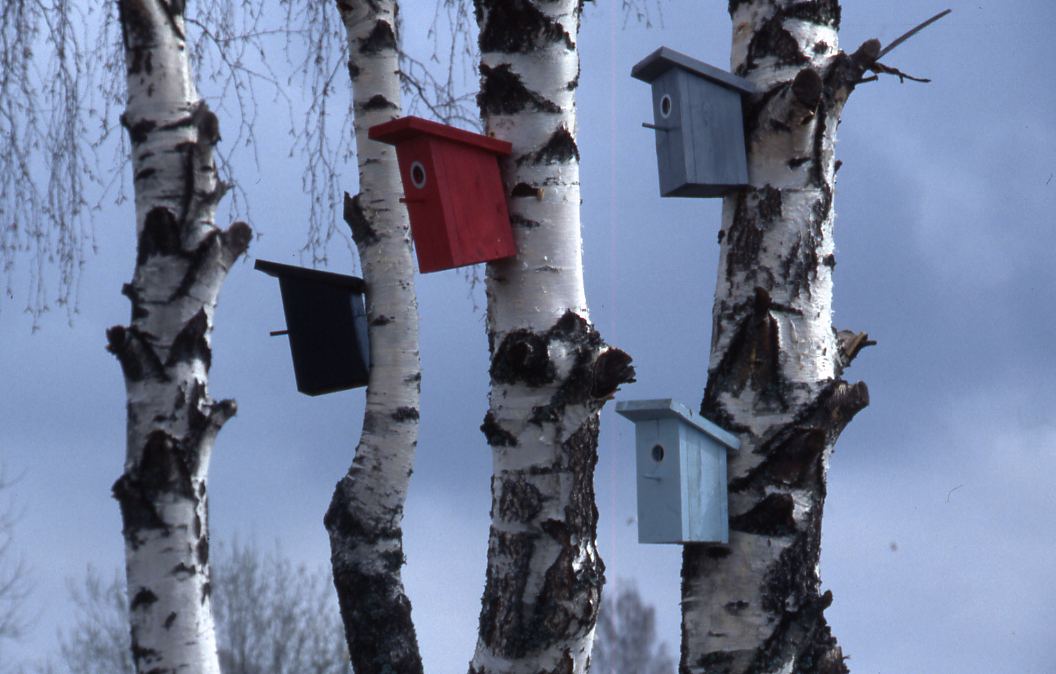 Birdhouses by Stodene-tjärnet (Stodene tarn), route 8.
Beside just riding around, you may want to get off sometimes (well, not that way). There is also a lot of fine locations for the eager transit photographer. Karlstad is picturesque and photogenic in equal measure. When the picture above happened to reside here, I will start with the north of Karlstad. Services 2 and 8 follows the river Klarälven rather close for a while. The right side of the bus will give the best view, when riding north. Just opposite on the other river banks, bus 6 could maybe be glimpsed. A counter clockwise short presentation of places of interest follows.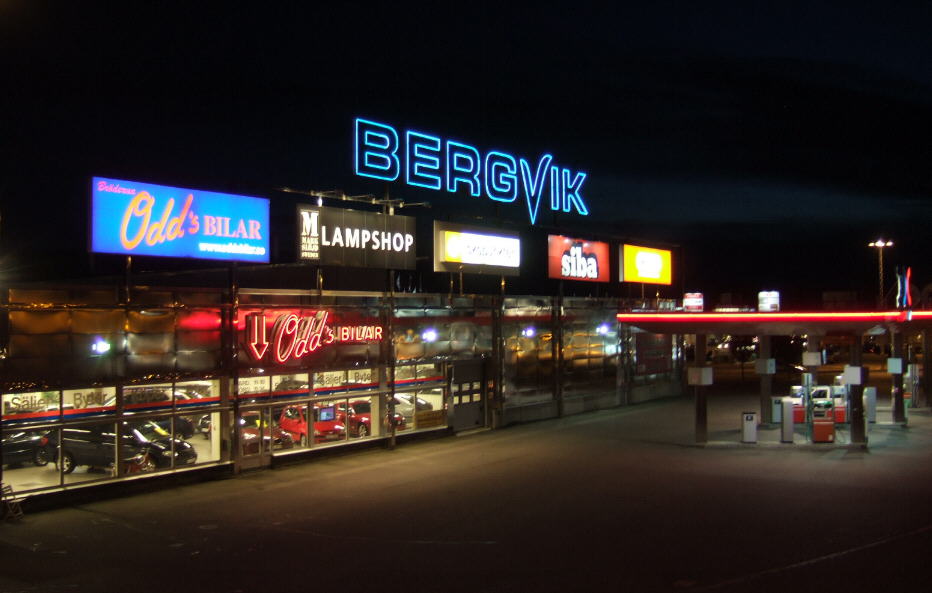 A gable at Bergvik mall, adorned with neon lights.
The western part of route 5 passes a calm area of one family homes, not the first recommendation if time is in short supply. But don't miss Bergvik, a mall with dimensions that would be impressing anywhere. Bus 1, 4 and 56 ventures to this neigborhood. Route 4 use a transit way when going between Gruvlyckan and the outlet areas. Bus traps are used to dicourage other vehicles to use the transit way. Overall there is a prolific use of transit ways in Karlstad.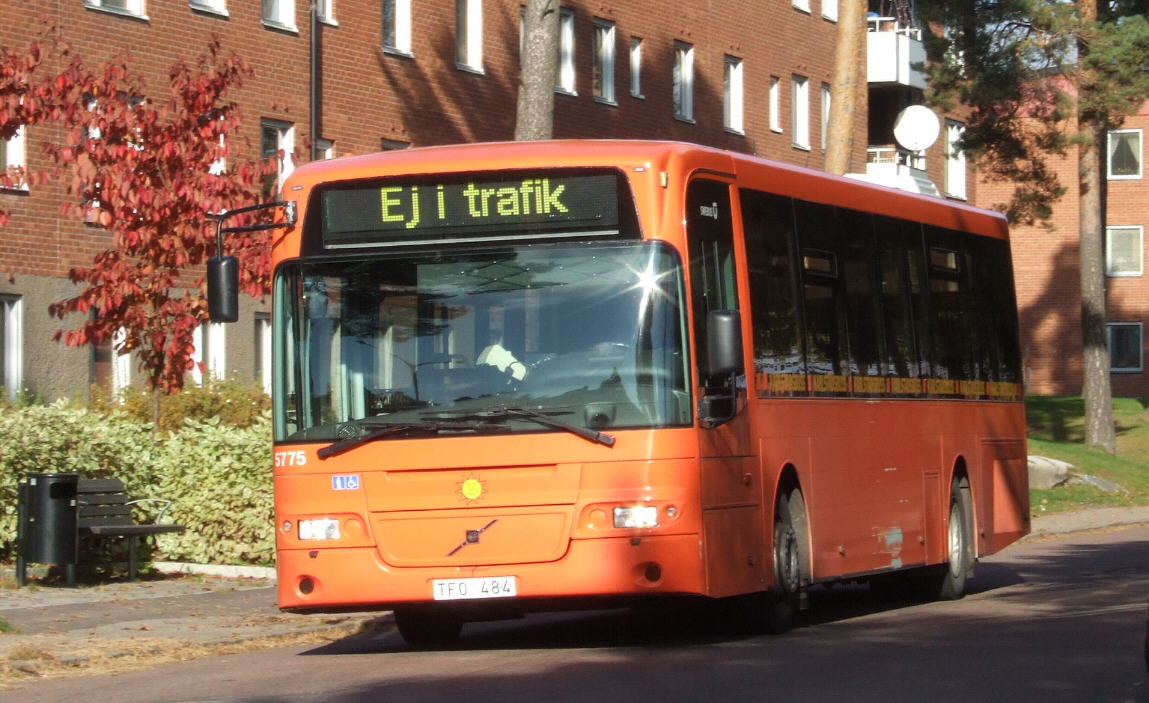 Swebus 5775 at Gruvplan, soon to enter service on route 6.
When mentioning Gruvlyckan, it should be noted that bus 6 crosses 4 in this area, but teminates. Further inbound on route 6, the Swebus depot will be encountered. The western section of 7 cater for a former defence industry, turned to a new industrial park. The nearby Bellevue residential district, was usually the end of the line before this, with only a few departures going all the way (Bellevue is pictured in the livery section, S state).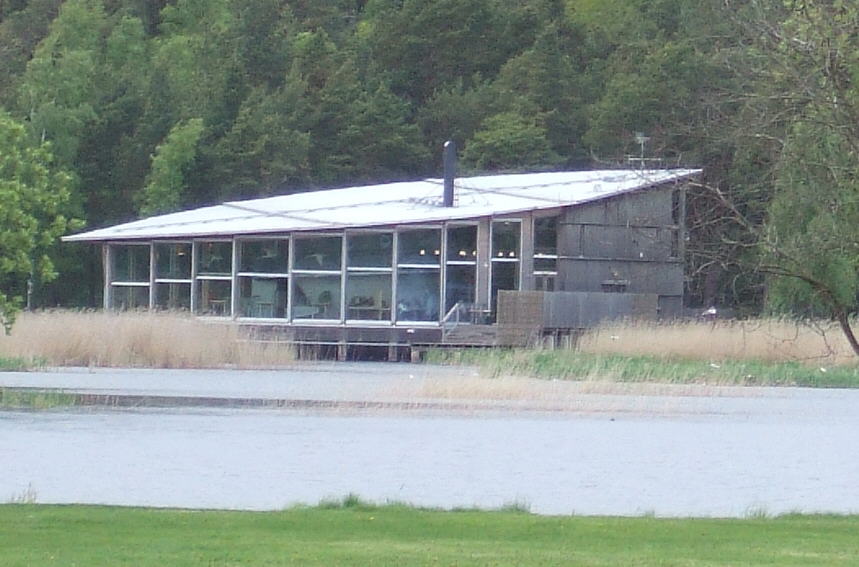 Naturum in Mariebergsskogen, as seen from Orrholmen.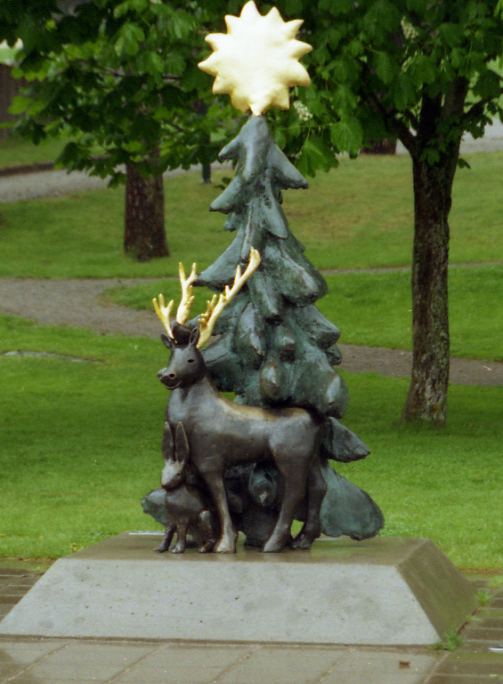 Bus 3 forks in both ends. The southern alignment is separated in the west, to the now defunct old airport, but the other section to Mariebergsskogen is more enticing. This doubles as an amusement park, and ordinary one. A walk in the wetlands, or visit to Naturum can be a rewarding activity when making a call. The latter offer an exhibition about the fish and wildlife in the area, and a café, if nothing else in the park would be open. Summertime a "boatbus" service docks halfway from here to the bus, but i haven't had the opportunity to try out these.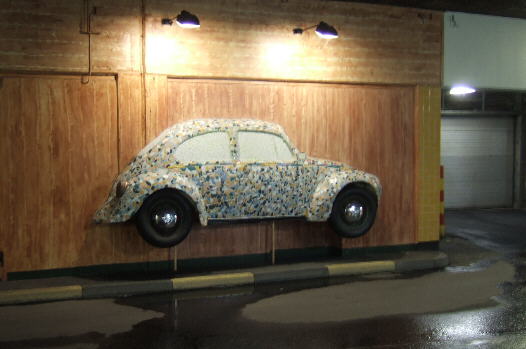 Artwork in the parking garage by Orrholmen.
Visible from Mariebergsskogen is Orrholmen. The same bus service continued in the old network, not making it very attractive for those people to go downtown by bus. However the new alignment of bus 5 is much straighter, and runs more often too. On top of it, it now continues into the parking garage by the southern tip of the peninsula. A full circle means three stops underground, with stairs to both the houses above, and the open air. Some artworks are worth a closer look, and not the least - the view along the cove (Mariebergsviken).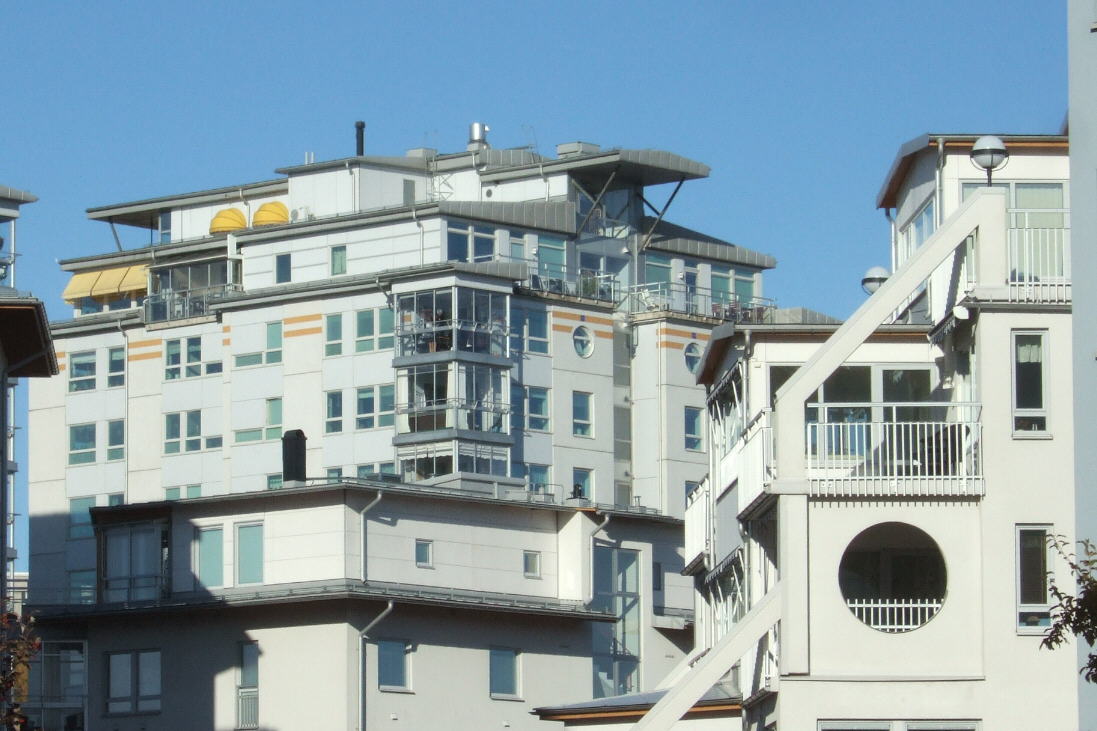 Vågmästaren by the inner harbour. Bus 7 and 11.
Vågmästaren is a new development close to the water. A style very much prevalent all around Sweden, since the seminal housing exhibition in Helsingborg H99. If taking into account the predicted raising of sea levels, by global warming, the proximity to the water makes one a little uneasy. This specific area was in fact showed on TV in this context. But then again Vänern is a lake, so it may be possible to regulate the flow. The hilly Herrhagen nextdoors, will make it even if the water would rise. Buses 7 and 11 goes this way.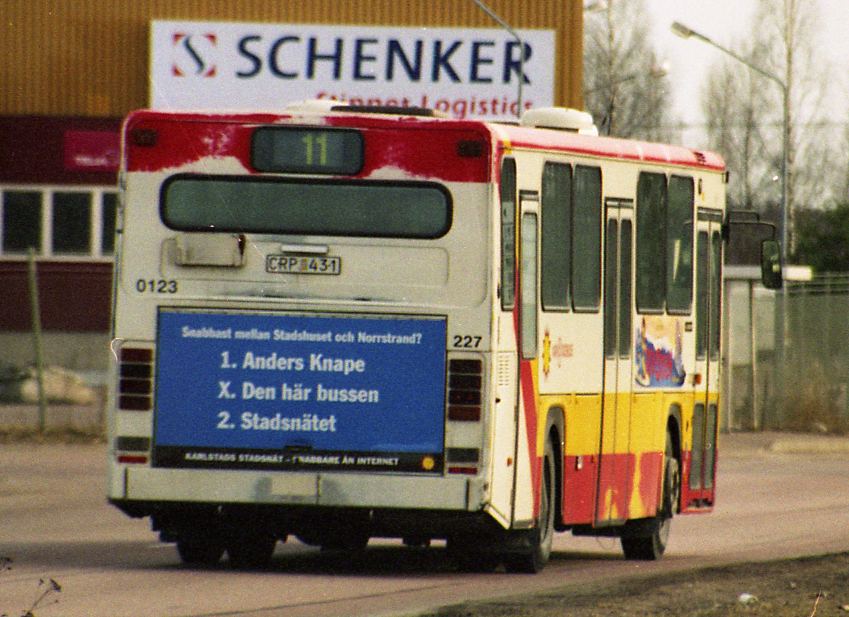 Örsholmen industrial district. Today accessible by route 51, or some walking from the terminus of 7.
By continuing with number 7, some more apartment blocks are built close to the water. A rare example of a water tower with a commercial message (company name) can be seen on the next hill above. Of the approximately 500 water towers in Sweden, only a handfull carry this kind of endorsement.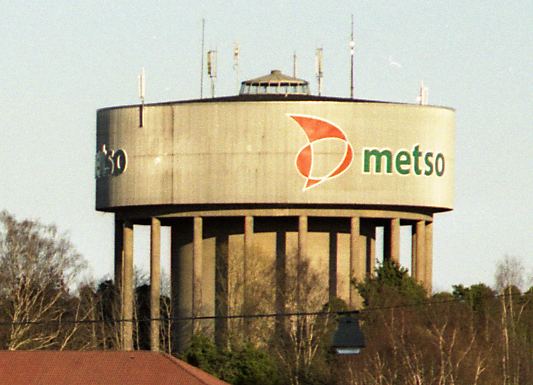 Lamberget water tower, making promotion for Metso.
Bus 7 won't come very close very to Örsholmen. This is a pity as there is a nature preserve further that way. Bus 51 will have to do, but only in the peakhours though. The corrugated steel boxes of this industrial landscape may be drab, but there is a certain austere beauty to the vast river delta sorrounding it.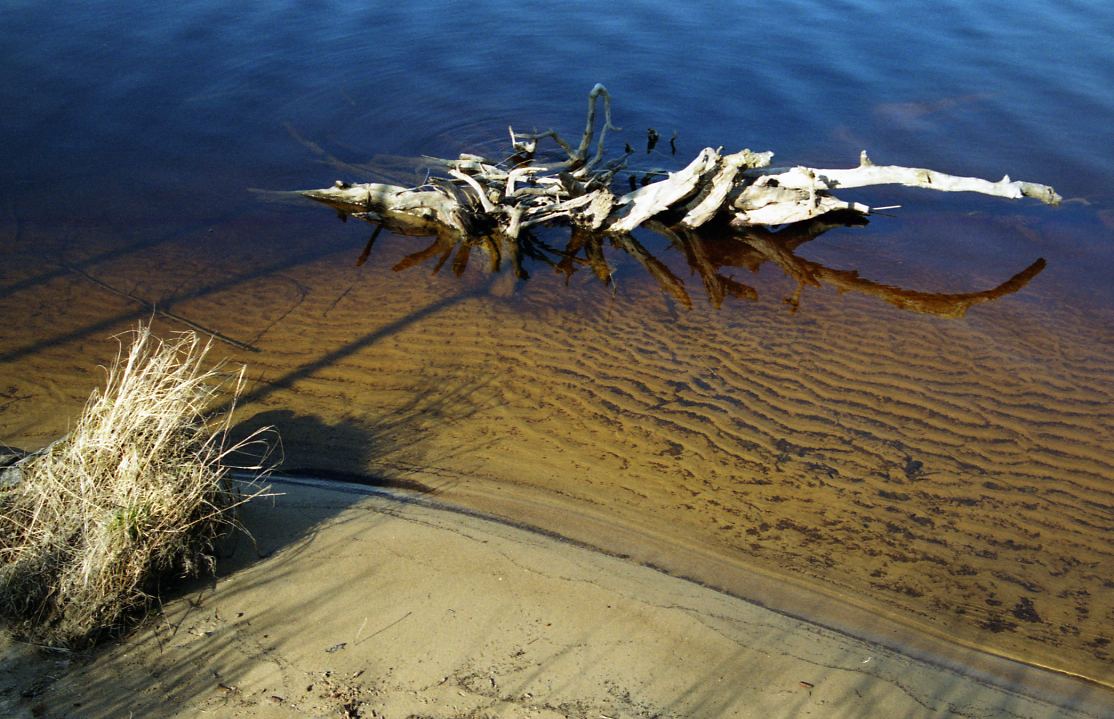 Kaplansholmen nature preserve.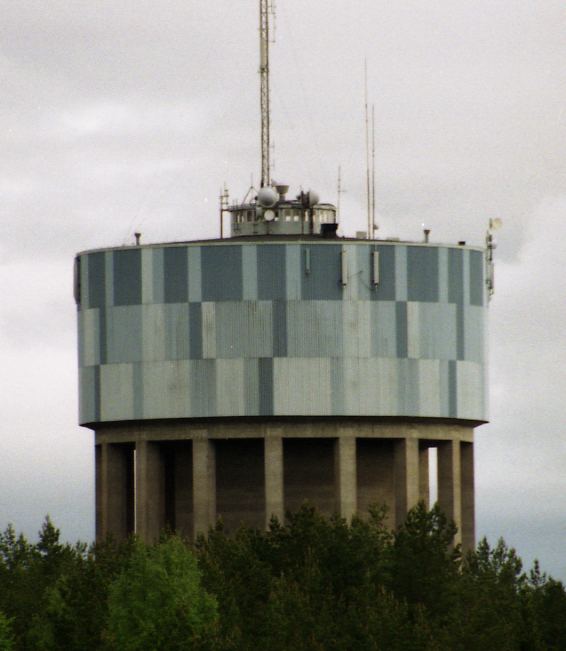 The three frequent bus services 1, 2 and 3 can bring you to Kronoparken district, a public housing project from the era of the "million program". A label used for buildings foremostly erected between 1964-74, when a severe national housing shortage was to be overcomed by a government pledge to build at least 100.000 apartments, townhouses and one family homes a year. The denotation "million program" has for many years been a stigma for the people living in similar districts. Even as the homes and buildings often retains a rather high quality, some hardships entailed from the fact that sometimes more or less whole new towns where constructed in one leap, by the outskirts of older cities. The frontier appeal of the 50:s, later gave way to a modernist fatigue, and sense of lacking history. Upheaval and rootlessness ensued from this vast national migration, combined with a global immigration directed to the very same districts. The establishment soon frowned upon these people and areas. Virtually all complaints are in fact derived from that outside perspective.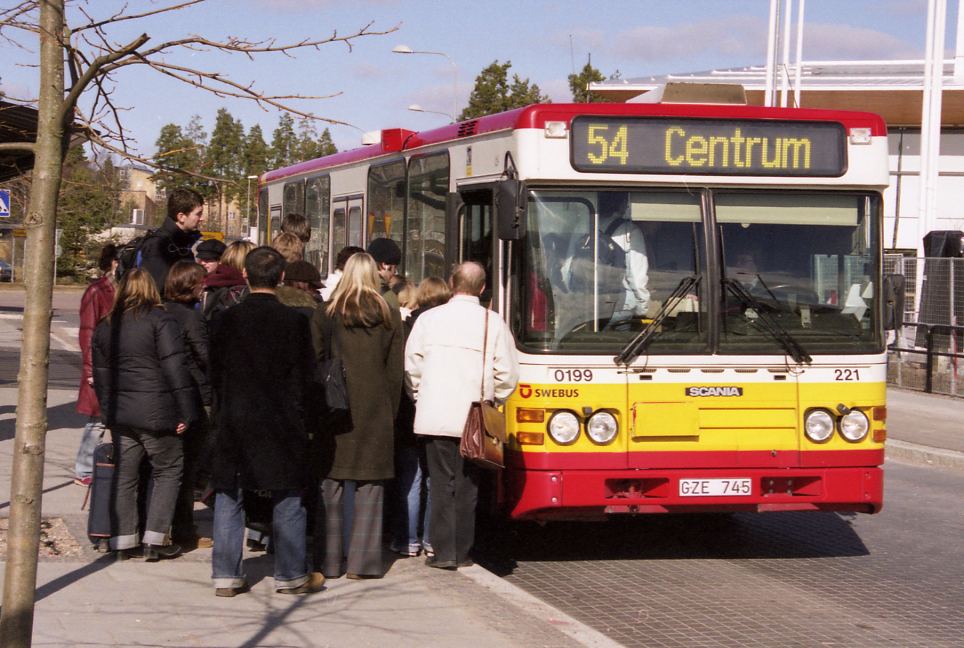 Route 54 by the university. 54 is now 1, with identical alignment.
In order to breath new life into Kronoparken, Karlstad university was built next to it. This turned out to be an excellent solution to diminish the negative notions. No less than 10.000 students are enlisted, and Karlstad is considered to be the best Swedish city for students. Though the bigger cities exude a strong lure, the availability of apartments in those is nothing but dismal. On the contrary Karlstad guarantee students a room, and the university campus is very coherent.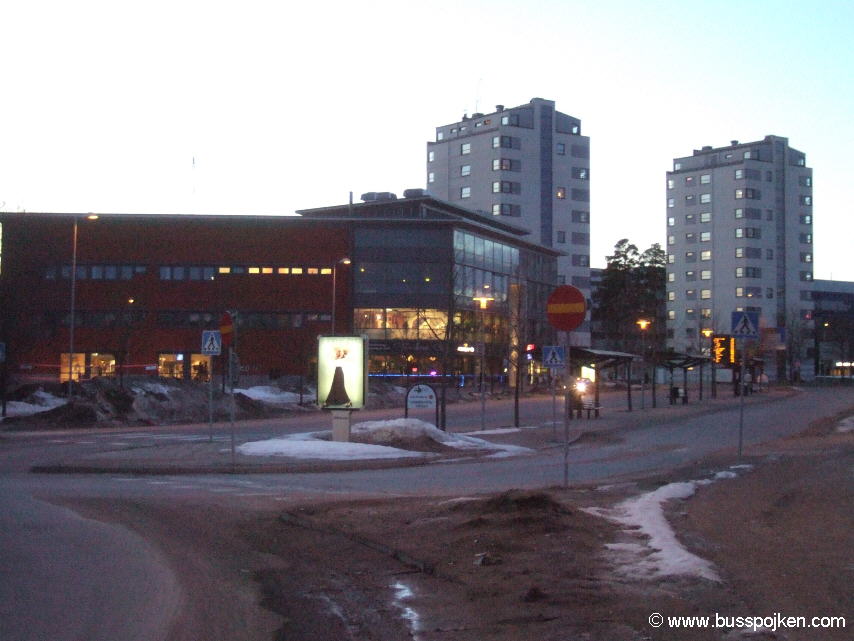 The university bus terminal at dusk.
There is also an avid engagement with the corporate world and the city too. The cultural supply in Karlstad is considered competitive. Bus route 1 is going directly from the downtown on the motorways to Karlstad university in no time at all. This, along with the local auxiliary route 2, is running every 10 minutes. Every second working of 3 is also heading this way (every 20 minutes).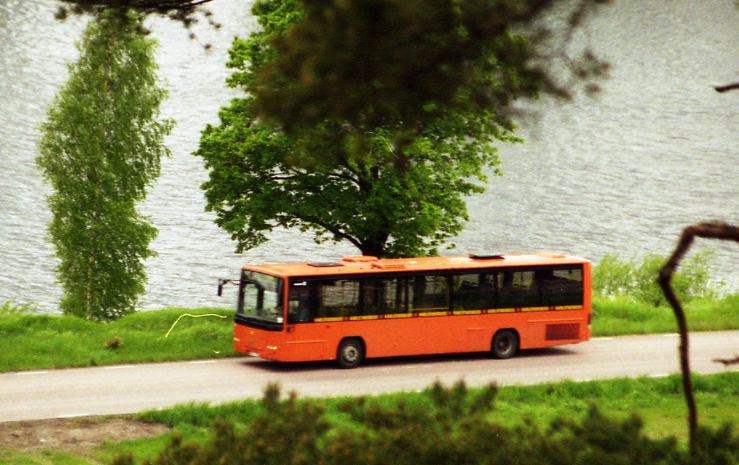 Jägartorpet along Klarälven.
Soon we will be back in the north, after making the lap around the extremities of the network complete. A horse-race track and Löfbergs lila hockey arena, is served by route 6 northbound.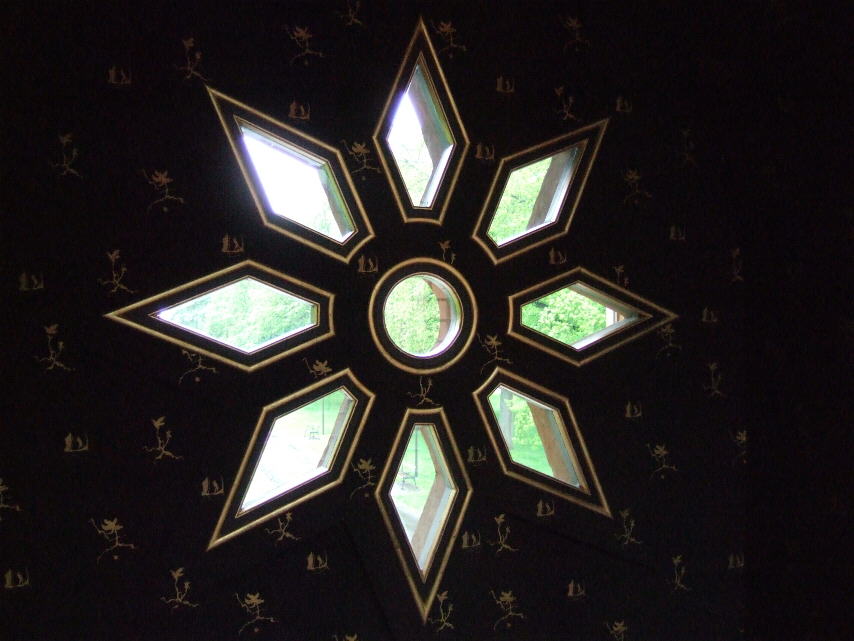 A one-of-a-kind window in Värmlands museums art exhibition.
The downtown should however not be overlooked. Beside some fine walks, a visit to Värmlands museum is recommended. Especially on a rainy day, it would be a fine retreat from the damp feelings the wheater may otherwise induce. So just indulge yourself in the older west wing, containing the art section. Or learn something about Värmlands history in the newer west wing. An experimental exhibition can entertain the child in you, or your offspring. Naturally the museum comes complete with a cafeteria.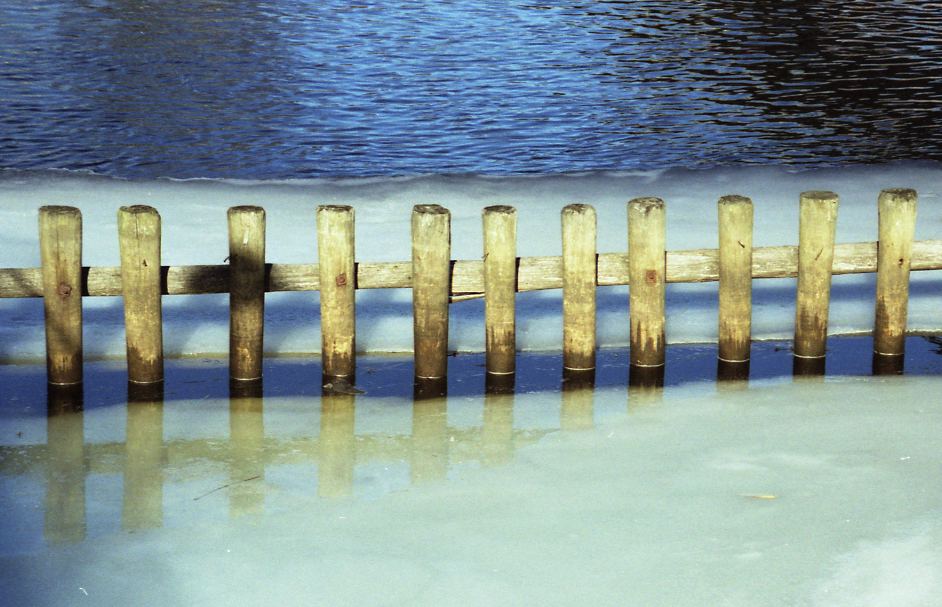 Klarälven by Sandgrund, outside Värmlands museum.
Older pictures
This section ought to increase as newer images replace older ones in the upper parts of this article.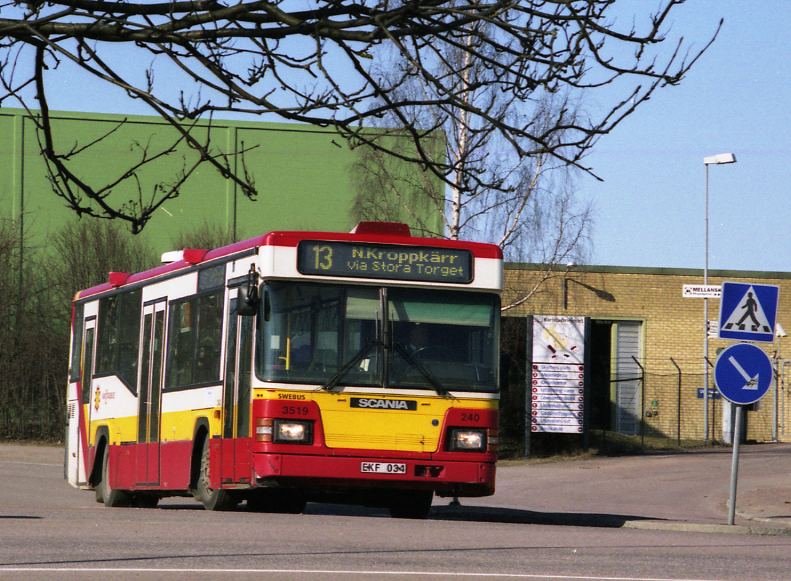 Scania Maxci, a discontinued type of bus.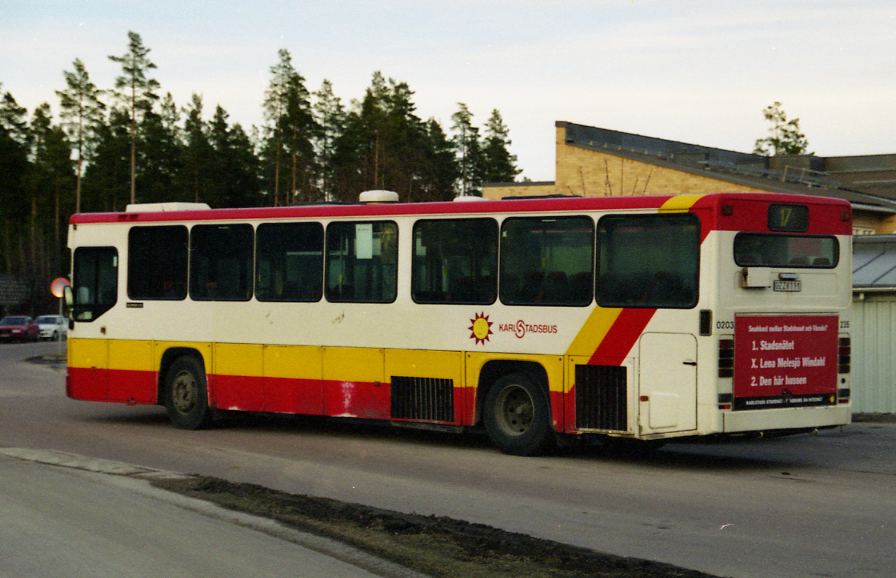 Scania 113 by a discontiued terminus. Even the commercial operator Swebus was letting the buses stay idle here for some 40 minutes.
How to get here from abroad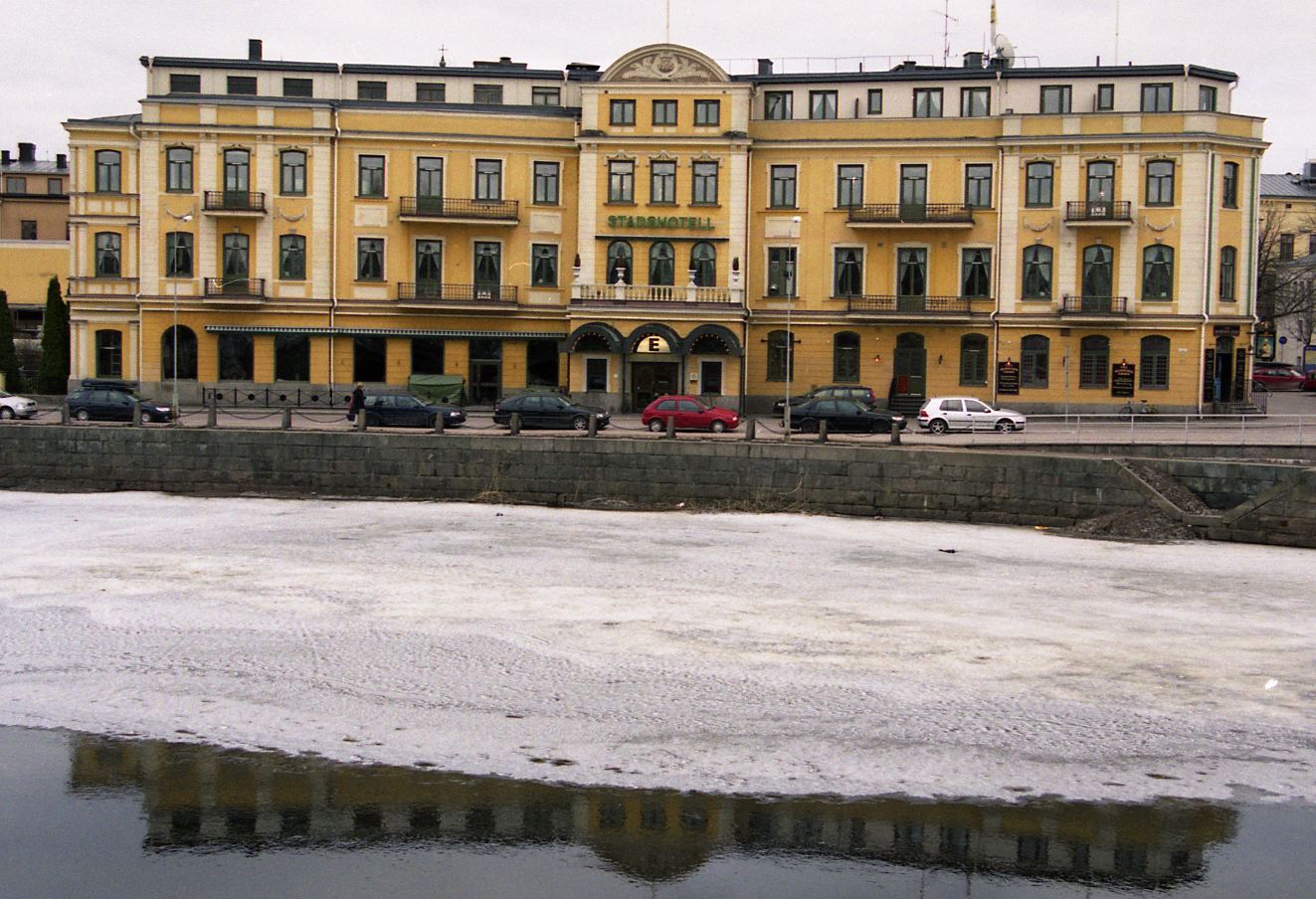 Stadshotellet (a common epic label meaning city hotel), Karlstad.
Karlstad has an airport, but there is a narrow selection of commercial connections, like Copenhagen and Stockholm. Charter is also operated to different destinations. This leaves it however to the railway as the most likely means of transport for arriving tourists. Trains from either Oslo, Göteborg, or Stockholm requires approximately 3 hours travel time in each case. Karlstad central station is located just one block away from Drottninggatan, where most local and some regional buses stops in convenient proximity. The remaining regional buses, and their long distance counterparts, calls at the bus terminal a short walk to the west.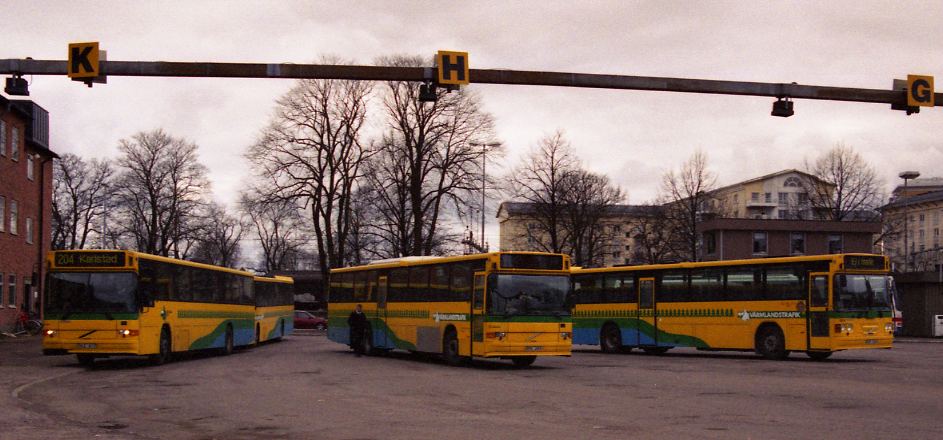 Karlstad bus station.
The road E18 cuts right through the city on an east-west alignment, and E45 (former Interstate 45 on older maps) just outside, on the west flank. The discerning tourist may opt for Stadshotellet or the two locations of either Scandic or Comfort. There is also a STF hostel a short walk to the former army barracks northwest across Klarälven river. Camping is available at Hammarö, south of the central district.
Excursions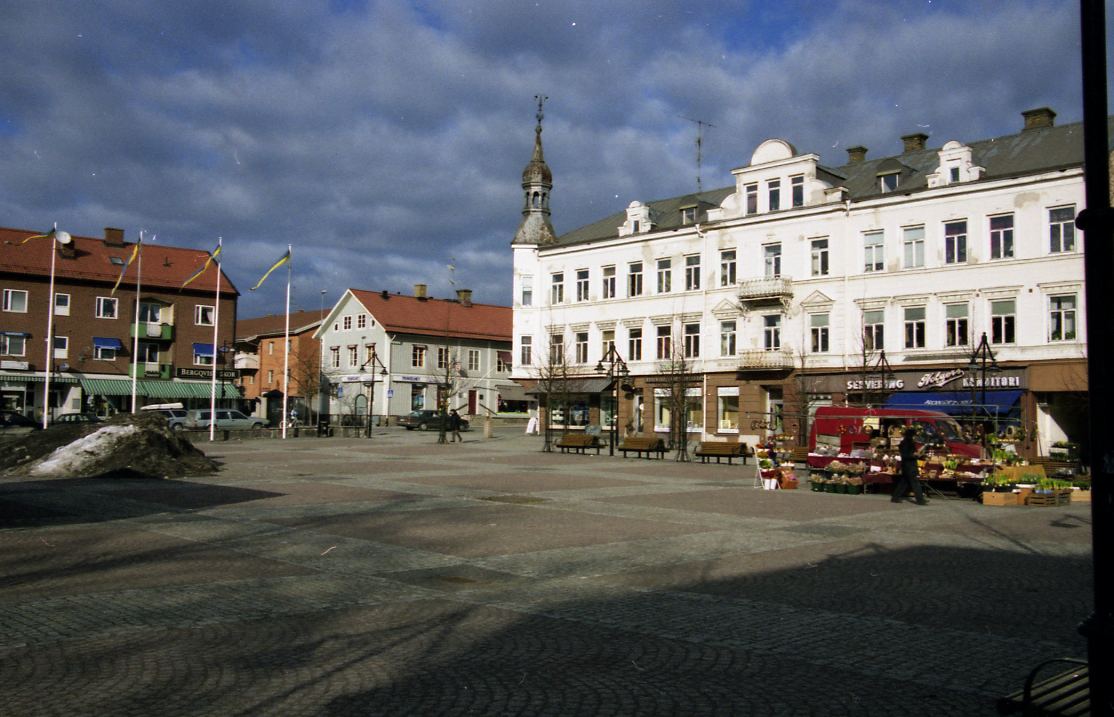 Stortorget, Säffle in 2004.
Säffle is naturally a point of interest, famous as it is from the namesake bus bodies. The company is owned by Volvo, but still use the old name. Otherwise Säffle is a nice little town in its own right. When riding a train to Säffle, a detour via Kil to the north is necessary, as this is the way the railway once was arranged. This leads to Kil itself, that is a rather dull place. Kil has bus connections to Karlstad, that would make it possible to take the bus either way for this leg of the journey, and thus make a stopover in Kil easier.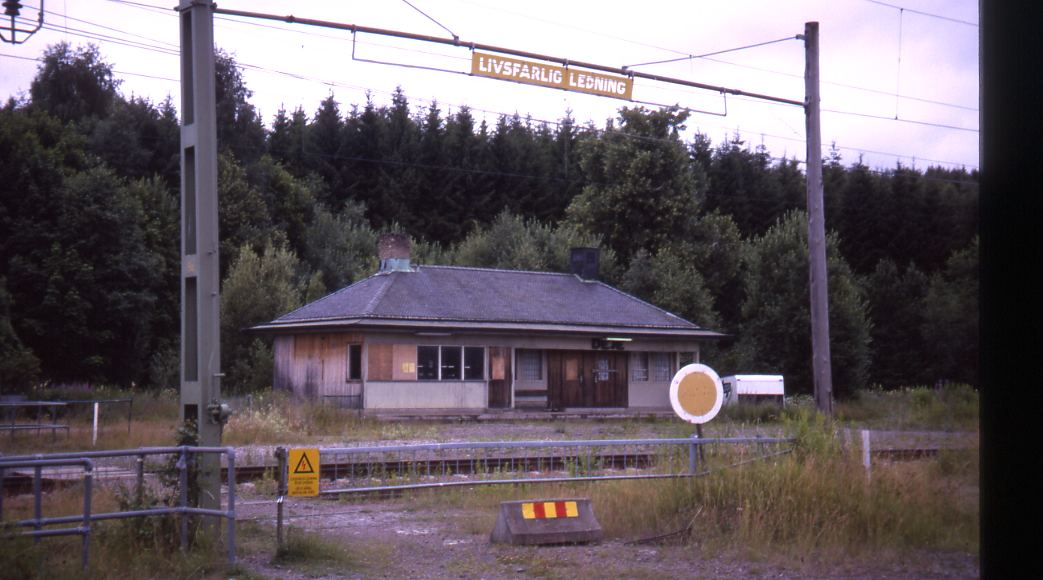 The defunct Deje station in a sad state, summer 2001.
The highway right north from Karlstad is leading to Forshaga in no time at all. The name is known from a paper mill, and manufacturer of floors (Forbo-Forshaga). The Olympics gold medalist (Athens '04) in high jumping, Stefan Holm, was born here. Continue with the same bus service to Deje, a derelict village further upstream Klarälven. A sweet suspension bridge of a smaller stature spans the river. Today it is pedestrianized, but has most likely carried vehicles before.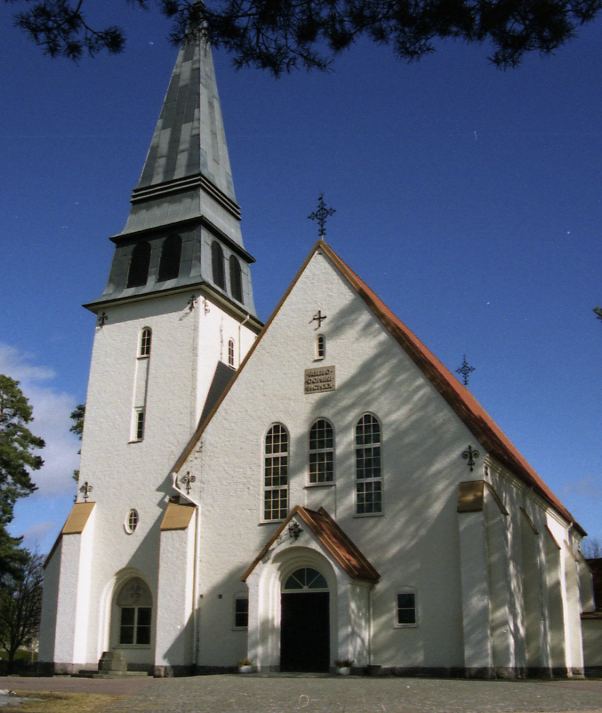 The next village north from Deje, is Munkfors. This is where the region ends in my survey. Some suburban styled 1950:s tenements is a reminder of Munkfors heydays. The population describes a continous declining curve. The industry is however alive and kicking, and mostly revolving around steel. The stately church and once again, Klarälven is on the list of attractions.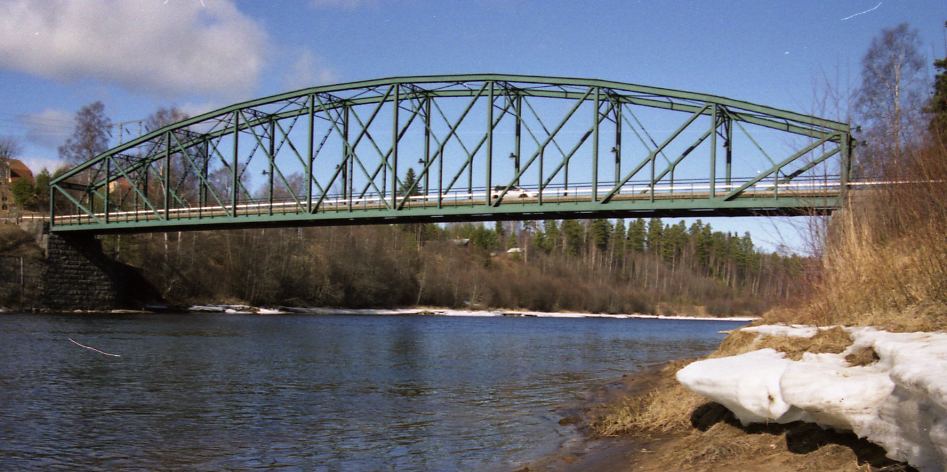 Klarälven in Munkfors.
A bus or DMU will bring you northwest along the oblong Fryken lakes to Sunne. This small town is best known for the Nobel laureate Selma Lagerlöf, pictured on Swedish SEK 20 banknotes. Selma Lagerlöf spa and hotel, may be something for the traveller. Though Sunne is a little far away from Karlstad, if the intention is to get down there every day too.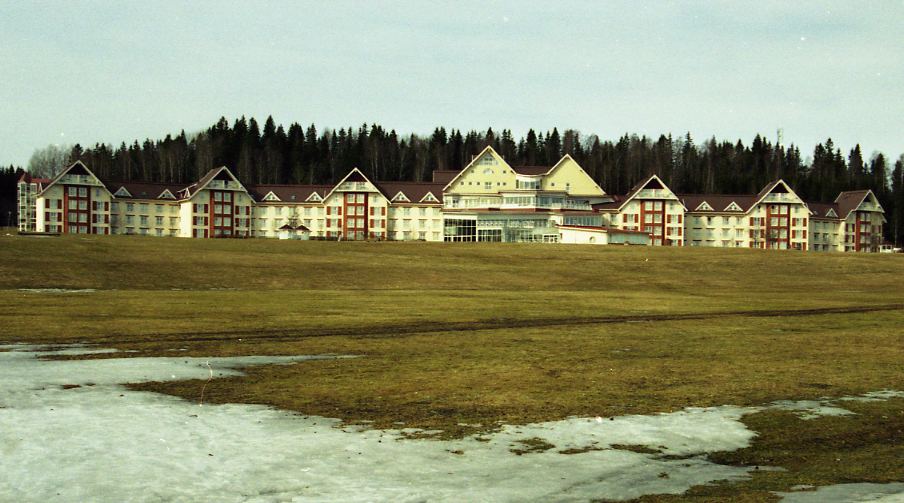 Selma Lagerlöf spa in Sunne, spring 2003.
Arvika to the west, or Kristinehamn to the east are cities on their own, but still in a reasonable close proximity. Both cities are best to visit by train, albeit they do not run very often. The same bus service that is running parallell to the trains to Kristinehamn, often have short workings terminating in Skattkärr. The decent headway is making a visit worhtwhile for the bus ride alone, but there is not much to see once you get there.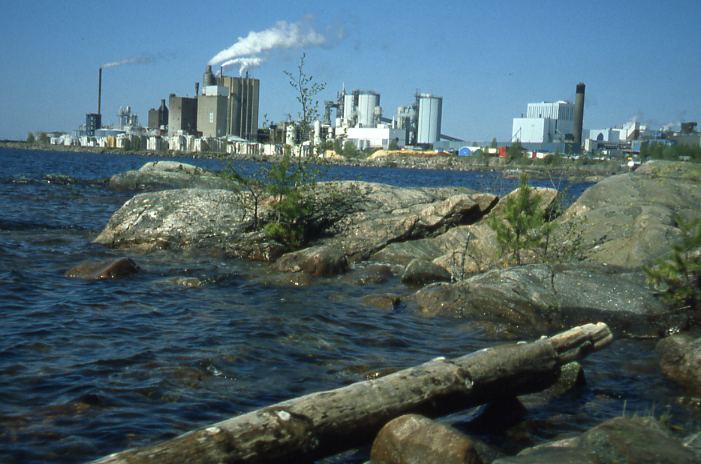 Skoghall by Vänern in 1999, a short walk from the downtown.
Finally Skoghall. This community is situated on the island Hammarö just south of Karlstad. Skoghall is not formally a part of Karlstad, but they are all the same more or less grown together. Skoghall paper mill is home to the worlds largest cartoon producing machine, chewing up 100 truck loads of wood every day. There is a small town feeling to the central parts of Skoghall, but most of the developed areas has a suburban character. Hammarö is moreover a recreational area.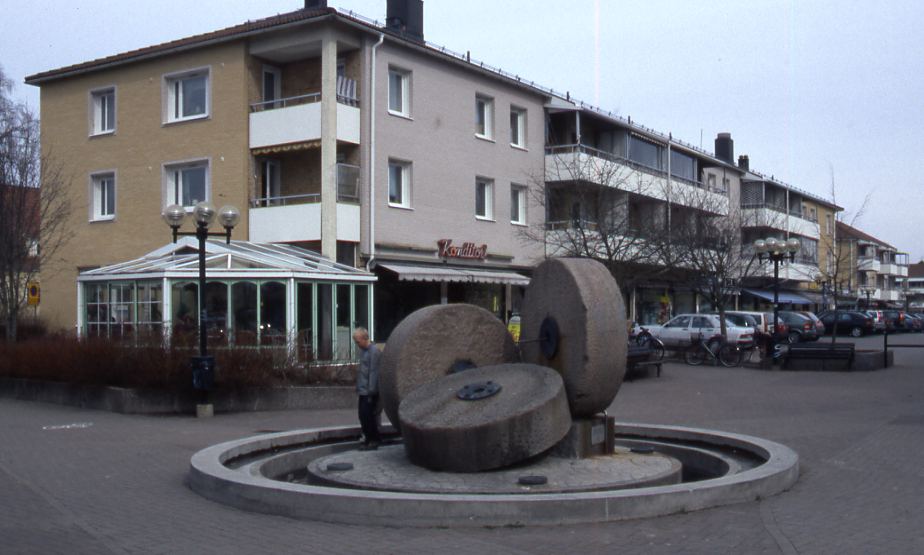 Skoghall downtown in 2006.
Beside the railway station, most excursions will start at the bus terminal. Buses heading east and northeast, goes through the transit mall at Drottninggatan too.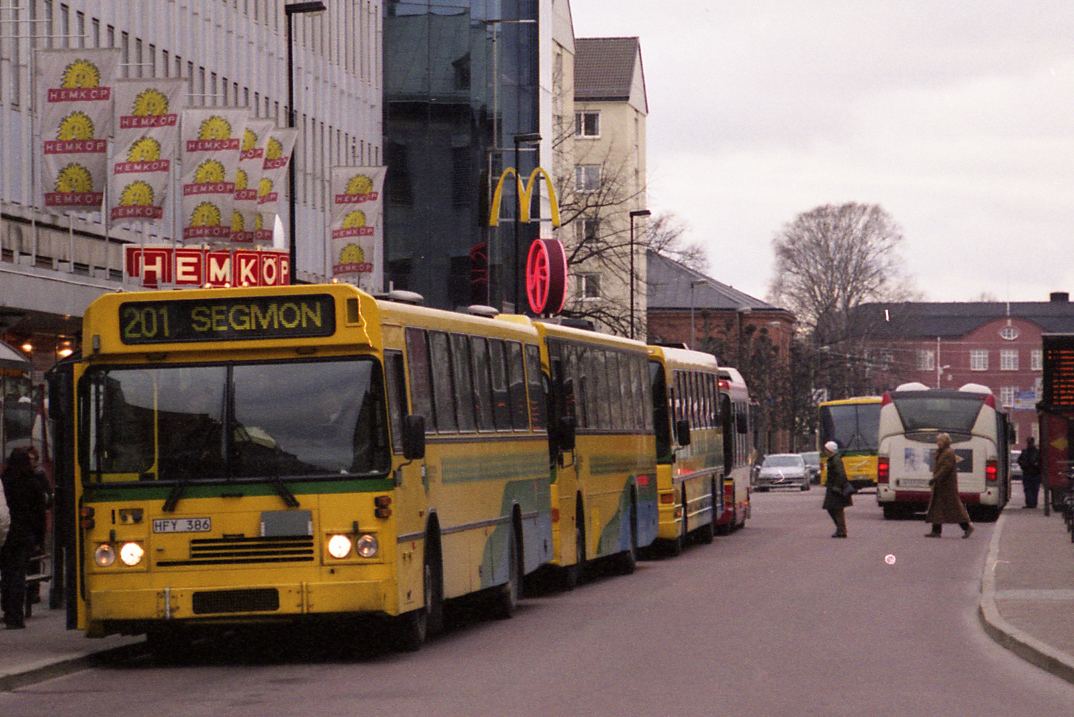 A sundry collection of buses, Drottninggatan in Karlstad.
Links
This collection offers some examples, from which you can obtain further information, when planning your trip to Karlstad, or Värmland in general. All links will open in the same browser window as Busspojken, and thus replace this.
Nobina/ formerly Swebus - the sole operator of transit in Karlstad.
Värmland tourist information (also in English).
STF hostels, Swedish tourist association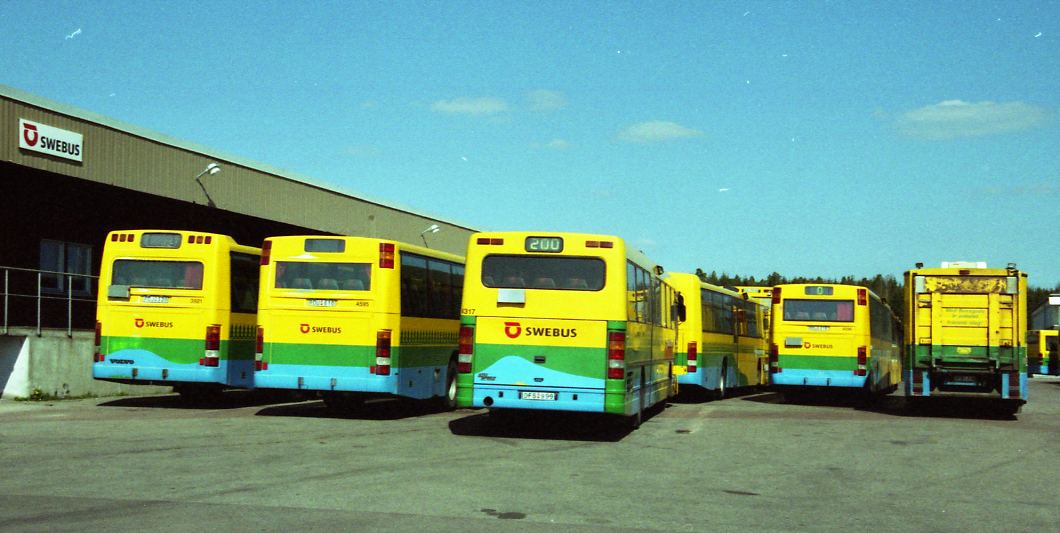 Swebus depot in Våxnäs industrial district, bus 6.
---
© Busspojken 2010