Halmstad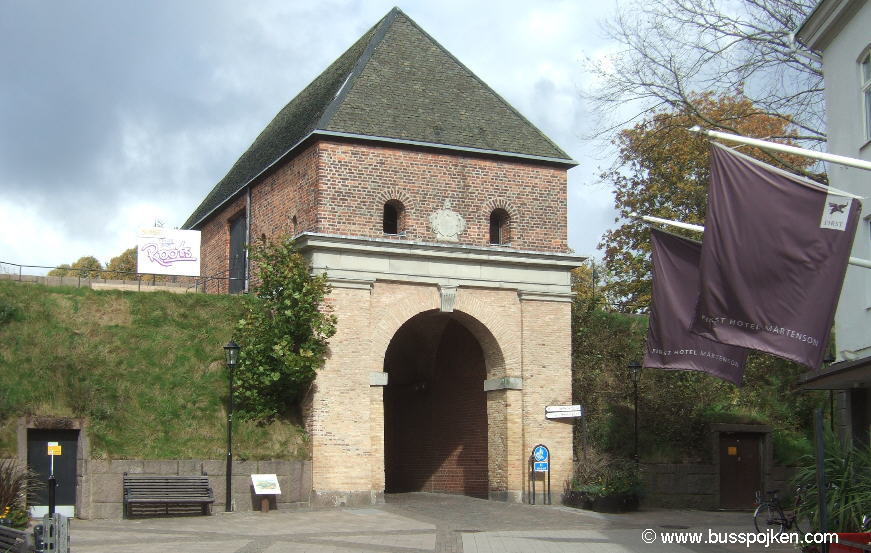 Norreport, a landmark in the downtown shopping district.
Halmstad is situated in the southern part of Sweden, not far from Scania and Denmark. 90.000 residents makes Halmstad the biggest city in the rather small state of Halland, where it is also the capital. A pure curiosity is Hallandale in Florida, named after Halland in Sweden. As Halmstad is pretty much a summer city, there is no need to avoid this period, due to any severe constraints in schedules, as is the rule in most other cities. The difference between seasons in Halmstads case is miniscule.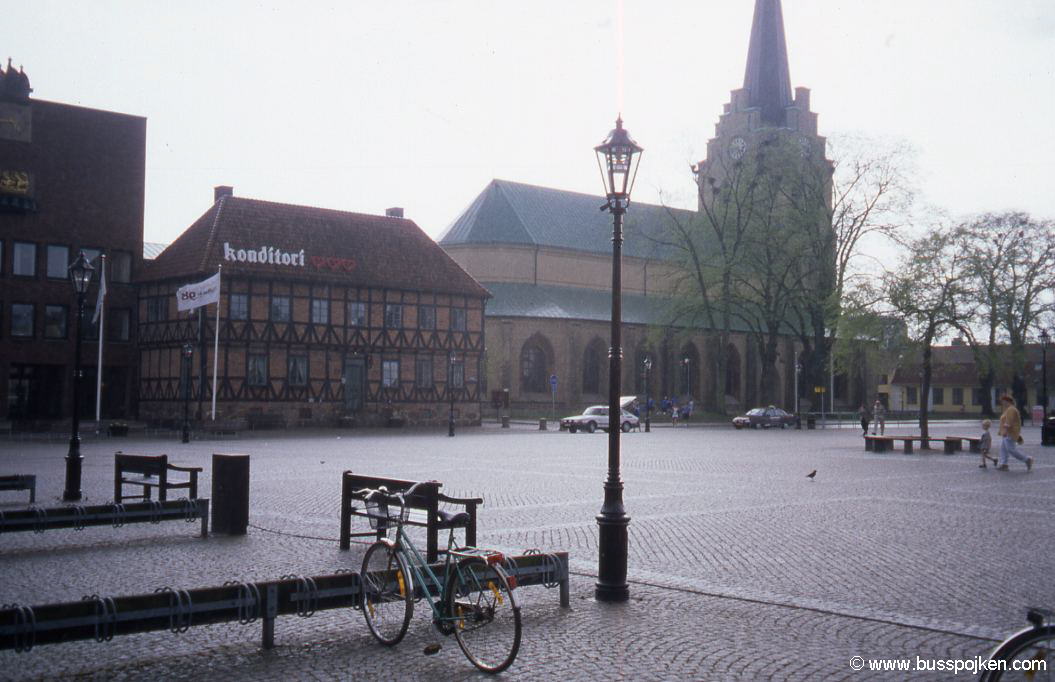 Stora torg (main square) is deserted in a rainy May afternoon. Summertime means a riot (almost).
Halmstad has hardly any met-area to speak about. A string of cities along the coast lies just a little bit to far between, for that kind of connection. But it is rather convenient for the daytripper to get to Halmstad from either Malmö, Helsingborg or Göteborg. There is a reasonably frequent train service, and also the E6 highway available for facilitating a fast visit. But then again, you might want to stay for longer, especially in the summertime.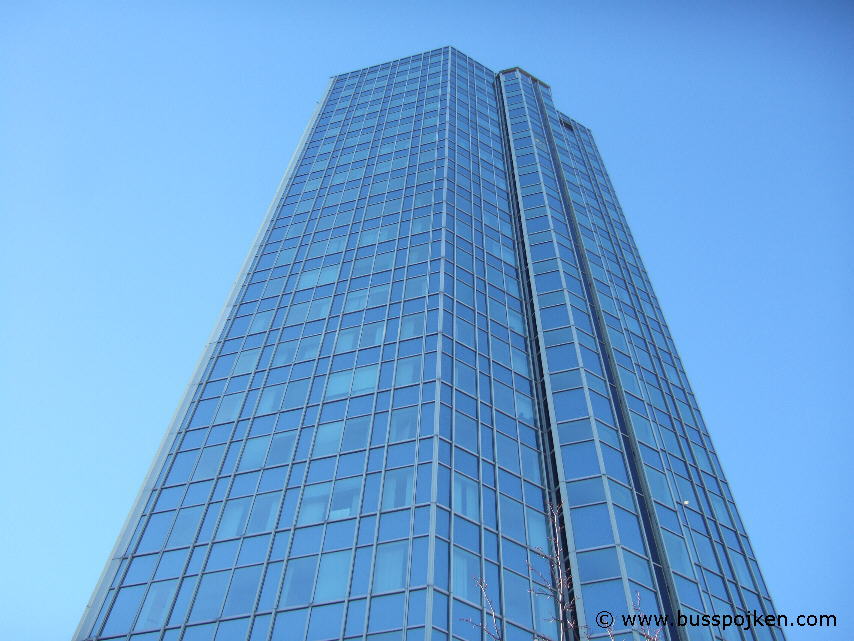 Trade center, the highest building in the city.
Beach culture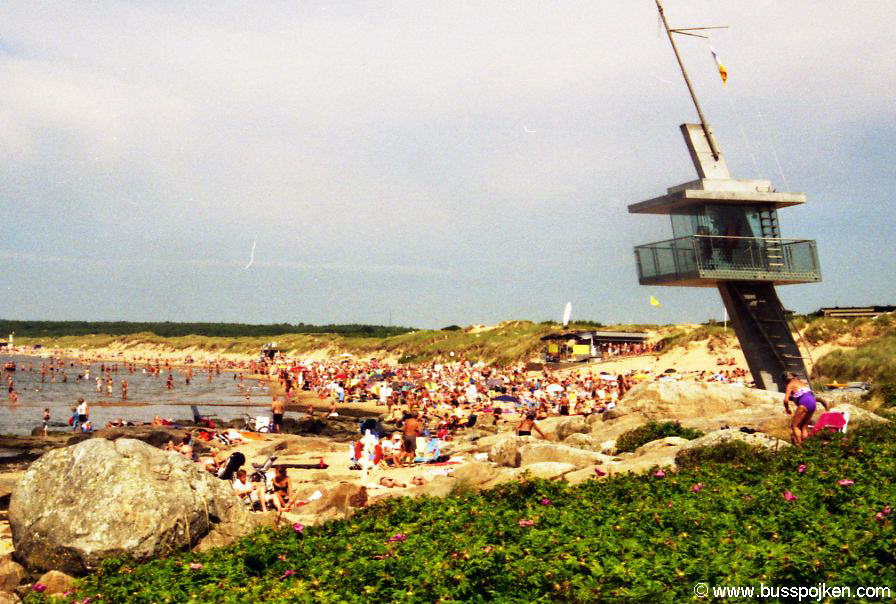 Tylösand beach.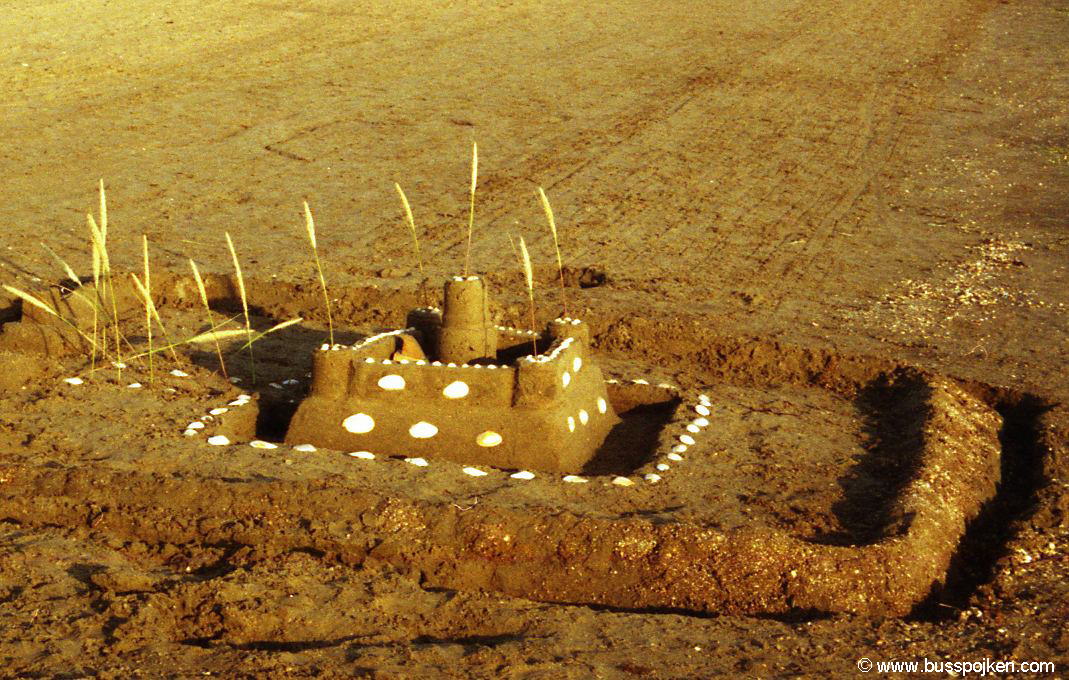 Halmstad has some marvelous beaches surrounding the central parts of town, and easily accessible by city buses. The most renowned is Tylösand, making most other beaches in Sweden, looking sadly pathetic in comparison. The close proximite of the namesake hotel promises that the fun may just beging after sundown. The hotel is owned by Per Gessle - see below. The eastern beach (Östra stranden), south of downtown is less crowded. Vilshärad lies further away from the city, but is nonetheless also a fine beach.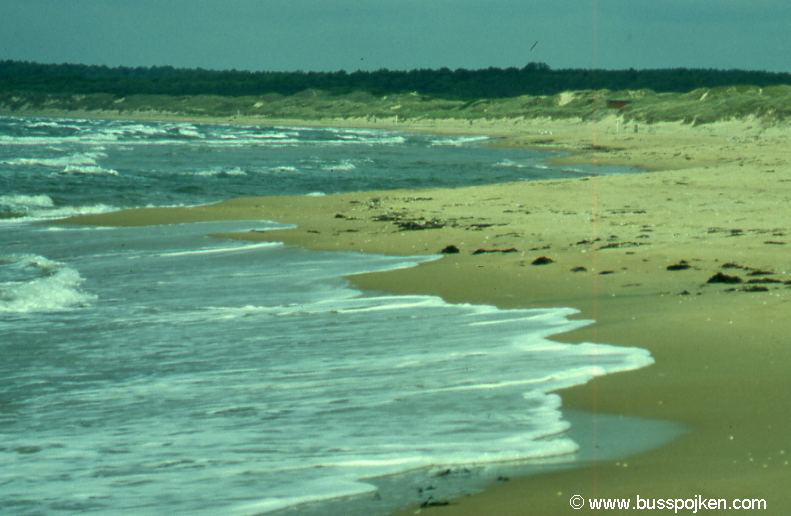 Vilshärad, a short walk from the end of the line. Route 10.
Music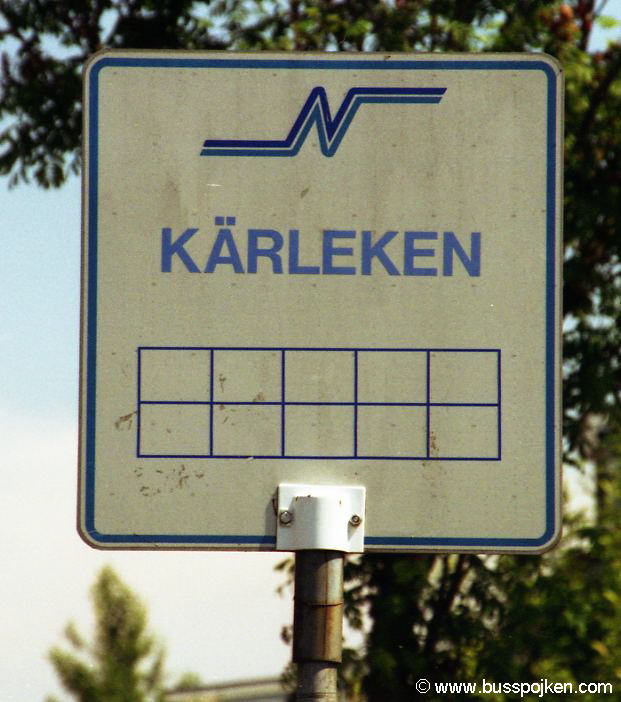 The most recognised export from Halmstad is music. You have probably heard a song by Roxette at some occasion, as they have sold 75 million records. One half of the duo is Per Gessle, who also led another parallell band of and on for some 20 years; Gyllene tider (golden days). Their songs were almost entirely in Swedish though, something that haven't diminished their longlasting popularity, and especial connection to the summer season.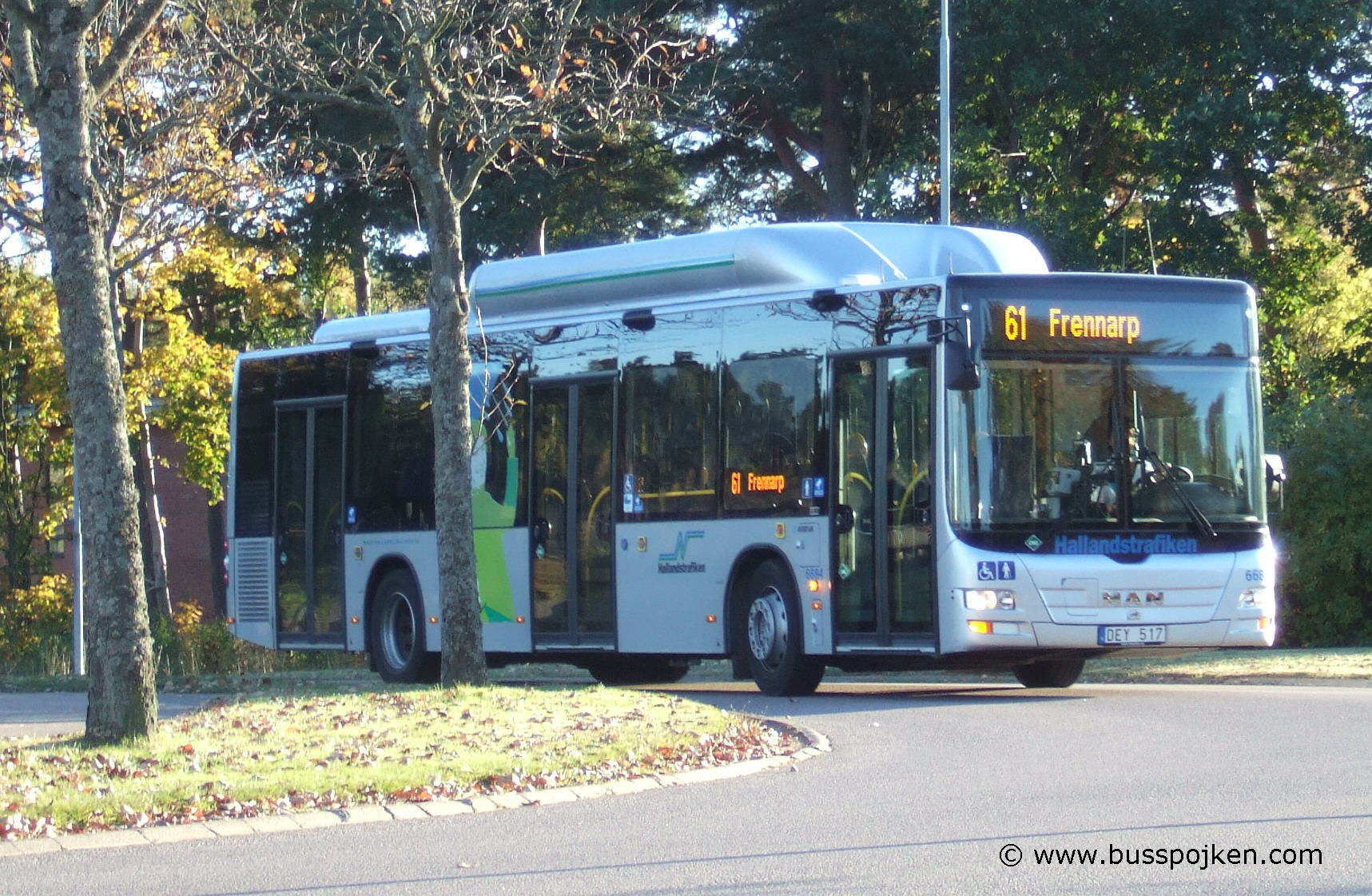 Route 61 a little bit after Furet, turning into Frennarp.
As this wasn't enough, Per have also made music, both in his own name, aswell as using the pseudonym "Son of a plumber". Everything he touches seems to turn to gold (records). Even if you won't meet the gentleman in question, it could be fun to visit the neigborhood where he grew up; Furet northwest of downtown (bus 61). Kärleken (the love) is another district made famous by his songs (bus 40, north). Marie Fredriksson is the second half of Roxette, and has also a long solo career on her resumé. Beware: there is still more musicians hailing from Halmstad...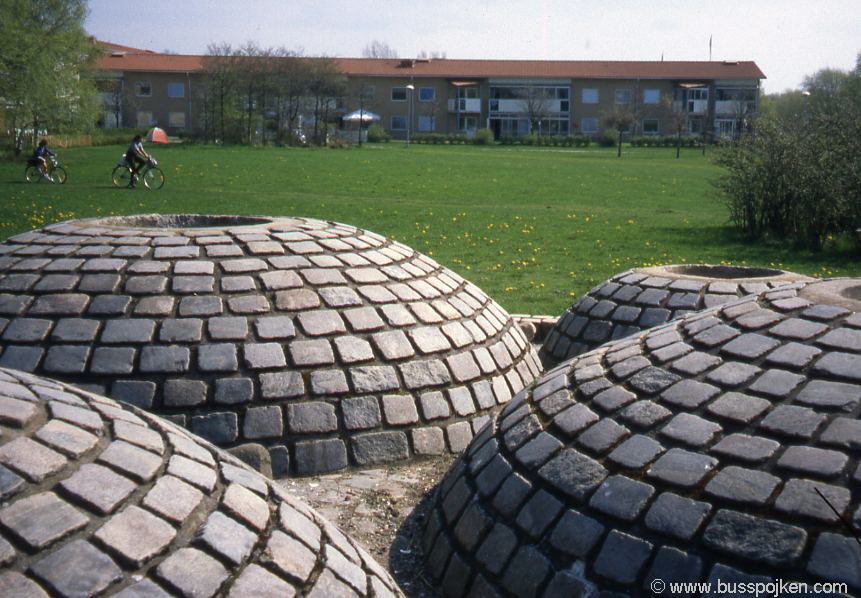 Paving stone hills in Bäckagård.
Layout of bus services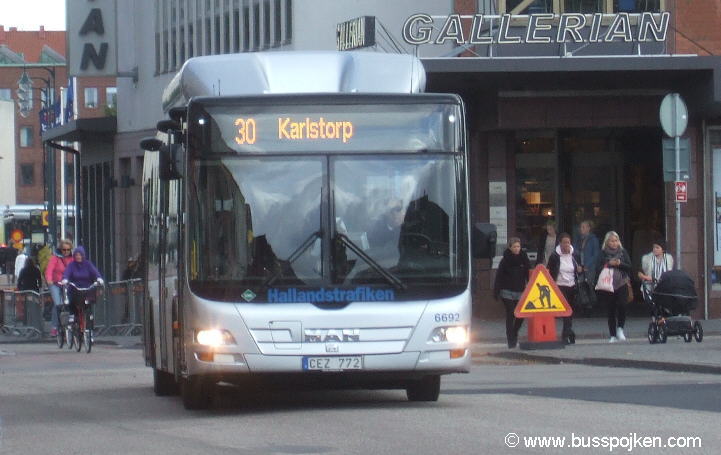 One of the new MAN by Stora torget.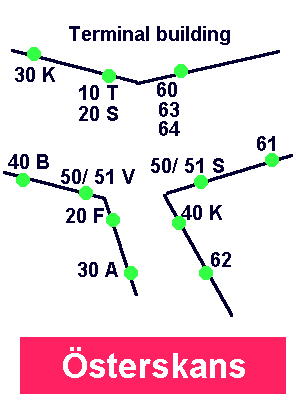 All buses pass Österskans terminal, located downtown by the eastern shore of Nissan river. For speedier transfers, it can be convenient to know where each bus stops. Route numbers, together with the first letter in each destination is used for easy recognition in this map. A summary of the weekday schedules goes like this: in summertime every line except 31, 62 and 64 is running every 30 minutes until late night. 31 also operates every halfhour, but ceases completely around 18.00 hours. 62 only runs every hour after about 17 o'clock, and close altogether around 20. 64 operates on a schedule between 20-30 minutes until 19, when every hour becomes the rule. Weekends is mostly similar, but sees an hourly schedule on some routes.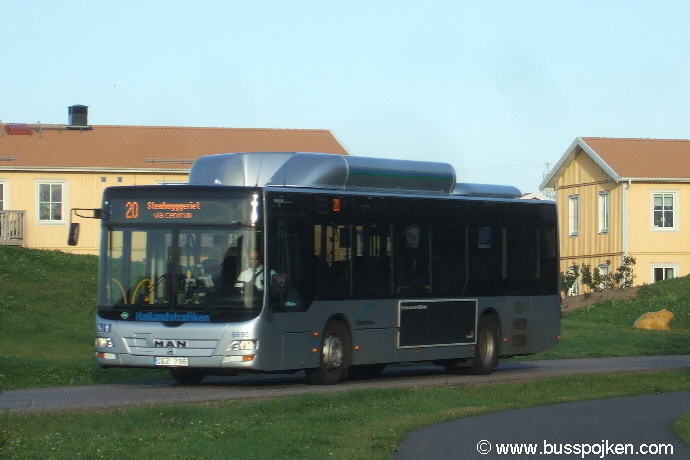 6695 along a single-lane busway in the southern outskirts.
The winter timetable is almost identical, but with the addition of a 15 minute service for routes 20 and 30. This applies daytime on weekdays. The more summer oriented bus 63 is the exception, as it is only running every hour, and stops completely at about 18. On sundays it is only every second hour until 17. That's it. For a more thorough information, it is advisable to get a schedule book once you arrive in Halmstad.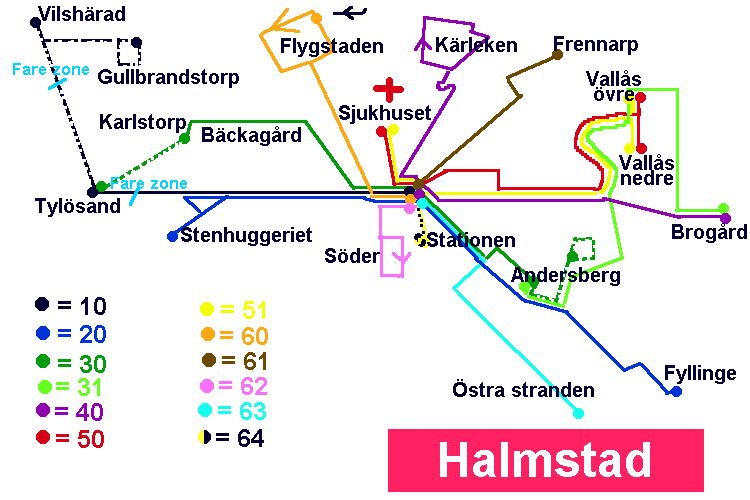 My own interpretation of the local route map.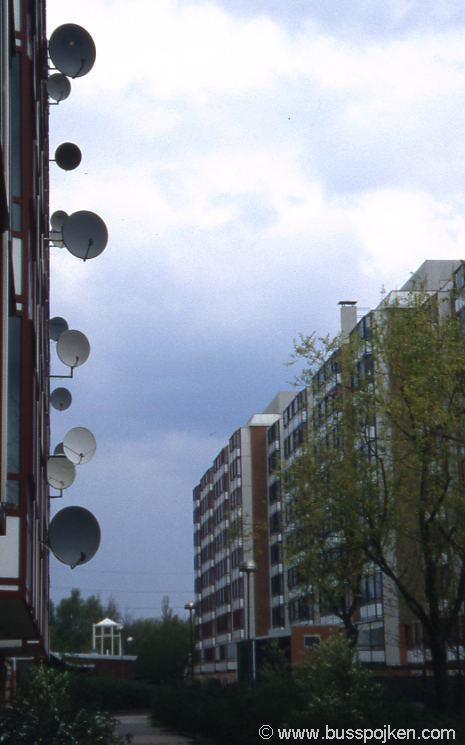 On top of the frequent routes shown on my map, there is also some special services aimed at industries. Of course you can travel these too, but naturally they don't run all day. In order to come back it may be necessary to seek out the nearest basic route. Halmstad is not endless in size though, so don't worry to much about getting lost, if you would dare trying some "harder" routes. There is no "bad" districts you really should avoid. This is after all Sweden.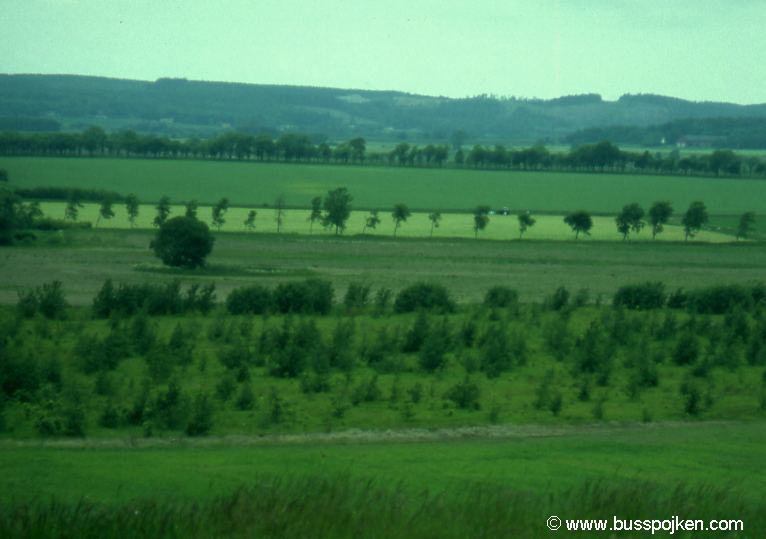 Room with a view, by Norra Utmarken, route 40.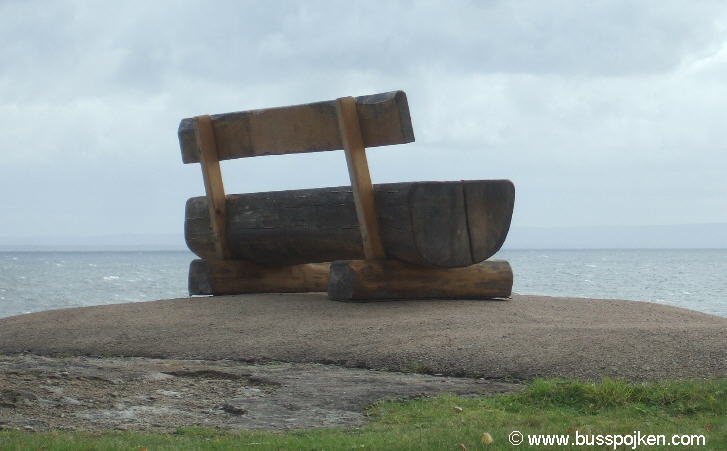 A windy location for a bench, Stenhuggeriet.
So, which routes would I recommend? In the summer nothing beats number 10. The most densily populated aread is covered by route 30. The most transit lanes will be encountered along routes 50 and 51, when going eastbound to Vallås. 40 is scenic in both ends. 20 to Stenhuggeriet will give som glimpses of the central parts of town, from afar. 20 eastbound is curvaceous - an aid for the photographer, as the sun will shine at a benificial angle at least somewhere. 10, 20 and 63 follows the coast most closely, but it is actually rarely seen from the bus.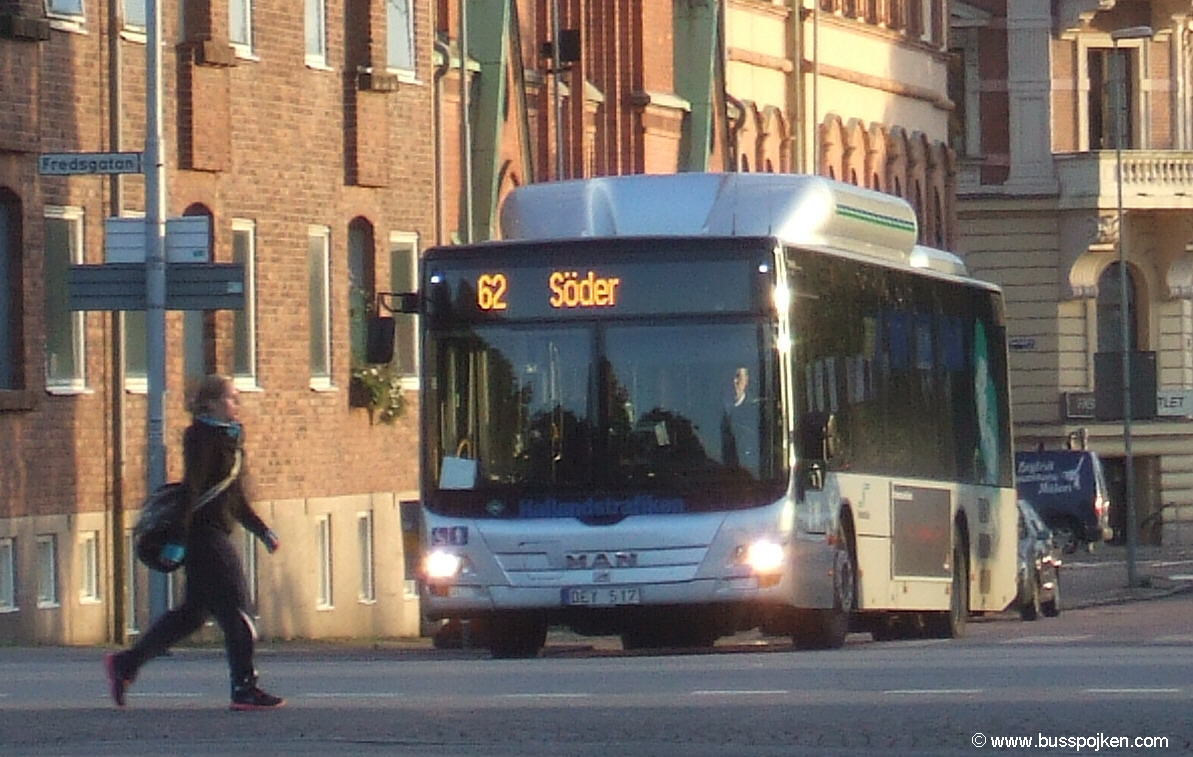 Arriva 6684, route 62 closing in on Österskans.
Short about the bus fleet
I think the service output will require a maximum of 45 buses, spares included. But there is not close to that amount when my notes are summarized. Arriva is the current undertaker, utilizing MAN buses in silver livery, with some blatantly displayed oversize "faces" across the windows. Many carry huge advertisements at the back side, as seen here.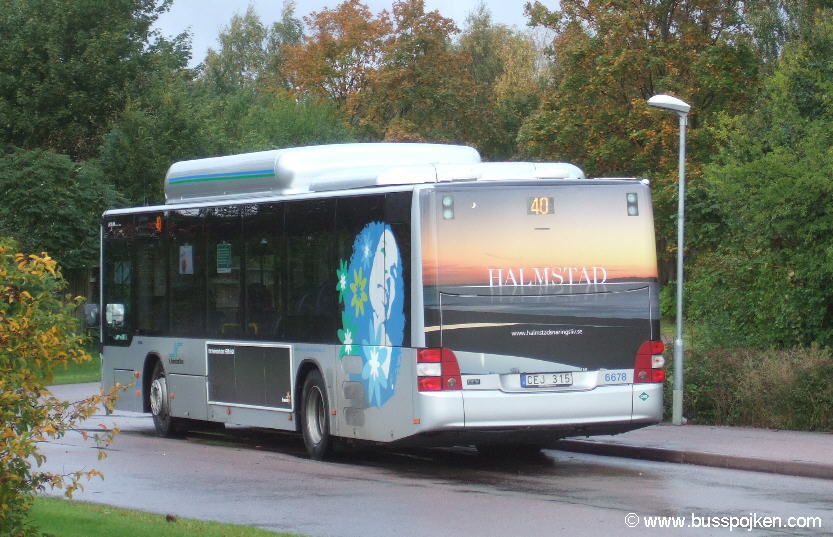 MAN-bus 6678 by the terminus in Brogård.
A good deal of the buses pictured in this article don't exist anymore. Those former vehicles include by my estimate circa 3930-35 (Scania Maxci), the mid 4480:s (Scania Omnicity), and also the mid 4780:s (identical), and the workhorses 5686-5705 (Volvo B10B). I saw them first by my visit in January 2005, and they were gone by October 2010. All of those buses mentioned were seen parallel to each other during at least that time.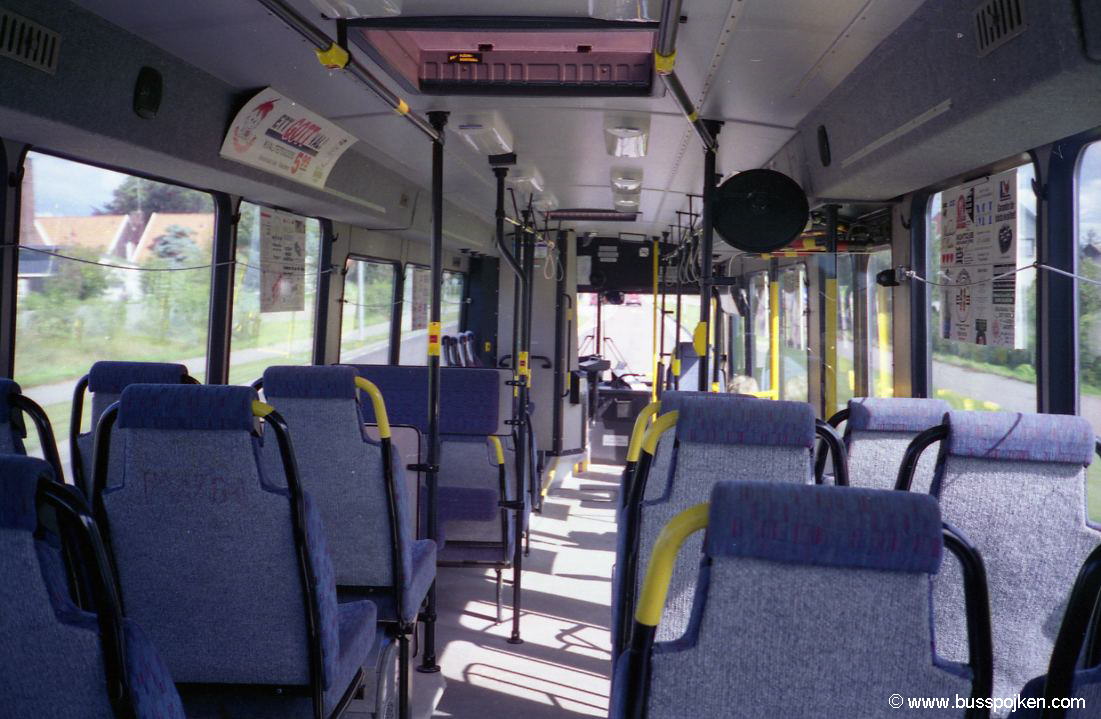 My brother took this photo in summer 1993.
I we go furter back in time, to when the high platform buses fell from grace. Lowfloor vechicles were then acquired, because that was seen as an appropriate replacent (I think at least wheelchair passengers would think differently...). The specimen pictured below was part of a large order of 20 (?) buses from Neoplan. These were also the last buses ordered from the original bus company, before the Swebus takeover. All of the Neoplans are now gone, and some ended their days in Stockholm. Another one was used in Falkenberg. One of these Neoplan buses is pictured below, in 1993.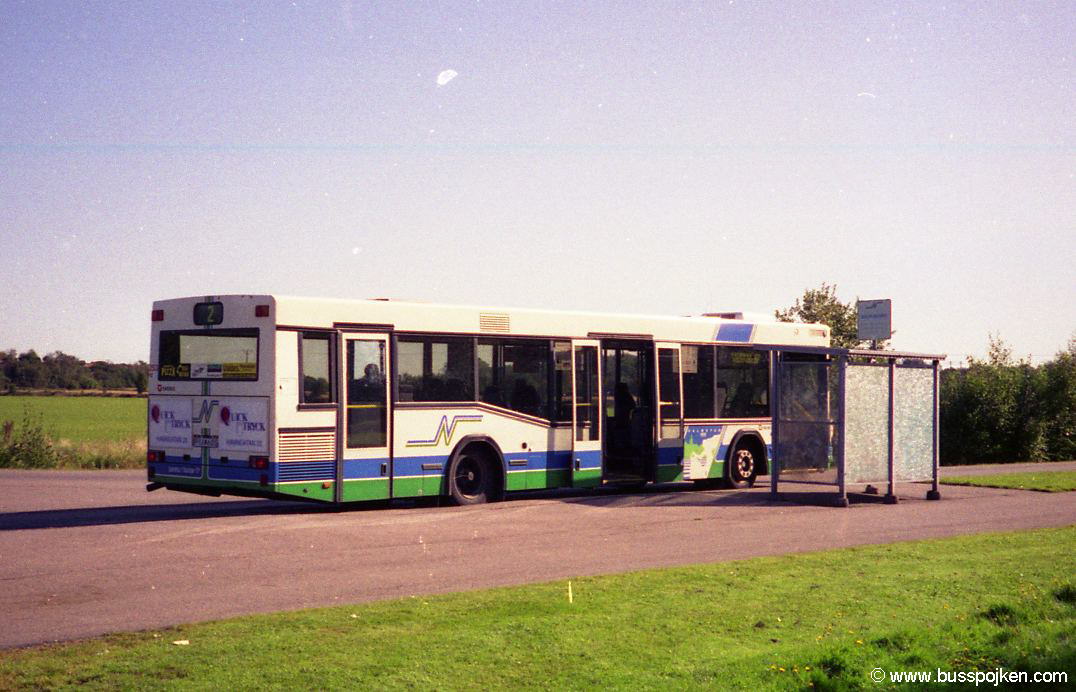 Karlstorp terminus. During summer, the buses continue on the left to boost services to Tylösand beach, so that routes 10 and 30 will give a combined headway of 10 minutes.
High platforms for buses
But buses is what you came for, and there is - or regrettably rather was - something unique to this too. The high platforms on bus stops, was used for level boarding. I think this "trial" started in 1979, and lasted until around 1999 or so. As a maker of the modified vehicles, Volvo was involved. But I can't say if it was Volvo or Halmstad that came up with the idea in the first place. There was anyway a precursor discussed in the then new Rannebergen district in Göteborg, but this did not lead to anything tangible.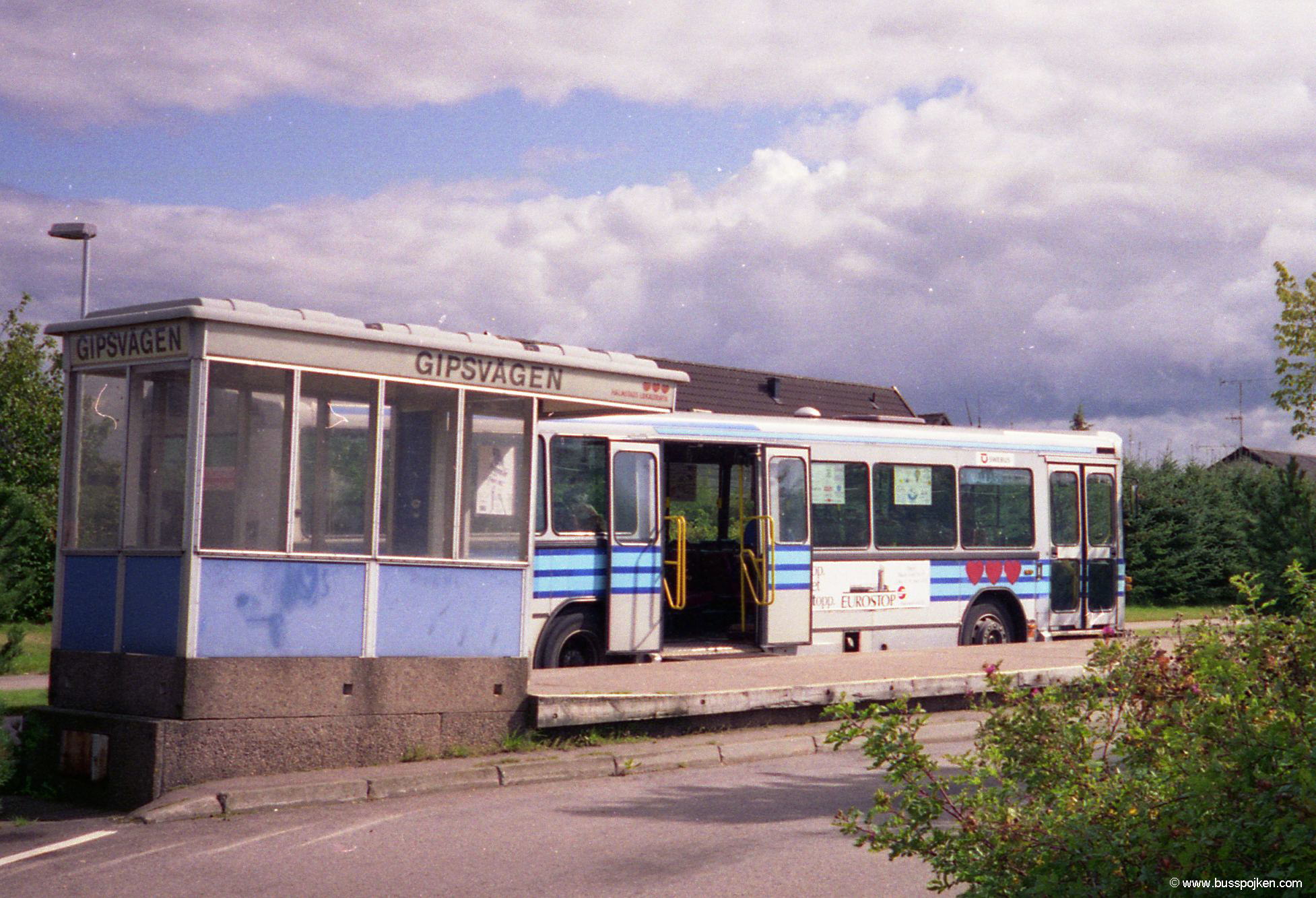 Bus by high platform stop at Gipsvägen (Vallås Övre today).
The steering of the buses turned automatic, as the vehicle approached a stop eqipped with a high platform. A bridge covered with a rubber matress, shot out from underneath the doors, when they opened. This closed the remaining gap between platform and bus floor. Sometimes a bus had to stop along the way, or could be operating a line without high platforms. Then a similar bridge further below the doors could be extended, functioning as the step that was missing.
Swebus 1241. Note the high position of the doors.
With the advent of lowfloor vehicles, the high platform system was soon dismantled. To the detriment for wheelchair passengers, that can't negotiate any steps in a bus, so a lowfloor bus is not an adequate replacent. It only facilitates for baby prams, and people with lightly decreased mobility. I miss the high platforms, as they made boarding and alighting faster and easier for anyone. It is also in my nature to feel a special admiration for someone daring enough to go it alone, as this bus company certainly did for a number of years.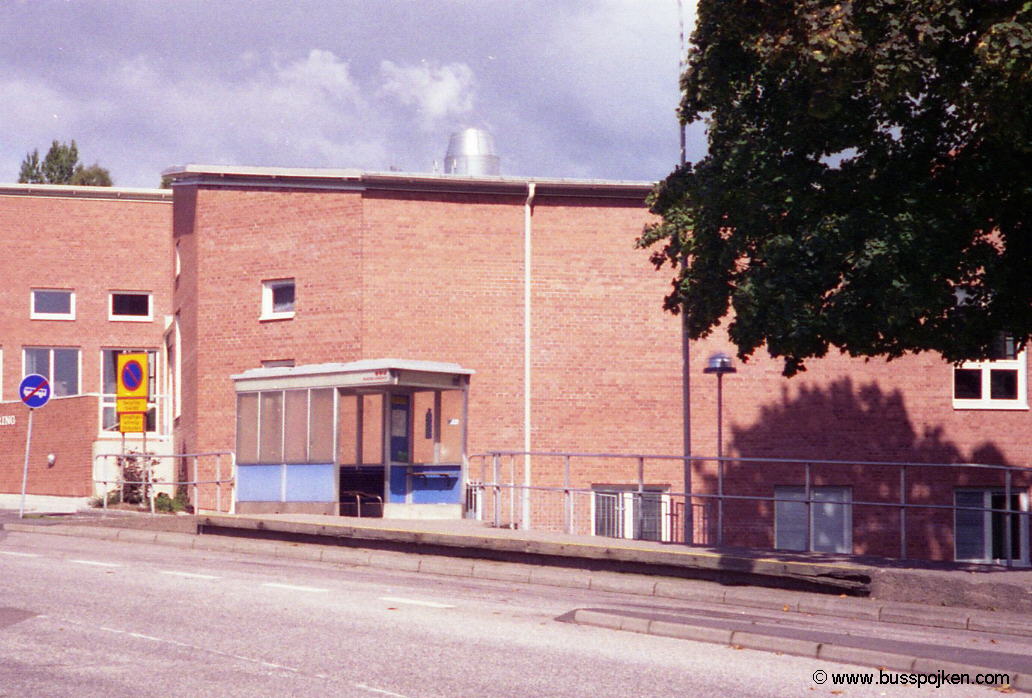 Bus stop with a high curb line.
These few photos shows the principles of the system while it lasted. We musn't forget this experiment. It could have been duplicated someplace else, and even went mainstream if some bigger players had participated.
Transit ways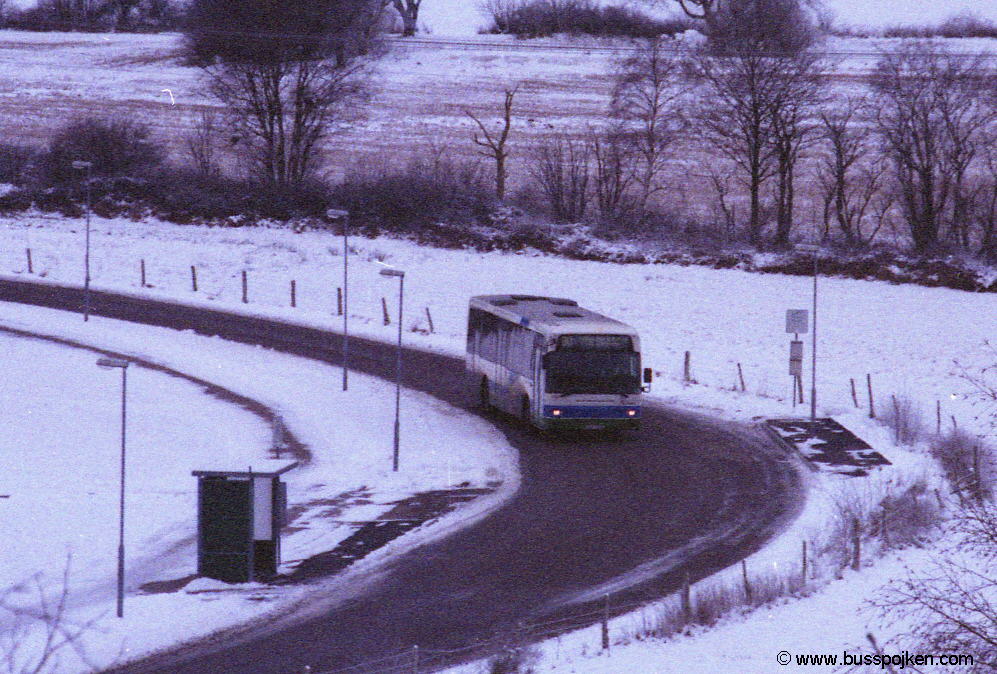 Transit way in Bäckagård, winter 2005.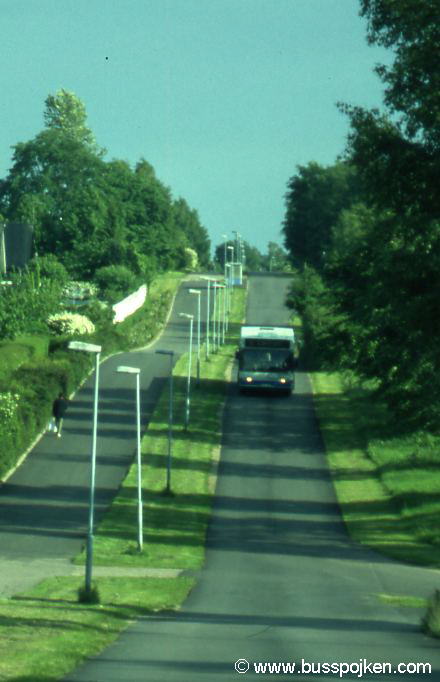 There is still a case for a visit to Halmstad, as there is numerous, and longer than usual transit ways. The newer districts are even planned with something close to rapid bus transit in mind. The longest continuous transit way in Sweden is to be found in Halmstad. This is rather impressing, as Halmstad is only the 18:st biggest city. Another funny feature is the route numbers, which are mostly in even tens. Similar to computer programming until the 1980:s, when line numbers were still common. For later additions, it was advisable to leave some blanks in the code. The thinking in Halmstad is maybe the same.
Tickets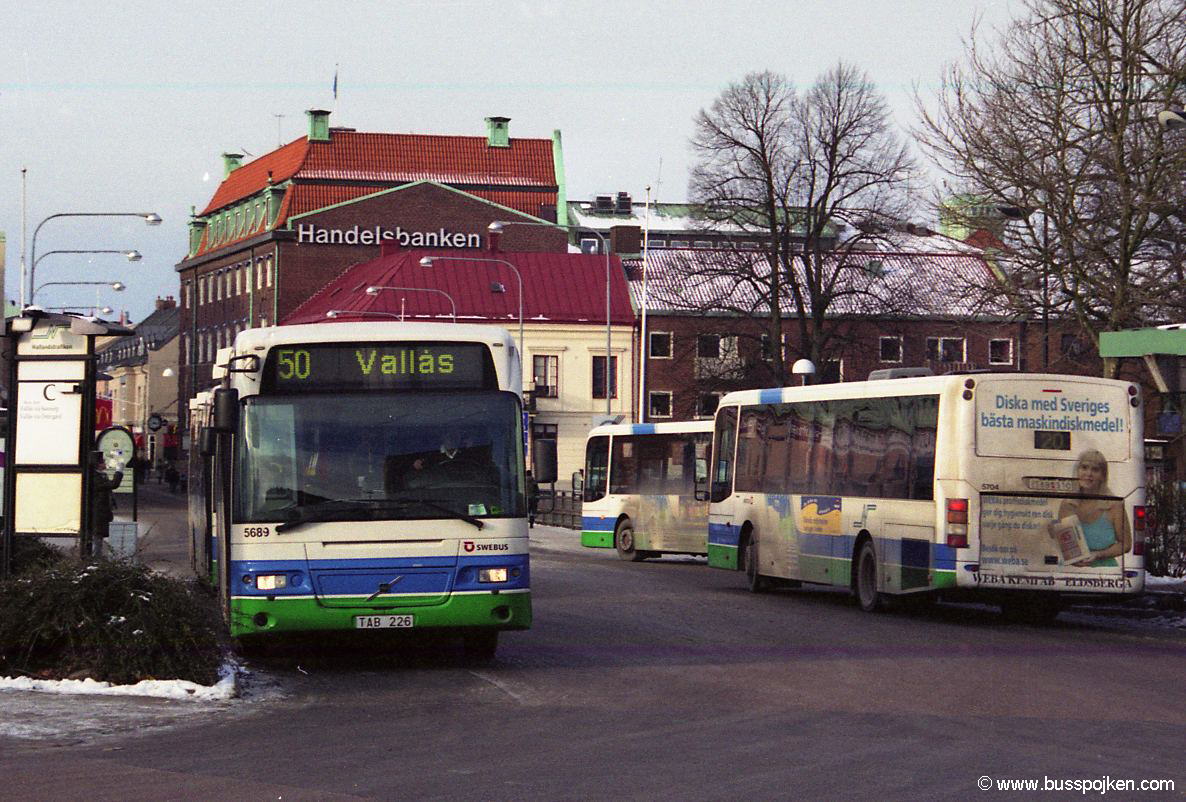 Österskans bus terminal in Halmstad 2005.
A new plastic card called "Resekortet" is slated to replace most current ticket systems in the nation. I predict this will take a long time, as national politicians don't bother (ten years and counting so far). Cooperation will happen one state at a time, even if most already have some own version of that system in operation. An older version was Rabattkort/ Värdekort, that could be used in different states in its prime, cirka 1995-2009. Resekortet in Halland is this far only interchangeable with Skåne (Scania), Kronoberg, Blekinge, and can also be used for Øresundståget train tickets, purchased in TVM:s along the west coast.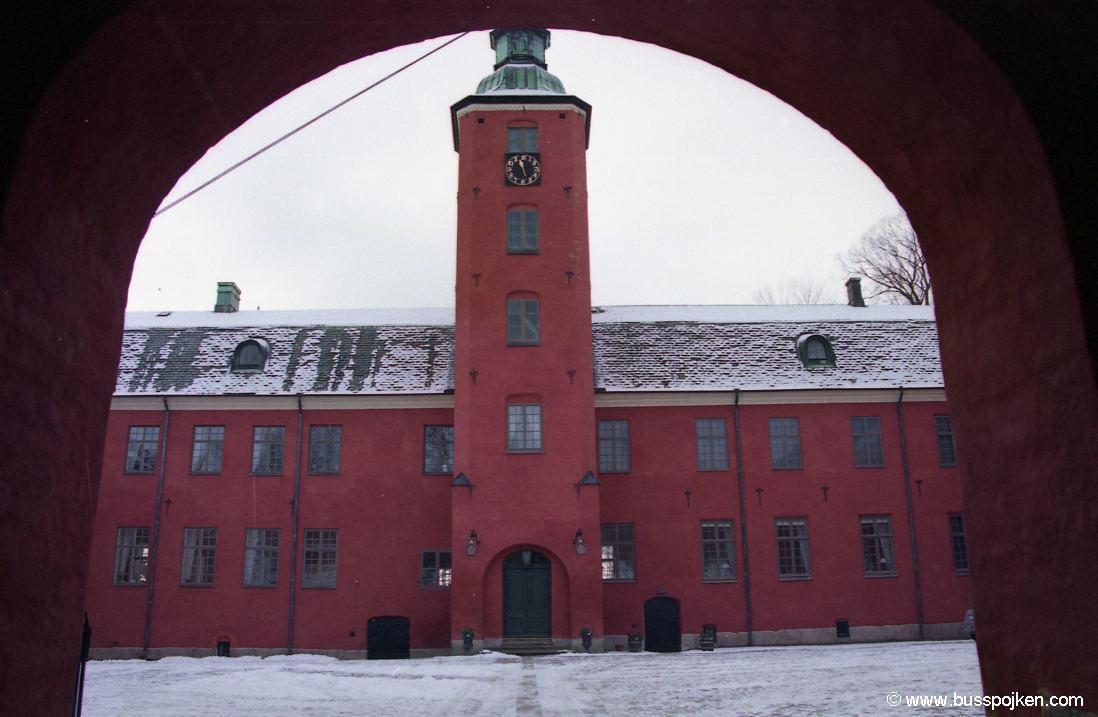 Halmstad castle, winter 2005.
Either way, the card must be charged with a value, from which the price of each trip is deducted. Just present the card in front of the reader next to the bus driver. This is automatical within one fare zone, which covers most of Halmstad. When travelling in the northwest with bus 10, you need to tell the driver, as more zones will apply. When you transfer or return within the valid time, the machine will notice that automatically, without surcharge. Furthermore, if you payed your train ticket with the card, a very generous transfer time is included. It can amount to several hours!
How to get here from abroad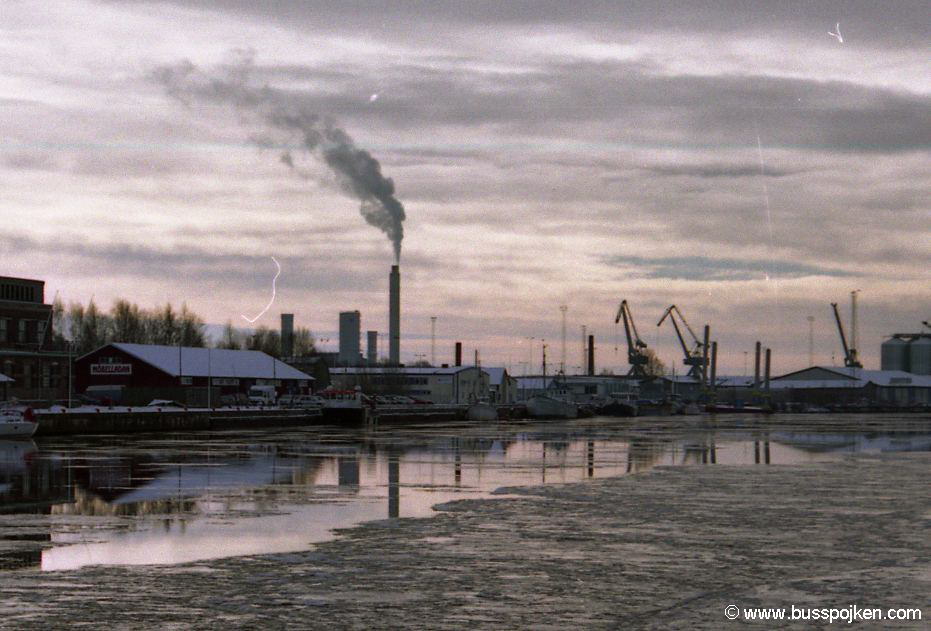 Nissan towards the harbour, in winter 2005.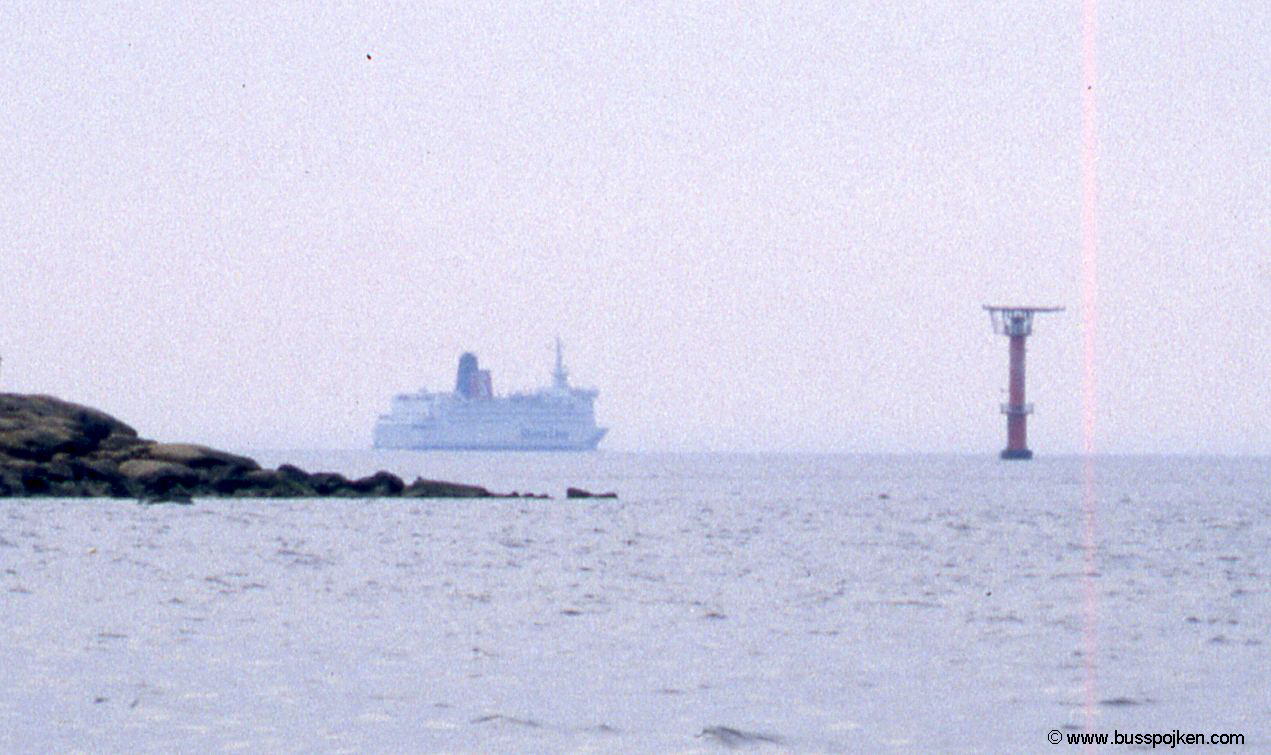 Halmstad is at an equal distance from the airports of Göteborg and Copenhagen. From the latter, a direct train takes you from the concourse level, and to Halmstad station.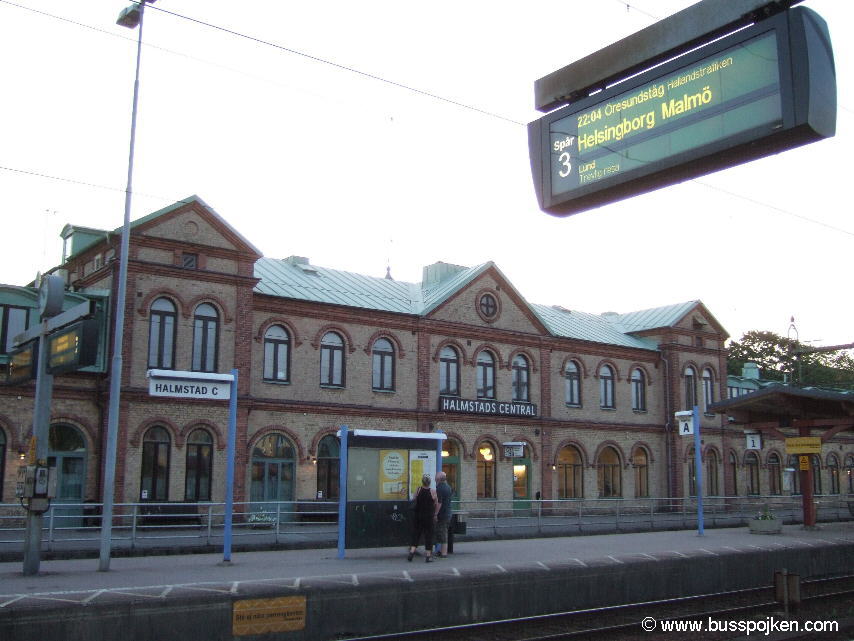 Halmstad station in summer 2009.
Göteborg (Landvetter) requires a ride with the airport bus to the downtown terminal "Nils Ericsson" (no, not the phones, but the railway builder). This is nextdoor to the central station, where you board the Öresound train. This is the other end of the same line as the one going to Copenhagen. Very convenient, if you desire to come and go from different airports. Halmstad could also be a fitting stopover when visiting the other mentioned cities. Halmstad airport (bus 60) has no regular international destinations, but there is connections to Stockholm. A car ferry also operates between Grenaa in Denmark and Varberg, some 60 km north from Halmstad.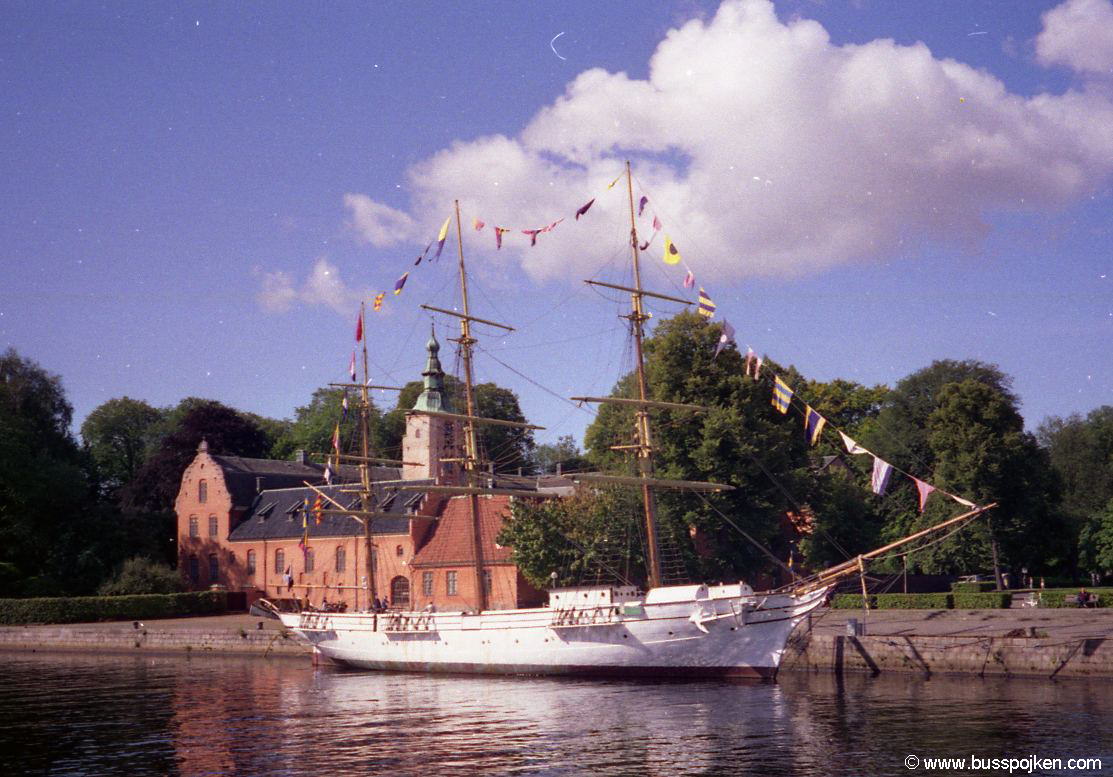 Nissan - yes, that's the name of the river.
It must be notet that the location of the railway station will make you feel stranded. It is not on the outskirts of Halmstad, but not really downtown either. If you will walk - just go in a straight line from the station exit, until reaching the river, and turn right along the quay to get to the central parts of town. This takes 10-12 minutes without luggage. The short bus route 64 is also operating the distance from the station (just right from the entrance), and Österskans local bus terminal. The regional bus terminal is placed significantly further away (about 1,5 km).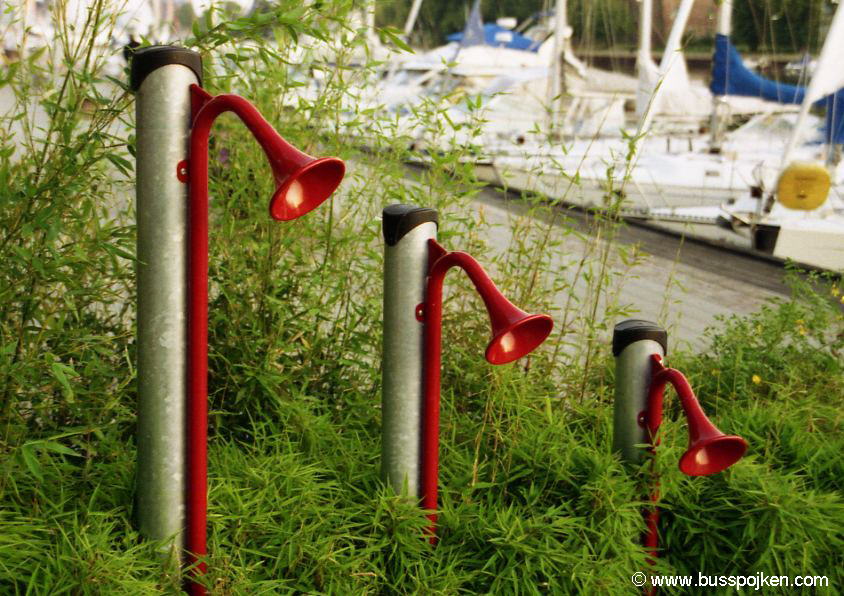 Artworks along Nissan, between the station and Österskans.
Some older scenes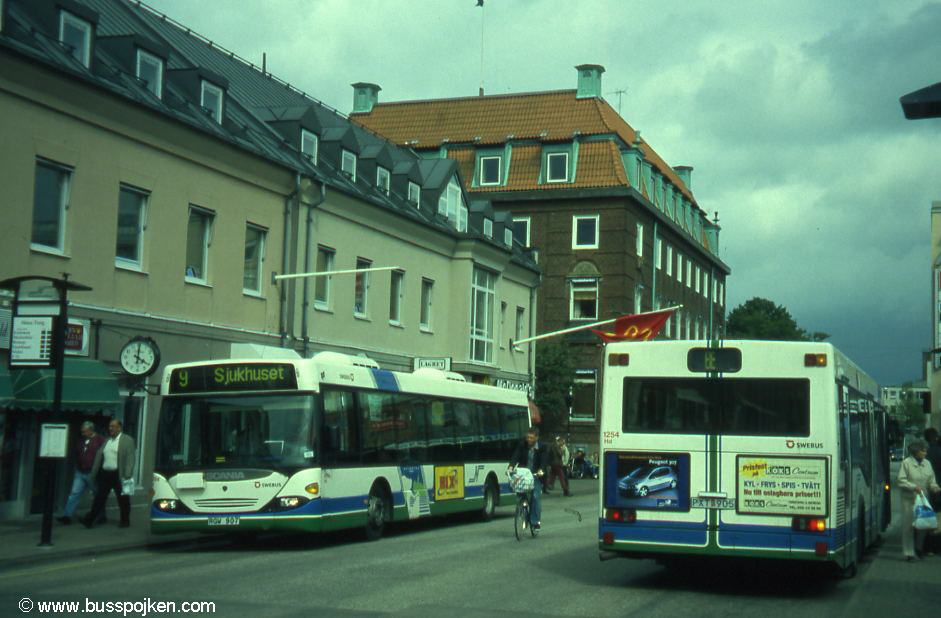 Swebus 4784 and 1254, Stora torg in 2001.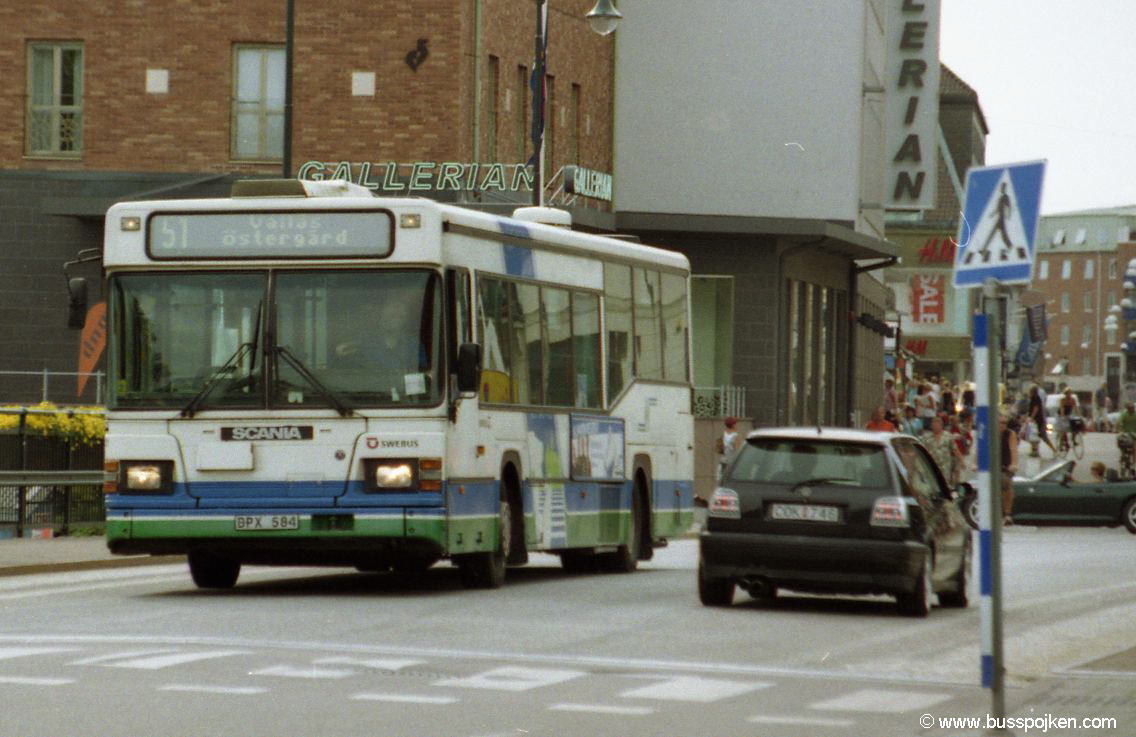 Swebus 3931, a 13 years old Scania Maxci in 2009.
"Sidings" by Österskans terminal.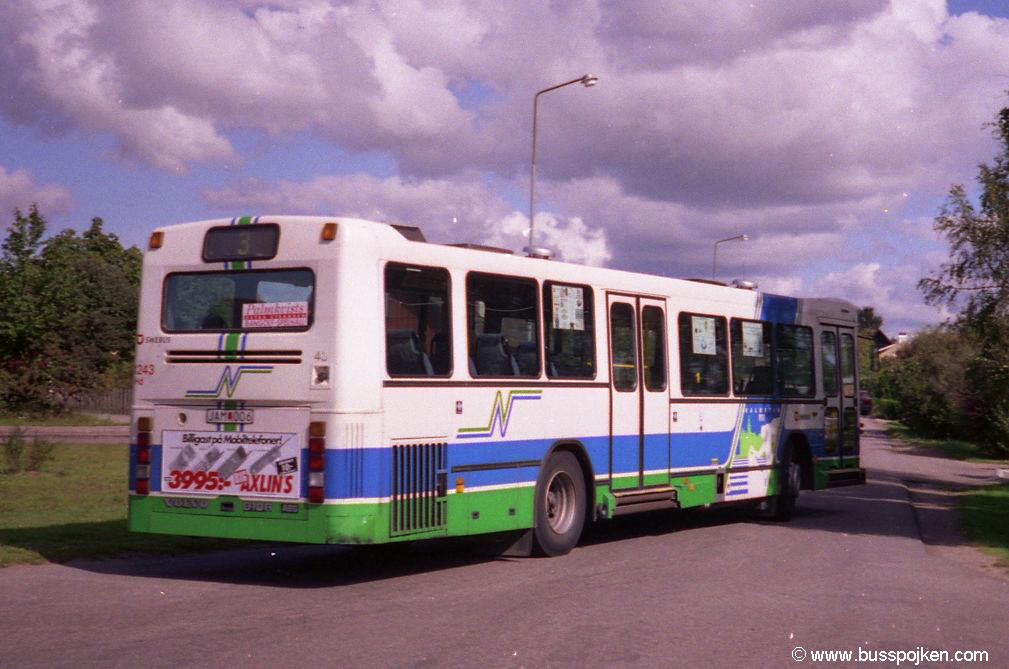 Swebus 1243, route 3 by the Quarry (Stenhuggeriet) terminus.
Excursions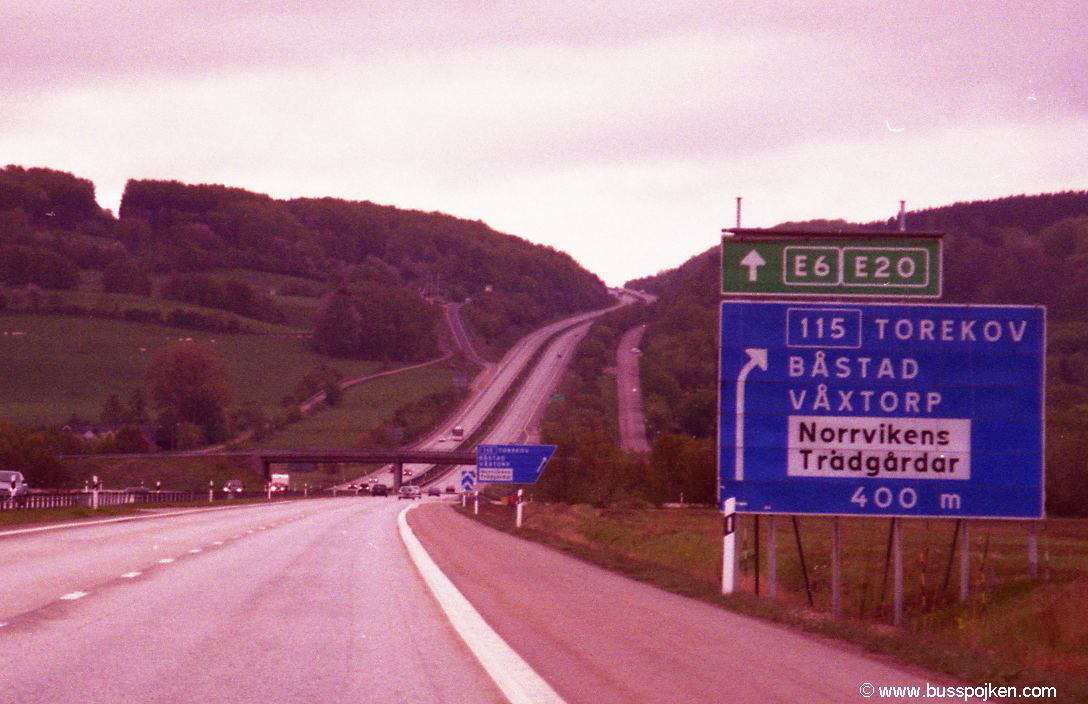 This picture shows how steep the ridge is. Trains would easily slip, as they skirt along the western edge.
The surroundings may not be as sexy, but a few examples comes here: Båstad lies some 40 km to the south, and is the stage for Swedish open in tennis, typically the second week in July. Hallandsåsen (ridge) is the location of a long overdue railway tunnel building site, scandalized in the late 90:s, when cows and workers became poisoned by the (not so) water tight tunnel lining.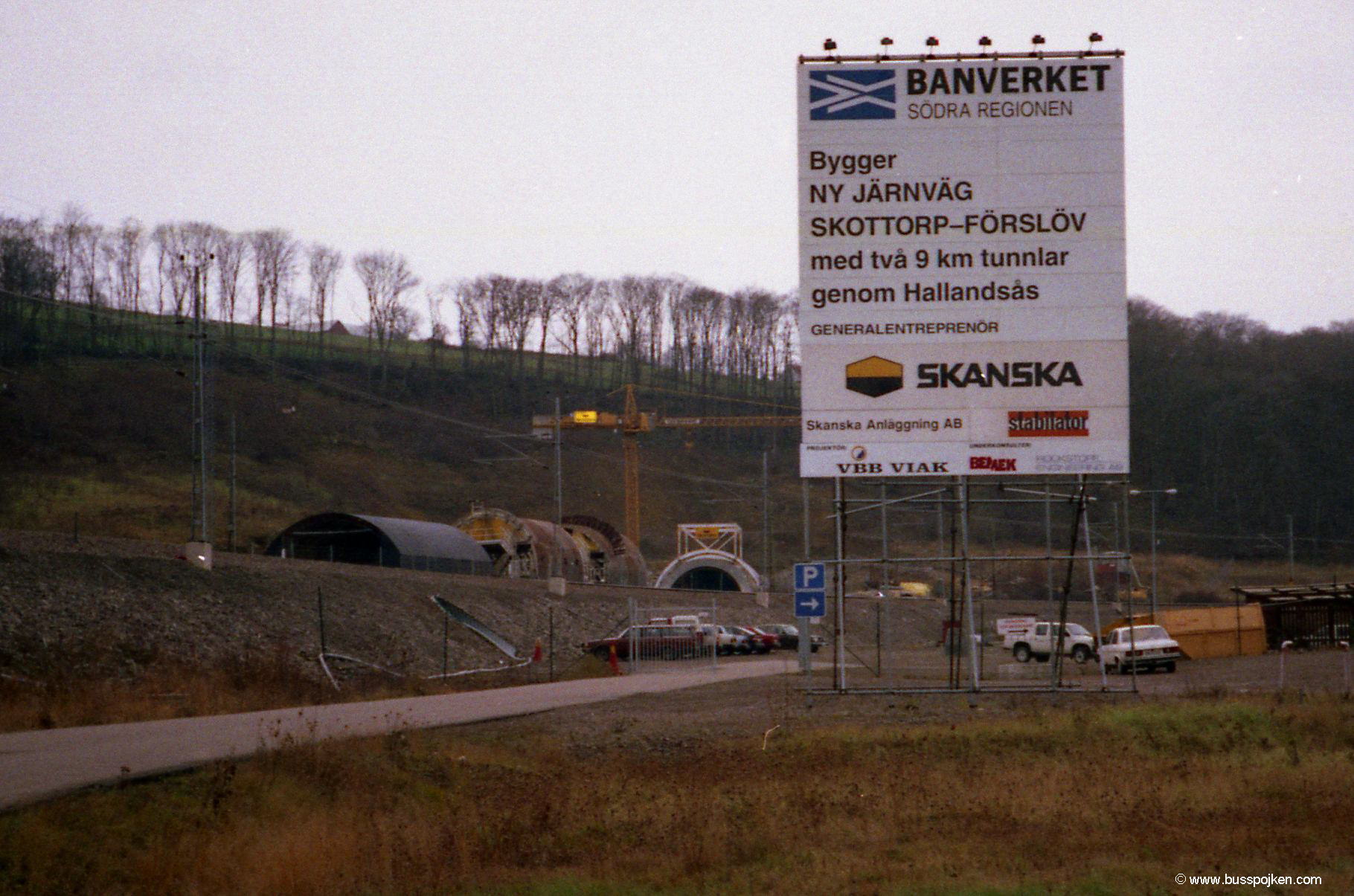 Tunnel construction site in 1997.
Falkenberg (38.000 citizens) and Varberg (51.000) are the closest cities to the north, and both have city buses. Grimeton is a radio transmitter of biblical proportions, made up of six giant masts in a row. This was part of a global network of longwave communication built in the 1920:s. Grimeton is the only station still usable, and a UNESCO world heritage site. You will find it a little bit east of Varberg. Ullared is a stupendously huge discount price shopping mall in the middle of nowhere, further east of Varberg.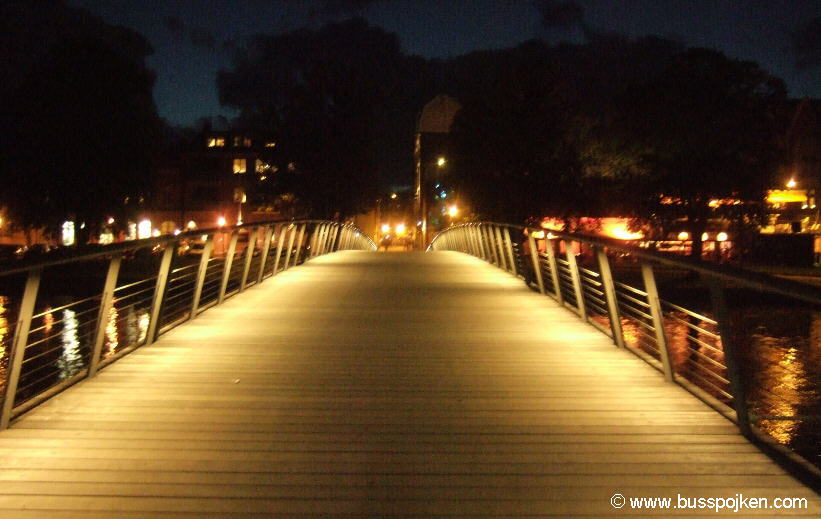 A footbridge crossing Nissan, by the library, close to Österskans.
Links
This collection offers some examples, from which you can obtain further information, when planning your trip to Halmstad, or Halland in general. All links will open in the same browser window as Busspojken, and thus replace this.
Nobina/ formerly Swebus - the main operator of transit in Halland.
Stena Line (ferries from Grenaa to Varberg)
Halland (also in English, German, Danish, Norwegian).
Halland tourist information (also English and German)
Halland tourist information (Swedish only)
STF hostels, Swedish tourist association
Gekås department store in Ullared (Swedish and Danish only)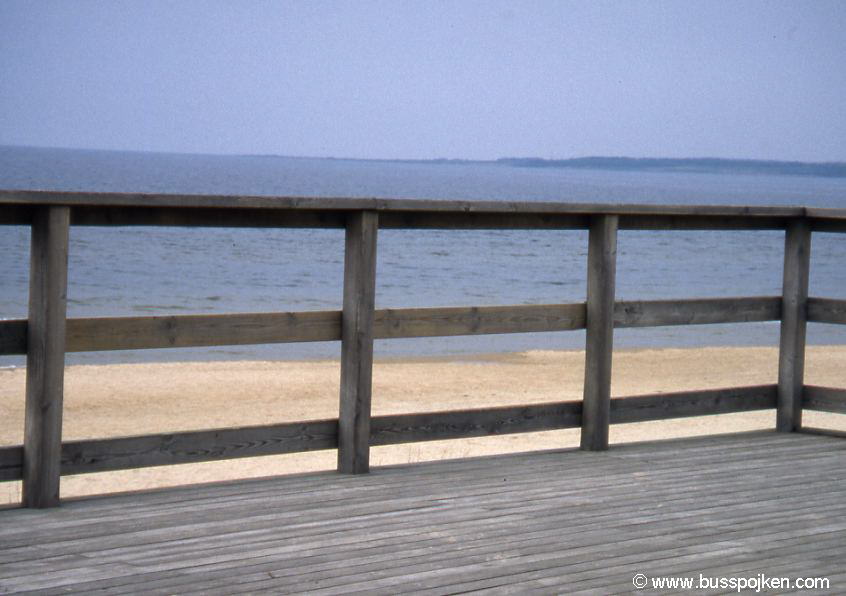 Tylösand in spring 1998.
---