Falköping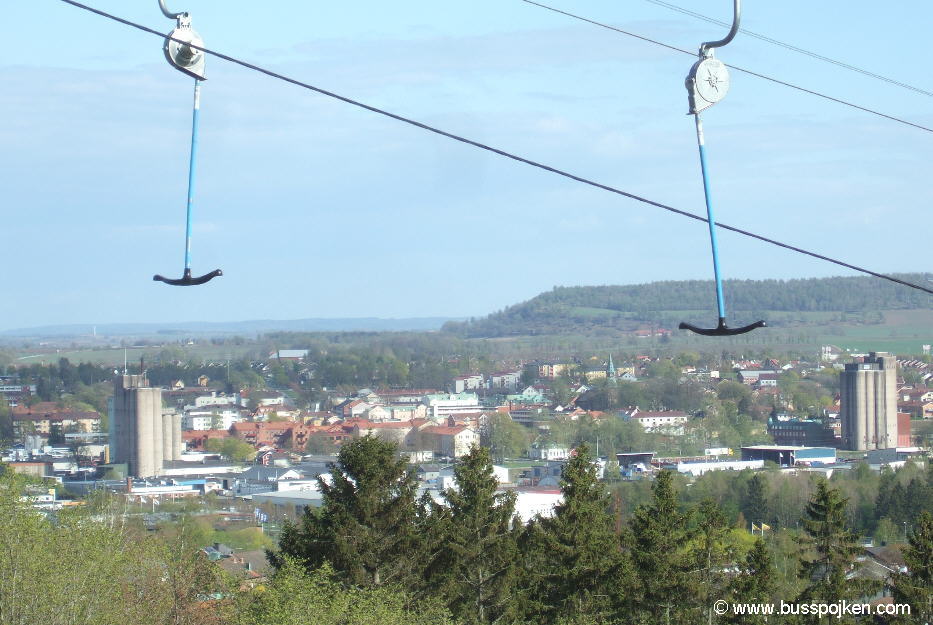 Skilifts by Bestorp, with Falköping as a backdrop.
Falköping is the kind of town that most people have heard about, but probably a lot fewer have ever visited. The trunk railway between Göteborg and Stockholm cut right through Falköping, but far from all trains make a call. Falköping was formerly a part of Skaraborg state (R), but around the turn of the century that entity merged with Älvsborg (P) and Bohuslän (O). All of the area is now Västra Götaland.
A little background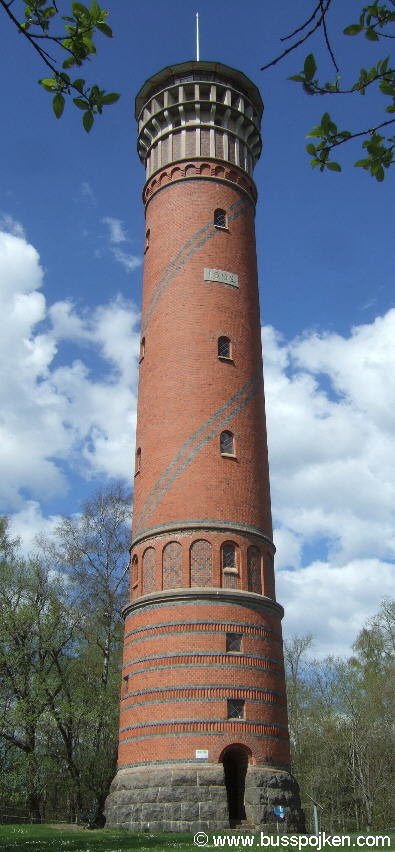 Falköping is probably close to 1.000 years old, but the early history is not recorded or known in detail. The population within Falköpings generous city limits (about the size of Tokyo or Berlin), has been stable for the last 100 years, howering at 30.000. City buses have been around for about as long, and is now part of the state transit undertaking. The most striking feature of Falköping is Mösseberg plateau right at the north side of the railway, or northwestern parts of town. Close to the south of the city is Ålleberg, a similar ridge peeking up from the flat farmland. Some 12th century churches are among the highlights for tourists in the surrounding countryside. Cranes is a well established symbol for Falköping, as they congregate in large numbers in Hornborgasjön. Falbygdens ost (cheese) has a place in many a Swedes refrigerators.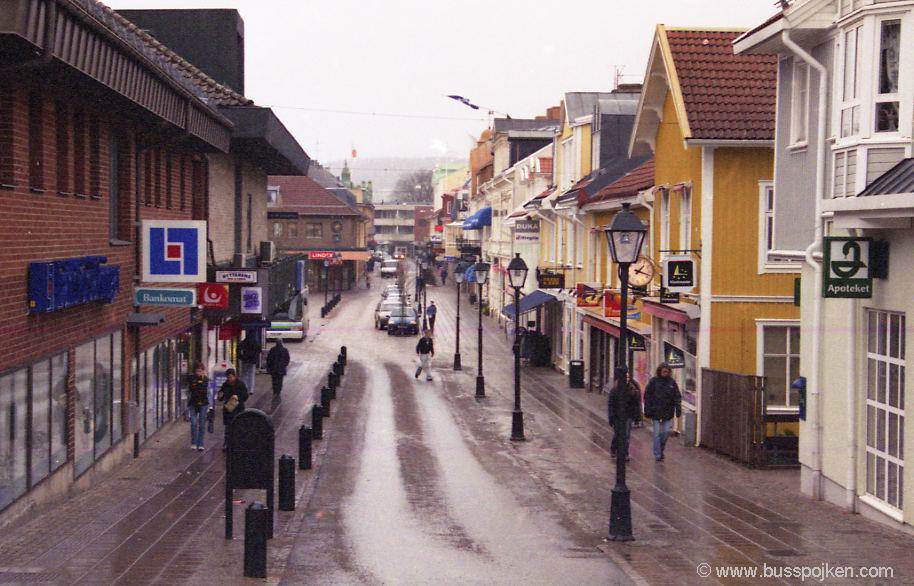 Main street by the main square.
Raggare culture
Falköping is not a huge city, so the nearby outback and it's passtimes are making some noise - litteraly. Raggare is a common part of small town and country culture in Sweden. Nasco Yankees is a yearly major classic car show featuring raggarbilar. Nasko is local slang for Falköping. Raggare was originally a roughhewn carborne youngster chasing girls, by cruising around in swanky American 1950:s era cars. In the earlier decades of this subculture, raggare was considered a danger to the society, and their beat-up cars could be an eyesore. Todays raggare are mostly decent and responsible grownup people, that keep their cars in pristine vintage condition, and take it a lot more easy with the beer. American flags and symbols are often used, but partly stripped of their original meaning. Raggare is about American cars and rock music, and less about politics. Some say there is more American 1950:s and 60:s cars in Sweden today, than the actual numbers in those days. Old cars are even imported for subsequent refurbishment.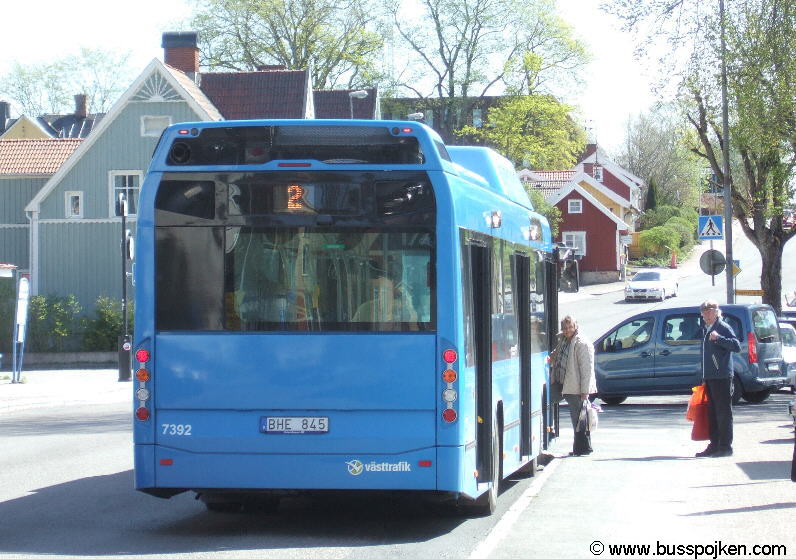 Well this is mostly about buses, so let's leave the subject.
Layout of Falköping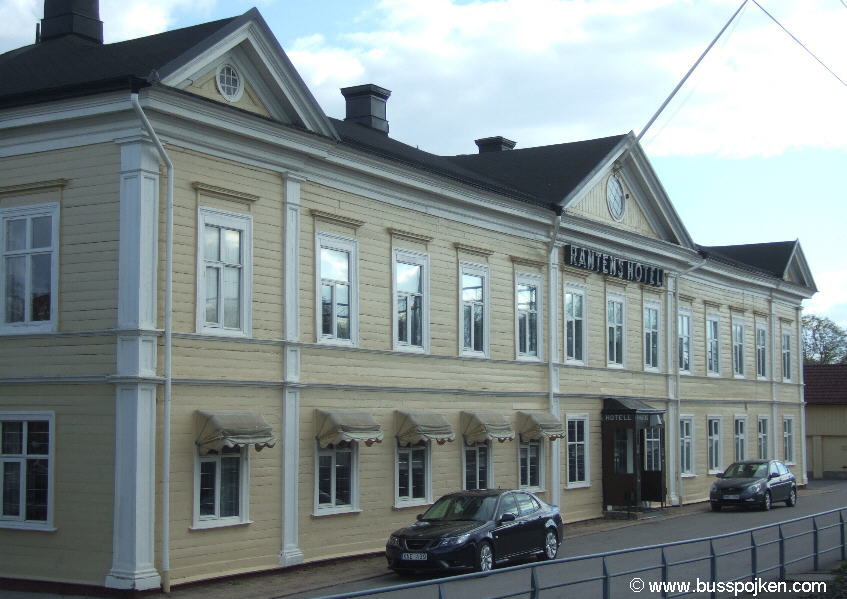 Ranten hotel by Falköping station.
Falköping was not a very big place indeed when the railway was built in 1858 by Ranten (the name of the district). It also passed about a kilometer and a half (1 mile) from the town. This gap was soon bridged with new development. It is obvious that the more wealthy found their settlements along the edge of the ridge, Mösseberg, that is on the farther side of the railway. Further in time came denser areas of apartment buildings on the southeast side.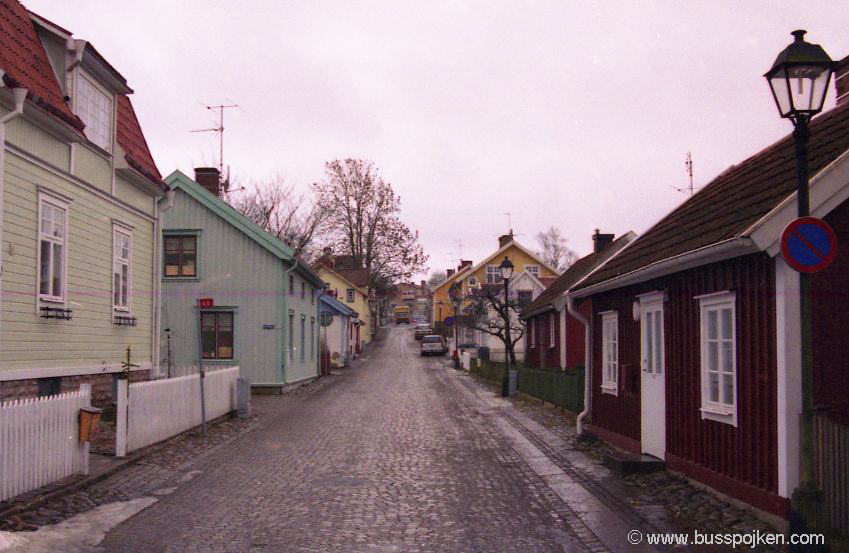 A street in the old town.
The oldest parts of Falköping is close to the main square. A funny thing is that the city ends very quickly in this direction, as it is away from the railway. The development was subsequently almost entirely concentrated with the station as the new focal point. The hospital lies in the diametrically opposite corner of the city as the old downtown.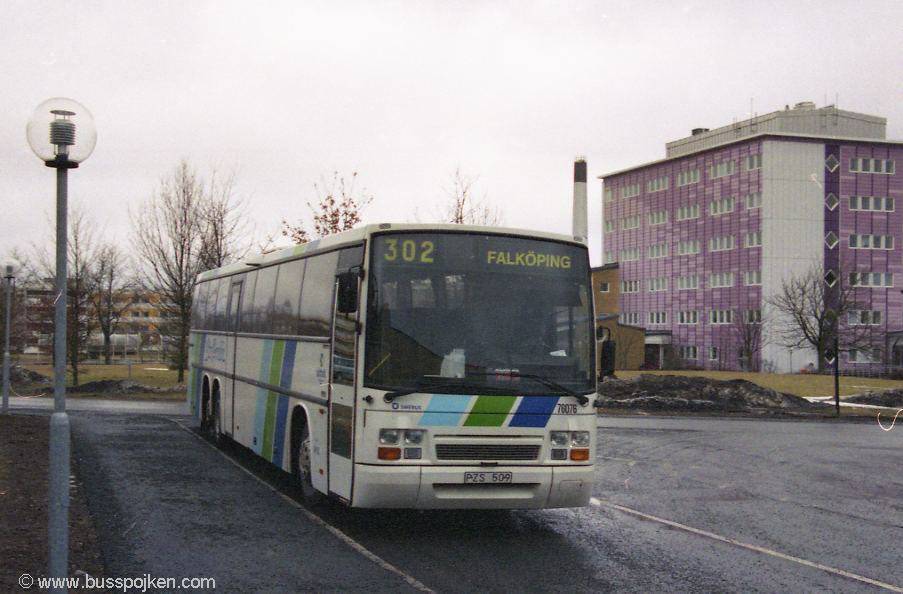 3452 by Falköping hospital.
All this should make a solid foundation for a well patronized transit system. Well, most people in small towns go by car. Don't ask me why, but that is the way it is in car-crazy Sweden. Anyway, imagine how many travelling needs that could in fact be covered by the route beginning in downtown, passing one project after the other, then the station, and finally the hospital! Route 1 is the one we are talking about.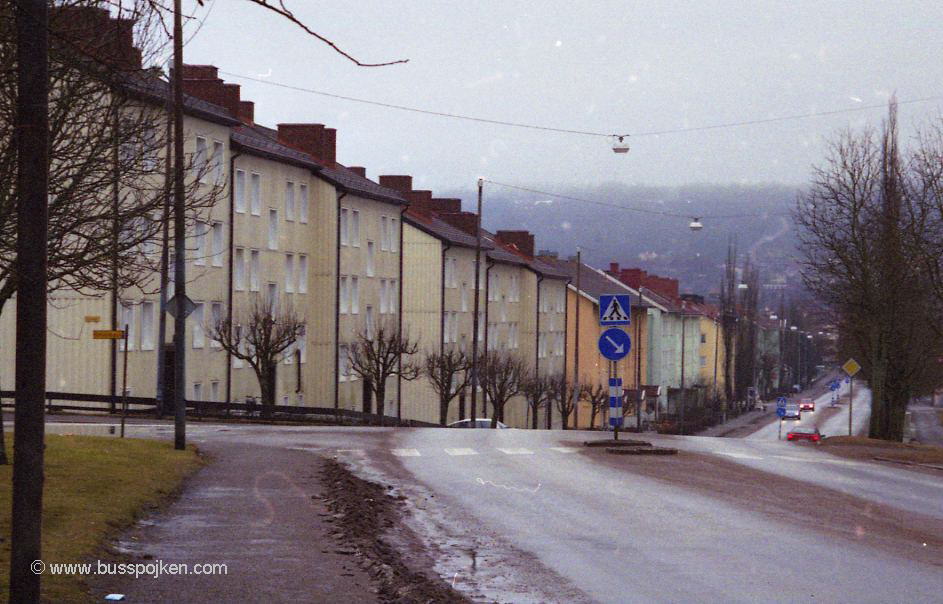 Wetterlinsgatan facing west.

Falköping - the northeastern edge of the city, close to the airport.
With a lap on route 1 and 2, you have seen the most of Falköping. Route 1 is already mentioned, so let's take number 2 to Bestorp.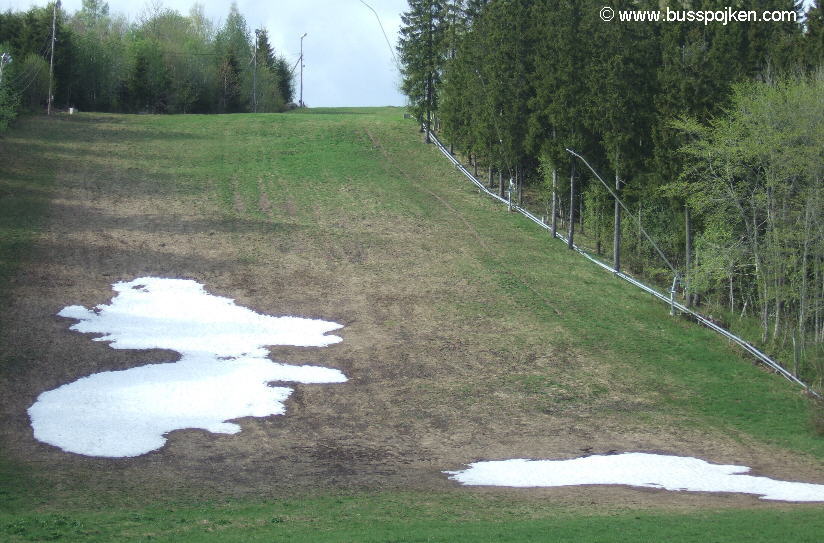 Bestorp skislope.
In this scene from late April, there is still a little snow left from the skiing season at Falköping alpin in Bestorp. Route 2 is going this way. If you venture up the ski slopes a short walk from Bestorp, a little lake also appear in an unlikely place, just above the rim.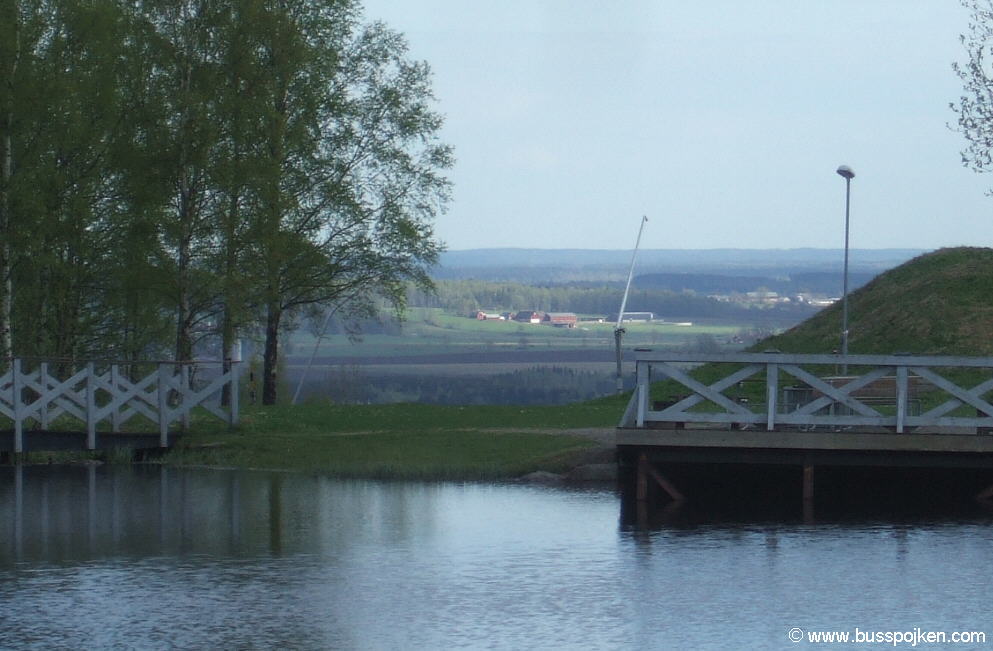 Mösseberg, and at a distance, the valley below.
It should be mentioned that a walk along Mösseberg is possible, as to connect with route 1 and 2. Some fine views will reward you during that outing. A splendid forest scenery is also at hand, when nearing the hospital.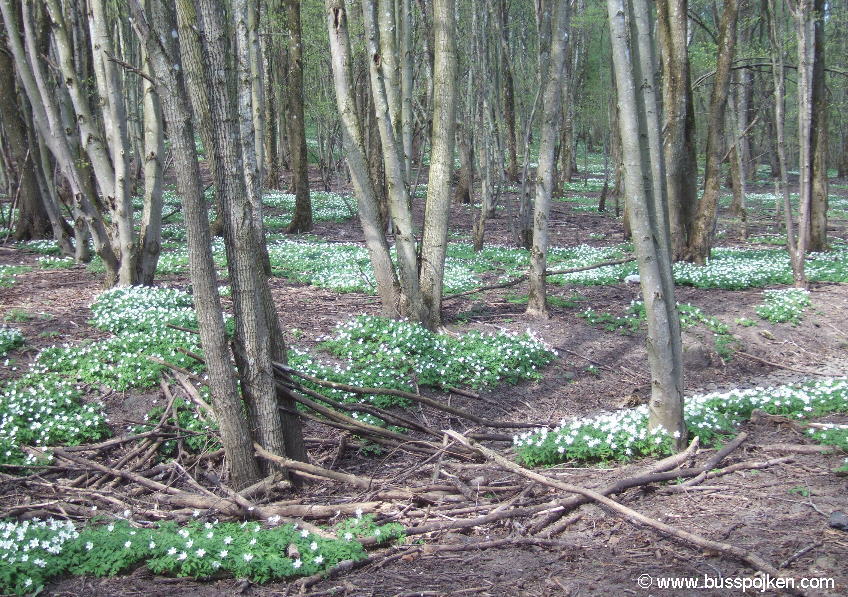 Less than 10 minutes from the terminus of route 1.
Falköping route map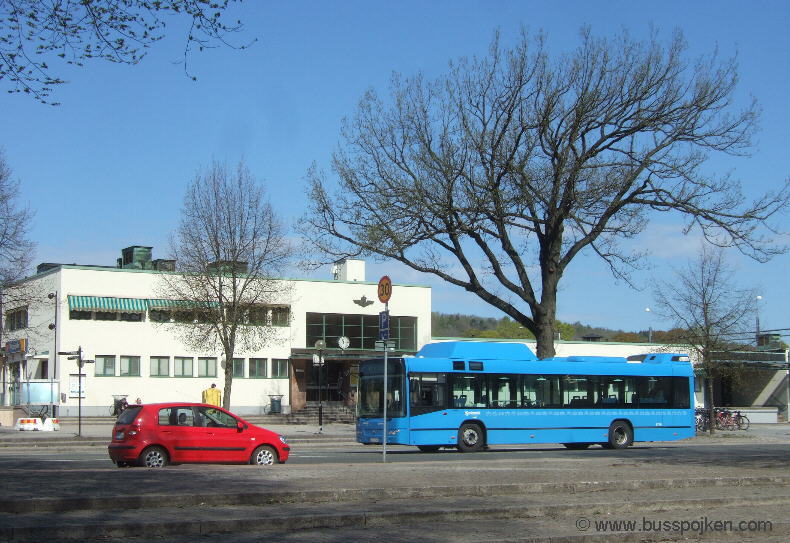 Järnvägstorget (railway square).
This is a link for a map of falköping local routes. This file should open in a new browser window. Print it out, and carry it with you when visiting. If it doesn't stay at this link, then try the site of the state transit company in the links section.
Falköping bus tickets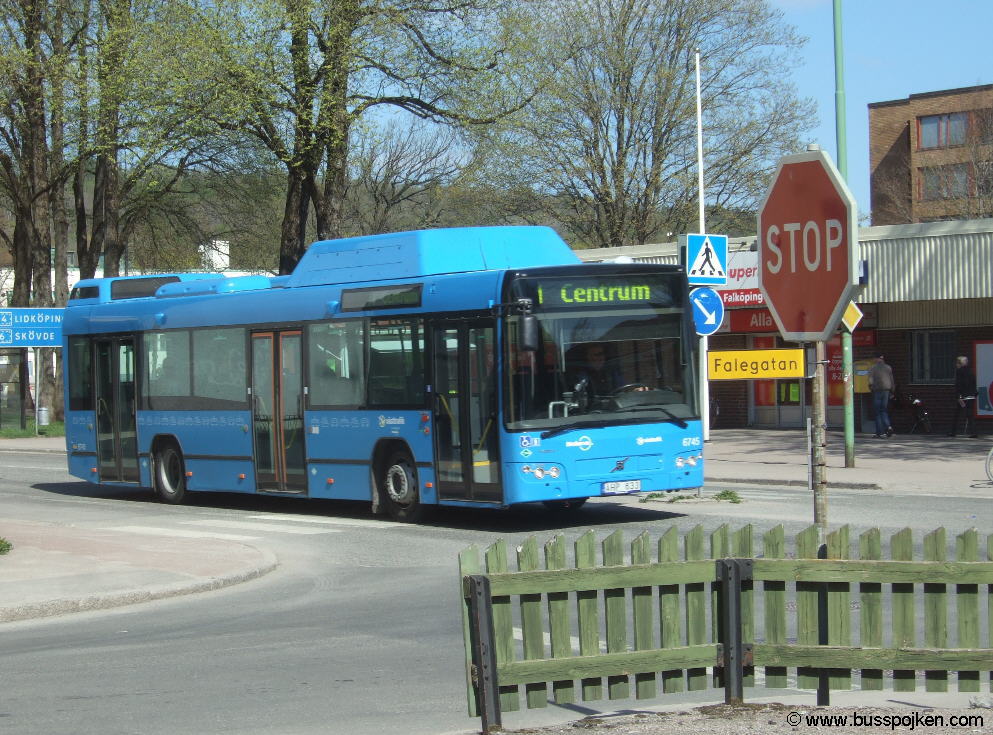 Note the street sign to the right. Falköpings specimens that are coloured in yellow, is a standalone version in Sweden.
A daypass called Regionen runt is valid in all of Västra Götaland, that is Falköping, as well as Göteborg, Skövde, and a lot more. It is available with validity for 24 or 72 hours. Tätort is a lesser version covering just a city by choise (where first validated or used), or kommun for all of Falköping, or any other community in a larger sence. Finally a nonfixed deposit option is also available, where the pass is charged with a prepayed sum. Several passengers can use the same by hitting a key V for the number of adults or U for the corresponding number of children accompanying you.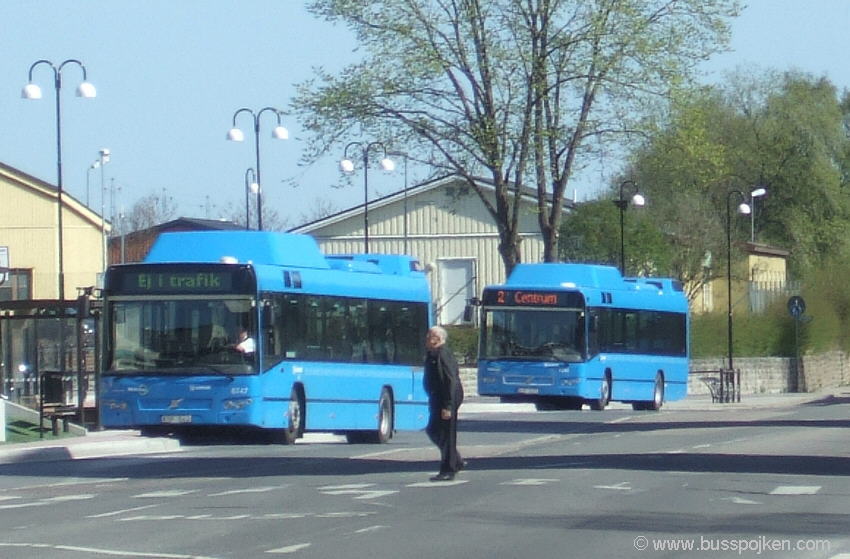 Järnvägsgatan outside the station in Falköping.
In this case you just touch the ticket machines designated transmitter surface with the card, for a local ticket. The information is (invisibly) stored in the card, and every ticket is valid for 90 minutes ride at will. If the journey is longer than a local trip, you hit the + key before presenting the card, and once more (without hitting a key) when alighting the vehicle. Each door use to have a ticket machine of some sort in its vicinity. The plus means that you will pass several fare zones, or just don't know if you will. The initial touch will subtract a preliminary charge that is the maximum to the terminus, and the second touch will refund the differing amount to the present location. This plastic Västtrafik-kort costs SEK 50, that can also be used to start a journey even if the charge is running low. When filling it up, this spare sum will have to be recovered.
Falköping vehicles
Buses are plain deep blue of similar Volvo making. That's about it. Although it should be noted that note all are from the same batch. Nobina is the present operator of the system. Nobina was formerly known as Swebus (briefly owned by British Stagecoach), and before that SJ, that is the bus section of the national railways.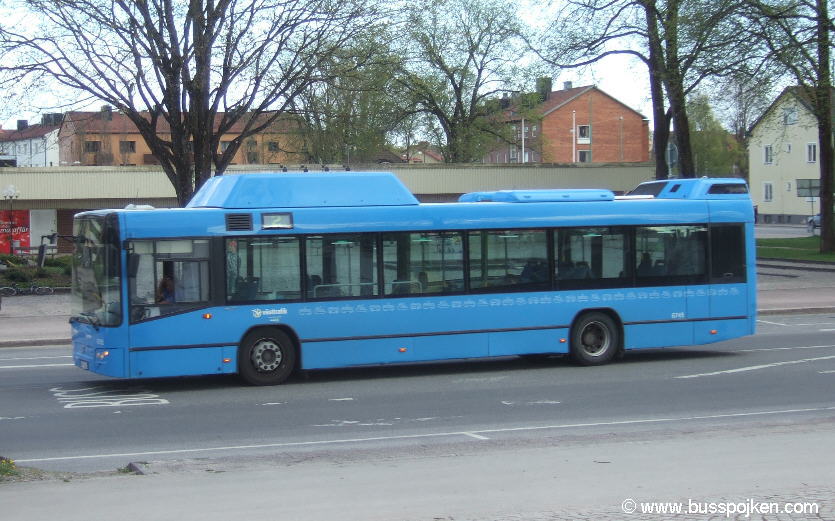 A typical Falköping bus, designed in Västtrafik livery.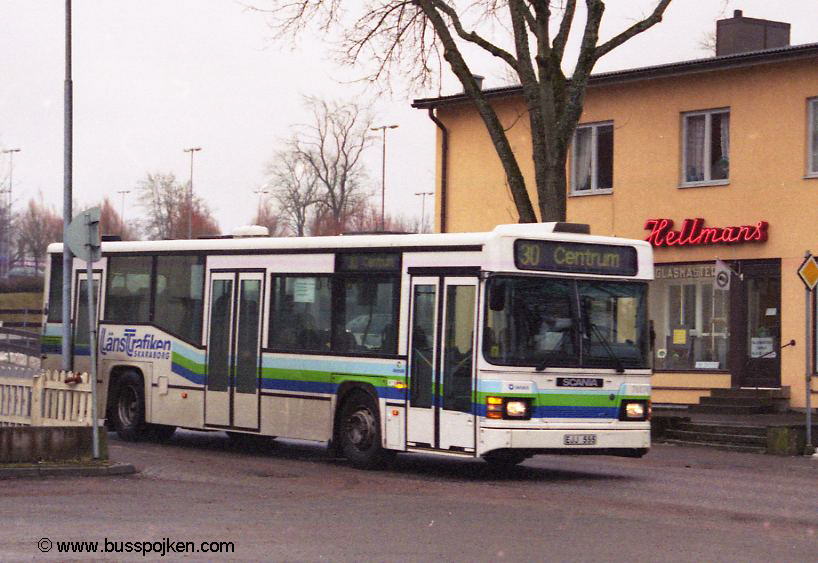 Falköping, or rather Skaraborgs livery before (now gone).
How to get to Falköping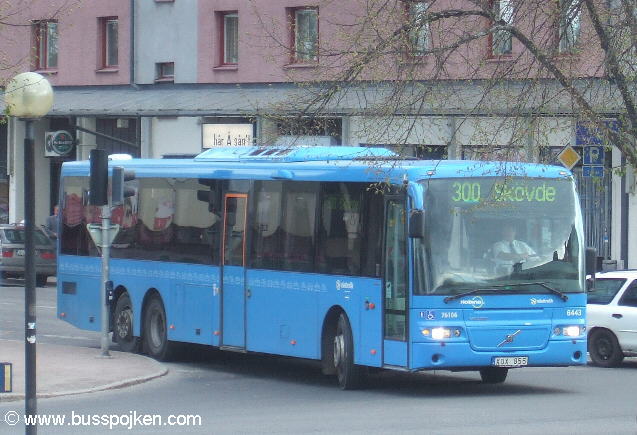 Falköping, route 300.
When entering Sweden by ferry or airline in Göteborg, the railway is the most natural way to get further to Falköping. Regional trains complement the national workings coast to coast, alas most highspeed trains don't stop in Falköping. A daytrip from Göteborg is fully feasible, and both rail and buses will be covered by the same ticket system (departures by the national railways are excluded, or only available with a prevalidated daypass with a printed reciept). Commuter trains from the nearby regional hub Skövde is an easy option if you have accomodation there.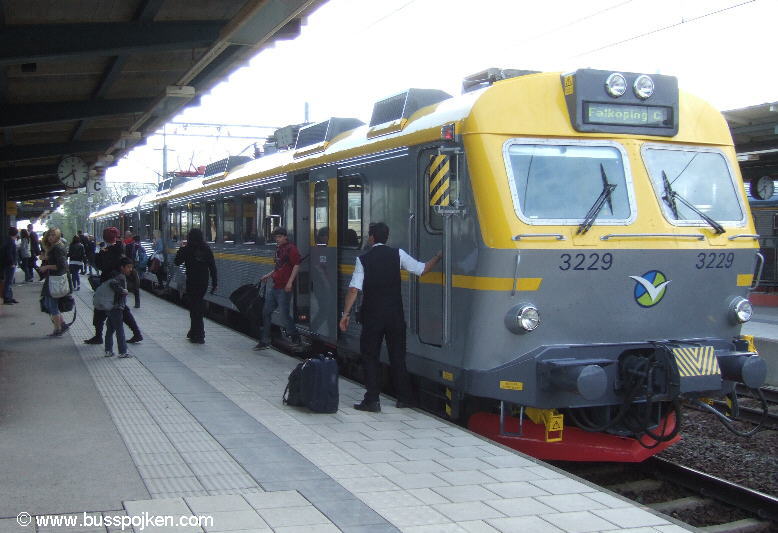 Commuter train at Falköping.
The distance and frequency from Stockholm is a little worse, as a change in Hallsberg or Skövde is often necessary. The direct trains are not so direct, as they call at every whistlestop in between, and runs north of lake Mälaren to begin with, requiring some 4 hours to reach Falköping. Trains also connect Falköping with Jönköping, and further away in Nässjö, even the southern trunk line between Malmö and Stockholm.
Some more Falköping scenes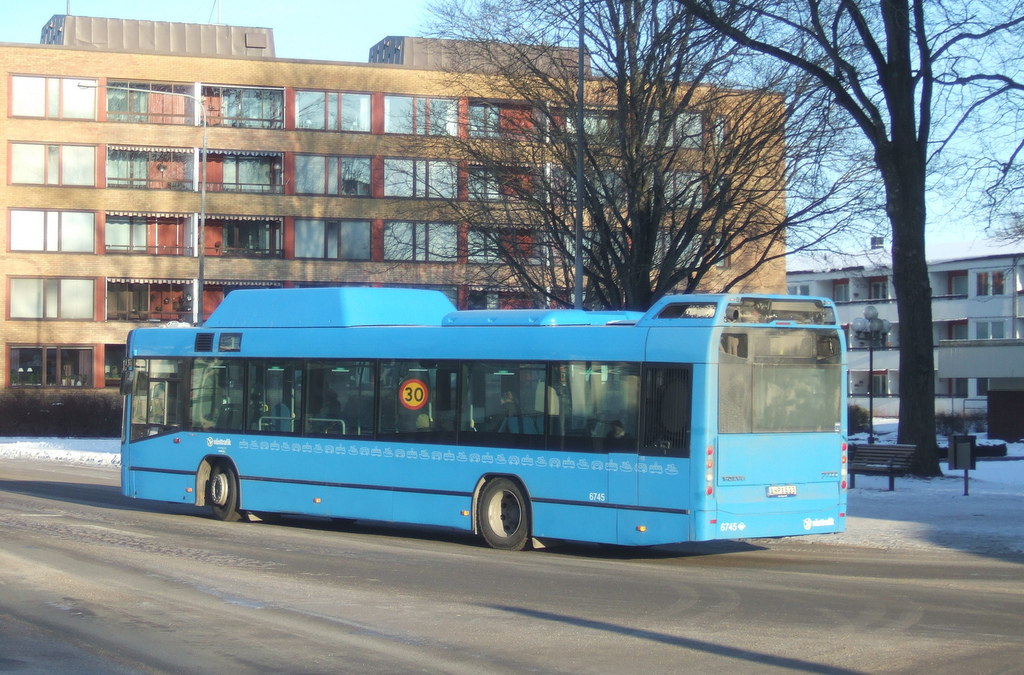 6745, route 1.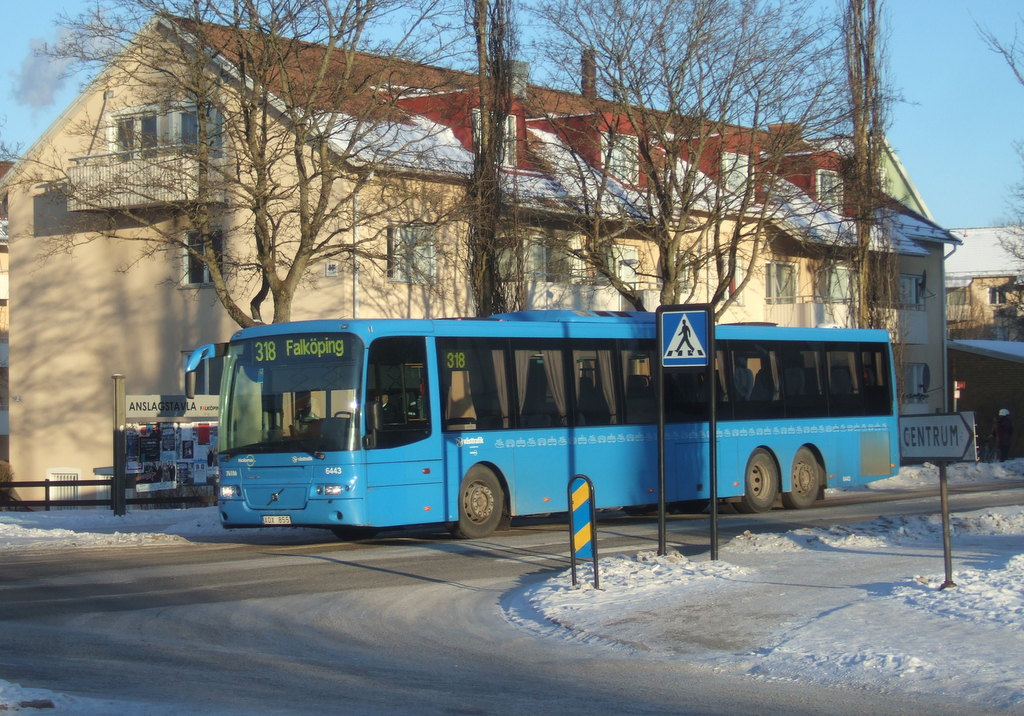 6443, route 318.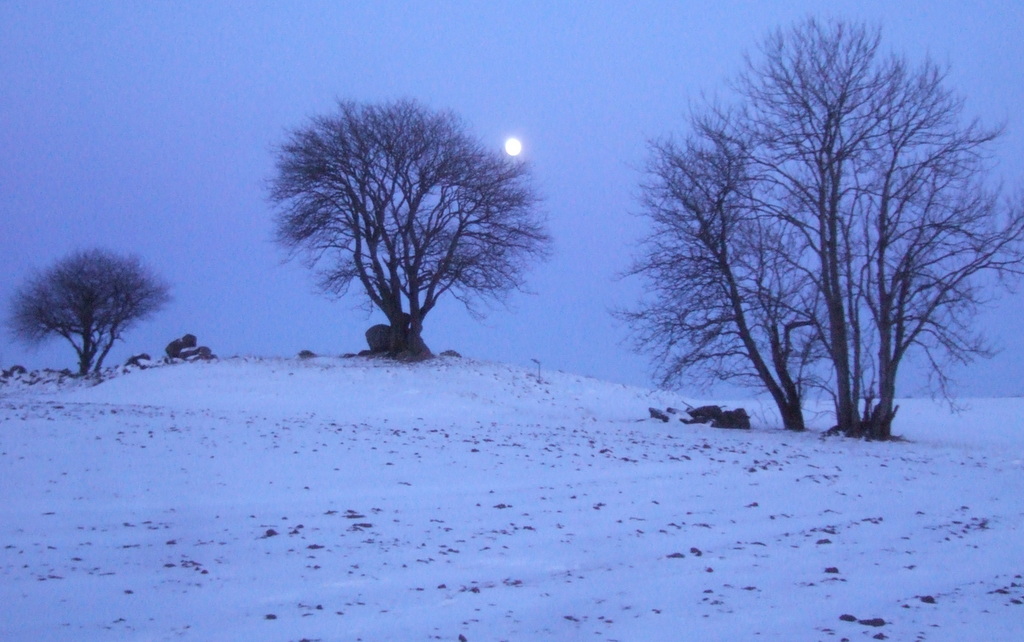 A cold evening in February, with -10, close to Ålleberg.
Falköping links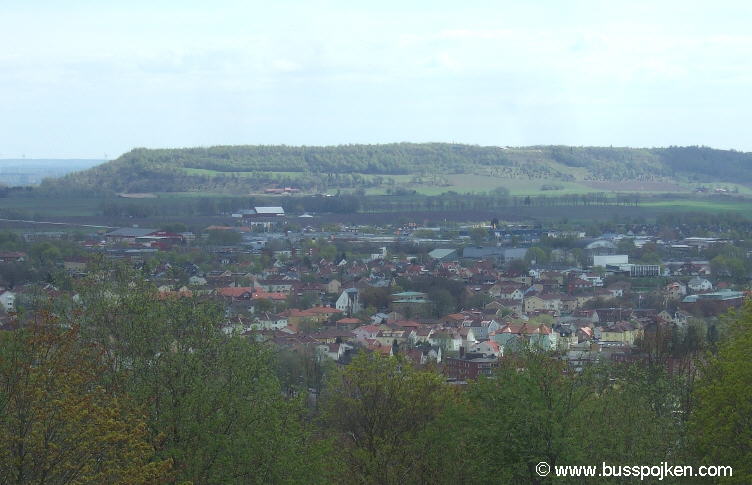 Falköping and Ålleberg.
A small collection of other sites with information about Falköping, transportation, and accomodation. The destination window for these links is the same browser window. The new page will in other words replace the current site Busspojken.
Tourist information in 3 languages
Nobina (the transit undertaker)
Västtrafik statewide transit undertaker
Private search register with information about buses
STF hostels, Swedish tourist association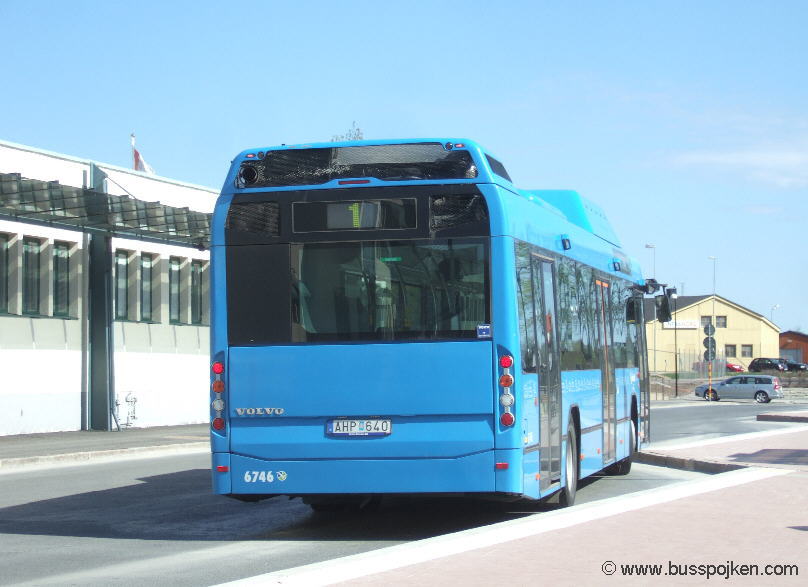 Falköping bus terminal, next to the station.
---