Eslöv
Veolia 3225, by stora torget (main square), in 2010.
At only 31.000 citizens, Eslöv is not a big town at all. The population is just enough for some rather decently frequent city bus network of three routes. Thus it is not the kind of place to while away a whole day. But there is no need to do that anyway. Eslöv ought to be included in a Scanian odyssey, as a complement to the bigger cities nearby. Lund only lies 10 minutes away by train, and a bus connects to Landskrona, albeit it does take a little longer.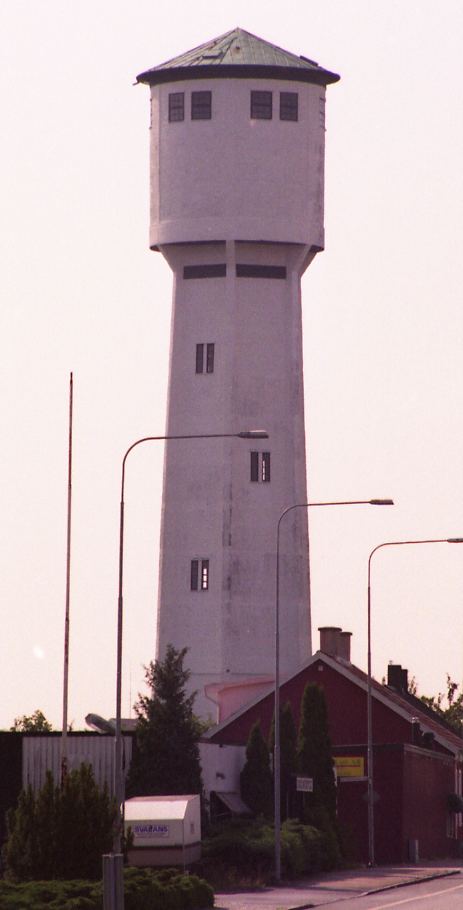 Eslöv was incorporated as recently as 1911, but is first mentioned as early as 1145. In those days there was a significant difference between being a city, or just some other place. My mother got to learn all the "real" cities in school in the 1940:s, while the name city (stad) is rarely used officially today. Most call themselves "kommun", that is often an entity of a great deal of land, and several other smaller places.
What made Eslöv suddenly grow, was the railroads. This also shows in the city coat of arms, sporting a winged wheel, often used as a symbol for railways. Eslöv is also a break in the all encompassing farmland, making up most of Scania state.
For Swedes Eslöv is equivalent with Felix, a national icon in food. It is named after Herbert Felix, who escaped from the German nazi regime in 1939. The production line includes the famous ketchup, pickled vegetables of different kinds, and ready made meals. You can hardly visit Sweden without eating something from Felix, knowing it or not. Felix is today a brandname owned by Procordia.
For the record; the water tower pictured is not used anymore. There is a newer one along route 3. The water is originally coming from lake Bolmen, and pumped through a 80 km long tunnel to Perstorp. From there to Stehag, for cleaning. Finally is goes to the water tower in Eslöv. As always, please take a look at the Scanian water tower society (link at bottom of page), where I have contributed with some 100 odd pictures.
Bus services, and sights
There is three main services, numbered in the most logical sequence 1-3. 1 and 2 have a similar schedule, and are operated on a 20 minute headway approximately 6-19 on weekdays, and 9-16 on saturdays. This requires two buses for each line. Sunday means an hourly service 9-18 hours for 1 and 2, while 3 is not operated. On weekdays and saturdays, route 3 is running every halfhour at the corresponding hours as the 20 minute headway for 1 and 2. Route 11 is an industrial service going thrice in the morning, and twice in the afternoon, so skip this one.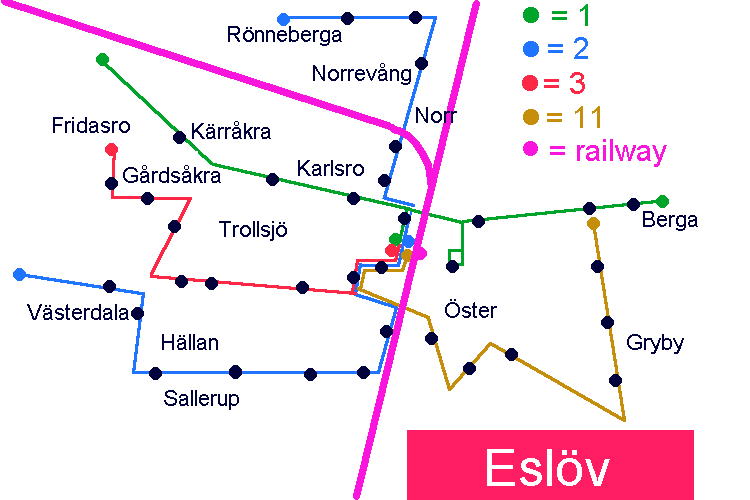 If you have an interest for something more beside the buses, Western Sallerup church is located by the southwestern part of route 1. The church was originally built in the 12:th century. Another more modern marvel, is the glassed court covering a HSB coop development from 1983. This is situated exactly east of the terminus of route 3, and also within reach of the second to the last stop of route 1, westbound. The greenhouse-like innercourt is the biggest in Sweden, at some 375 by 11-22 meters dimensions. 136 apartments, a school and daycare is included. This semipublic space also offers some benches for your convenience.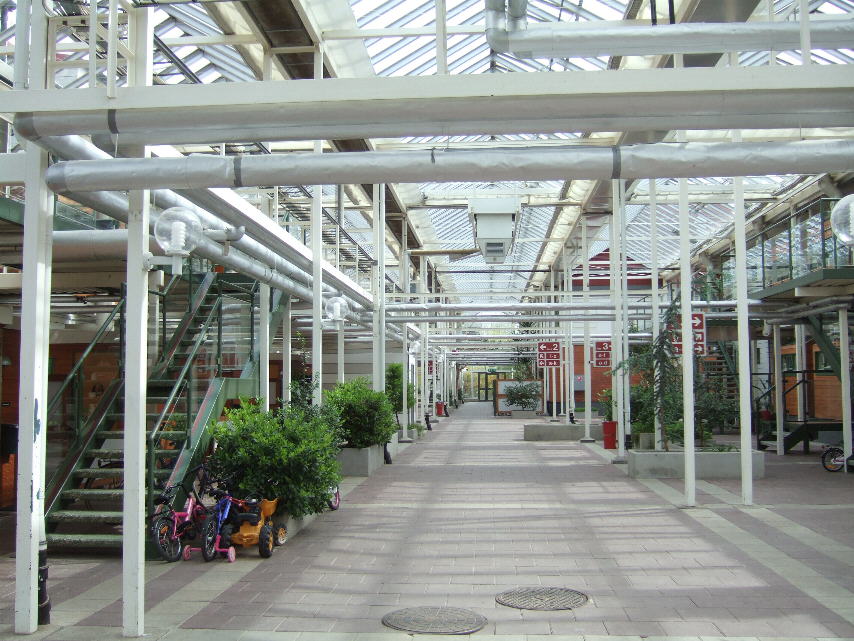 HSB Gårdsåkra glassed inner court.
Vehicles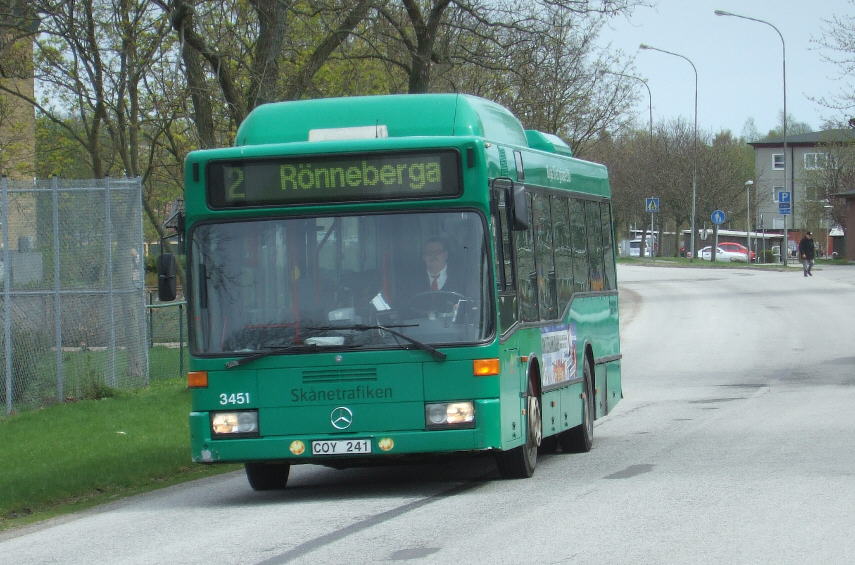 Veolia 3451, route 2 by Rönneberga.
A few lovely Mercedes midibuses is roaming the streets of Eslöv. There is also a MAN from Eskilstuna to be seen. May I also presume that the arrival of some new buses is imminent?
Tickets
Skånetrafiken is the principal authority for all transit within Scania. Tickets can be purchased with cash onboard buses (except in Malmö), or by TVM:s at stations. A more hasslefree option is the Jo-jo pass. This requires no "down-payment" or pledge fee, as opposed to most other similar plastic cards in Sweden. It can also be used in the neighboring states of Halland (N), Jönköping (F), Kronoberg (G) and Blekinge (K). Hopefully more will follow, but the distant promise of making it a national means of payment for transit, is undoubtly a long way off.
3444-1, by Kärråkra vårdcentral, may 2010.
Anyway, you charge this card with money at the nearest outlet or bus. When boarding a citybus (they come in GREEN) just present the pass next to the contactless reader, and the appropriate fare is subtracted. For regional buses (YELLOW), tell the driver where you are going, to set the right amount. BEFORE boarding a train (PURPLE or SILVER), use the TVM to code the card, AND get a receipt to show the conductor.
How to get to Eslöv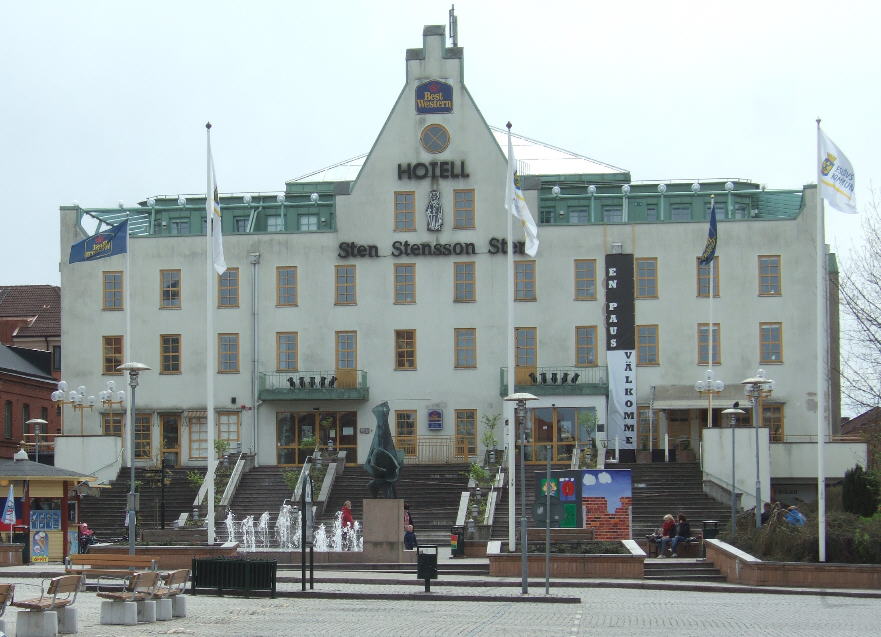 Hotel Sten Stensson Sten (!) by the main square in Eslöv.
You will probably arrive by air at Copenhagen airport. The concourse level has a train station, with direct connections to Eslöv. If you are coming from Göteborg, a change in Lund will take you to Eslöv. The same goes for arrivals by long distance train from Stockholm. These options apply when going to Eslöv at once, but highly recommended is to stay in some more centrally located bigger city, with good connections around Scania. Helsingborg, Malmö, or even Landskrona comes to my mind.
Excursions
That would be places like Hörby by bus, or Höör and Stehag by train. I haven't myself visited these places, so there is not much to report. It is however rather easy to get around in western Scania, but Eslöv is placed a little bit on the edge of this civilization, called metropolitan Malmö.
Links
This collection offers some examples, from which you can obtain further information, when planning your trip. All links will open in the same browser window as Busspojken, and thus replace this.
Private search register with information about buses
STF hostels, Swedish tourist association
Scanian water tower society, some English available.
Felix food producer from Eslöv.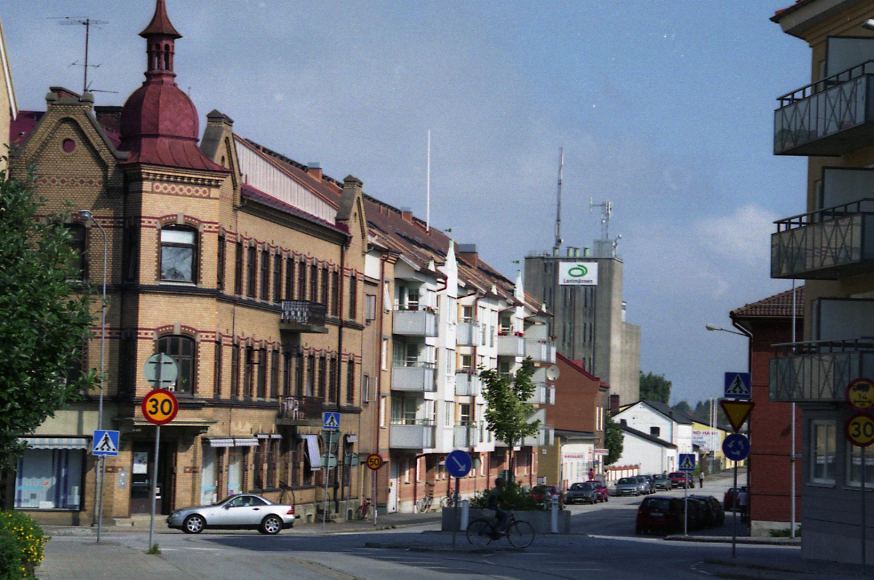 Kvarngatan at the intersection with Östergatan.
---
© Busspojken 2010