Enköping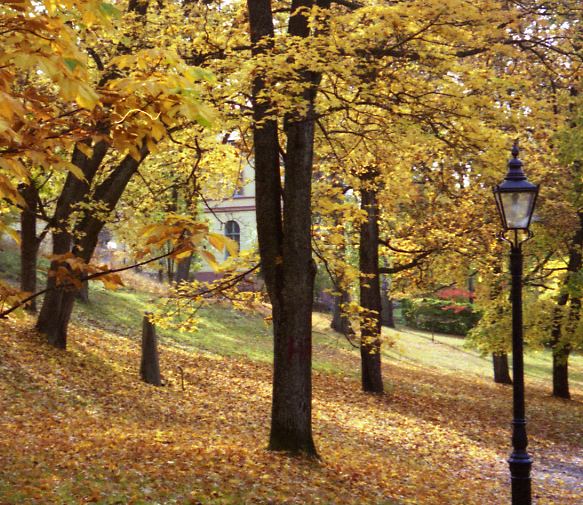 Enköping is situated in the southern portion of Uppland state, between Västerås and Stockholm, served by the northern railroad skirting Lake Mälaren, and also the road E18. This city is often referred to as the closest of all in Sweden, depending on this beeing the national population epicenter. Having some 35 000 residents it is also a very average place indeed, that a good deal of the populace might find easy to identify themselves with. The adjustable spanner is said to have been invented here. For the international audience Enköping may be better known for the magnificient parks. Even some foreign garden architects have been invited in the design processes. For everyone interested in gardening, this is almost guaranteed to offer some inspiration.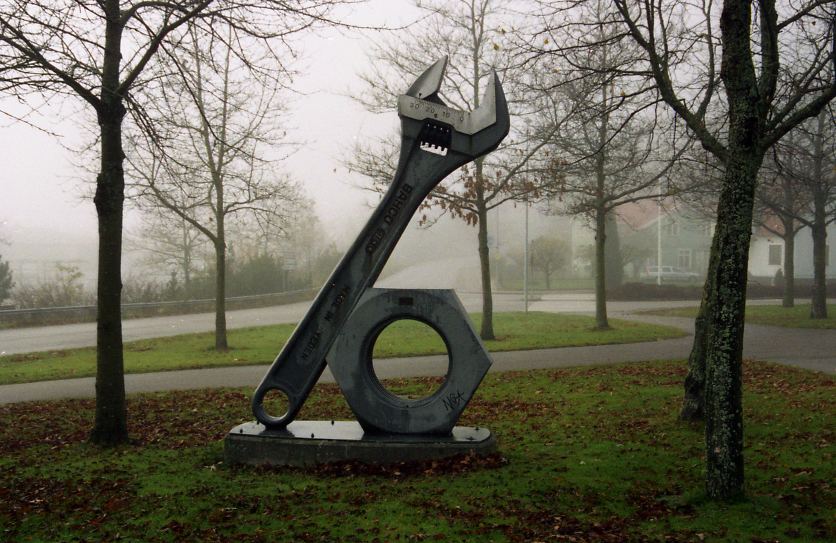 Route 202 and 212 passes this in the curve leading left.
Operation
The local services are operated by the private undertaking "Björks buss" on behalf of the city. To find information about schedules and routes it is therefore necessary to look at the city homepage, and not in the state transit equivalent. Only two buses make up the normal service, named Humle and Dumle. Rare examples of Jonckheere in Sweden, and the company also have some other flemish buses, like Bova. There is a former history in the area of buses from that part of Europe, like the DAF of the now defunct "Enköpings busstrafik", now a part of Swebus. There may still be a chance of spotting some ocassional bus in the original livery of silver, with red and blue stripes, however of Volvo making. Those buses are used on the routes 803, 895 et.c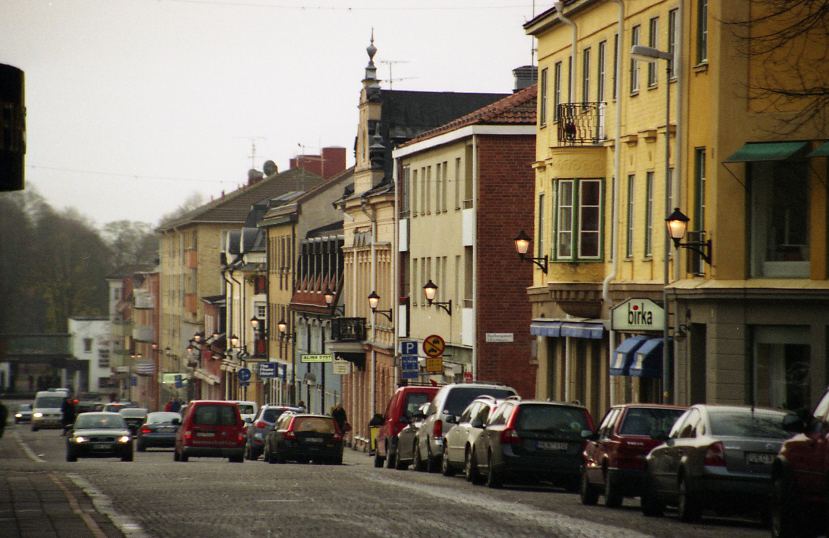 Kyrkogatan (church street).
Routes
It is not easy to get some grips of how the lines are laid out. It may be a better hint to say that the two buses meet at the central square (one km south of the station) every 20th minute. They also pass the main railway station occationally. In short the buses just alternate between mostly east and west sections, describing circular routes with some variations of the districts operated. During off-peak four services are run, numbered 211-214. Frequency varies on each individual line in the span of 20-70 minutes. In the afternoon peak only two lines remains, 201 and 202, with an even service of 30 minutes intervalles. Don't worry to much about getting lost somewhere in the outback. Except for a summer bathing service, the buses never venture further away from the downtown than just some 3 km as the crow flies.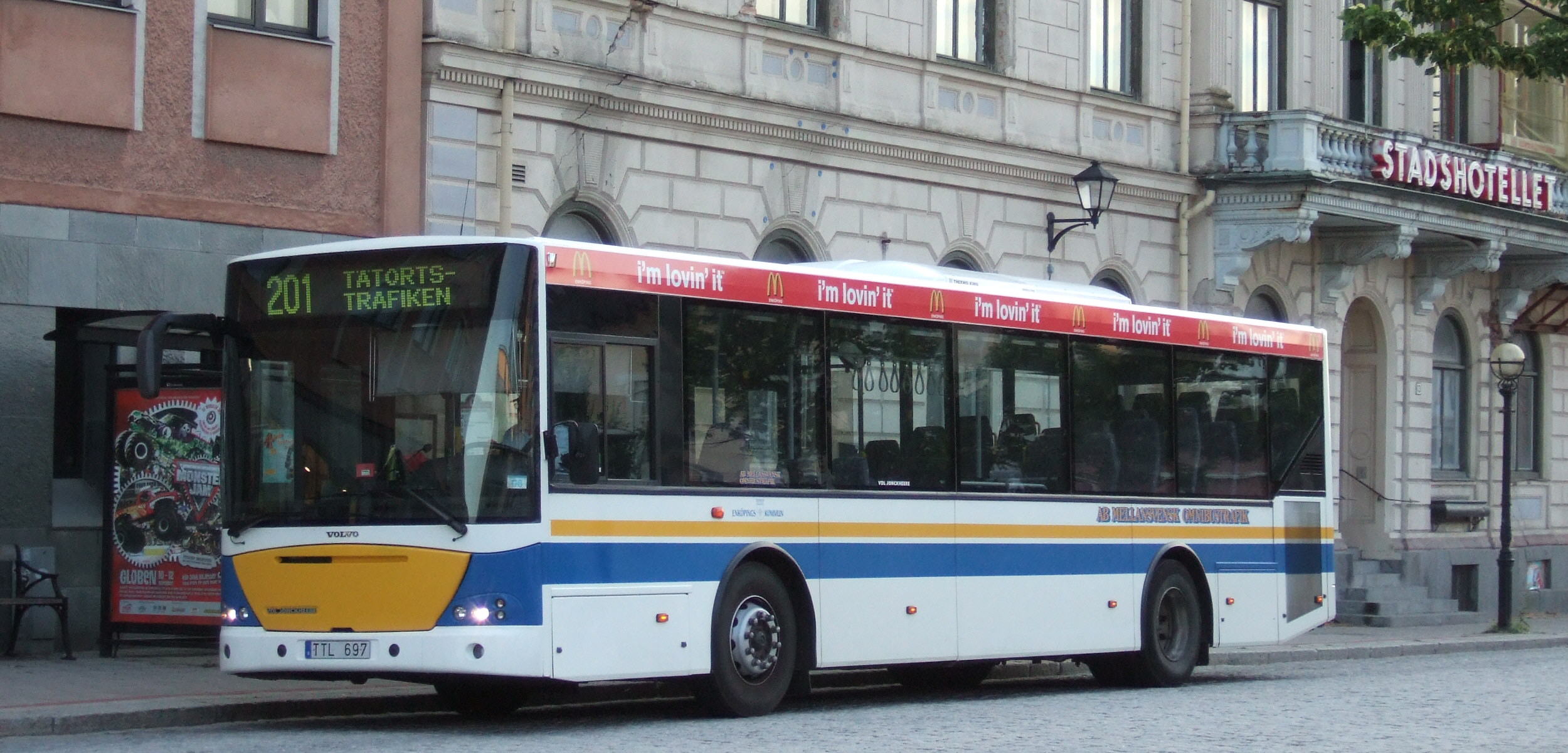 Humle on line 201 by the main square.
Tickets
For the moment 17 kr will be charged for a ticket purchased onboard the buses. This is today equal to a position among the least expensive cities.
Vicinity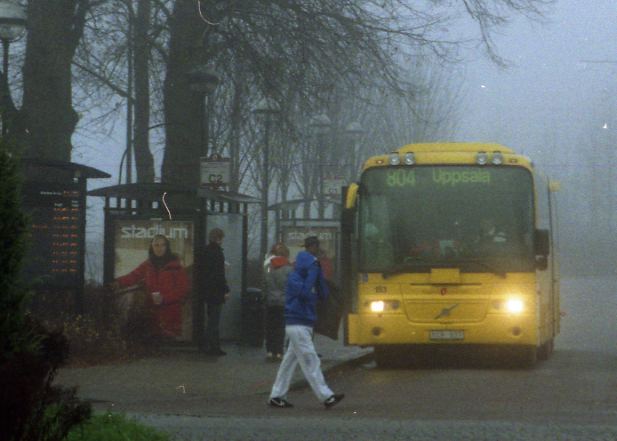 All other routes are handled by UL "Upplands lokaltrafik" mostly yellow buses. Lines to explore may be 803; Enköping - Bålsta (commuter train connection for Stockholm) - Sigtuna - Arlanda airport. 804; Västerås - Enköping - Uppsala, 877 Enköping - Strängnäs (trains for Eskilstuna or Stockholm, suitable for a kind of circular trip).
Getting there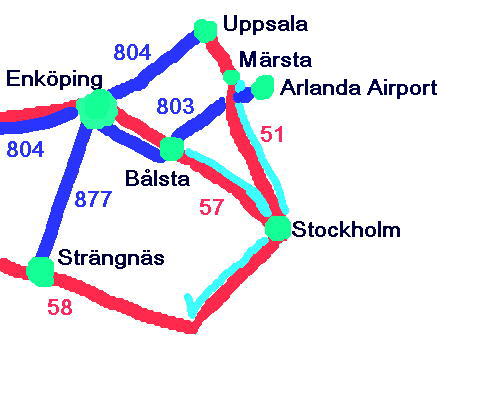 If you are staying in e.g. Stockholm, it is perfect for a halfday excursion by train, leaving once an hour. If you prefer the SL commuter train to Bålsta, the aforementioned bus 803 will take you the last part. Note that the last commuter station is outside the state of Stockholm, and will require a ticket surcharge on top of a pass. Bus 803 is also starting at Arlanda/ Stockholm airport if you would like to get to Enköping at once after arriving. It may be appropriate to mention that 803 is passing very near Märsta commuter rail station as well, but just not right outside. For someone staying in Uppsala, or as part of a longer excursion, the bus 804 is running oftly. The map indicate dark blue as bus lines, red as railway, light blue as commuter train. The numbers refer to the respective bus service, and table for train schedules. More services exist, but for clarity only the ones mattering the most are included.
---
© Busspojken 2009