Borlänge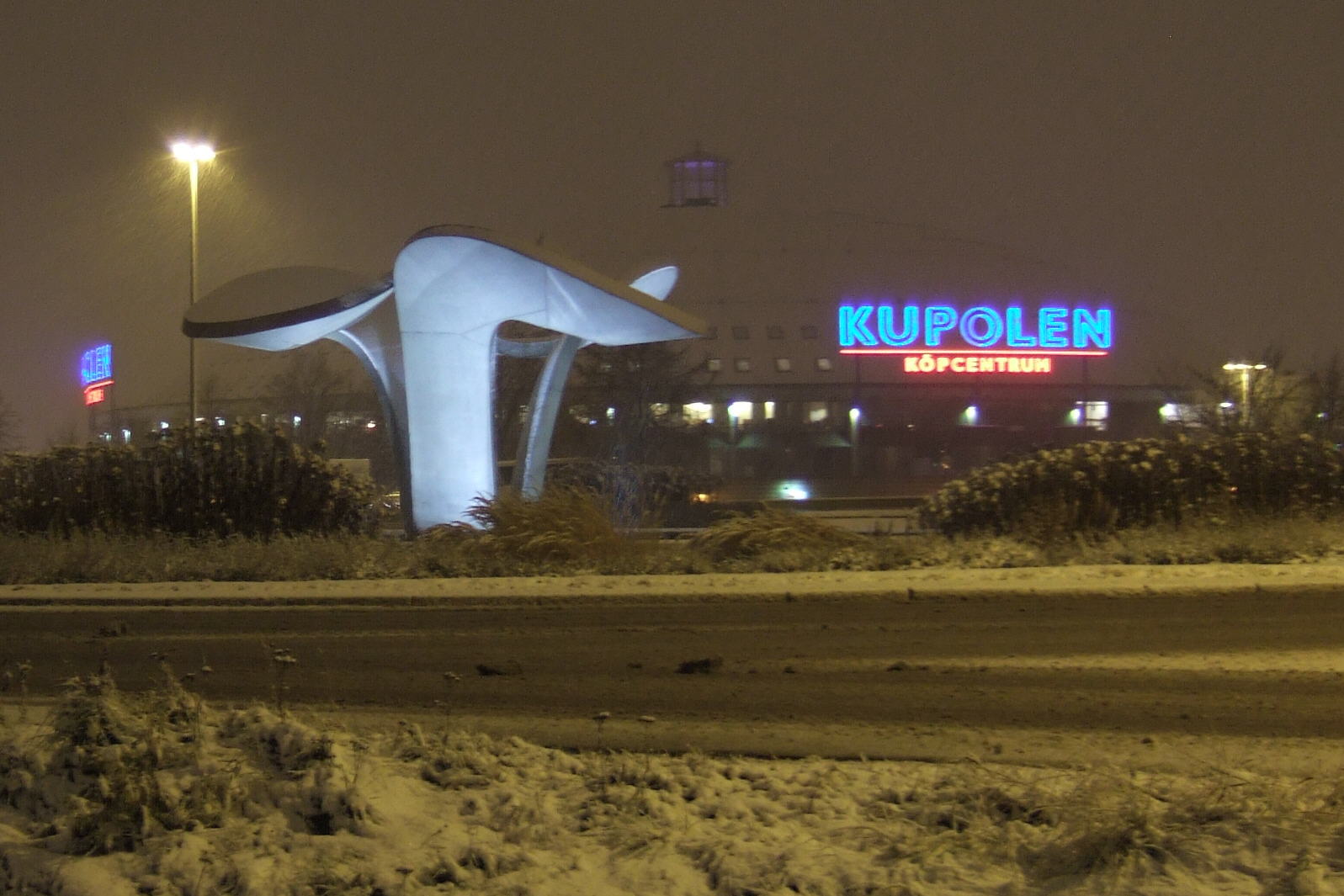 The dome shaped Cupola shopping mall in Borlänge.
Dalarna
Dalarna is a Swedish state of almost exactly the same size as Belgium, but with barely 300.000 inhabitants. Dalarna is situated just below the middle of the country. This is often seen as one of the most defining places of Sweden as a nation, and especially for those in Stockholm considered to be the Swedish heartland. Dalarna both functions as a popular summer retreat, and winter playground with much skiing, like the reputed race Vasaloppet, held the first sunday of march every year.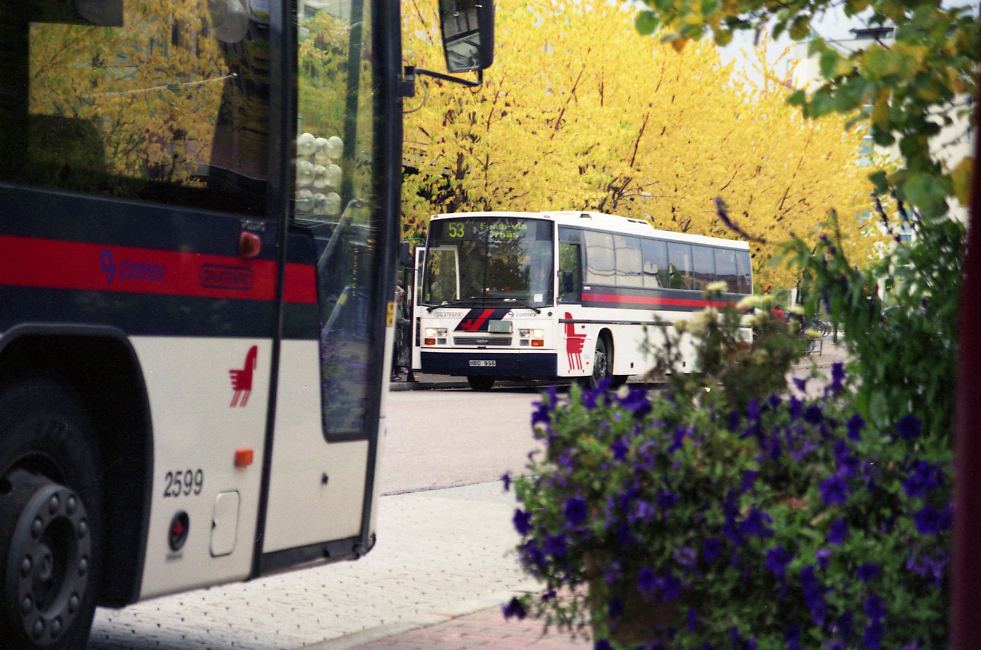 Stationsgatan, where most people board.
Twincity Falun-Borlänge
Most people live in the lower part of Dalarna. This is where the biggest cities are to be found. One of them is Borlänge. It merely has 50.000 inhabitants, but is part of a cluster of communities in the Dala river valleys. To make the counting fair, I think one has to consider the complete population in a 50 km radius around Borlänge, just like the people of the national capital would not hesitate doing. Thus making Stockholm appear as big as possible.
Borlänge would then hold some 200.000 inhabitants. This handsome sum also includes nearby Falun, that together with Borlänge is more or less a twincity of 100.000 alone. Fast buses run every tenth minute on the motorway between the two downtowns, taking just about 25 minutes. A visit to Borlänge is hardly complete without also making a detour to Falun. Highly recommended.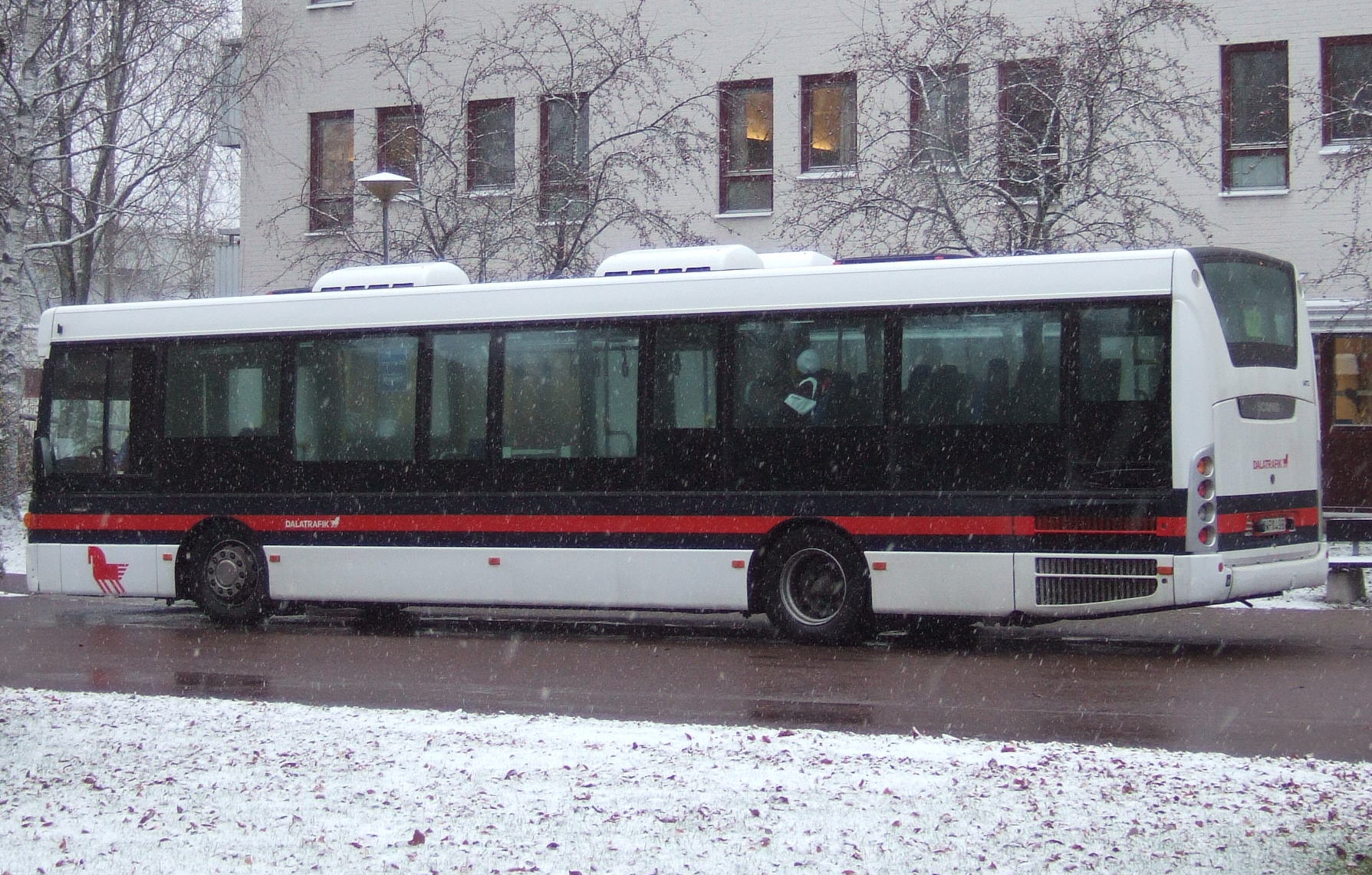 6472 avaiting departure on 602, by the hospital.
The future is bright (hopefully)
Borlänge is a sort of gateway to the rest of Dalarna, because this is where bouth railways and roads convene and fork. There is also an airport boosting the role as a transport hub. Originally Borlänge was a mining and workers town, while Falun in its role as state capital probably had a more stately ambiance, with the location of authorities, a garrison, and a hospital. Today things have evened out considerably. Now Borlänge is likely the place to be for the future, not only as it retains a Future museum (!). There is a university, a major mall, and the main offices for two federal authorities; the national road department, and railtrack authority.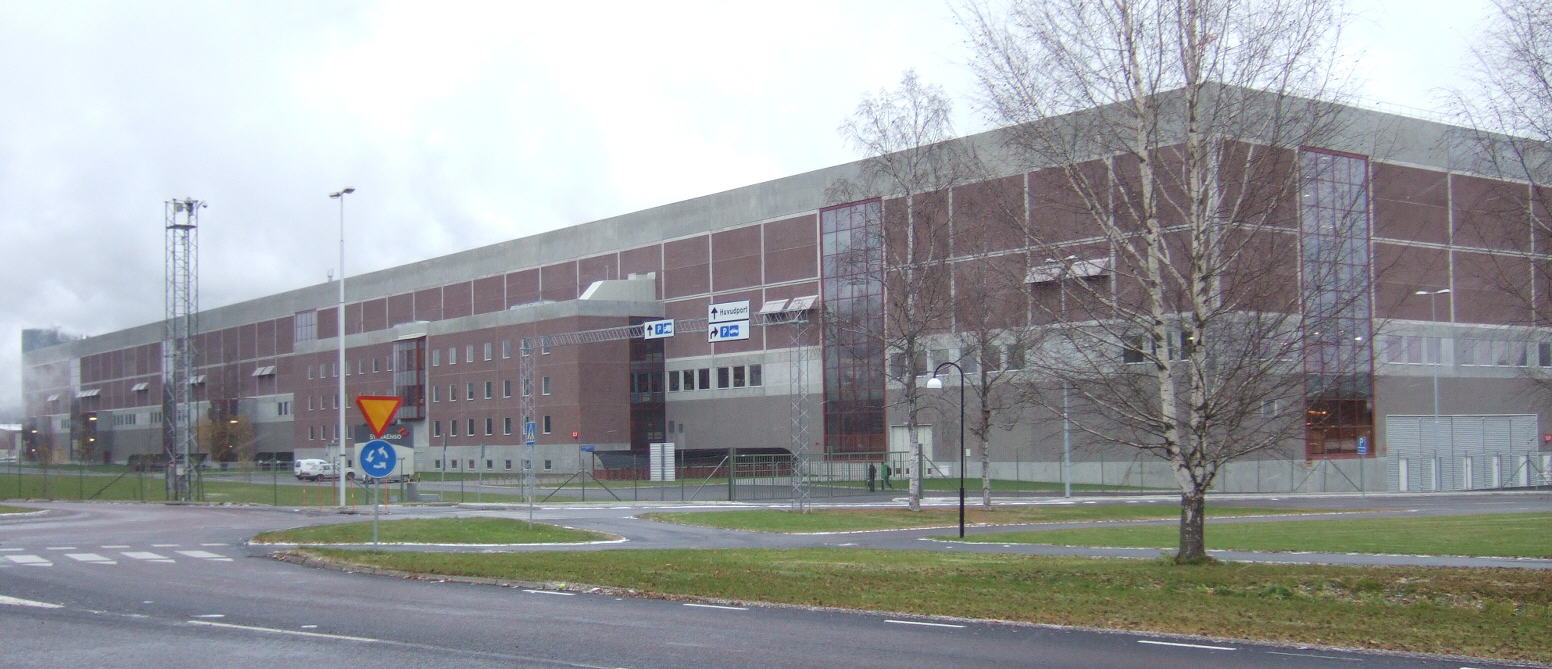 Kvarnsvedens paper mill.
Typical features
Major industries are SSAB (Swedish steel), and Stora (a company founded in 1288, as the worlds oldest shareholderownded company). The aforementioned future museum is situated a little bit north from the tourist office, and along the railroad. The road museum is encountered a bit further in the text. There is a geological museum, and next to this, Jussi Björlings museum. Dedicated to probably the only international celebrety hailing from Borlänge. He was a fabulous opera singer with a world reputation. Those interested in the matter will find it rewarding to pay a visit. A thorough investigation of his succesful career awaits. A curiousity: when visiting the museum i learned that Jussi endorsed a radio named Centrum. My Tv-set is of that mark, that I had previously never heard of until my brother brought it as a gift the other year.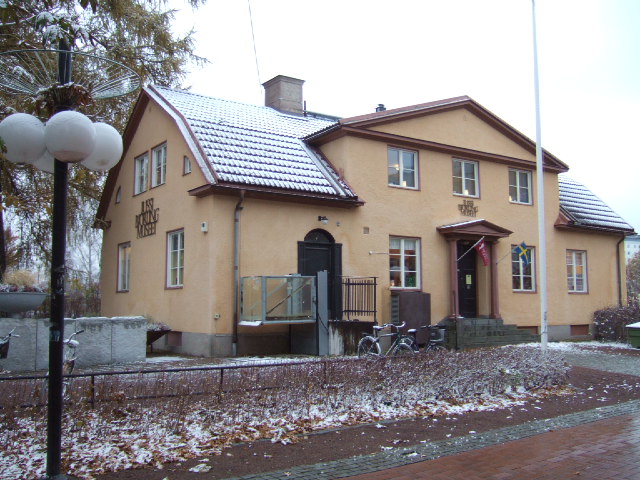 The Jussi Björling museum.
Bus lines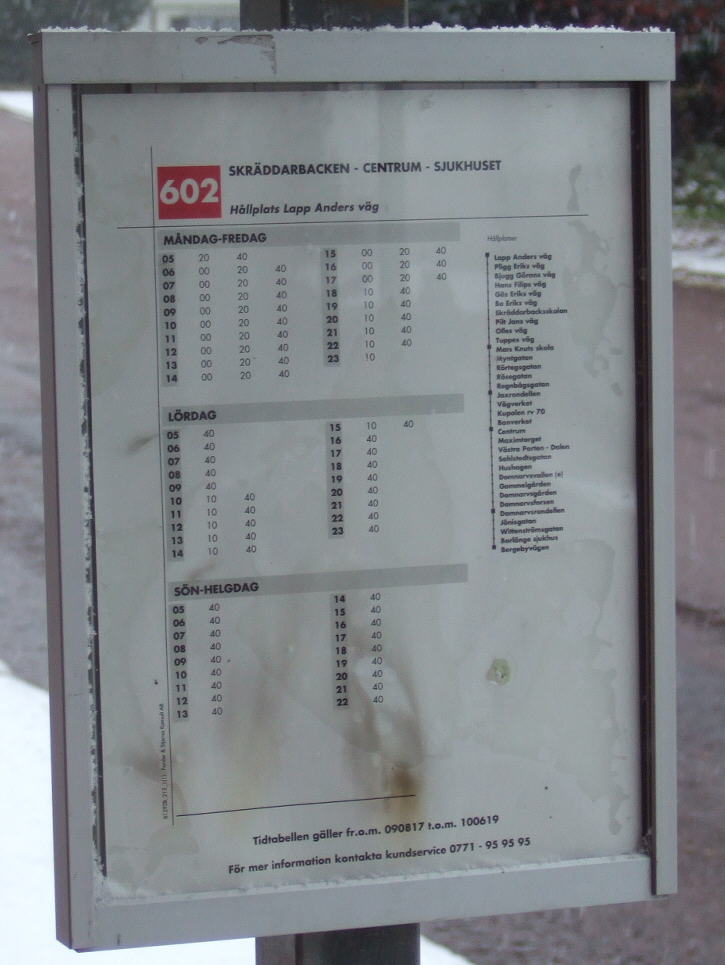 The three trunk routes 601, 602 and 603 operates a twenty minute service schedule. A ride along each of these will give a decent grip of Borlänge. If you want more, there is also two less frequent secondary services, of which 604 is the only viable to ride (every hour).The northern part of both 601 and 603 ends in Kvarnsveden, a former separate village in its own right. A short walk to the north will end up in the woods, and to the west is Dala river.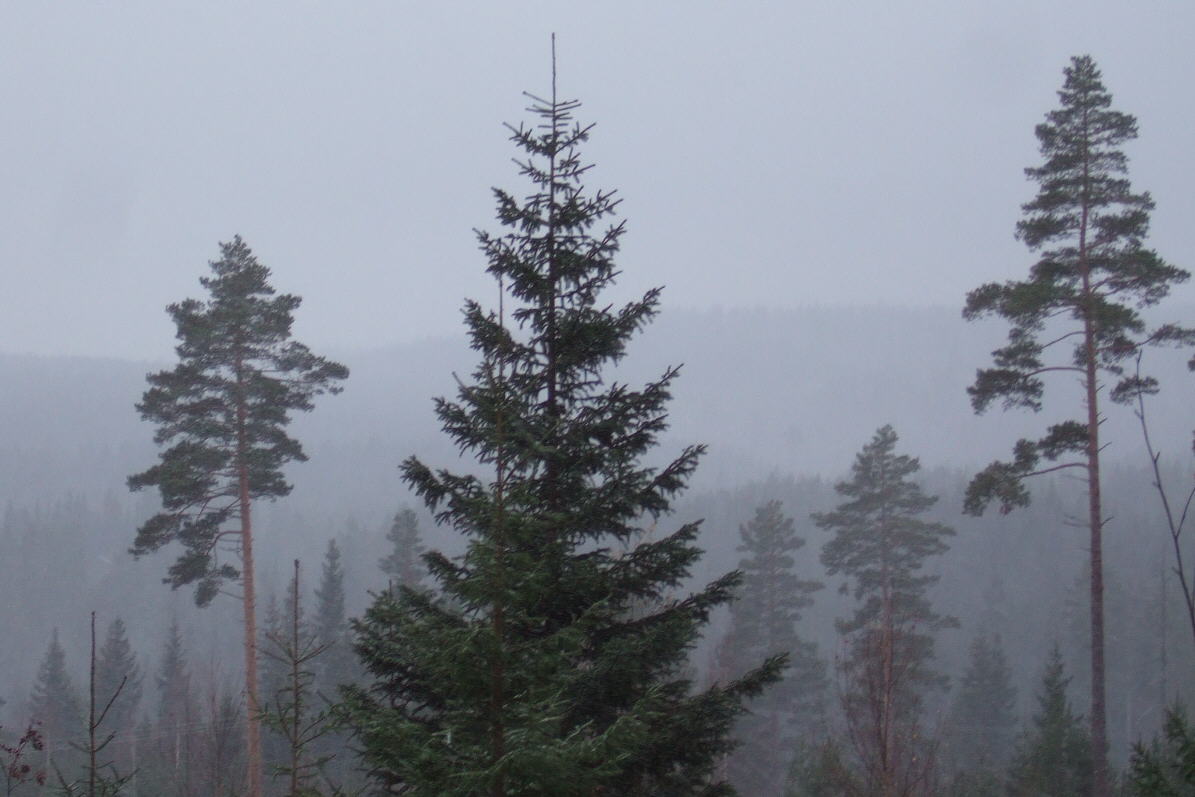 Skräddarbacken, looking west to the "wilderness".
The southern section of 601 passes the site of former Romme drill ground, now partly a natural preserve. The bus ends by the airport. Further away is a skislope, Romme alpine. 602:s eastern half is rather short, and takes you to the hospital. Once again there is a skislope in the vicinity. The western route of 602 is almost literally ending in the woods, where the tranquil qualities of this mostly wooded state comes to mind. Eastbound 603 terminates a stones throw from the national road departments museum, that exhibit models as well as lifesize excavators and the like. Entrence is free of charge.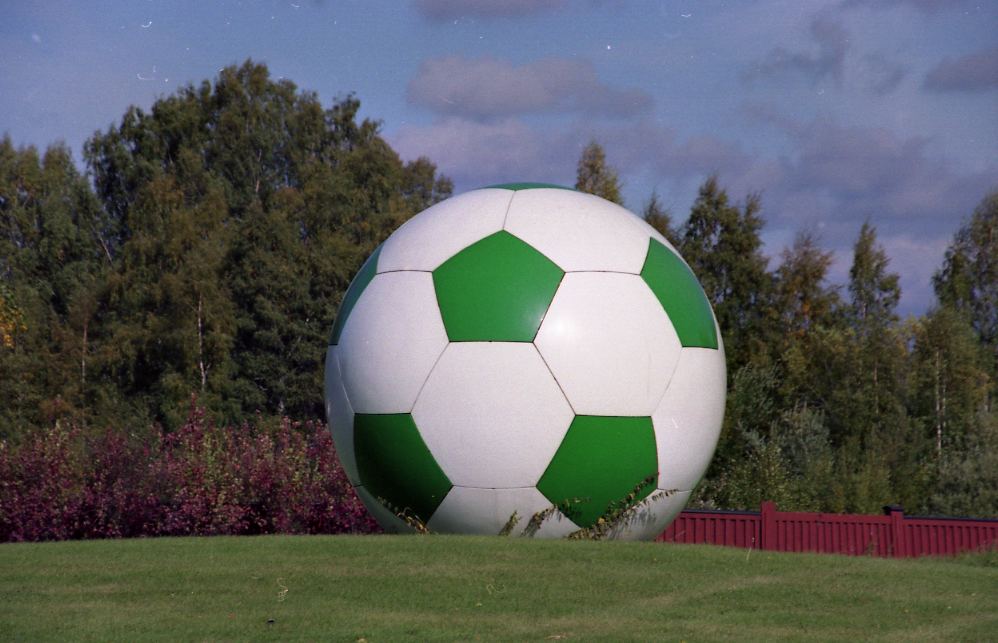 A giant football as artwork in a roundabout.
Bus 253 also ends in this neighborhood, while 254 use the staion as turning point. They each run every 20th minute, and convene downtown for their common route to Falun. If you do'nt have a map, but still a very good spatial sense, you may get the feeling that there is a lot of "air" between most bus lines. This is true, as the city is somewhat incoherent. The routes are mostly following the structure of the built up areas, so what is missing in between is mostly industial areas, fields or forest anyway.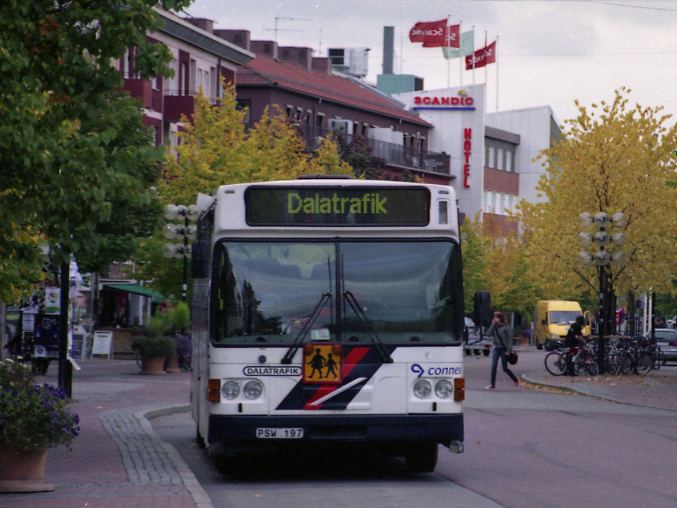 Stationsgatan.
Service numbers in Dalarna
An explanation of how bus services are numbered is useful for any visitor. Mostly low numbers of two digits, means that it is a longer distance bus. There does not appear to be any obvious logic behind how those numbers have been dispatched. However there is a system for the cities, that use three digit numbers. One hundredth series is reserved for each of the places that have local buses. Those starting with 300 is to be found in Avesta-Krylbo, 400 in Ludvika, 500 in Mora, 600 in Borlänge, and finally 700 in Falun.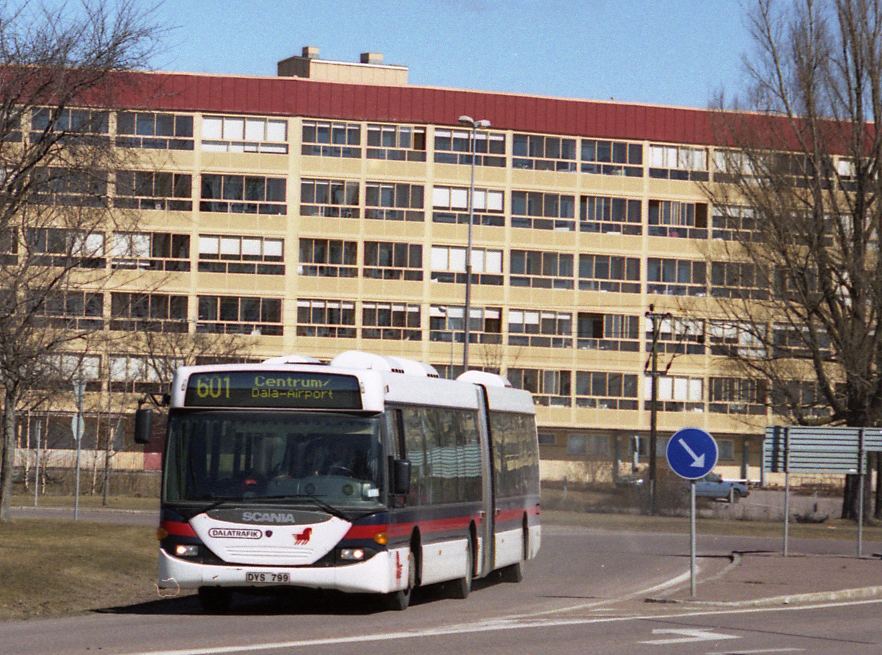 Hushagen with a scenic curved apartment building as backdrop.
Vehicles
Borlänge mostly use Scania Omnicity, but some used Volvo buses from K state can also be seen. Even if they are repainted, the seats fabric debunk their origin. Although Dalatrafik is the state transit company, undertakers are solely used. For the time being Swebus is the only company in Dalarna, even as a recent tender increased the cost significantly, compared to former contracts, involving several companies. Linjebuss, had the buses in Borlänge before, with artics running every halfhour on the important routes.
Tickets can be purchased onboard to the moderate price of SEK 20. If you need a transfer for a bus going outside the city, be sure to mention this when paying, as drivers can be reluctant to add zones to that ticket later. Otherwise the staff is friendly, and will not look the other way when you board, but rather say hello.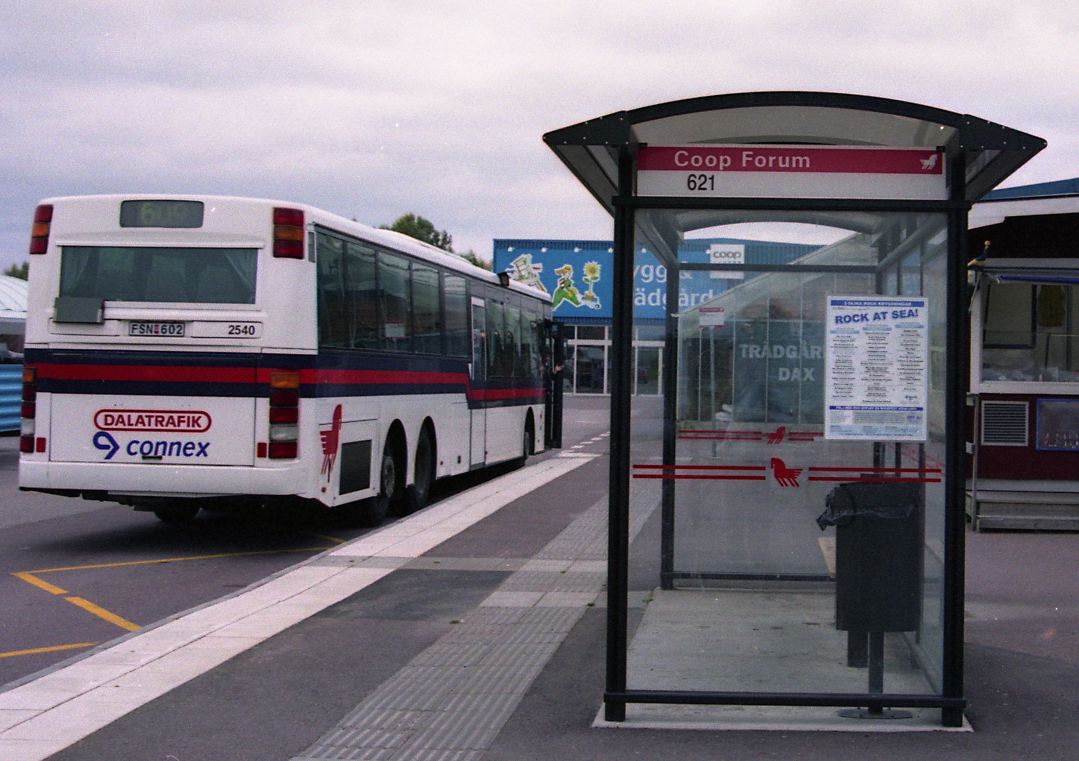 Discontinued service 609, by Coop Supermarket (one of two).
How to get here
Dala airport is surprisingly close to the city. It was for many years a military airfield, but was first used for flying as early as 1913. Charter aircraft operates to Thailand, Spain and Crete. Beside this, there is only domestic flights to the biggest cities. If You come by international air to Stockholm-Arlanda airport, it is also feasible to take atrain directly to Borlänge, from an underground station in the terminal building. If you come by car, avoid the so called Dala race, taking place before major holidays from Stockholm and back. When coming from the westcoast, or via Denmark, the road E45 is passing some 100 km from Borlänge. This might be a better option.
Sveatorget downtown.
Links
Dalaflyget: airlines operating to Dalarna
National road department (multiple languages available)
National road department museum
Museum of the future (English and German available)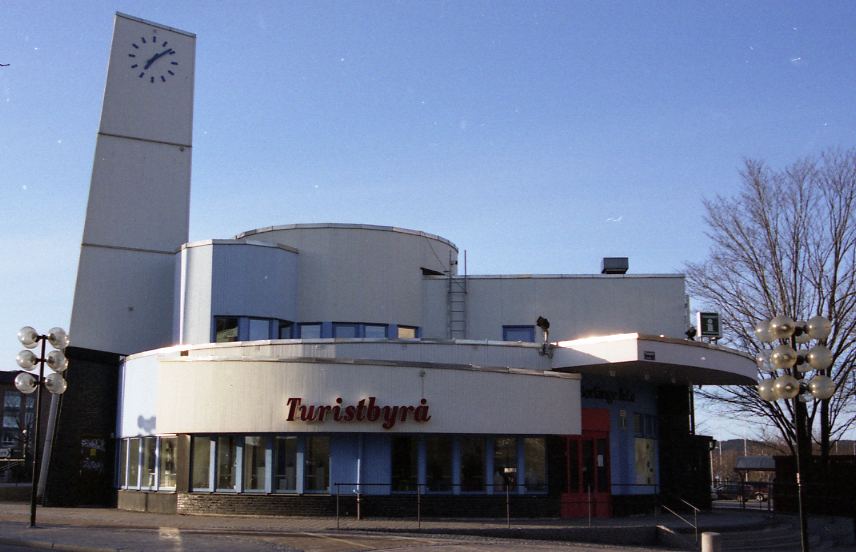 The tourist office in Borlänge.
---
© Busspojken 2010