Borås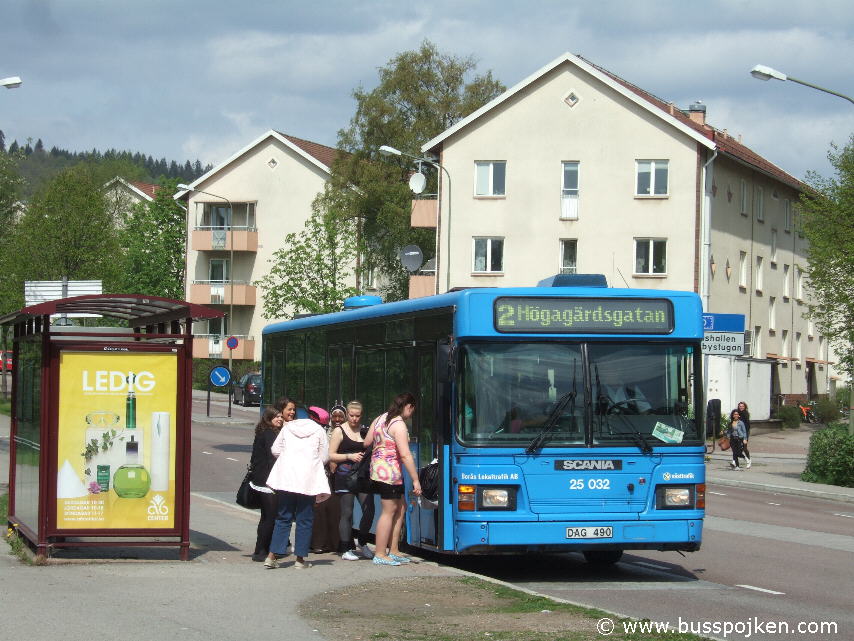 25032-2, Almåsskolan in May 2010.
Main industries
Borås is the natural Swedish epicenter for both the clothing industry and postal order business. Swedish textile and garment production moved to a large extent to southern Europe during the 1960:s and 70:s, the same way it is now moving away from Italy and Portugal to southeast Asia. Most of the companies that survived this is today active in Borås. A natural kinship exists between apparel and postal order. This have been crucial in the development for Borås as a hub for the modern internet trade, and also some private distribution of parcels.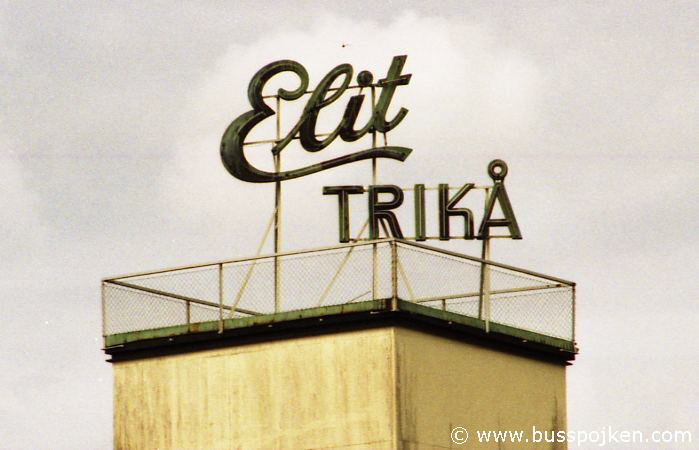 Neon sign seen from Centralbron (the overpass by the station).
Something related to all this is trade in general, for which Borås got a headstart. Long before todays free unregulated society, trade was only permitted at specially designated markets and cities. People from the area around Borås was however excluded from those restrictions. They could roam the countryside as travelling salesmen, or Knallar. Knallebygden is a popular term for the area, and naturally used as a name for the biggest mall Knalleland. Another name you need to recognise is Sjuhärad (seven counties).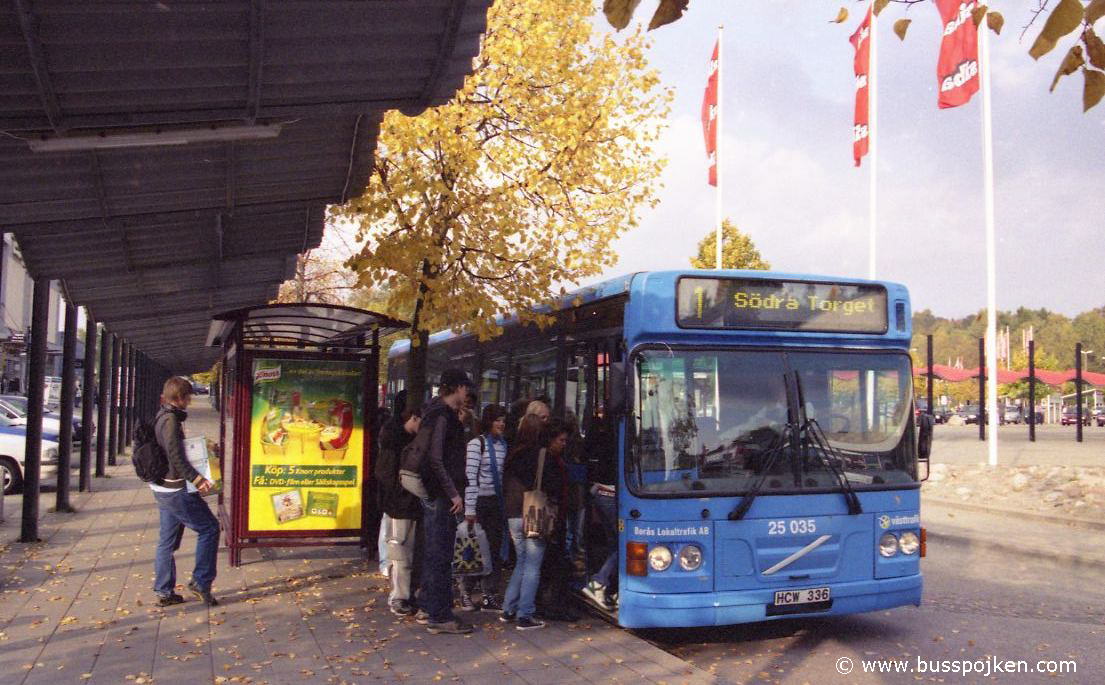 Volvo B10BLE 25035-1, Knalleland.
Borås is one of just 13 municipalities in Sweden that prefer to use the label city. The word city fell out of fashion somewhere during the period 1950:s to 70:s. That was the era when many small and large places merged with each other to form larger communities. This fast transformation was not reflected in peoples minds, and it became common to identify the home village as part of a municipality rather than saying city. The name could well be derived from some distant city.
Borås is nevertheless not very big in acreage, so city is a fitting label. All of Borås is for the record just a little bigger than New York city, but less populated. In fact the song "New York, New York" has a Swedish translation that goes like "Borås, Borås"! Click the YOUTUBE window above. The song is performed by Galenskaparna, and is accompanied by some fine pictures from the city.
Ellos postal order clothing company in 1999.
The most internationally renowned person coming from Borås is likely the author Henning Mankell, with 30 million books sold. A former state minister - Ingvar Carlsson - is also from Borås. Companies with name recognition mostly in Sweden include Volvo Buses, Ellos, Hobbex, NetonNet, Halléns, Gina Tricot, Brämhult juice, Oscar Jacobson and Josefsons. A lot more companies have anonymous distribution centers in Borås too.
Other special traits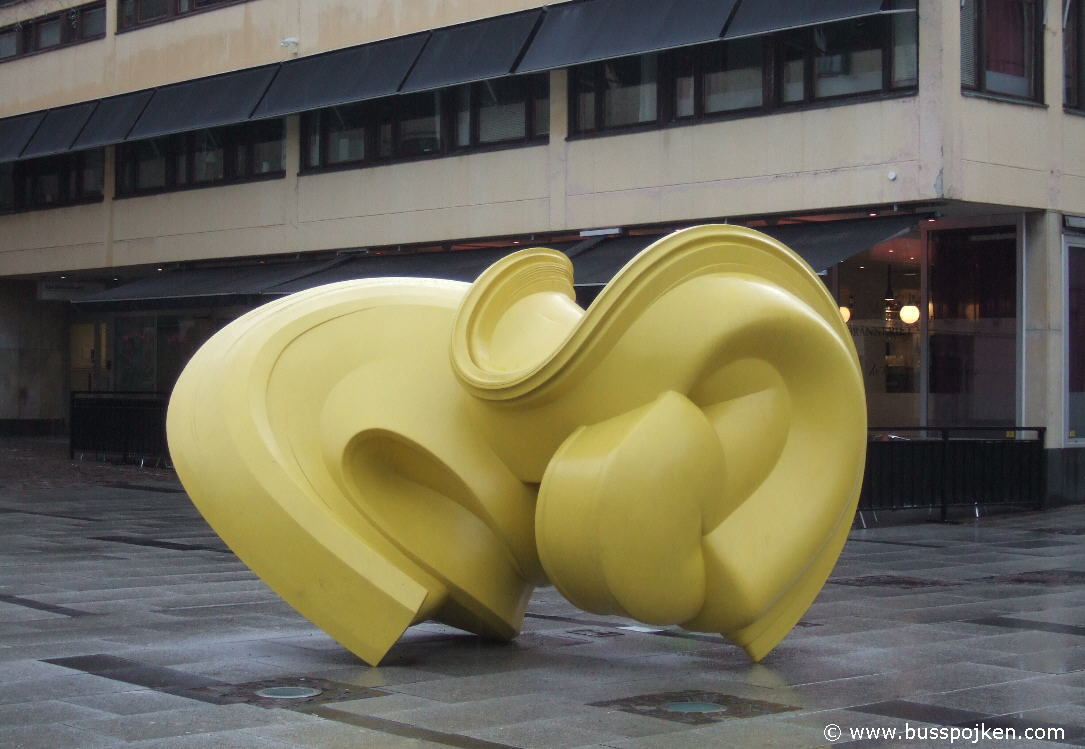 Declination, sculpture in downtown Borås.
Other idiosyncratic features is the university Borås högskola with 10.000 students. Borås is also promoting itself as a destination for the watching of public sculptures - there is quite a few. A less agreeable statistical truth is that Borås is the rainiest city in Sweden - make sure to bring an umbrella. It is not raining all the time, but some rain and thunder in summer afternoons is hardly unusual.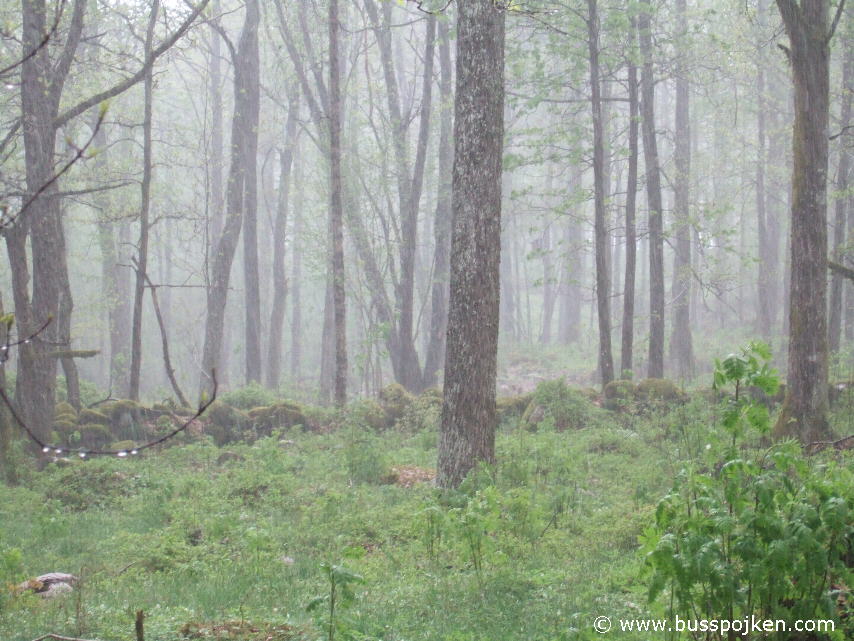 Downpour in Brämhult (later the same day as the picture on top).
Something else to note is the hilly character of the terrain all around the city, except for the small downtown alone. This makes it hard to appreciate the size of Borås, that with over 100.000 citizens is a lot bigger than it appears at first glance. The hectic car traffic, and by Swedish standards, rather generous headways of the city buses will point in this direction. The geography offers some fantastic opportunities for striking pictures, where a backdrop of houses or trees climbing up the hills could often be present.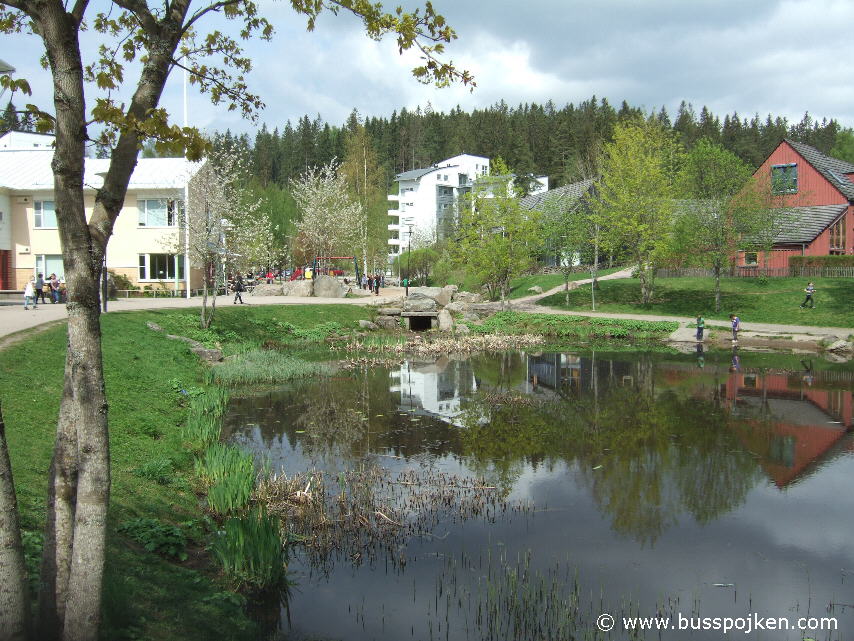 The small dam in Hestra.
I like how Borås is planned, with its often meandering and surprising turns of the neigborhoods and streets. It is just amazing how many bulky apartment buildings "flow" ever so softly through the topography. There is not many straight angles in Borås. A former housing exhibition area i could recommend, is seen by the western terminus of route 8. Hestra has a deal to offer for people interested in architecture, or just like to watch handsome buildings.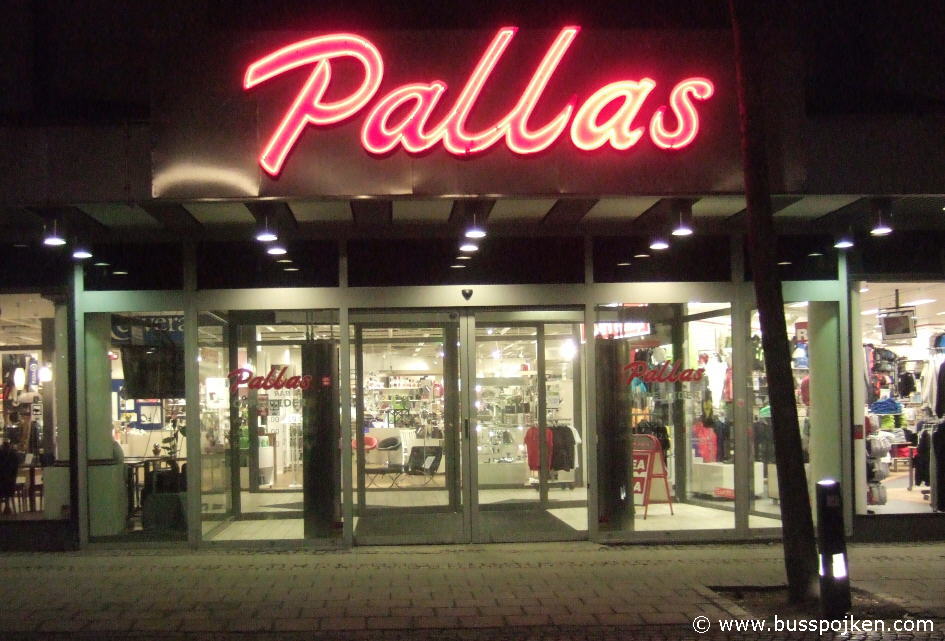 Neon lights at Lilla Brogatan.
Commuting
The proximity to Göteborg is both a blessing and a bane. Borås will easily end up in the shadow of the bigger city, while it can also be considered a part of the metropolitan area. The connections have until resently been notoriously bad, with an unintelligible mix of a few buses and trains per day. The freeway got 4 lanes all the way as late as 1994. Today no less than 25.000 motorists make a daily commute between Borås and Göteborg. Only 900 go by train.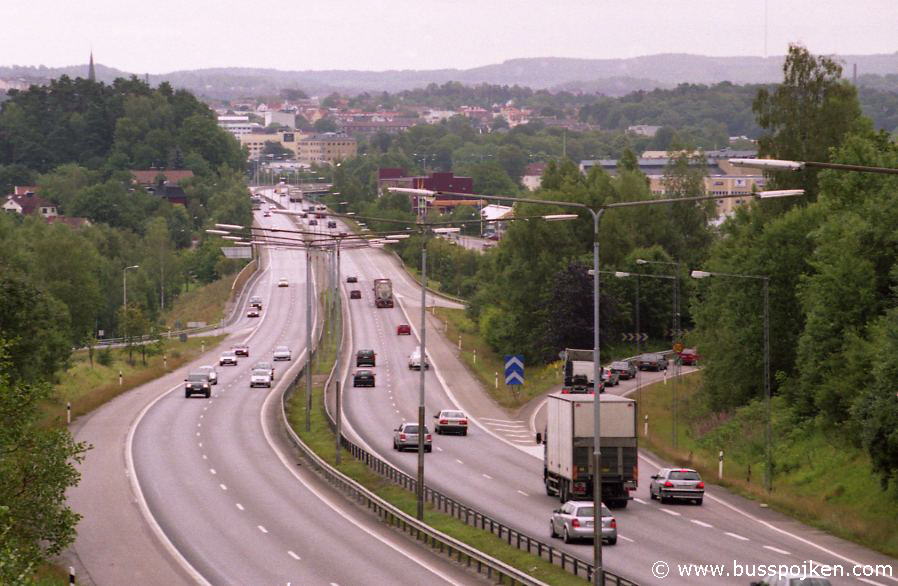 Interstate 40 looking downtown from Tullen, in close proximity of route 2.
From December 2010 at least the bus service finally got a much better schedule. Some hourly departures was in an instant swapped for a whopping 10-minute headway during the peak hours, and othervise every halfhour at regular intervalles. A major improvement indeed. The same ticket system applies for both this service, aswell as the local transit in each respective city. Great!
Bus services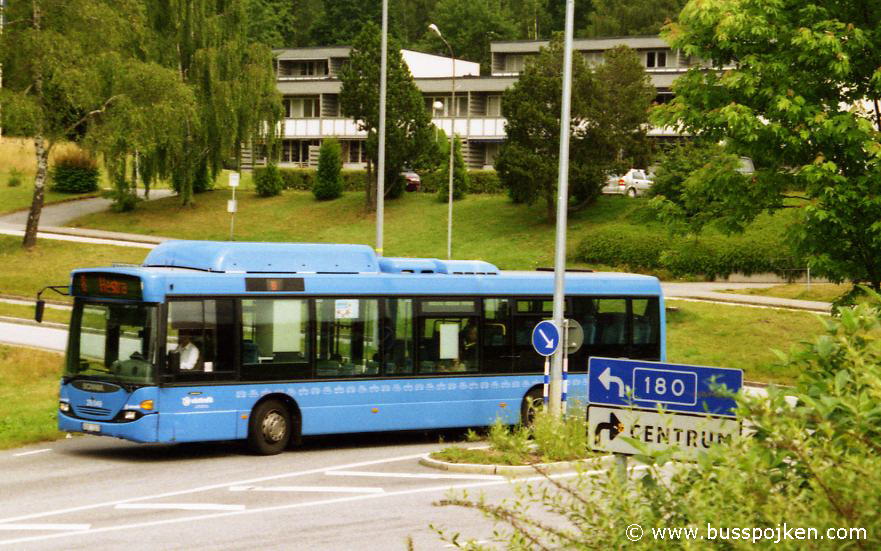 Scania Omnicity 25049-8, Symfonigatan.
First the company name: Borås lokaltrafik, abbreviated as BL. This is among the last of a decreasing lot of public transit undertakers left in Sweden. They won the latest tendering procedure, but the company will naturally be lost forever, as soon as they would lose out at any future occasion. A public works will not be restarted for a new round of tenders, so the competition in the field will eventually lessen. Rather ironic indeed.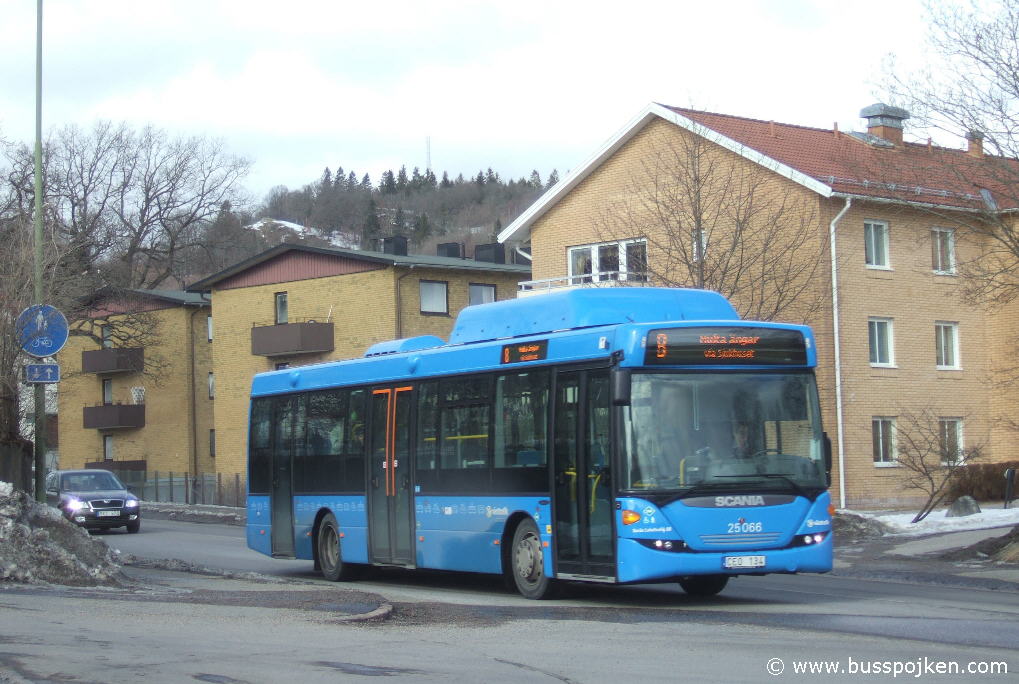 25066 is a Scania, in this former Volvo redoubt. This kind of unspoken alliances do not exist anymore. The same goes with Katrineholm (former seat of Scania buses).
As virtually all transit enthusiasts are men, and men by default are politically conservative, I guess that most of you out there dislike a public company. The problem is that right wing politicians rarely support transit either. I hope you fellow enthusiasts could urge a change to those parties from within, rather than trying to make you vote differently.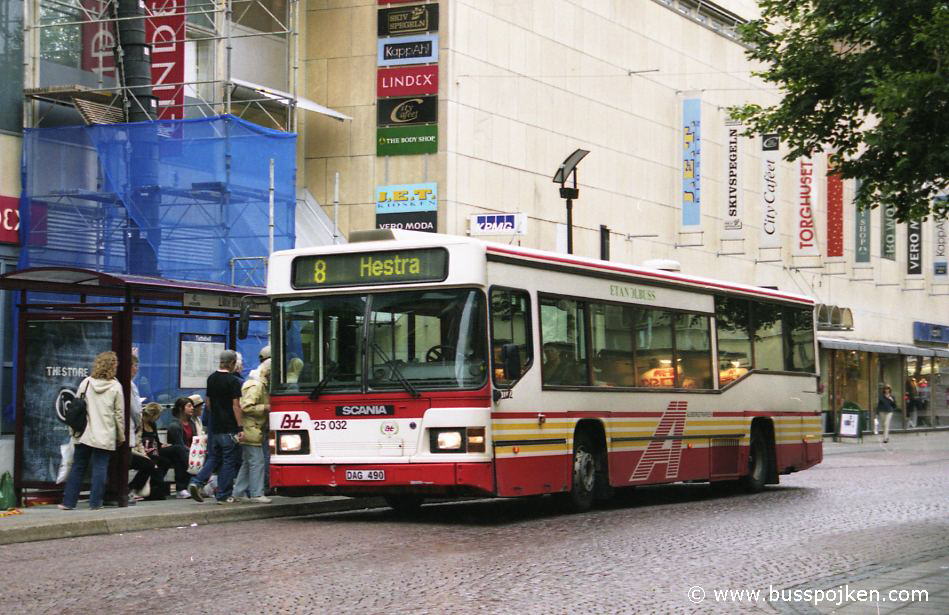 Scania Maxci 25032-8, Lilla Brogatan.
There is 8 frequent city routes. 1 has the best headway, with a 7,5 minutes intervall. 2 is running every 10 minutes, while the rest has headways at 15-30 minutes. The schedules is at times a little bit tight, so delays may occur. If there is any time left it is as often whiled away at Södra torget, as the locations by the end of the lines. A perfectly good map is plastered at the middle of the buses. You can also print your own copy from the internet, by the link below.
Map for Borås local routes as PDF file. I hope the link will work even after a while, as any location on the internet is notoriously fast changing. The map is opening in a new window, that may make your browser to block this action, depending on the settings.
MAN 25040-2, Brakteaten in September 2005.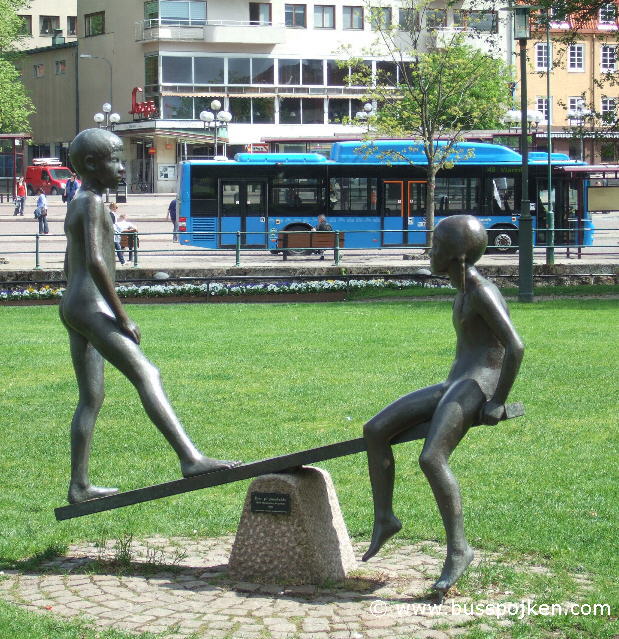 Either it is intentional or not, it is very obvious how perfectly the building density and areas covered matches the preconditions for good bus services. Then again this could easily be a light rail city, if everyone used transit. The hills are hardly too steep for trams.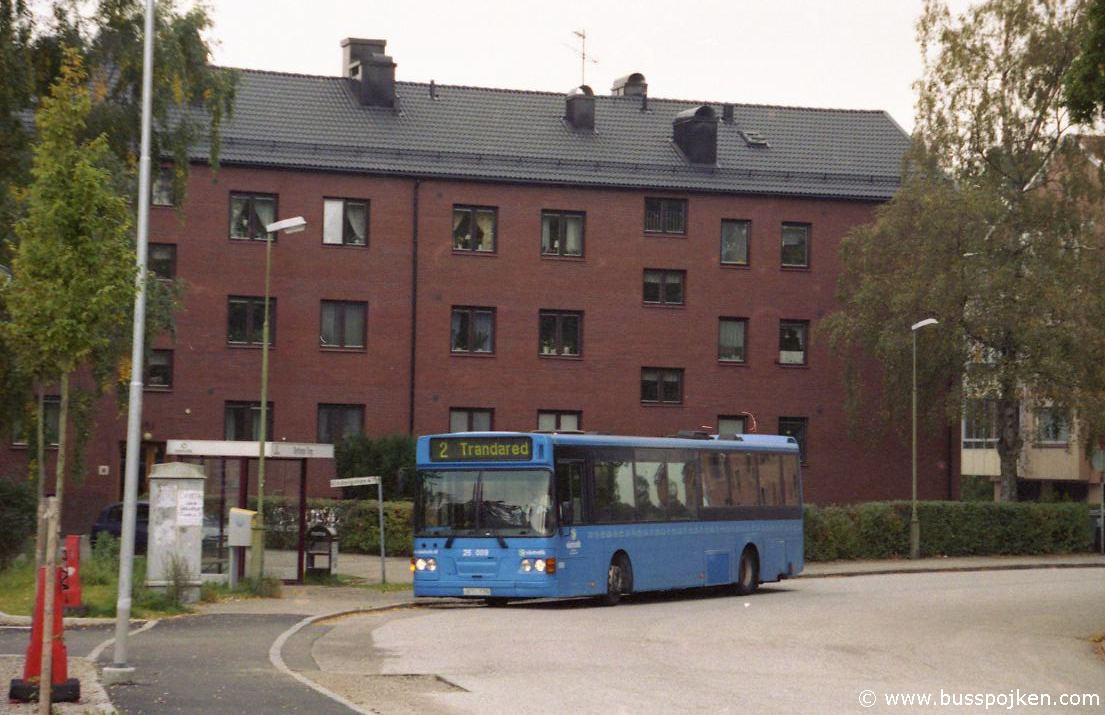 Volvo B10BLE 25009-2, Byttorps torg.
The buses I like the best are routes 2 and 8, but try as many as there is time at hand for. Most of the network can be seen in just one rather long day. The best picture locations is along routes 1 ,2 and 7. The best outlook views of the city is offered close to the western part of route 2. Many places along the lines are good for a picnic, or just settle for the coffe shops downtown. If you should need to pee, a discreet outdoor location is rarely a long walk away from any bus service, except for the most central parts.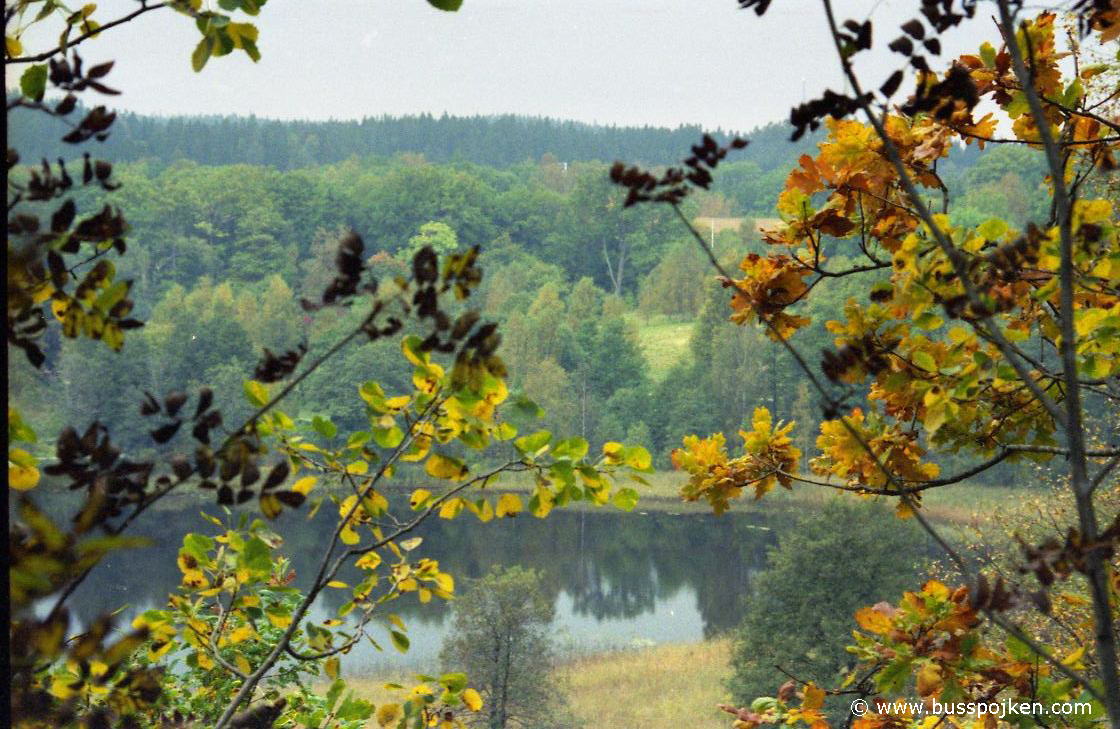 Kolbränningen right between route 2 and 8 in western Borås.
Beside city transit, there is also regional buses in Borås. These are often numbered in the 100 sequence. Do not confuse these with the same numbers in nearby Göteborg. Usually there is no multiple entries within a specific state transit company, but Västtrafiks area of operation is so vast that it would take 4 digit route numbers to avoid this. When asking for advice or searching the internet for schedules, make sure that it is not only the right number, but the correct area too!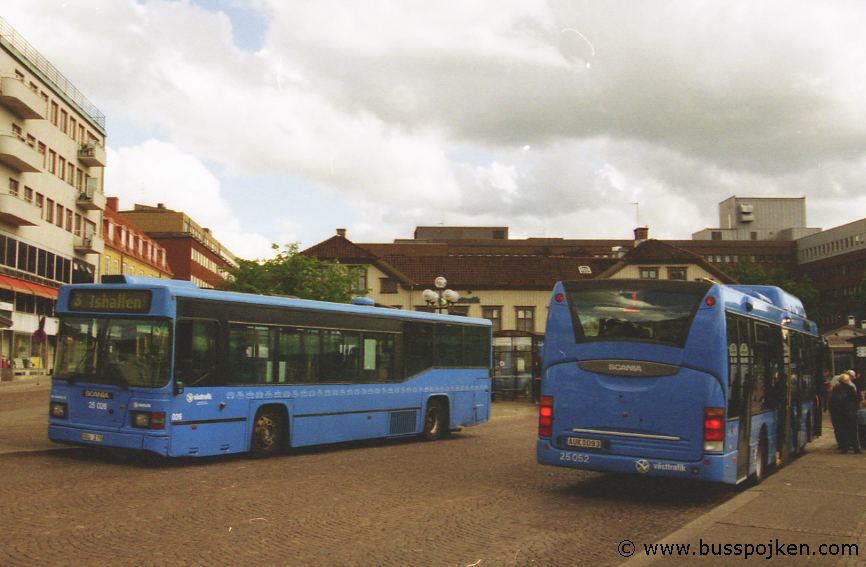 25026-3, 25052-1, by Södra torget in 2009.
Borås bus tickets
The tickets used is the same plastic smart card as in Göteborg. If you get the statewide one day or three day pass Regionen runt, is not always the bargain it may appear to be. You need to travel a LOT for that to pay off. If it is not a discount even for a transit enthusiast, who is it for then? The better options is usually to travel with the charged amount on the card. Present it barely touching the readers in local buses, that is 1 or 2-digit route numbers in Borås.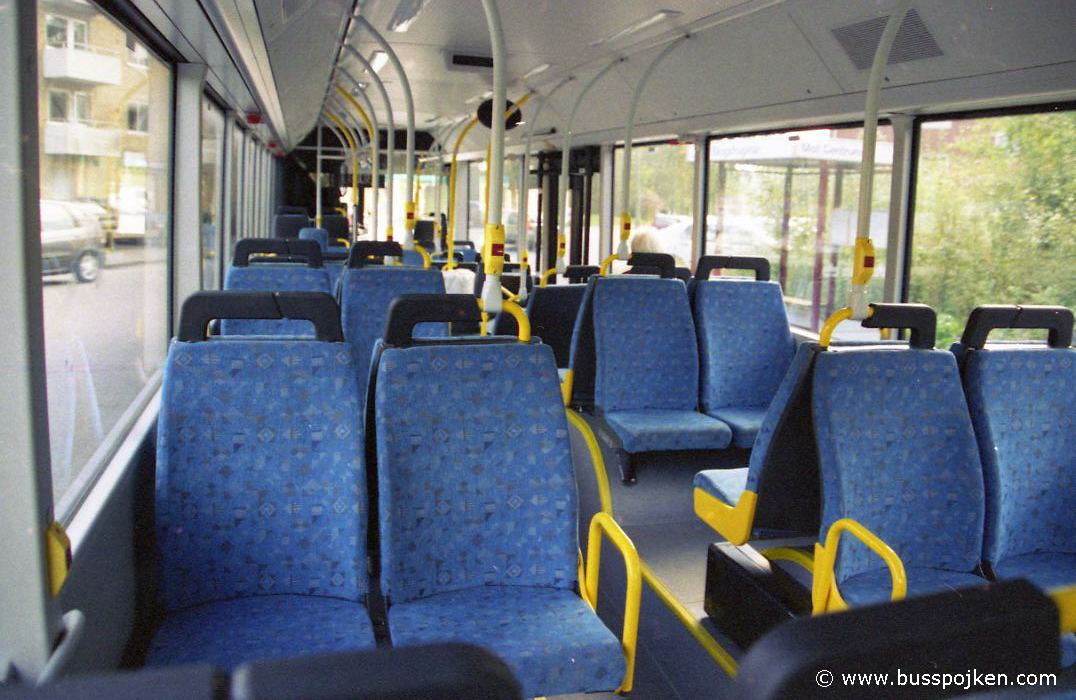 Interior of MAN 25074-1, Sjöbo.
When going for longer distances, like when coming from Göteborg, hit the + button before bringing the pass to the reader. When alighting from a + trip, just touch again, to automatically insert a refund, if you are not going all the way of the line. Thus it is not necessary to deside beforehand how far you are going.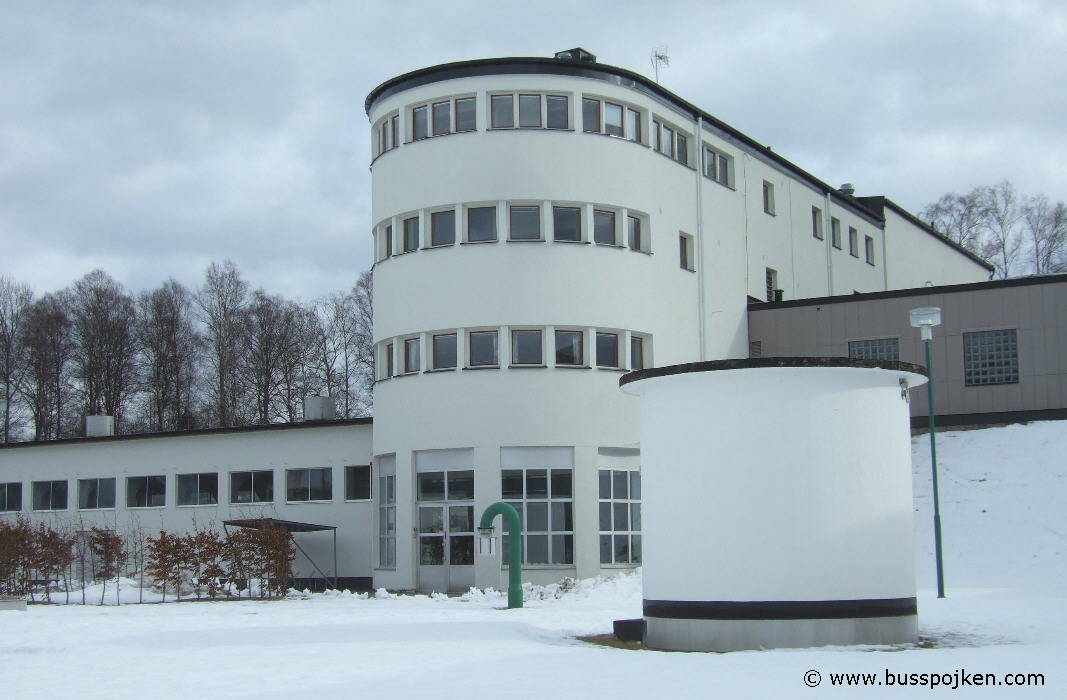 Sjöbo waterworks.
Further options to this, is a Kommun or Tätort daypass. Alas I think those are available in summer only, but you can always ask for them at any outlet. Many convenience stores and similar places have machines for the validation or refilling of Västtrafik passes. The validation is also done on buses, but if you should need to travel certain trains that don't have a reader, you can get a reciept of the content on the card (an active pass).
What sets Borås apart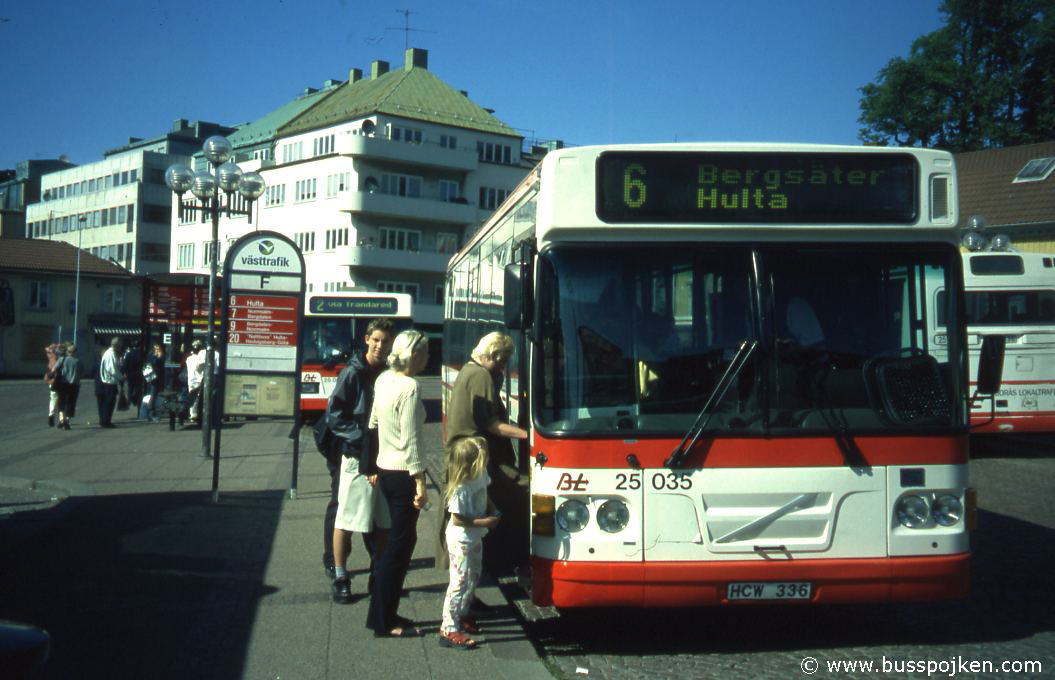 25035-6 by Södra torget, the central bus terminal. Note that this is the same bus as close to the top, but in another livery.
Something special for Borås is that ONLY the first door is used for boarding. Not even the second twin door, as there is two in front of all buses. One might wonder why Borås is not getting buses with just one door then, and space for one additional seat? Another peculiarity is the 5-digit fleet numbers, even as 2-digits would by far be sufficient for the local fleet at least.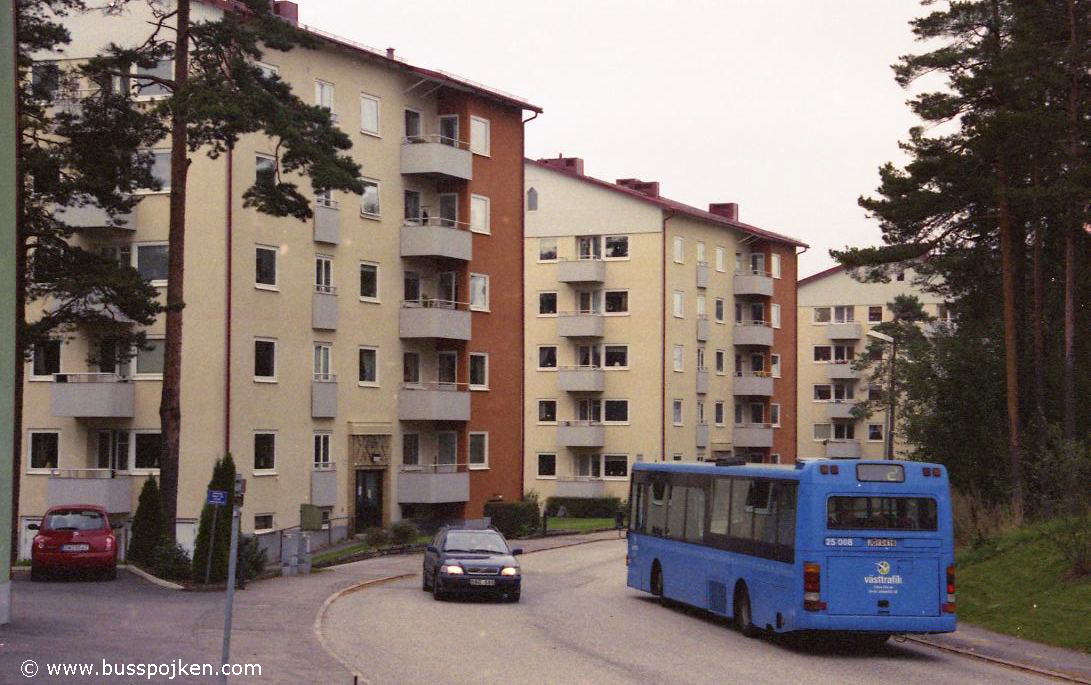 25008-2 at Vindelgatan (the meandering street).
The destination blinds had for some years a unique red colour, with white lettering. This fitted the former company colours. Very likable! There is electronic displays with these properties too, but if there still is any urge to be special, it does not seem to be deemed worthy of the extra cost. Sad. The subway stile route map has however a colour coding for every line. The printed schedules reflect this. Maybe there is some hope for the bus stops and displays too some day hence?
Borås vehicles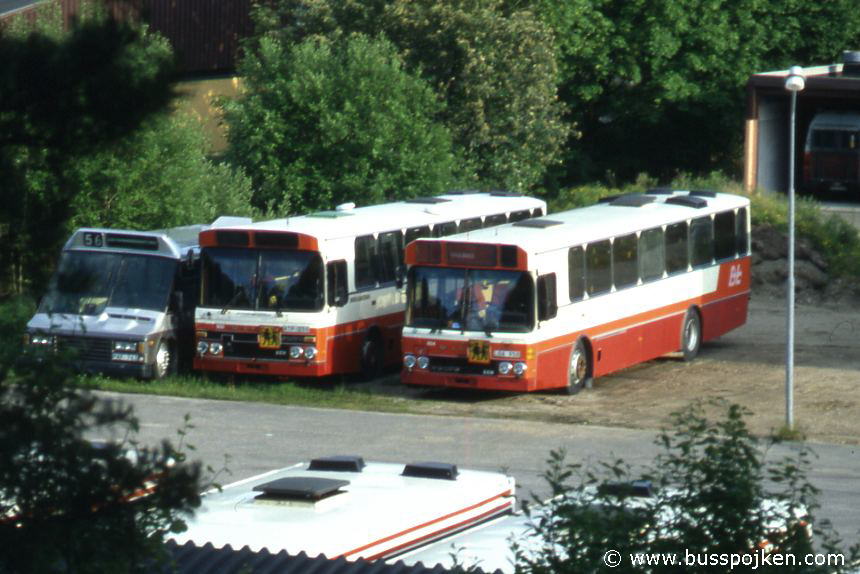 A suspiciously remote placement of these buses at the depot in 1998, indicate their demise. Orion to the left, and two Volvo B10M with Wiima bodies, and BL 1980s livery.
The vehicles during the 1980:s were mostly Volvo B10M with Wiima bodies, later called Carrus. The last regional buses of this type are just recently gone. In the mid 90:s some alcohol-fueled Scania went into service, and lasted until 2010. The Volvo B10B delivered about the same time went out a little before that. For a shorter period there was also second hand Volvo B10L with Carrus bodies, purchased from Lund. Those were rather old when they came to Borås, and did not stay for long either.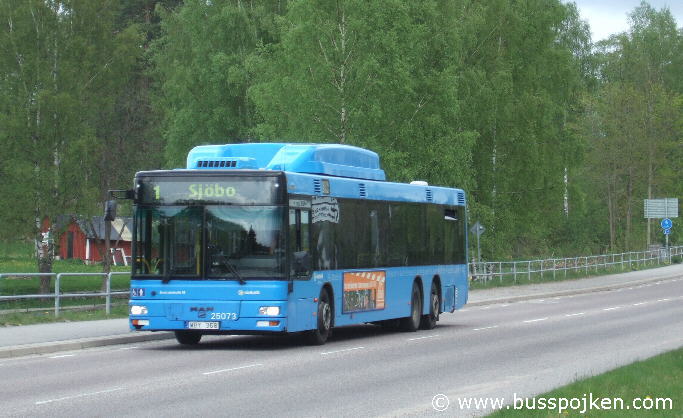 MAN Bogie 25073-1 speeding in Hässleholmen.
Now we are getting to the present fleet. Since around 2005 and onwards German MAN is the staple. There is both ordinary two, and also three axled bogie varieties of these. Some of the latest additions is a batch of Scania Omnicity, but MAN is by far most common today.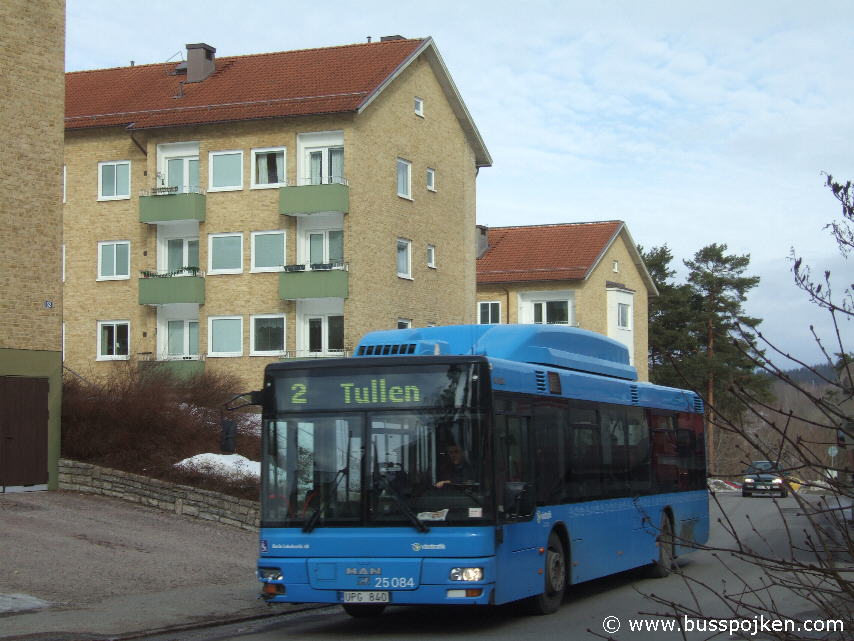 MAN CNG 25084-2 (former Göteborgs Spårvägar 733) in 2011.
Some CNG-powered MAN has been obtained second hand from Göteborg. For those interested in the exact wherabouts, the numbers are as follows: 25080=725, 25081=730, 25082=731, 25083=732, 25084=733, 25085=734, 25086=735, 25087=736, 25088=738. If you have seen them before in their former town, it could always be fun to know which they are.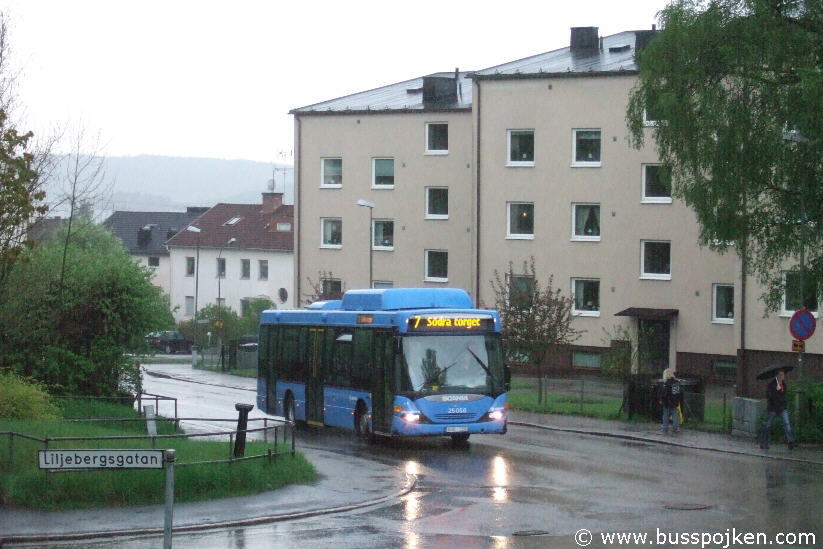 25056-7, Engelsbrektsgatan 117. When house numbers are included in the name of a bus stop, it usually spells small town. It is more rare in cities of this size.
There was also smaller buses for the slow tempo routes, a little like a handy van service on schedule. Borås started this Swedish trend in the 1980:s, and imported the Canadian Orion vehicles by their own. A smaller number was sold to other undertakers within the nation. The reason that those fell from grace, is most likely that a Swede would be embarrassed by having to replace a (somewhat) older vehicle with a new identical one. Orion looked the same for a longer period than most buses in Sweden are used. It is after all a tremendously rich nation. New vehicles are generally purchased even long before half their mechanical life is over. Midsize Neoplan was the last seen on those special routes, later sold to Falun et.al. Some cities have also rationalized the fleet, so that ordinary buses operate these "soft routes", if they still have them.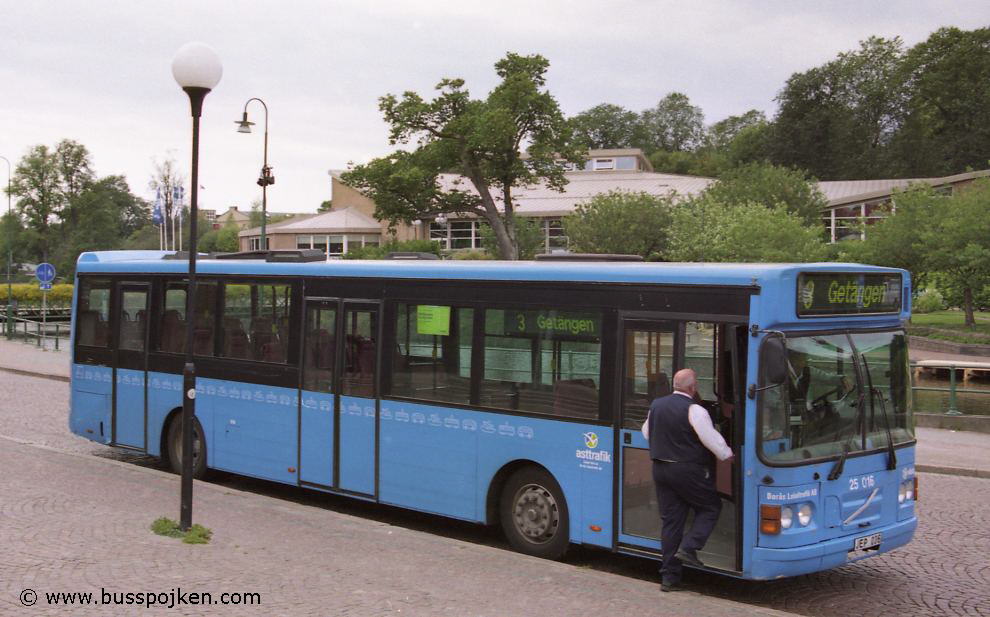 25016 by Södra torget in August 2004.
Borås historical bus pictures
These pictures will show some different locations and vehicles mostly around 1998-2001. The livery is to a good deal the old state colors of Älvsborgstrafiken. As this entity was discontinued in 1998, and swallowed by the merged state of Västra Götaland, the buses gradually became repainted after that time. It was fully achieved circa 2005. It should be mentioned that the location of the pictures usually refer to the name of the nearest bus stop, even if none is visible.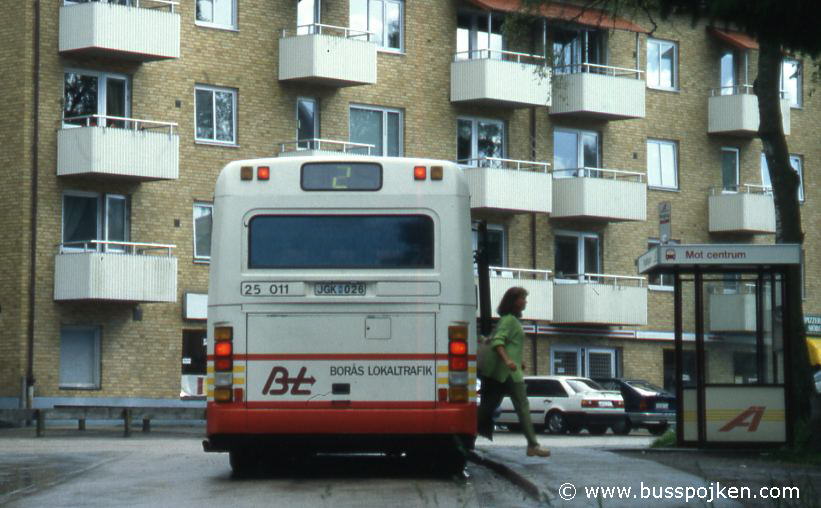 25011-2, Skogsfrugatan. Today the northern terminal of route 1.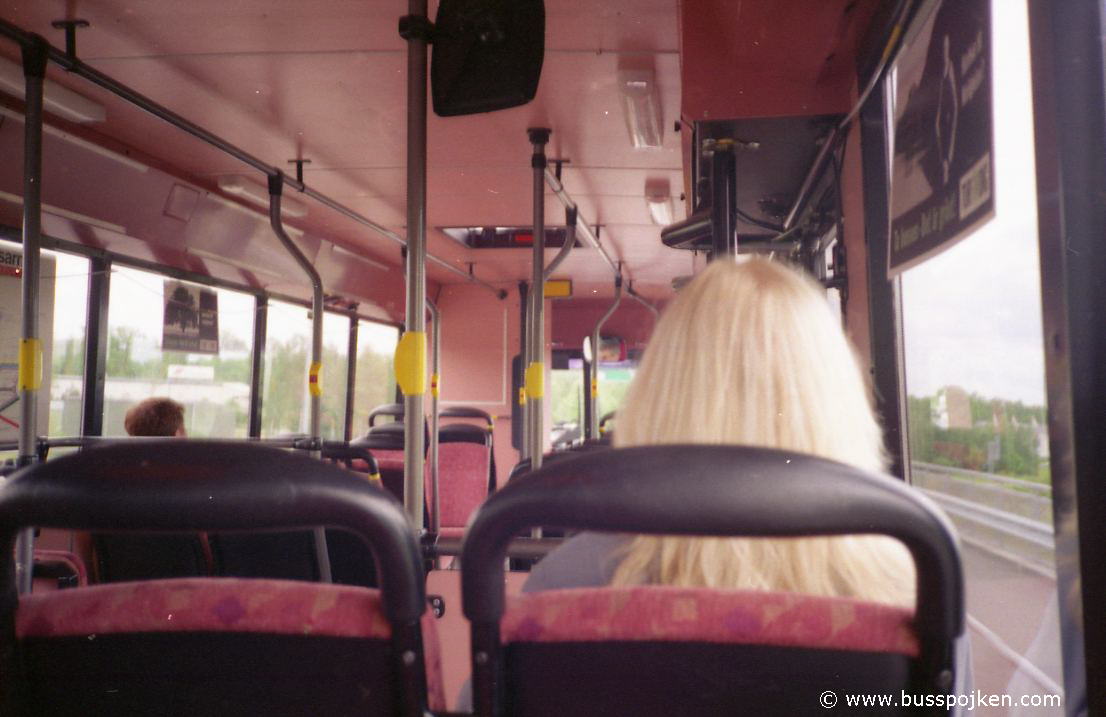 Inside Volvo B10M with Wiima bodywork. The interior had a very special pinkish-peach hue.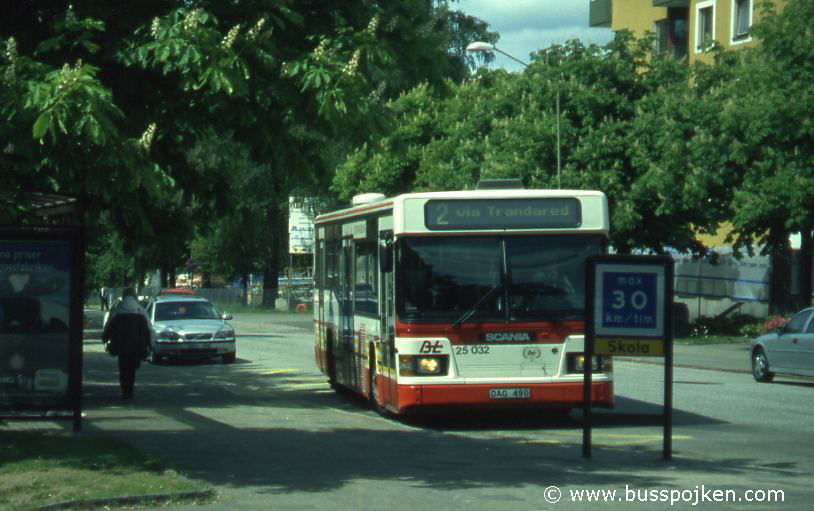 Scania Maxci 25032-2, Sjöbo torg in June 1998.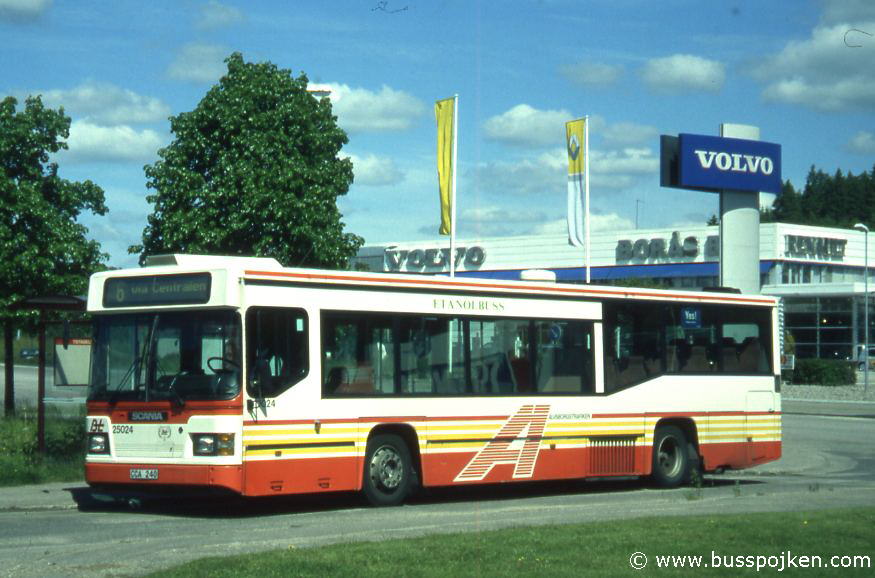 25024-6, Hulta.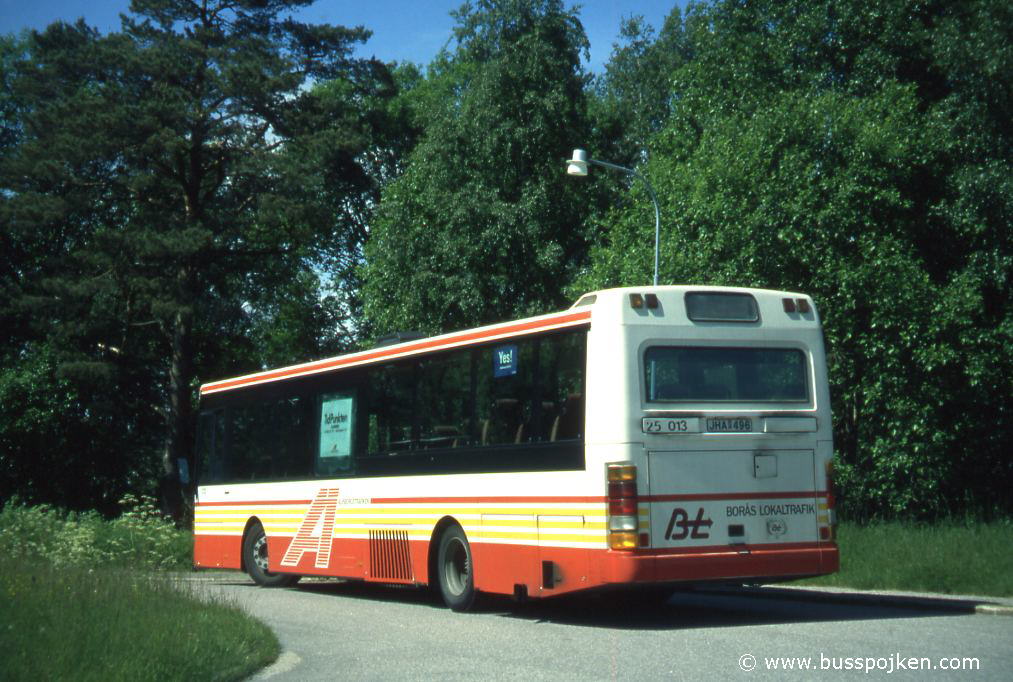 25013-2, Sörmarken.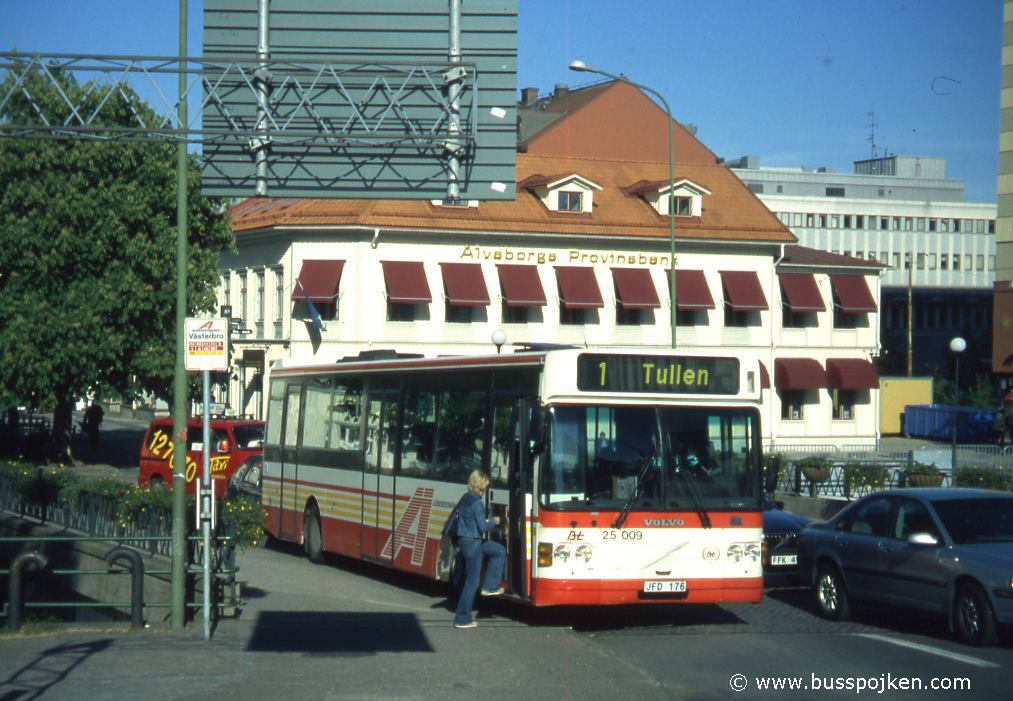 25009-1, Västerbro. Route 2 carries this destination nowadays.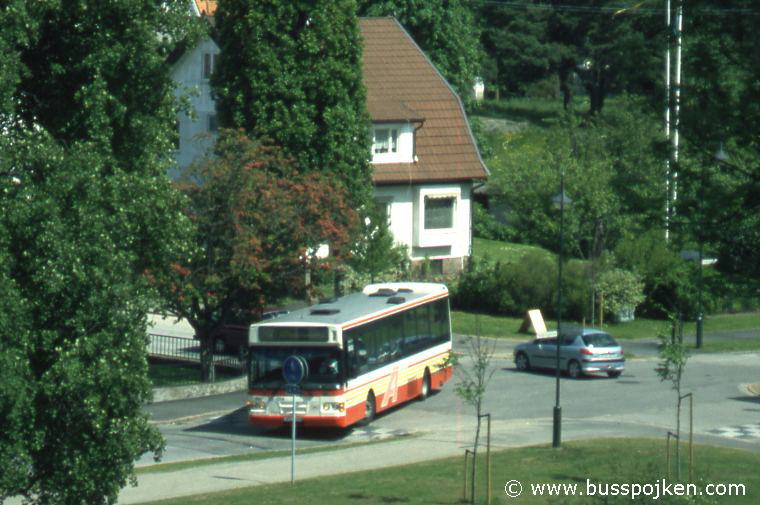 25014-7, seen from the park around the old water tower.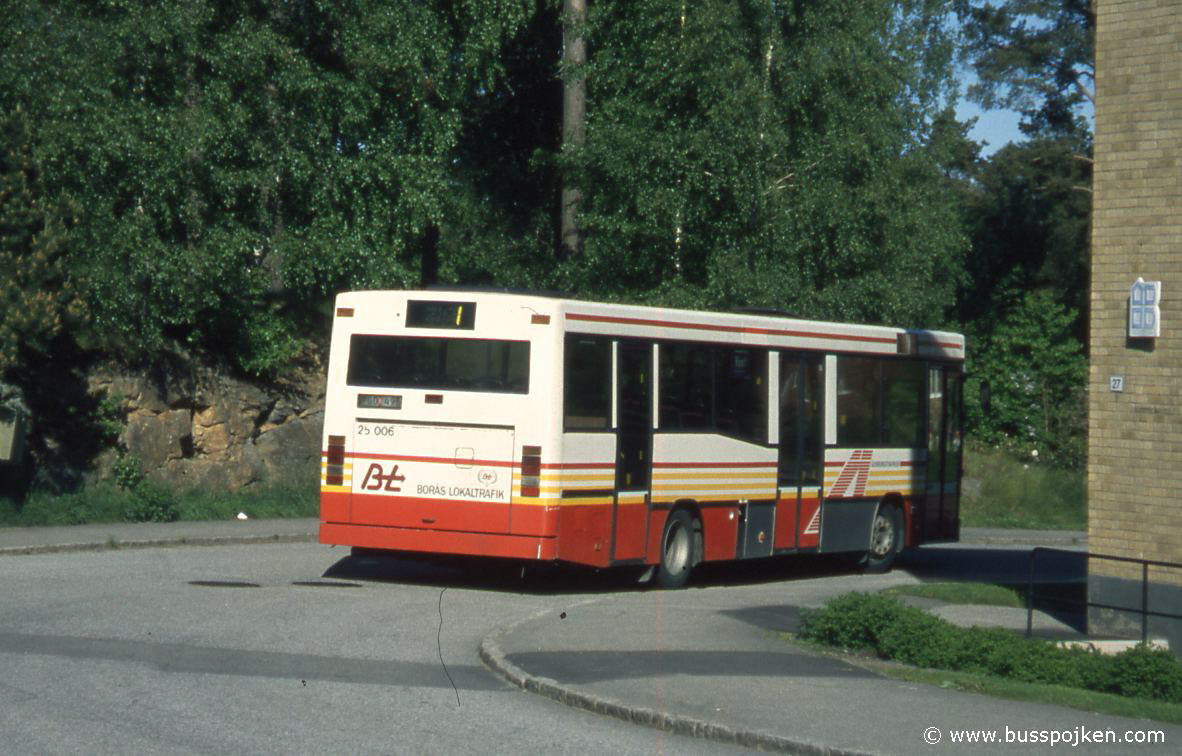 25006-1, Fritidsgården. This part is now operated by route 2, and in the opposite direction.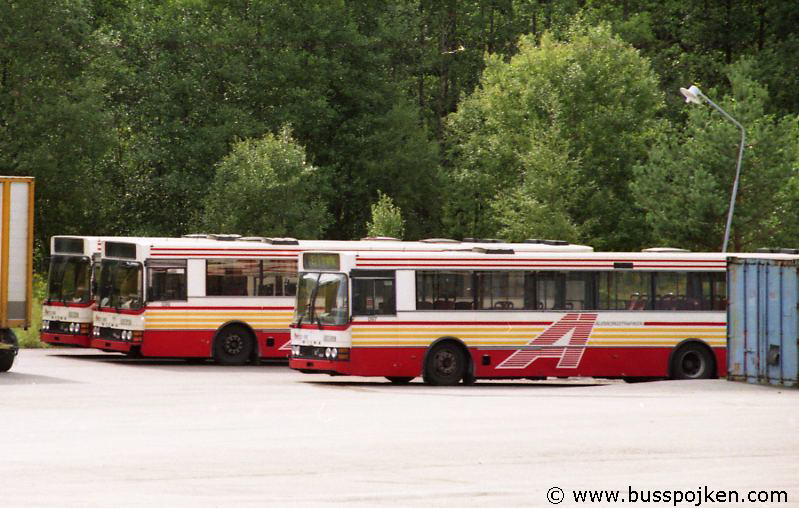 Strömsdal 2004. Waiting for the scrapman - or if they are lucky, export to eastern Europe.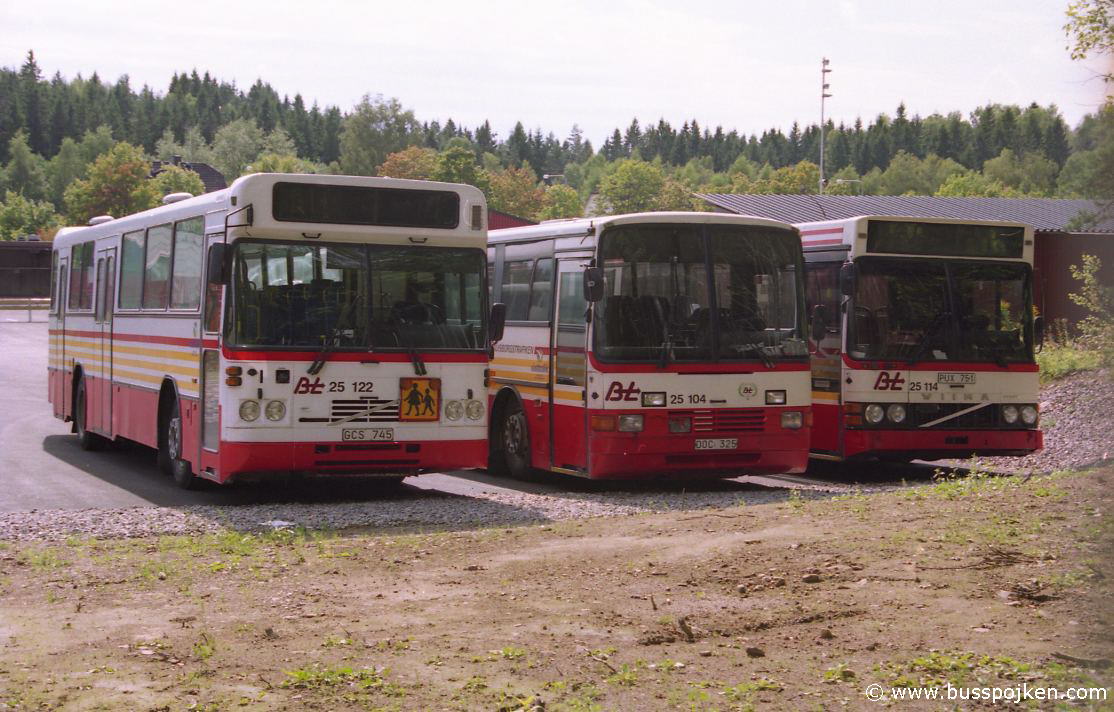 The depot with regional buses 25122, 25104, 25114.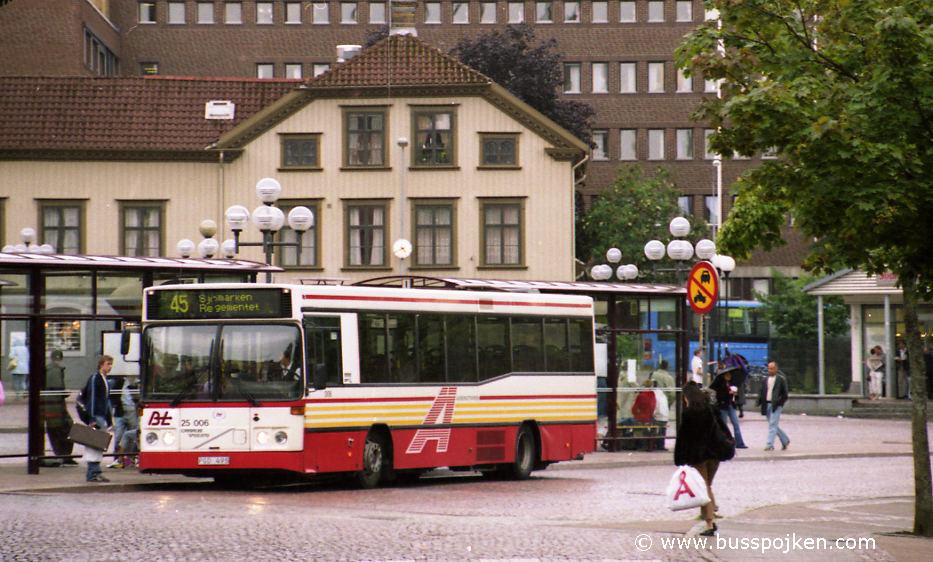 25006-45 by Södra torget in 2004. By then this was a rare Volvo Carrus still seen in service.
More to see in Borås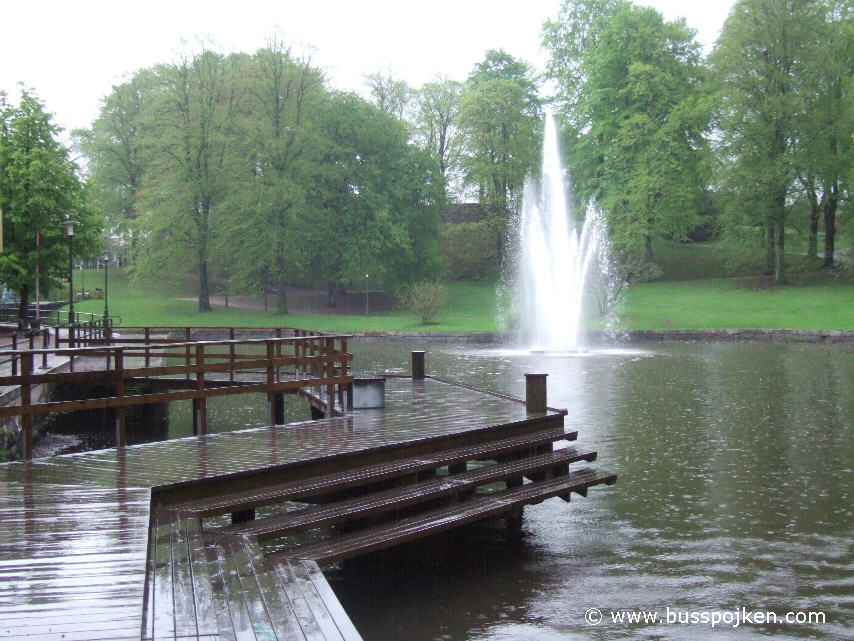 Viskan and Stadsparken (the river and city park).
The zoo should be mentioned, beside some fine parks and Borås close proximity to the natural woods. Some discount shopping and the proliferation of public sculptures have already been promoted. There is several museums around the town. The most easily accessible is located in the lobby of the hospital, with generous opening hours and free entrance. The others are usually open between 11-17 hours tuesday-sunday, and charge SEK 40.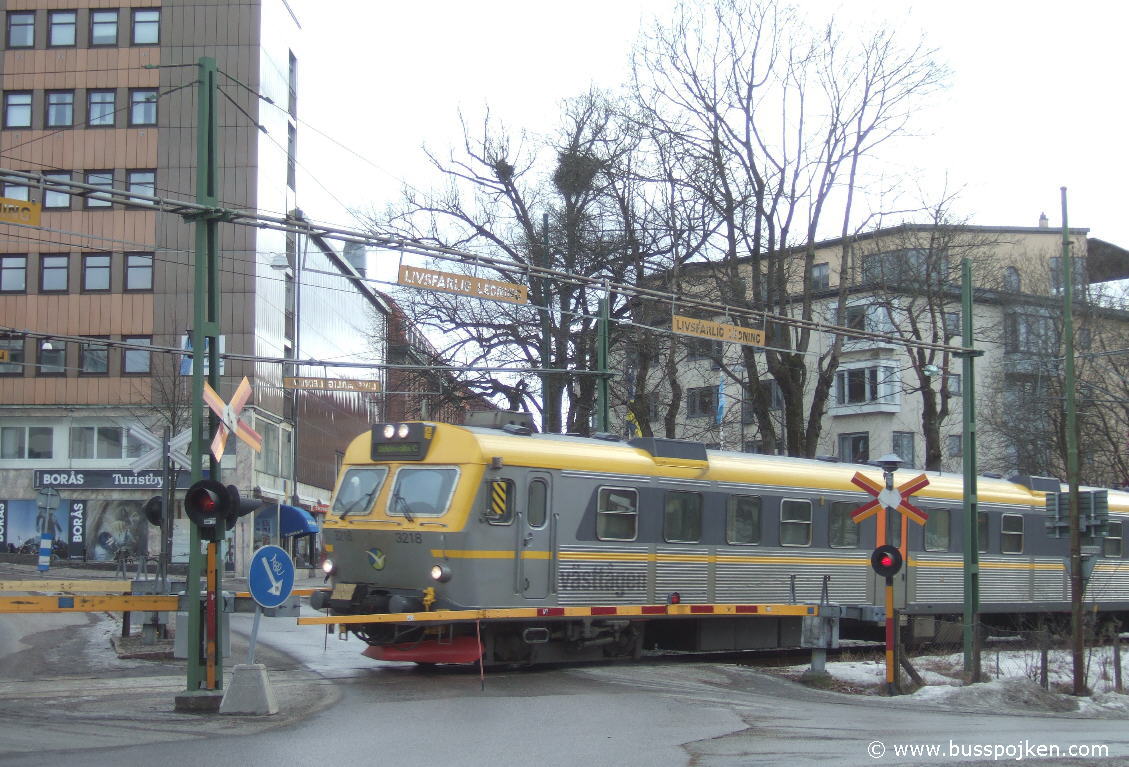 One of the trains operating Viskadalen, by Borås Övre.
Some smaller communities are available to visit by regional bus services or train. The latter is called Viskadalen, and is a little bit of a commuter service along the river valley carrying the same name. It connects with the railway along the westcoast in Varberg, and in the other end with the main artery coast to coast between Göteborg and Stockholm in Herrljunga.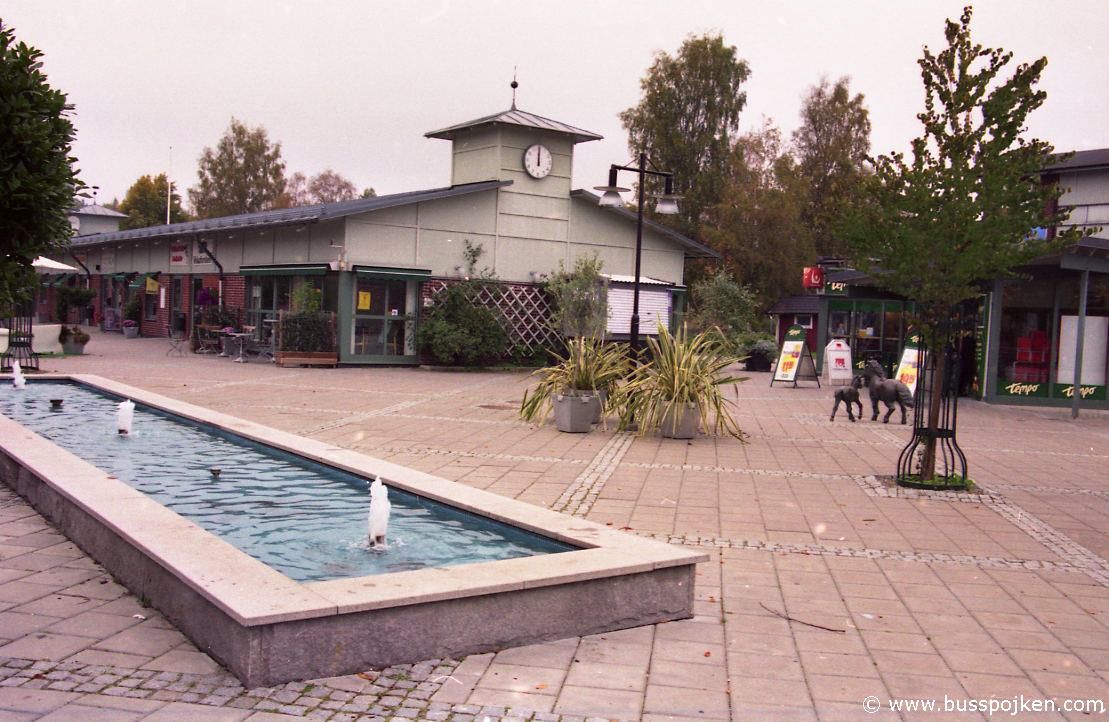 Viskafors, the village square.
How to get to Borås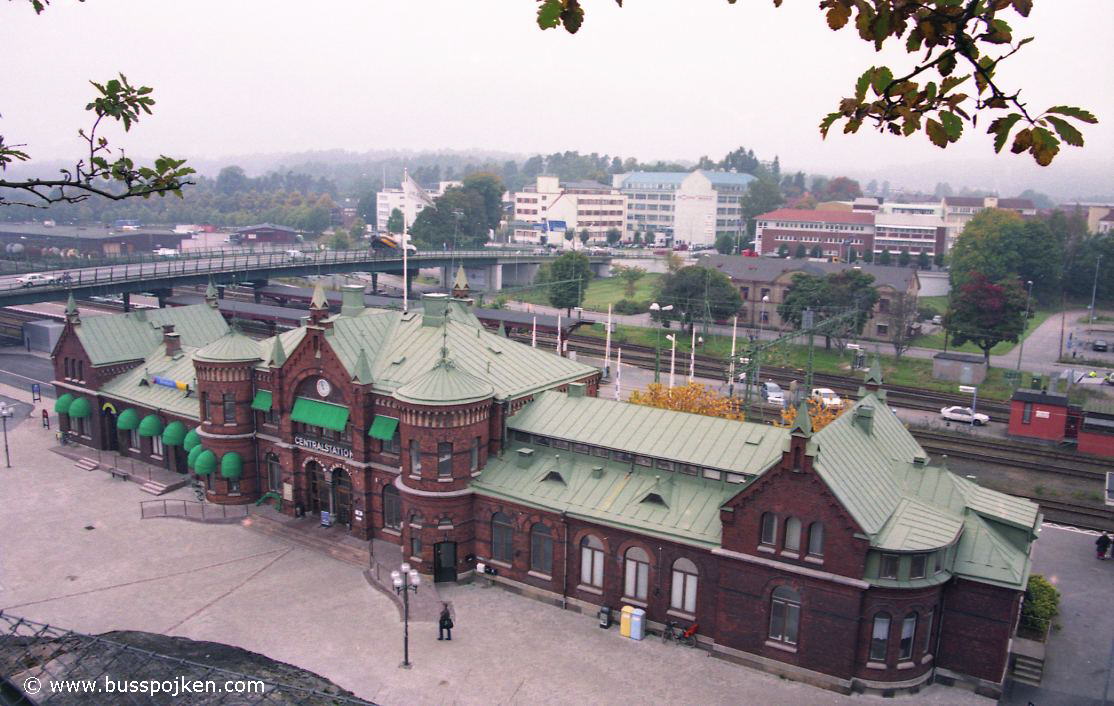 Borås central station from above...
The easiest way from abroad is to fly to Göteborg Landvetter airport, and take the airport bus straight to Borås. If you stay in Göteborg it is very easy to make a day excursion to Borås. Buses run from the central station and Korsvägen interchange all day at a headway of up to 10 minutes. The trip is taking just about one hour. Unfortunately the bus only calls at Borås central station (Resecentrum). Some city buses pass there, so you can travel two stops to the central bus square Södra torget. You can also walk the distance in 10 minutes - head east to the river, and follow the streets in its proximity as best you can, in the southeast direction.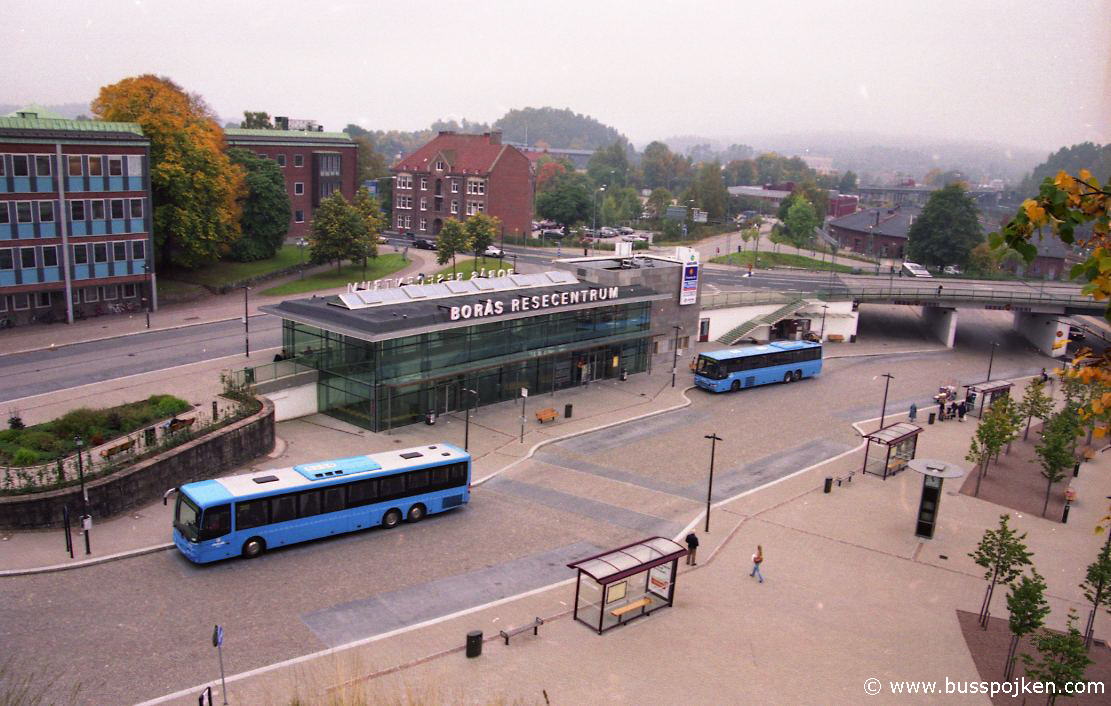 ...and Resecentrum from the same vantage point.
There is local accomodation in Borås if you don't chose to stay in Göteborg. A friend of mine that is usually rather critical, showered a Borås hotel with accolades for the proffessional arrangement of a conference, and also everything else in connection with the stay. I believe the people in Borås, by a long tradition, know how to excel in anything commercial.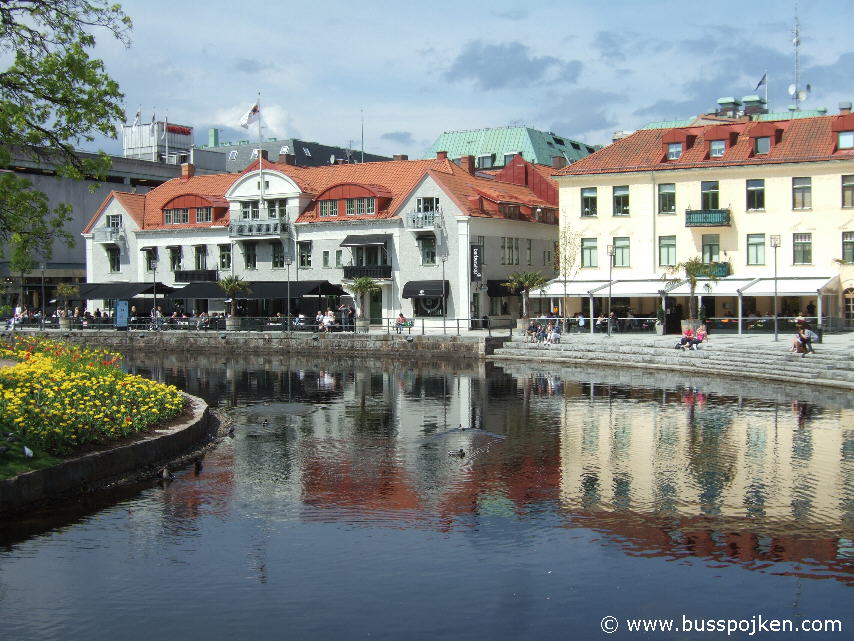 Södra Strandgatan by the river Viskan.
Catafalque, sculpture outside Borås university (högskola).
Borås links
A small collection of other sites with information about Borås, transportation, and accomodation. The destination window for these links is the same browser window. The new page will in other words replace the current site Busspojken.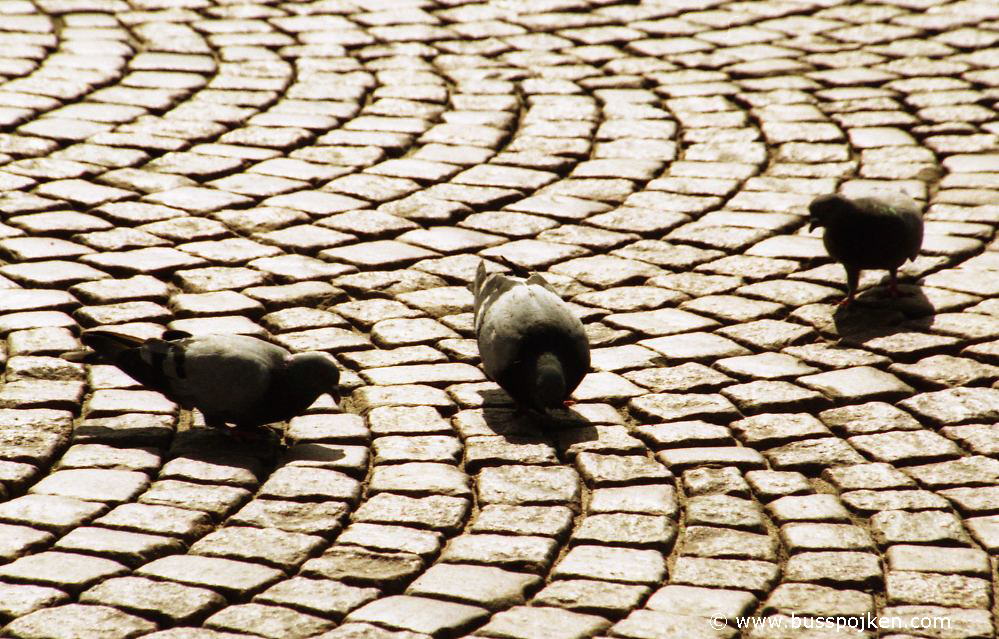 Pigeons roaming the paving stones at Södra torget.
Borås city. Info about museums is also found here.
Borås tourist information (4 languages)
Västtrafik statewide transit undertaker
Private search register with information about buses
STF hostels, Swedish tourist association
Water tower site. Some from Borås are shown.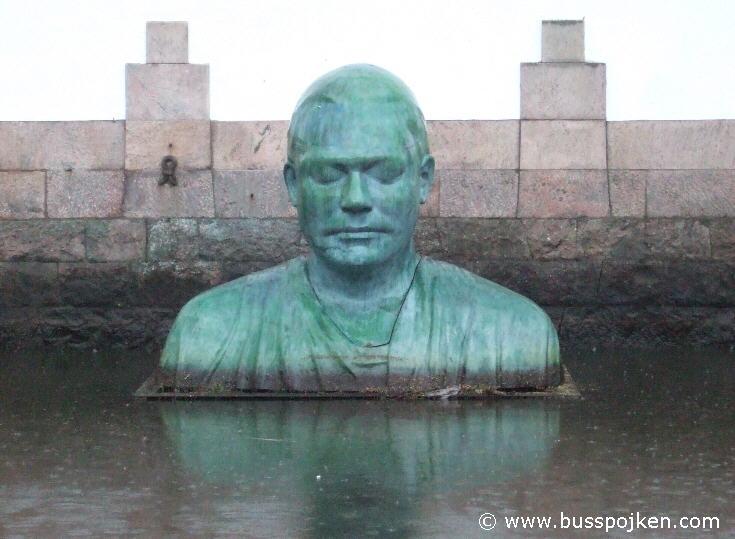 Sculpture in Viskan by Knalletorget, Borås.
---
© Busspojken 2011