M, Skåne (Scania) län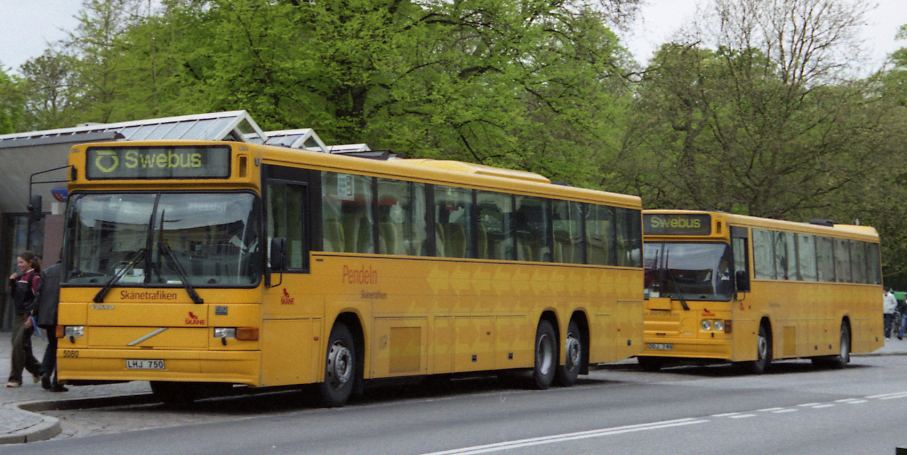 Swebus Volvo 5080 and 4026 by Gustav Adolfs torg, Malmö.
Shall we begin with the current versions? It is all neat and simple, as every mode of transportation carries its own identity. To start with, regional buses are yellow, with arrows of a somewhat different hue spread all over. Very elegant, especially as this pattern also is continued with the fabric on the seats!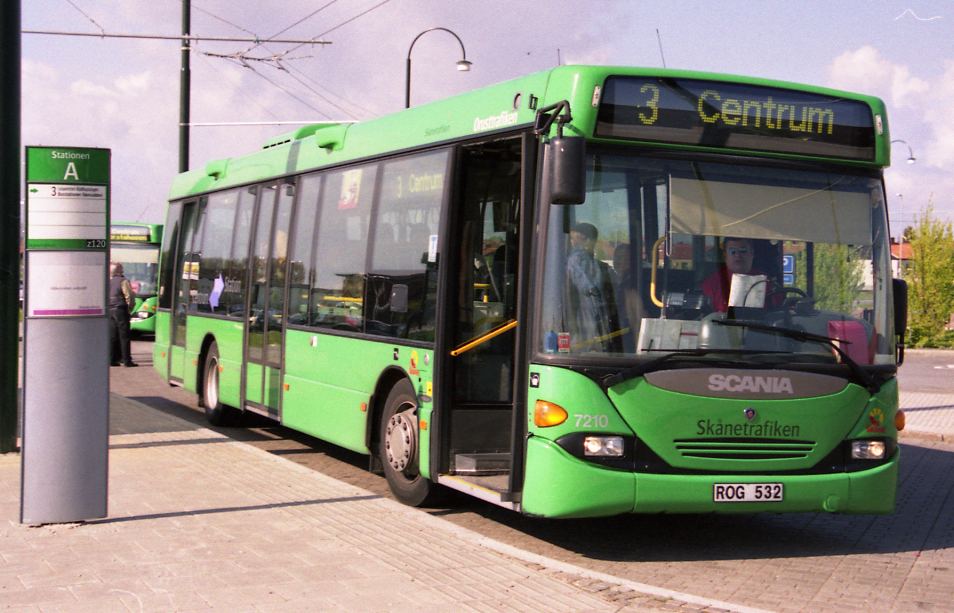 Orusttrafiken 7210, bus 3 outside the brand new station on the outskirts of Landskrona. This route is now a trolley bus.
City buses have an equivalent paint job in green, while the "Påga" (boy in Scanian) commuter trains got a most agreeable purple shade. The marking in the front is a letter M for the state abbreviation, and doubles as a goose - a typical Scanian symbol. Each unit is also named after a local celebrety, fictional or real.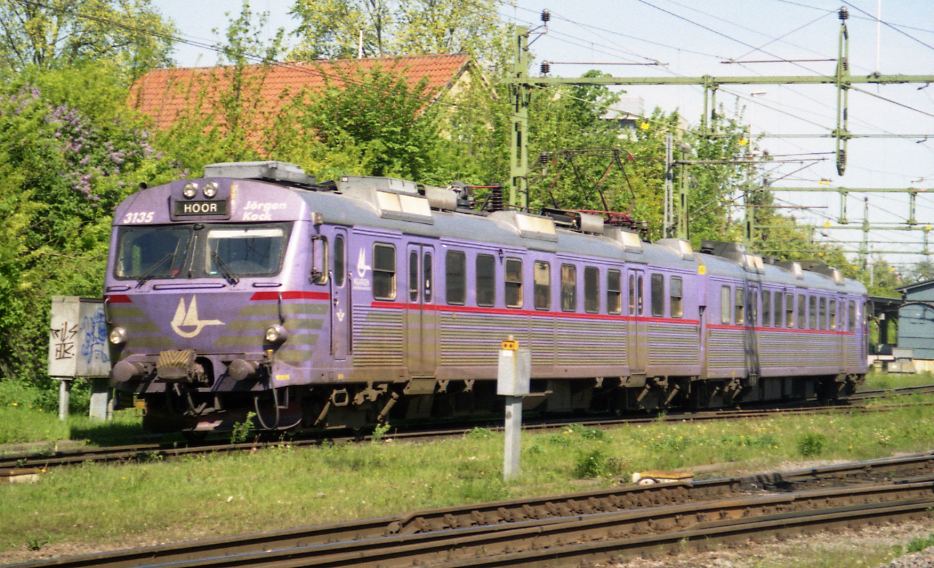 SJ class X11, with roster number 3135, and name right of the destination blind. It is on a commuter working by Lund station.
Historical versions
The city of Lund have had some different colours before, though most of the time Linjebuss own dark blue livery. The most recent design for Linjebus is shown in the bottom of state H/Kalmar page. The company has since been renamed Veolia. After Lund ditched Linjebuss company colours, a short spell with something very similar to that of Göteborg/ GS (1976-2000) was introduced. Judge for yourself by the picture below...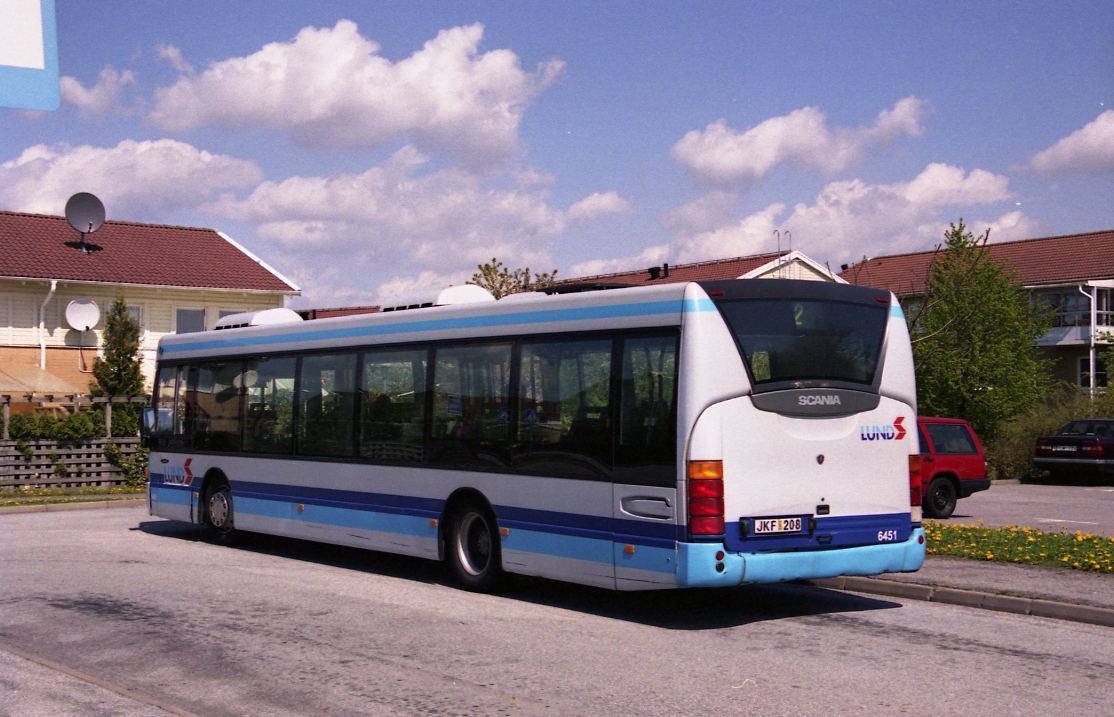 Lund Linjebuss 6451 at Jordabalksgatan, citybus 2.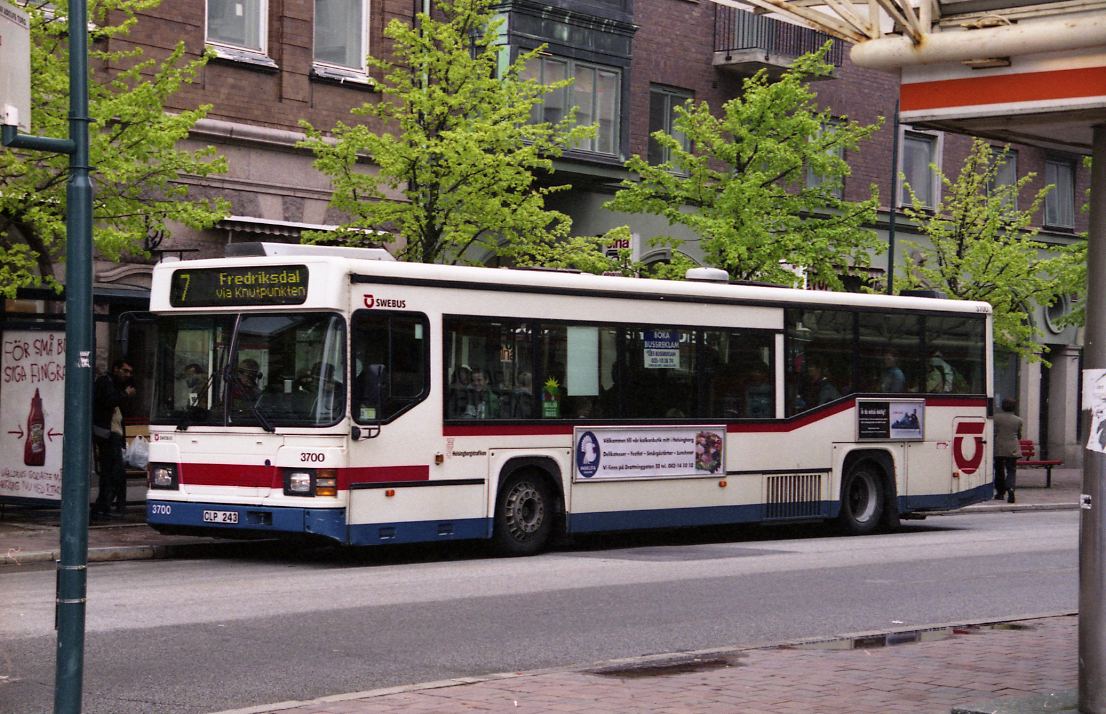 Helsingborg Swebus 3700, line 7 by Gustav Adolfs torg.
Helsingborg had striped blue buses before, though the demand for local adjustment was discarded when the first tendering procedure invited Swebus as the new operator. For a while their own national colours were flied. Soon a new dark blue colour (below) appeared just a few years back. This statement did not last long, and is now given up for the ordinary green prescribed for all Skåne city buses.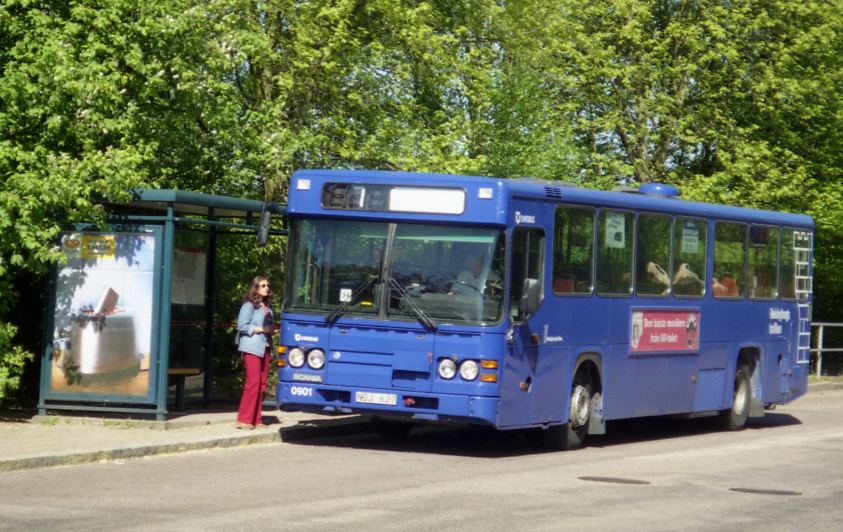 Swebus 901, line 7 by fyrverkerigatan (fireworks), Helsingborg. Kärnan tower is attatched on the side furthest back.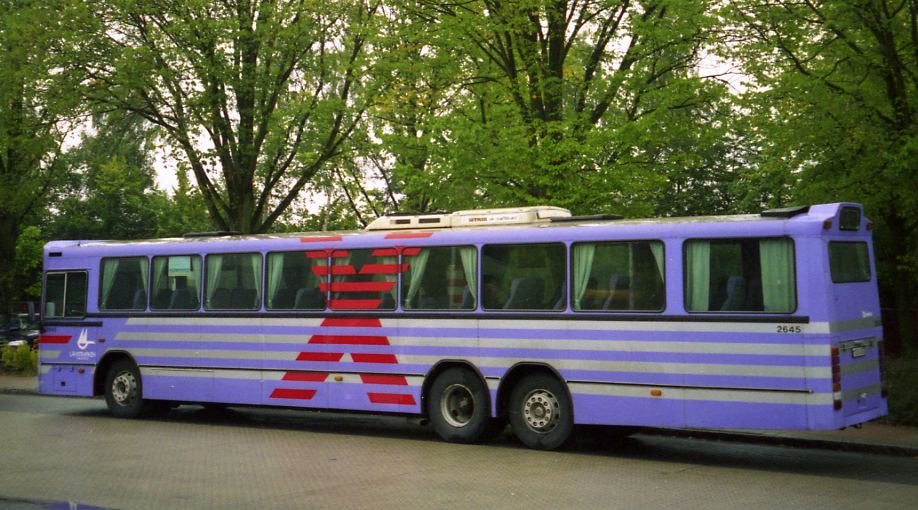 Swebus 2645 by Trelleborg bus station, in one of three (?) different paint schemes during its long career.
It was in fact the trains that started the purple era, but regional buses soon followed. Exactly how the paint was implemented could differ a little bit.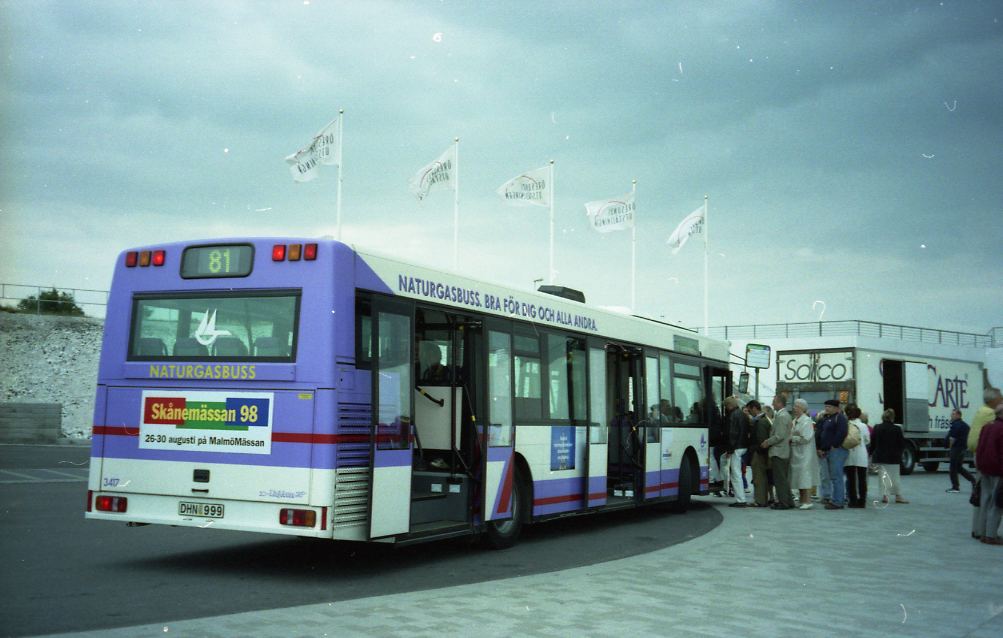 Linjebuss 3417, by the Öresound bridge exhibition.
Even city buses in Malmö got another purple paint scheme for a while. Historically green was the colours of Malmö. The trams were green, and also the buses until the 90:s. The old army green and cream (not pictured) gave way to a combination of several green hues with the beginning around 1980. I still think this was the very best. Now it is just a plain green, as seen at the top of this survey.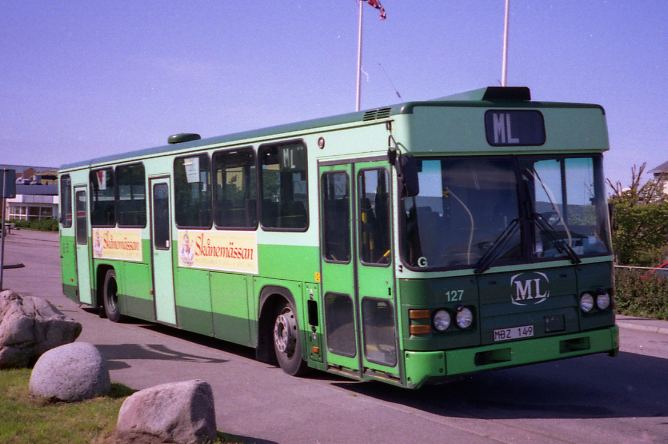 1980:s green ML 127 parked by Tylösand beach in Halmstad, well outside its home town.
L, Kristianstad län
Volvo bogie buses in 1999.
This state is a discontinued entity. Kristianstad was named after the namesake city, but all of this area is today part of the larger Skåne. Until then this white and red colour scheme was used statewide.
---