H, Kalmar län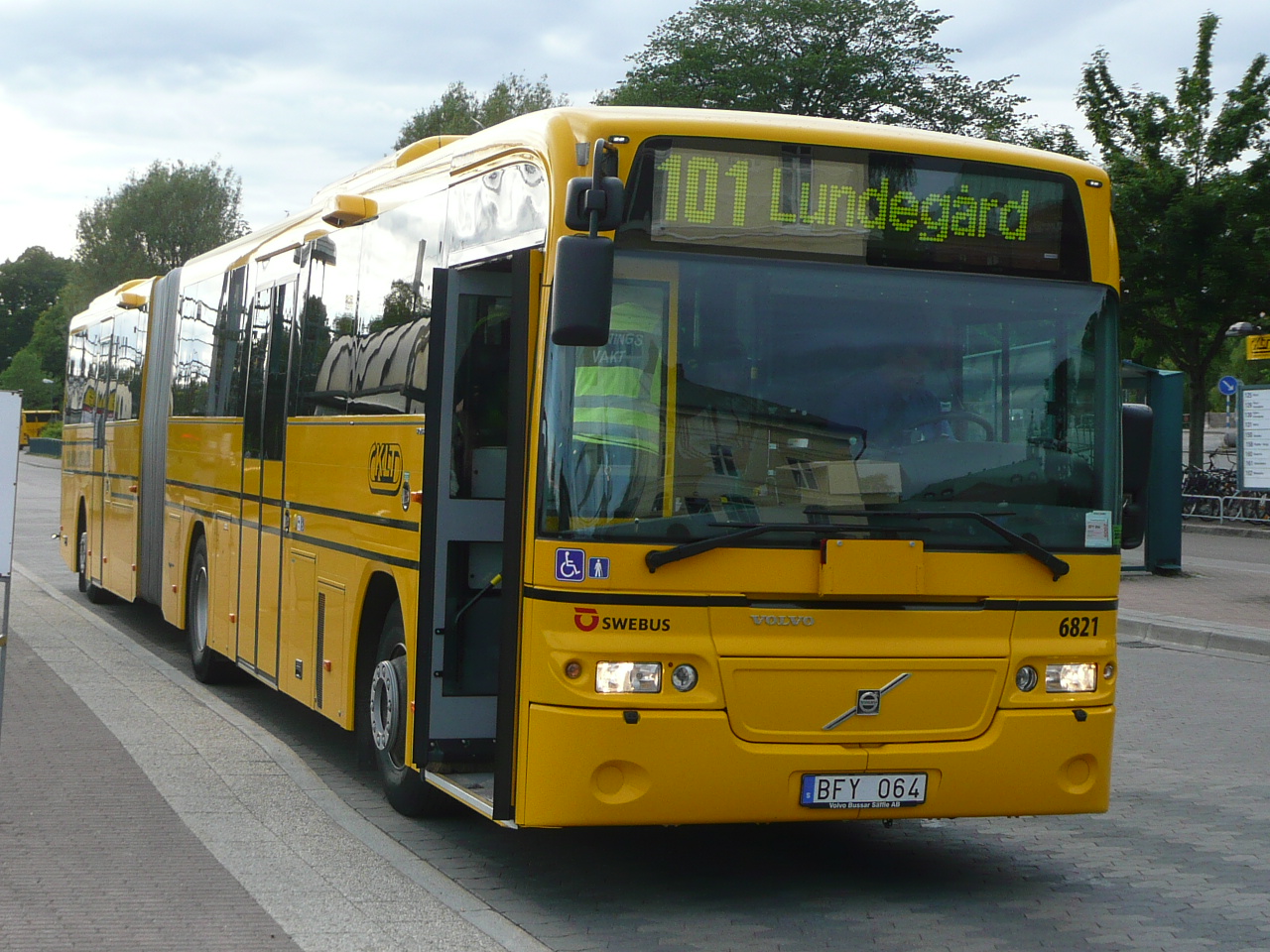 Kalmar state transit livery. Picture courtesy of Ulf Berlin.
Kalmar was amongst the last in Sweden to implement a statewide colour scheme similar for all undertakers. There is also three cities with local transit; Kalmar, Oskarshamn and Västervik. These sport a separate livery from that of the regional services, a strategy shared with a few other states.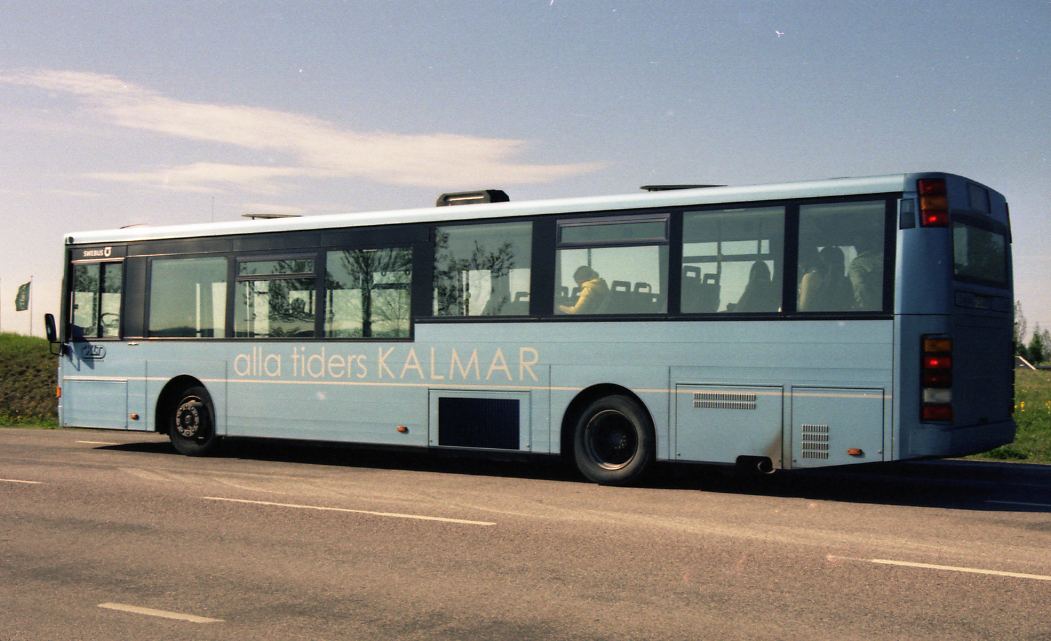 Local buses are electric blue. Text: Kalmar through the ages, also a metaphor for excellency.
DMU trains of the Y1 class have a completely different colour scheme, though these are operated in tandem with Östergötlands län (E). Thus also their design can show up in this area. Another common appearance is the type Y2, owned by the national railways (pictured in the section for K state). Those are covered in the American colours, or British, or Swedish railways. As opposed to the situation i many countries, Swedes come across as reluctant to use their own flags colours.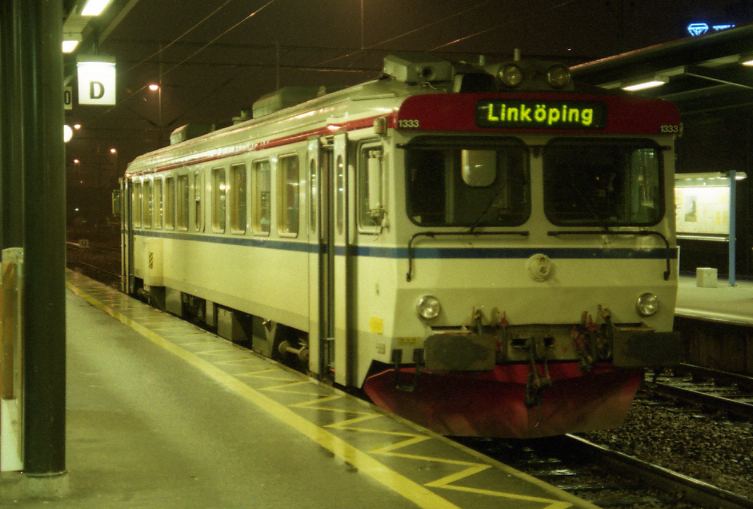 Fiat DMU class Y1 number 1333 is resting in Linköping after a run from Västervik, an evening in november 1999.
Discontinued varieties
Formerly every company used their own colours even when running services under the auspices of the state transit. The exception was the express buses known as "Rasken".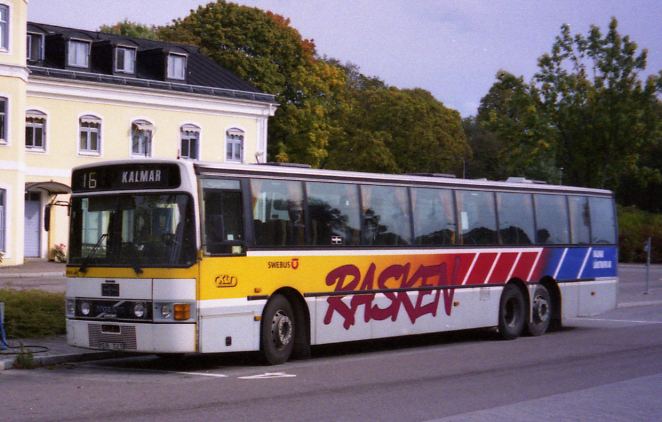 Rasken express bus, Swebus 2622 in Kalmar.
The express buses called Rasken was for a long time the only vehicles wearing a uniform livery. On top of it a rather striking one, and also a prominent presence in the state, depending on the vast network. Rasken is a nationally recognised name fetched from a book series, beside meaning speedy in local dialect. The name of these buses still sticks, although the paint sceme is now the ordinary yellow.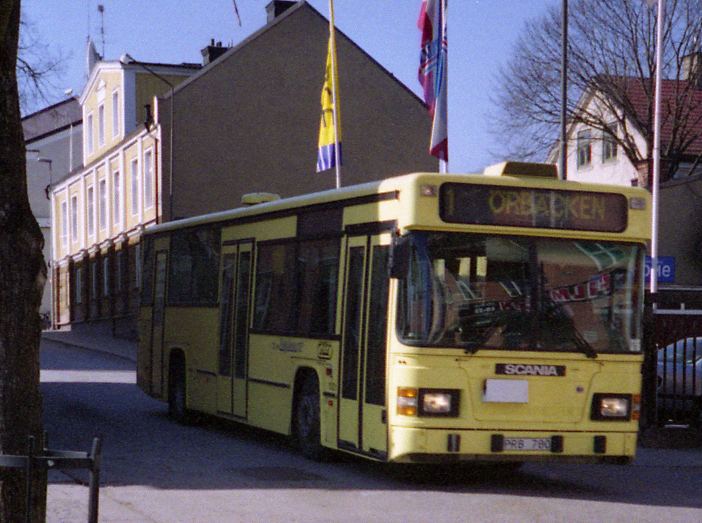 Scania Maxci city bus in Oskarshamn.
Linjebuss (now Veolia) must be mentioned, because their own colours were used in the city of Kalmar before. As can be seen in the following picture, it was also common on some country routes. Linjebuss had a few buses in this livery in other places around Sweden, though rarely found today.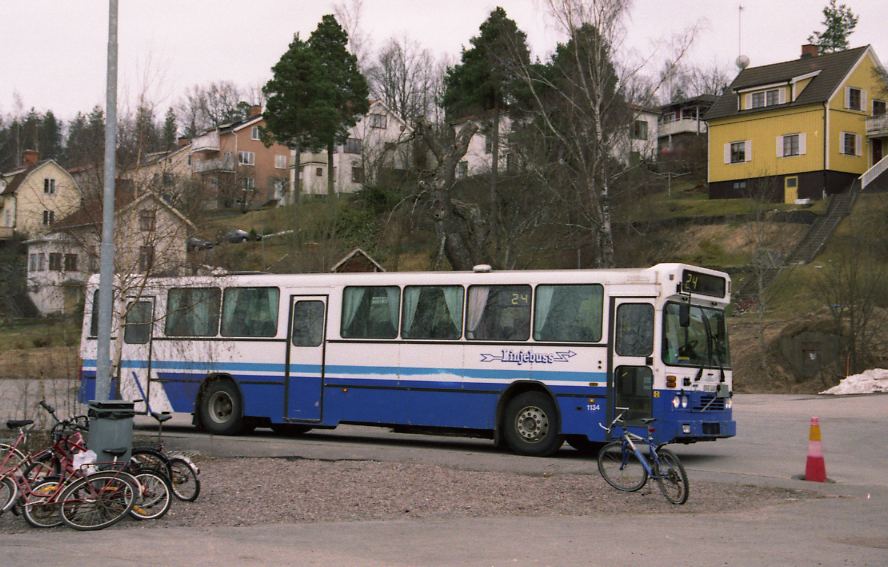 Linjebuss 1134 awaiting a trip on route 24, Gamleby station. This bus started its career in Säröbussarna, though the original colour differed from that seen in the chapter for OPR state.
---